Feeling nostalgic for our Bali holiday so long ago I decided on an
Indonesian menu for this week's date night.
Pork Sate (Sate Babi)
Marinate pork fillet in garlic, salt, white pepper, coriander seeds, nutmeg, cumin, oil, soy sauce and lots of kecap manis for  8 hours. Roasted the coriander seeds before grinding it as I find it makes a big difference in flavour.
You should be able to find kecap manis in any Asian grocer, otherwise Woolworths sells it as sweet Indonesian soy sauce. Do not try to substitute it with regular soy sauce.
Make a peanut sauce by blending roasted peanuts, onions, cumin, roasted and crushed coriander seeds, palm sugar, oil and seasoning. It tastes a bit bland on it's own (unlike some Thai and Malaysian satay sauces I've made) but comes to life when fish sauce, kecap manis and lime juice are added to it before serving.
This dish was inspired by a recipe on the Rasa Malaysia blog – you can find the original recipe  here
Coconut Chicken (Ayam Panggang Sulawesi)
Make a curry sauce, starting with a paste made from  onions, garlic, chilies, turmeric, macadamia nuts and ginger.
Add lemongrass, kaffir lime leaves, Thai basil and coconut milk to the paste.
Pre-cook the chicken drumsticks in this sauce before putting it on the braai, using the leftover sauce as a basting sauce.
This is a bit more work but  adds wonderful flavour and is well worth the extra effort.
You can find the recipe on the Rasa Malaysia blog here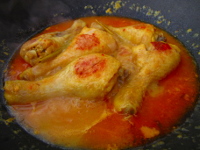 The two side dishes I made were Gado Gado and Bami Goring.
Gado Gado
Gado Gado is a dish I've never gotten around to making before and I don't know why as we love salads and good peanut sauce.
Blanch green beans, boiled potatoes and boilied eggs.
Mix with bean sprouts, cabbage, tomatoes and cucumber, drizzling over peanut sauce before serving.
Fried tofu and prawn crackers are supposed to form part of this dish but I could not find it on the day in this neck of the woods so sadly had to leave it out.  I sometimes really miss those fabulous Thai markets we visited last year.
Bami Goreng
I originally wanted to make Nasi Goring but as dedicated banters we did not have any left over rice so I settled for a vegetable Bami Goring.
Stir fry vegetables and noodles with a liberal amount of sambal oelek (a chili sauce which you can also find at Woolworths if you do not want to make it yourself)  and once again kecap manis.
As we don't eat noodles very often it took a lot of
restraint to not eat the whole dish before it reached the table.
By this time the fire was going and wine was poured.  All that was left to do was braai the meat.
The pork sate was very tender with incredible flavour.  The kecap
manis gives it a very dark colour so it might not be the most
photogenic food pic but the taste definitely makes up for it.
The chicken was also very good and I'll definitely use the pre-cooking method the next we're doing an Asian chicken dish on the braai.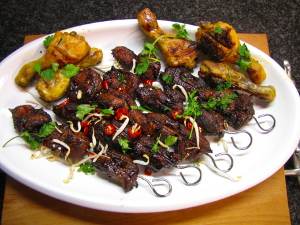 We had this with a Jason's Hill Shiraz 2012 which we kept just a bit too long and was past it's prime but still very drinkable and an Alexanderfontein Cabernet Sauvignon  2014.