I thought I would try my hand at charcuterie and start with something simple like bacon. I got a book from a friend of mine called Charcuterie – The Craft of Salting, Smoking and Curing, written by Michael Ruhlman and Brian Polcyn. In this book the necessary steps in  making homemade bacon are clearly explained.
First of all you need to make a dry curing mix.
Ingredients for the dry curing mix
450g kosher salt
230g brown unrefined sugar
50g curing salt (pink salt)
Mix the ingredients very well so that the pink salt is evenly distributed.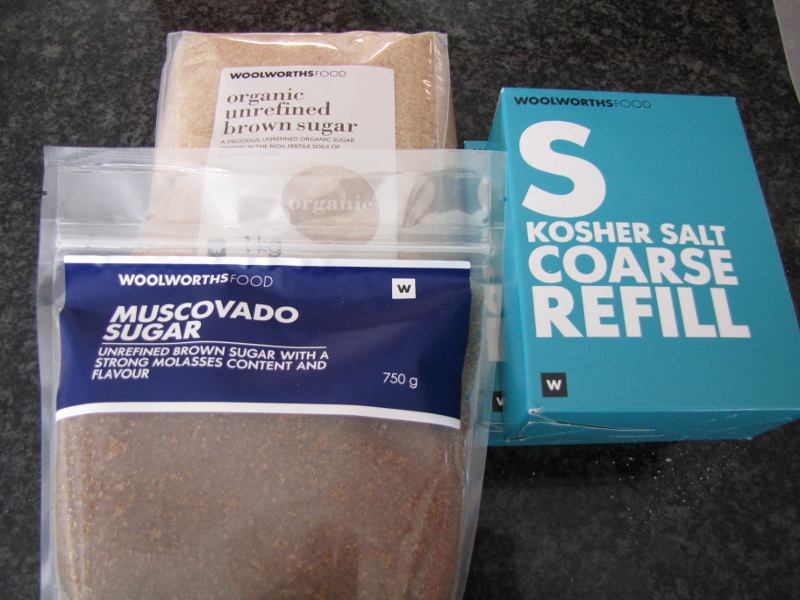 I bought 11kg of pork belly (2 whole pork bellies) to start my adventure into charcuterie and make my own bacon.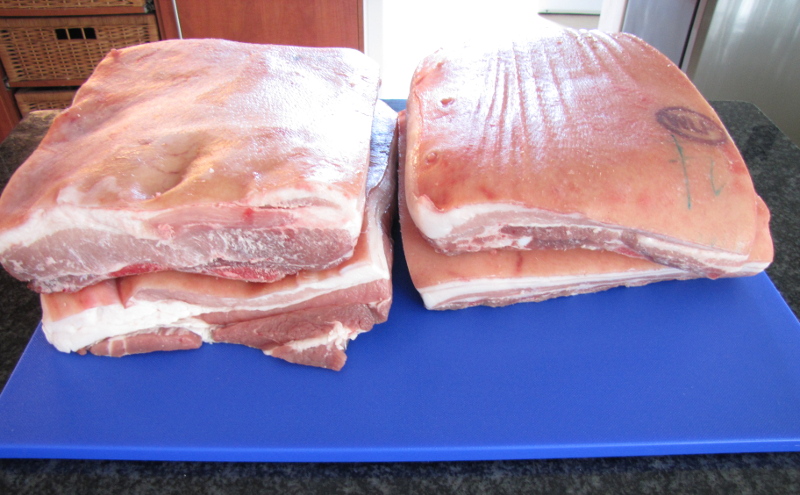 First of all, you have to trim the ribs off the belly. Use a very sharp filleting knife for this. Leave the skin on. The ribs you can marinate and is perfect for a braai. Make sure that the rest of the belly is trimmed squarely. The trimmings you can keep to make sausages at a later stage.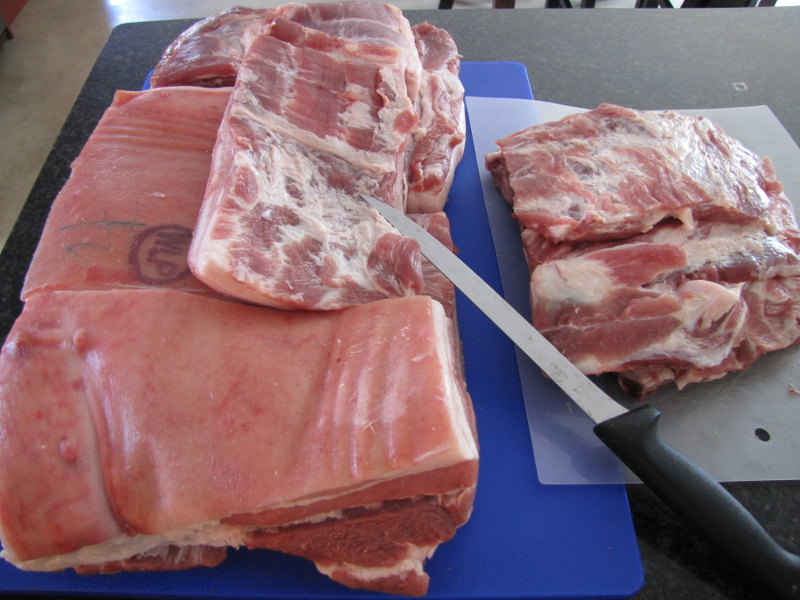 Cut the belly into manageable pieces as they have to fit into large zip lock bags. Rub the belly with the above curing mixture using about 25g per 1kg of meat. I know this doesn't sound like a lot of curing mix, but the pink salt is very potent. Try to make sure the whole surface is covered.
With the curing mixture you can add some crushed pepper corns, crushed coriander seeds or dry crushed chillies. You can also add more dark, brown sugar if you want the bacon sweeter and less savory.
Place each piece of meat in its own zip lock bag and let it lie in the fridge between 5 to 7 days, turning it around every other day.  The meat should feel firm to the touch and not squishy. If not, let it lie for another 2 days.
Remove the meat from the zip lock bags, rinse the meat properly under cold water and discard the juices in the bags. Pat the meat with paper towels until it is dry.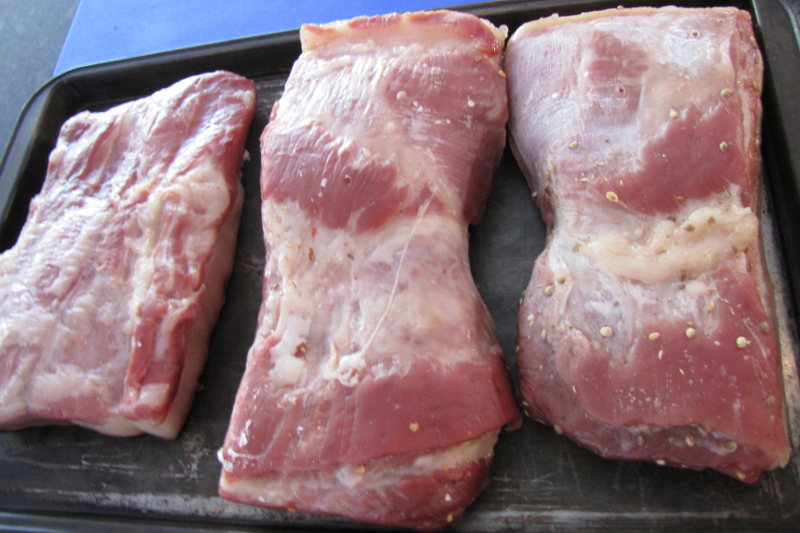 Place the meat on an oven plate and put it in the oven for 2 hours at 95 degrees Celsius.  The temperature of the meat inside should then be more or less 65 degrees Celsius.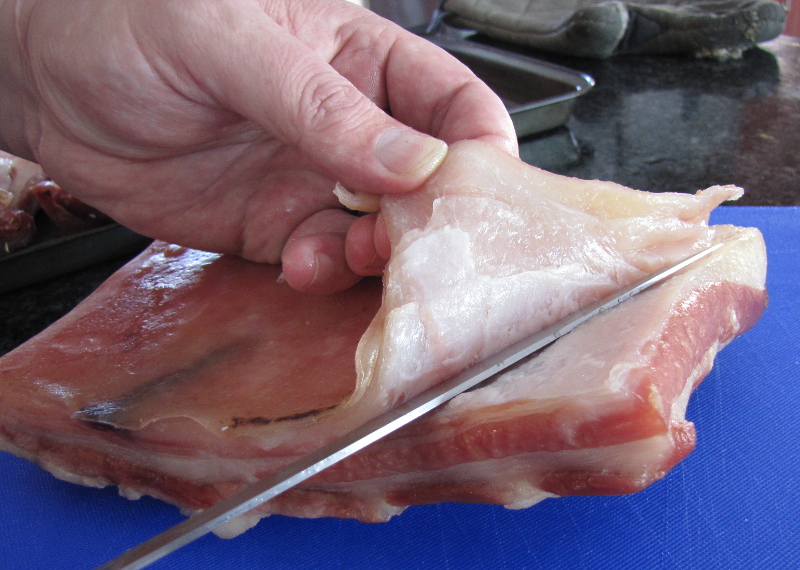 Using a sharp knife, remove the skin from meat while the fat is still soft. Let the meat cool down, wrap the bacon properly and refrigerate. It will last for 1 to 2 weeks. If you want to keep it longer you can freeze it for up to 3 months.
Cut the bacon into 1cm strips before use. If the bacon came out too salty, blanching the bacon in simmering water for 1 minute would help.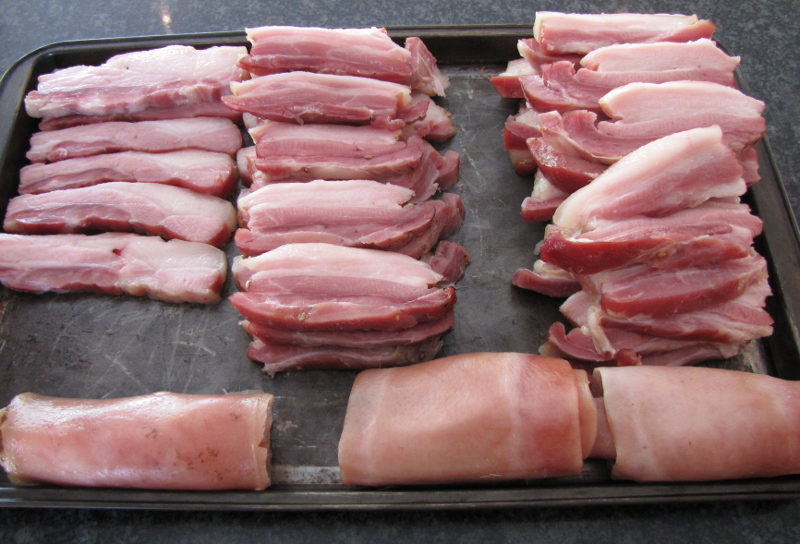 Then obviously you can enjoy this with your breakfast, in a salad or any dish that requires a fatty cured meat.