Of all the Thai food we ate in Chiang Mai (and we ate a lot), 2 of our favourite dishes were Khao Soi (a soup like dish consisting of egg noodles and meat in a curry coconut sauce) and Khao Kha Moo (braised pork leg on rice).  When Adrienne brought home fresh turmeric last week it was a sign to make Khao Soi, and in keeping with the Thai theme I decided to try and recreate the fabulous Khao Kha Moo from the famous "Lady with the cowboy hat" at the Chang Phueak Gate in Chiang Mai.
Khao Soi (Curried Egg Noodles)
This Burmese influenced dish is a popular street food dish in northern Thailand.
The name means "cut rice" even though it is served with noodles.  This might be because the Burmese word for noodles is "khao swè".
The curry paste for this dish contains ginger, onion and fresh turmeric instead of the garlic, lemongrass, galangalal and shrimp paste that you find in the more well known Green, Red and Massaman  curries.
Ingredients:
2 dried thai chillies (seeds removed)
3 tbsp diced onion
2 tbsp diced turmeric (you can use turmeric powder if you cannot find fresh turmeric)
3 tbsp diced ginger
1 tbsp coriander seeds
4 cardamom pods
1 tbsp curry powder
1 tsp salt
125ml coconut milk
450g chicken fillets, diced.
125g egg noodles
500ml coconut milk
1tbsp soy sauce
1 tsp palm sugar
Fish sauce / salt for additional seasoning (optional)
Garnish:
60ml diced red onion
60ml coriander, chopped
Lime wedge
As with any curry dish the paste is the most important part of the preparation.
Toast the coriander seeds and the seeds from cardamom pods.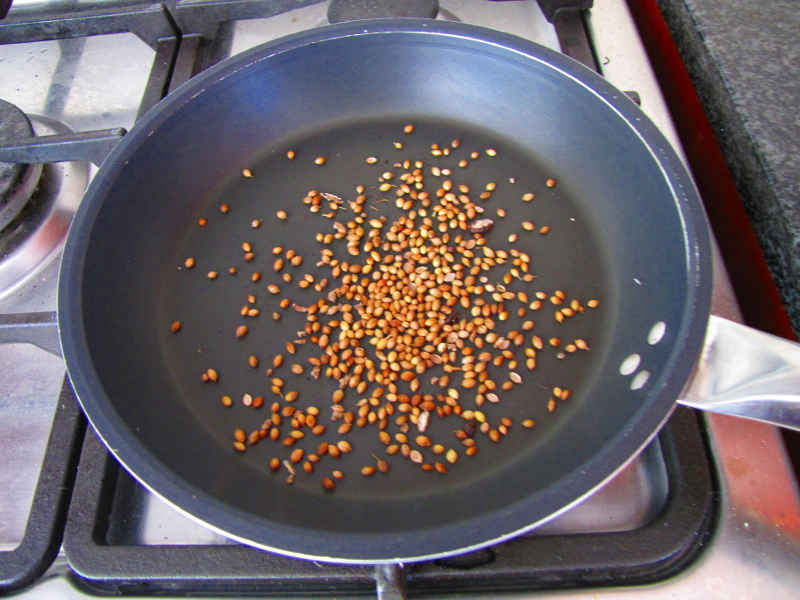 Saute the onion, ginger and turmeric to bring out the flavours.  A word of warning – fresh turmeric stains – I still have bright yellow fingers.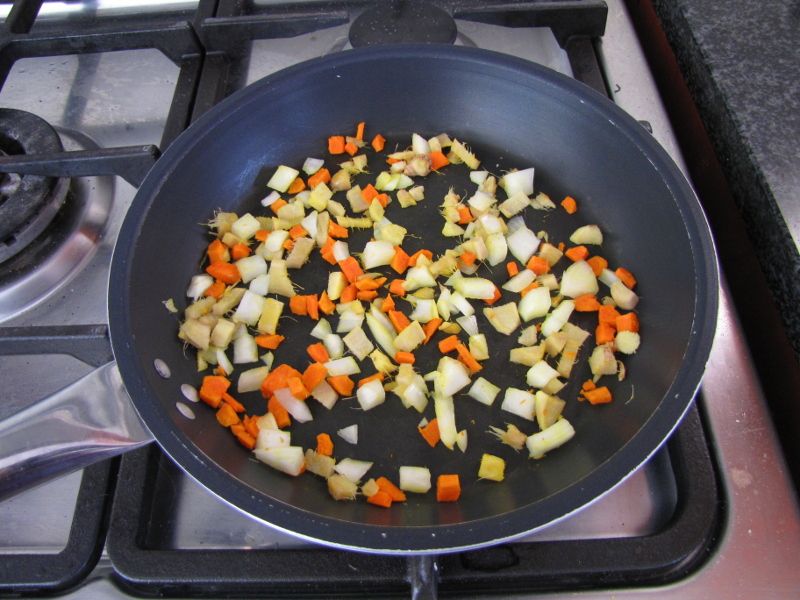 Blend the spices and vegetables with 125ml coconut milk.  As with all Thai curries the authentic way is to pound it in a mortar and pestle, but I must admit that this is a shortcut I often take.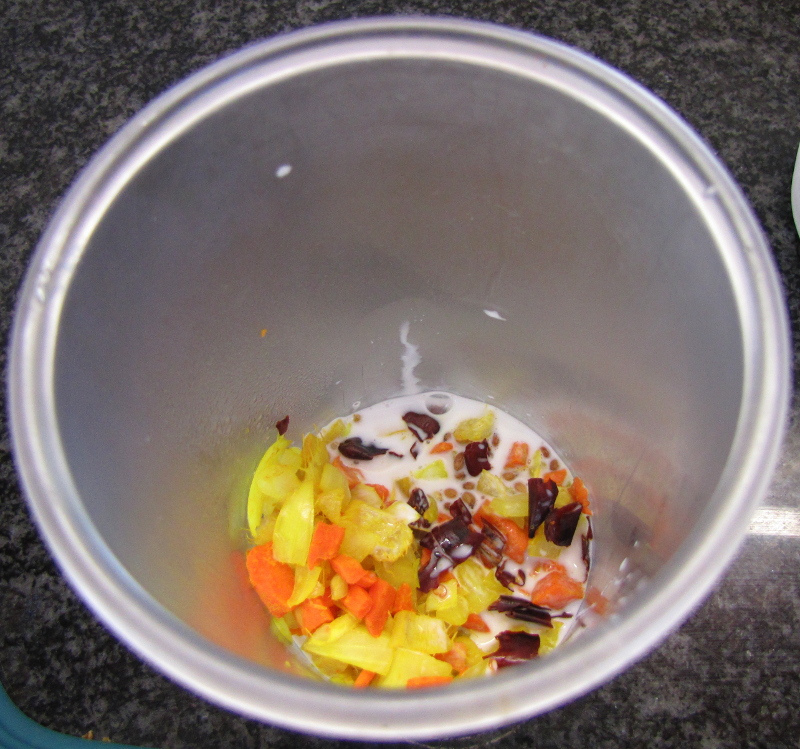 Add the curry powder and salt and your curry paste is finished.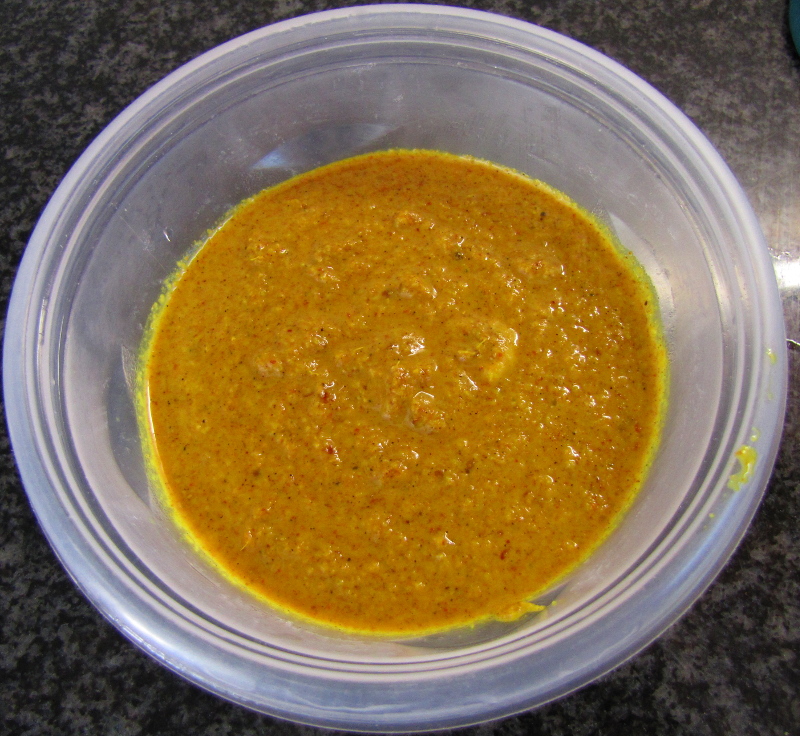 Heat the curry paste in a wok until it starts to boil. Boil for 2 minutes, adding  coconut milk so that it does not dry up.
Add the chicken and the rest of the coconut milk.
Let simmer for around 20 minutes, adding water if necessary.  Be careful not to let it get dry.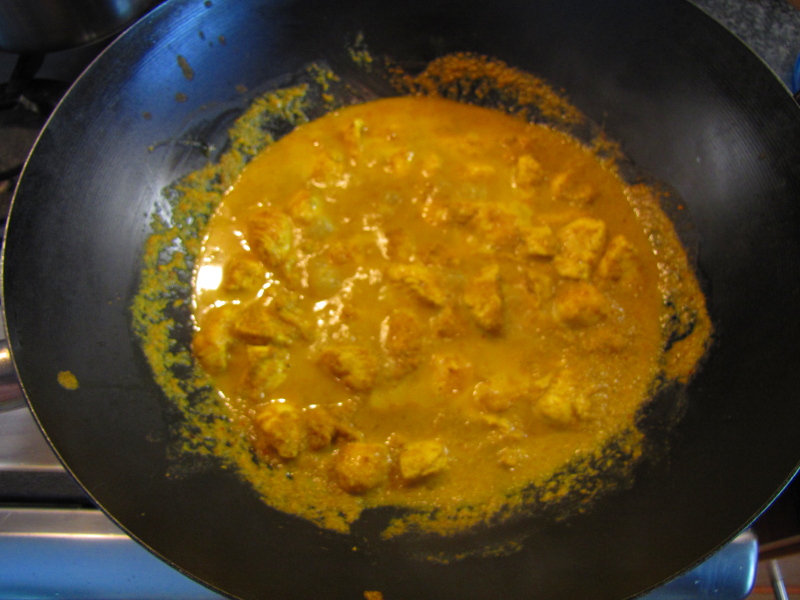 While the curry is simmering, fry some egg noodles in hot oil over high heat for garnish.
Season the curry with 1 tablespoon soy sauce and 1 teaspoon palm sugar.  Add salt or fish sauce if you feel that the dish needs more seasoning.
Serve over boiled egg noodles and garnish with the fried egg noodles, diced shallots, coriander and a lime wedge.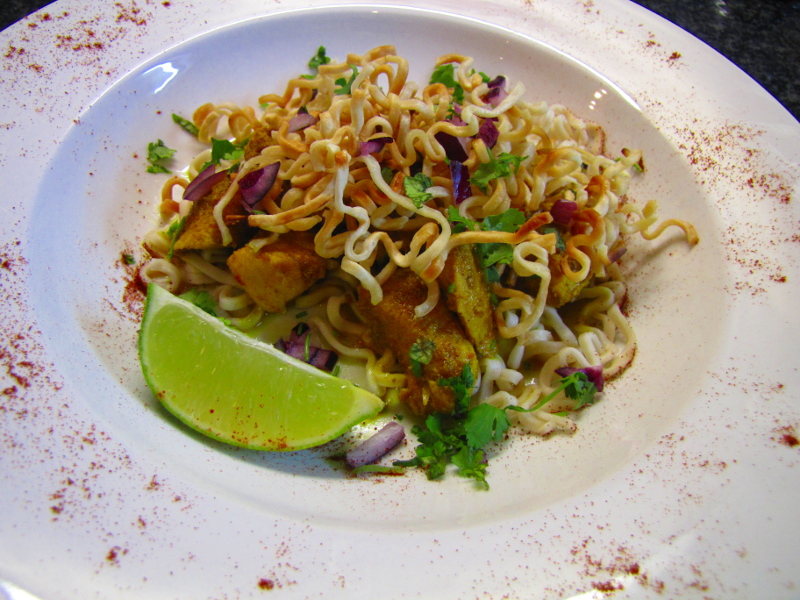 I adapted this recipe from the High Heel Gourmet blog.  You can find the original recipe here.
 

Khao Kha Moo (Braised Pork Leg with Rice)

One of the dishes on our culinary bucket list in Chiang Mai was Khao Kha Moo from the "Lady in the Cowboy Hat".  I was lucky enough to get a photo with her during a lull in business that evening.  Adrienne was too busy eating to take any photos.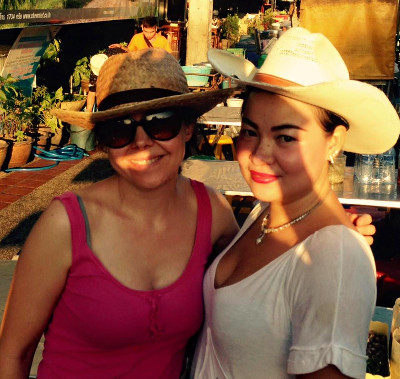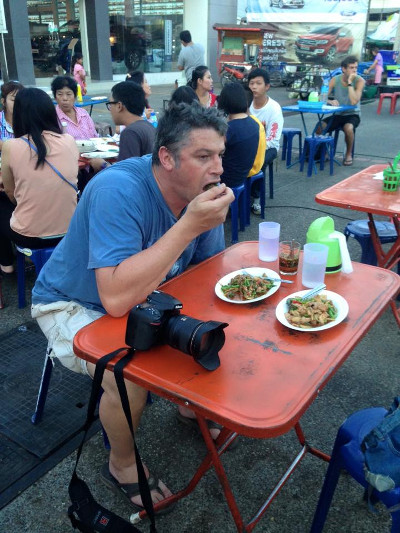 Ingredients:
2 pork shanks (it is important to use unsmoked pork shanks)
Vegetable oil for frying
3 cinnamon sticks
3 star anise
1 tsp coarse salt
5 tbsp soy sauce
4 tbsp palm sugar
3 tsp Chinese Five Spice Powder
10 Szechuan peppercorns
5 black peppercorns
5 cloves garlic
6 coriander roots (or 1/4 tsp coriander powder)
4hard-boiled eggs (peeled)
Pak choi/bok choi
125g oyster mushrooms (optional)
Vinegar Sauce:
3 minced garlic cloves (minced)
2  green chillies (de-seeded and minced)
1 tsp sugar
3 tbsp rice wine vinegar.
Heat oil in a wok and fry the shanks until golden brown.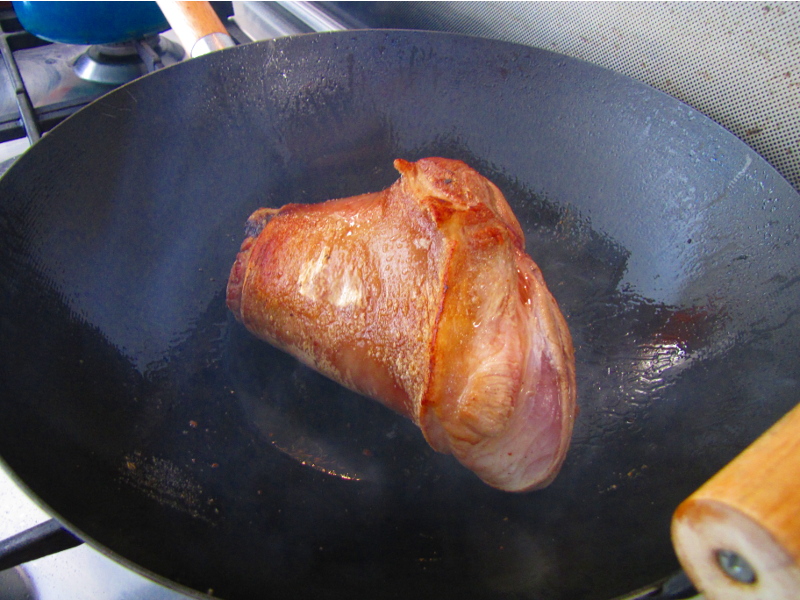 Pound the garlic, peppercorns and coriander roots in a mortar and pestle to form a paste.  Roast the star anise and cinnamon in a pan to bring out the flavours.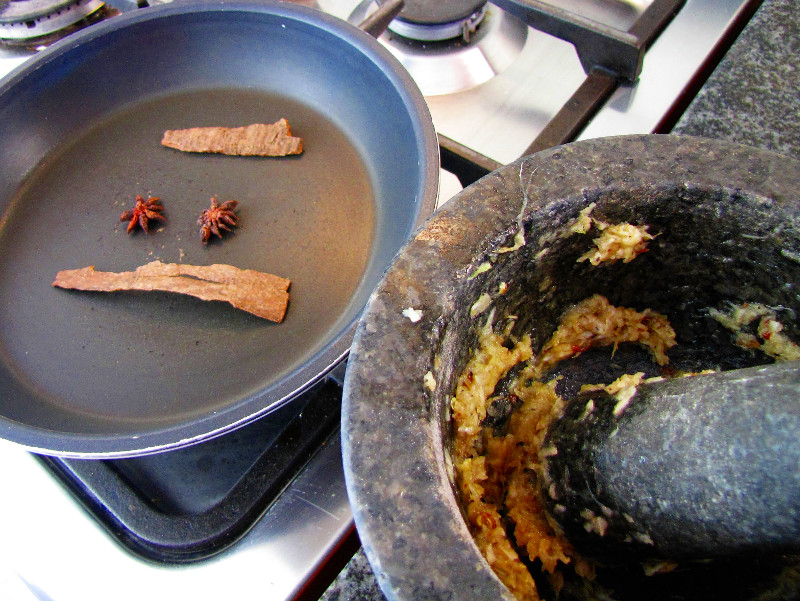 Place the shank in a pot/slow cooker and cover with water. Add the garlic paste, cinnamon, star anise, soy sauce, salt,  sugar and 5 spice powder. Bring to a boil, then reduce heat, and cook for another 3 hours until tender.  If you use a slow cooker, cook for 4 hours.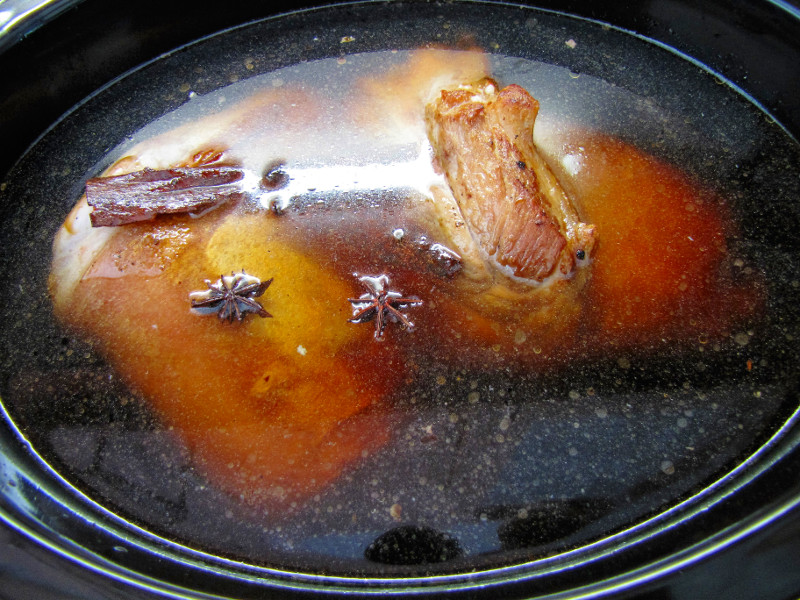 While the shank is cooking mix the garlic, chillies, sugar and vinegar for the sauce. This sauce is essential to the dish as the vinegar taste cuts through some of  the fattiness of the meat.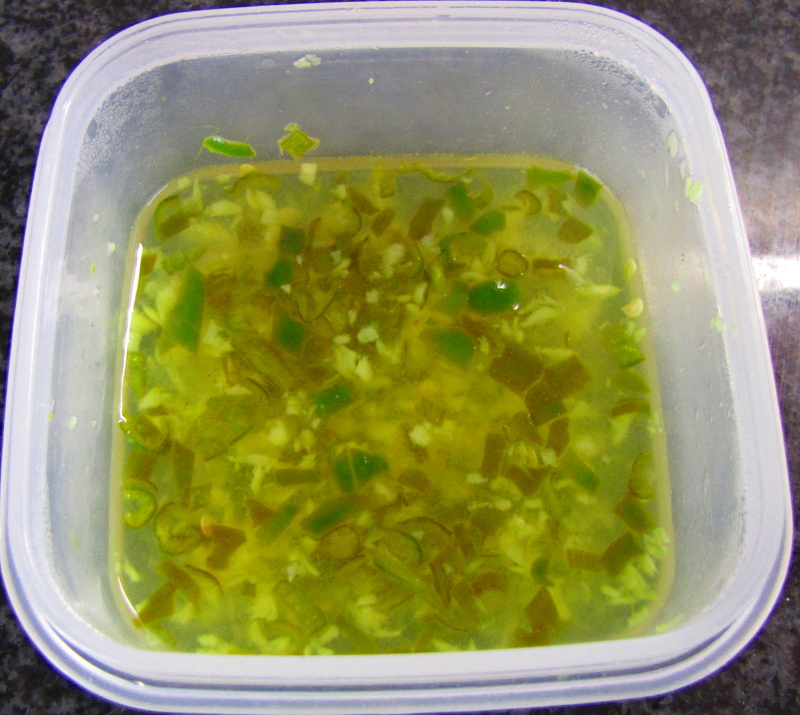 Add the eggs and mushrooms during the last hour of cooking.
When the shank is tender, remove from the braising liquid and let it cool enough to handle.  Slice the meat (with skin).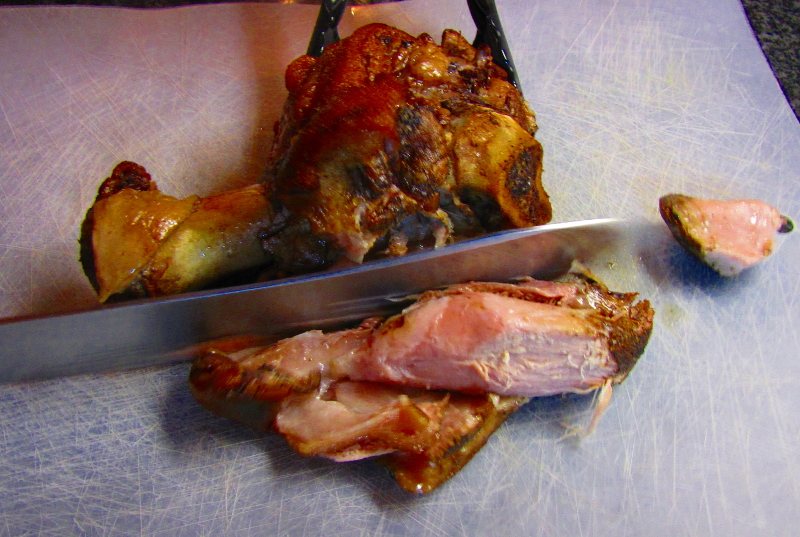 Spoon some liquid from the pot/slow cooker into a pan and lightly braise the pak choi in it. Remove the eggs and mushrooms from  the braising liquid.
Ladle some of the braising liquid over the pork and serve over jasmine rice with the eggs, mushrooms, vinegar sauce and and pak choi on the side.
Coconut, Lemongrass and Ginger Ice Cream
I wanted to make an ice cream with  loads of coconut flavour so I decided to substitute the cream in my Coconut Ice Cream recipe for more coconut milk.  It did not come out as smooth as I wanted it to so I will not post the recipe for now as it needs some tweaking.  Enfusing vanilla, ginger and lemongrass in the coconut milk gave it a wonderful flavour though.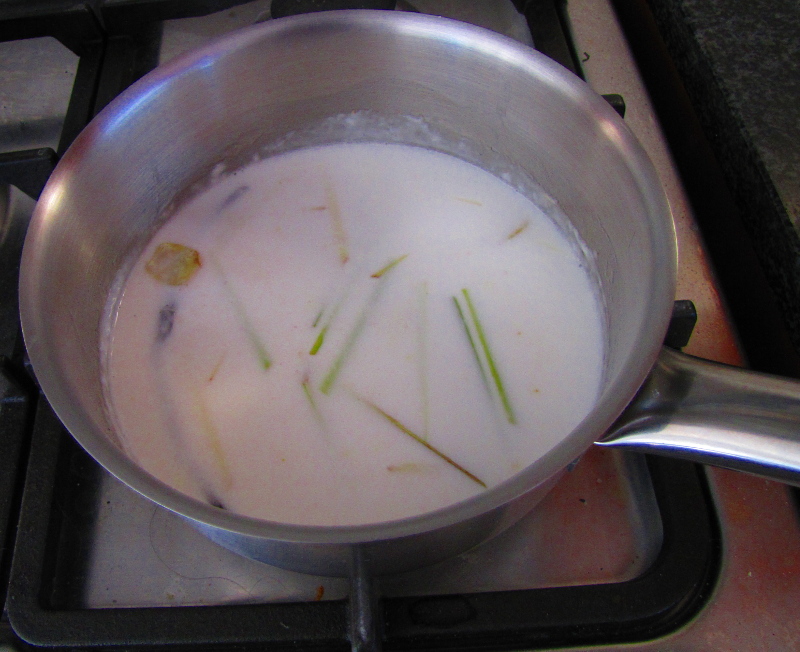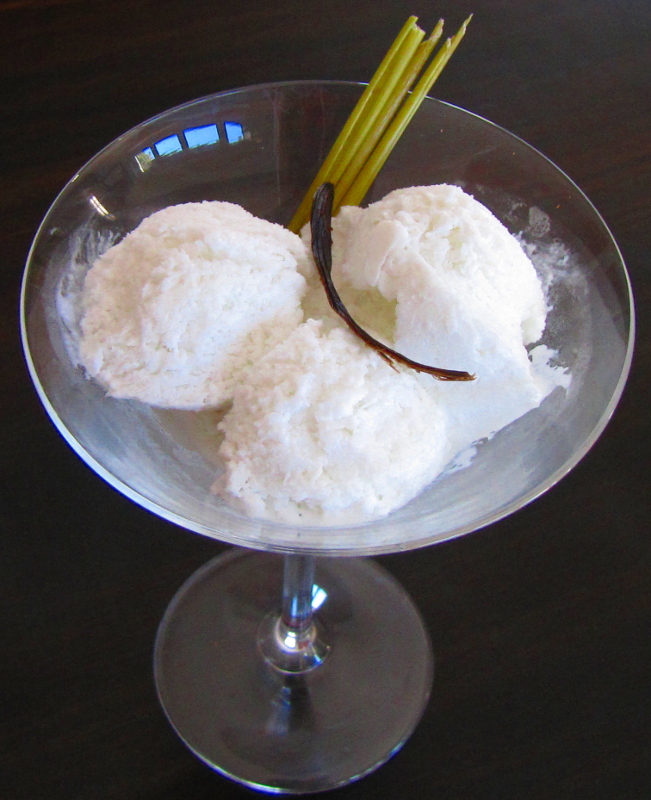 We had this with a  Goedverwacht Shiraz Rose and a Durbanville Hills Merlot Rose to compliment the Asian flavours.