Braciole (or involtini as it is known in Italy) are meat bundles with all kinds of delicious fillings.
Braciole is a beloved Sunday lunch in Italian American households. It is simmered for hours (often with meatballs and/or sausage) in a tomato sauce (called Sunday gravy).
All the recipes for fillings looked so delicious I could not pick just one. I decided to use 3 very different fillings – Braciole 3 Ways!
Preparing the meat
You can make braciole from beef, veal, pork or chicken.  In Sicily they make it from swordfish and you can even use aubergine for a vegetarian version.  I decided to make beef braciole.
You can use anything from thinly sliced rump or sirloin to top side or tenderised steak to make braciole.  It is often made with flank steak.  You can make it with less expensive cuts of meat as it is cooked for so long.
Pound the steak gently with a meat mallet to flatten.  Be careful not to tear the meat.
Season lightly with salt and pepper.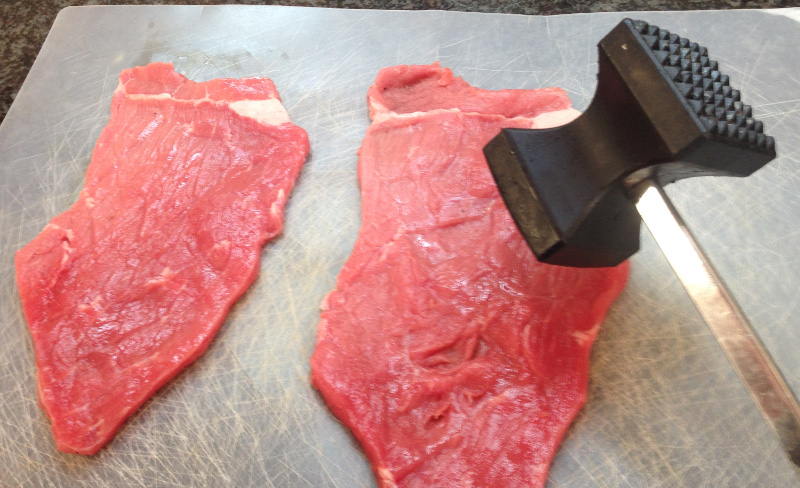 Preparing the fillings
Each filling is enough for 2 pieces of steak (+/- 100g each)
Parma ham, Mushroom and Spinach filing
Adapted from this recipe by Anne Burrell.
2 slices Parma ham
1/2 onion, diced
1/2 garlic clove, finely chopped
50g mushroom, finely chopped
A handful spinach, finely chopped
1 tsp dried breadcrumbs
25 ml Parmesan cheese
Heat olive oil in a pan.  Fry the onion for 3-5 minutes until softened.  Add the garlic and fry for another 2-3 minutes.  Add the mushrooms and fry until all liquid released from the mushrooms cooks away.  Take the pan off the heat and add the spinach.  Season and let it cool.  MIx in the breadcrumbs and Parmesan cheese.
Put the Parma ham on top of the meat and spoon over the filling.
Mozzarella, Anchovy, Red Pepper and Egg Filling
Adapted from a recipe by Tyler Florence.
50 ml dry breadcrumbs
2 garlic cloves, finely chopped
1 anchovy fillet, diced
1/2 cup grated Mozzarella cheese
1/4 cup roasted red pepper, finely diced
1.5 tbsp parsley, finely chopped
2 hard boiled eggs
Fry the breadcrumbs with the garlic in olive oil.  Allow to cool and add the rest of the ingredients (except the eggs).  Season.
Spread the filling over the meat, placing the egg at the thin end.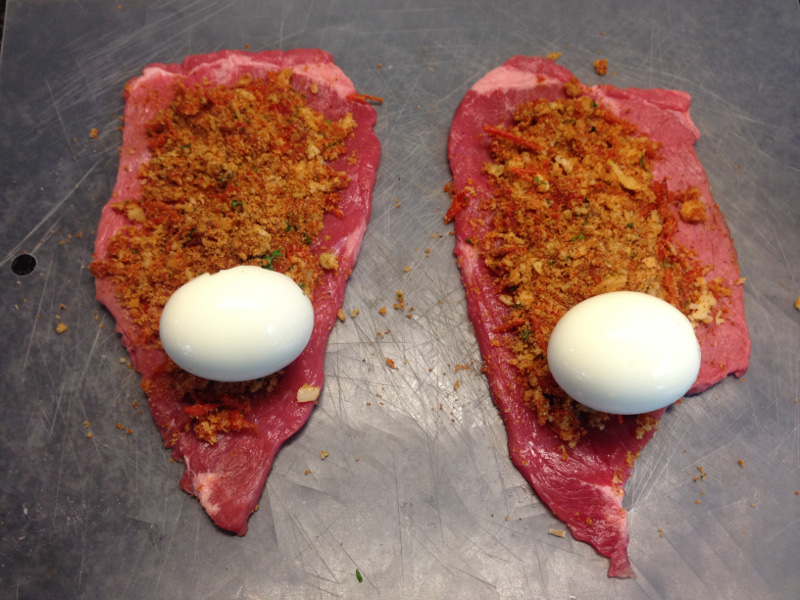 Raisin, Sunflower seed and Parmesan Filling
Adapted from a recipe by Pinch of Italy.
2 tbsp sunflower seeds (they use pine nuts, but I did not have any)
2 tbsp raisins
1 clove garlic, finely chopped
1.5 tbsp parsley finely chopped
50 ml parmesan cheese, grated
Mix the garlic and parsley and spread over the meat.
Sprinkle over the raisins,sunflower seeds and parmesan cheese.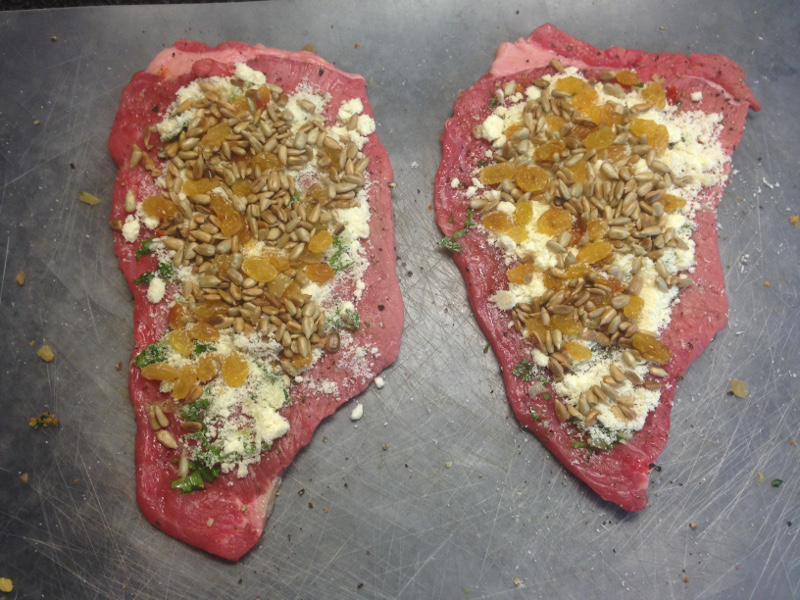 Rolling up the meat bundles
Be sure to leave some space between the filling and the edges of the meat.  You do not want the filling to ooze out while you are rolling up the meat.
Roll up the meat and tuck in the sides.
Secure the rolls with toothpicks or tie up with kitchen string.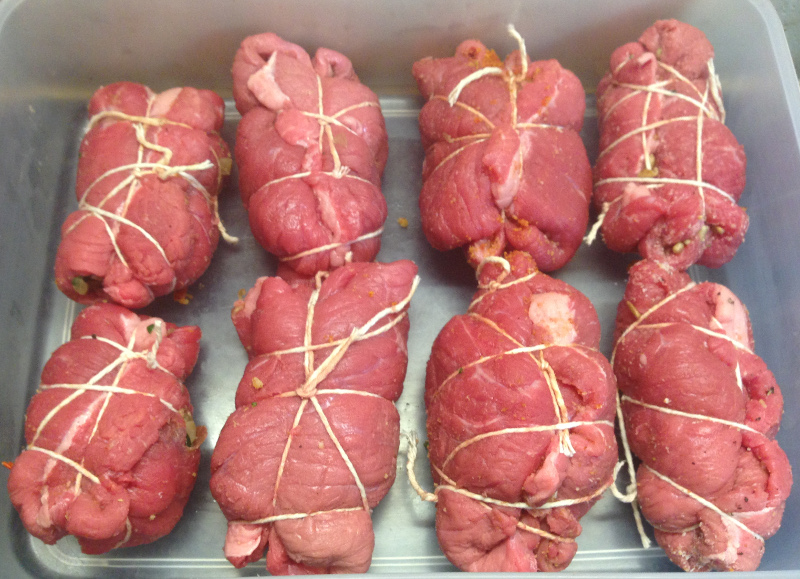 Cooking the meat
Season the meat and brown on all sides in olive oil.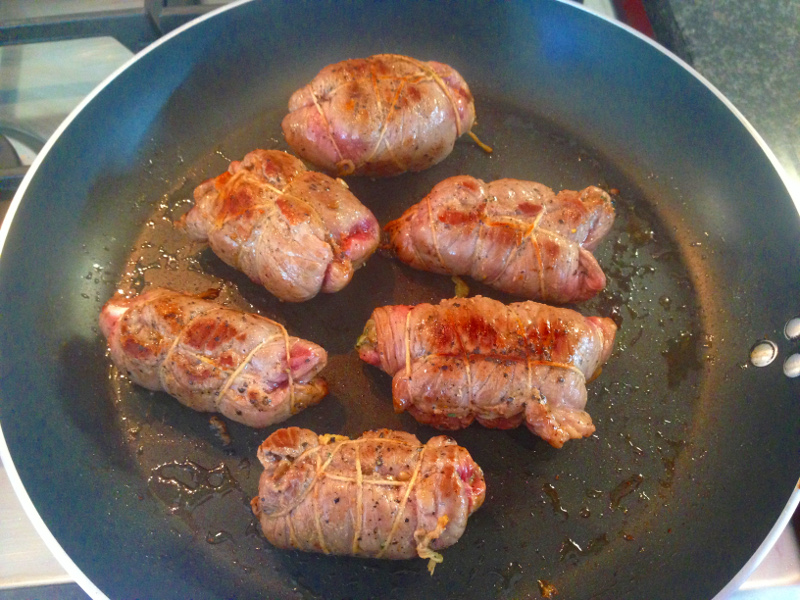 Cook in your choice of tomato sauce for  3-4 hours.
I cooked mine in a slow cooker for 8 hours in a tomato sauce inspired by an Anne Burrell recipe.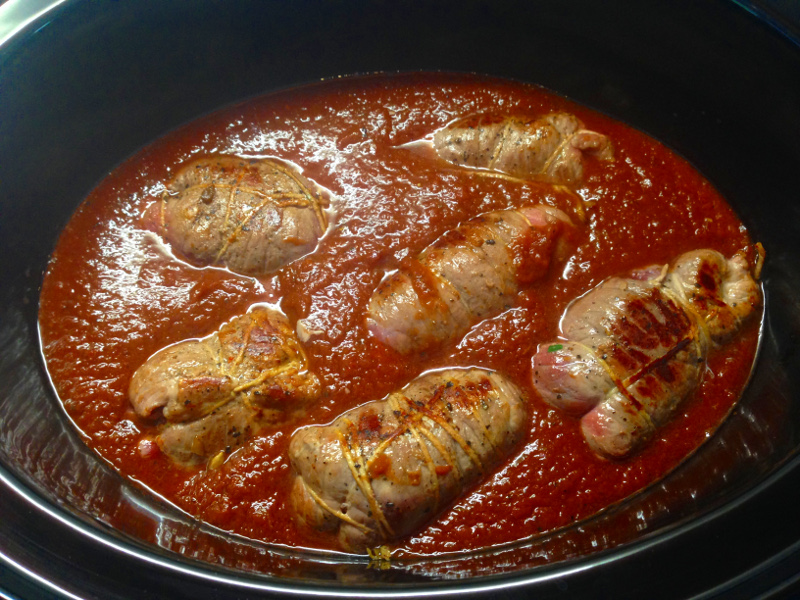 Take the beef bundles out of the sauce and remove the string/tooth picks. Slice into thin rounds.
I served this with a white bean puree  and vegetables.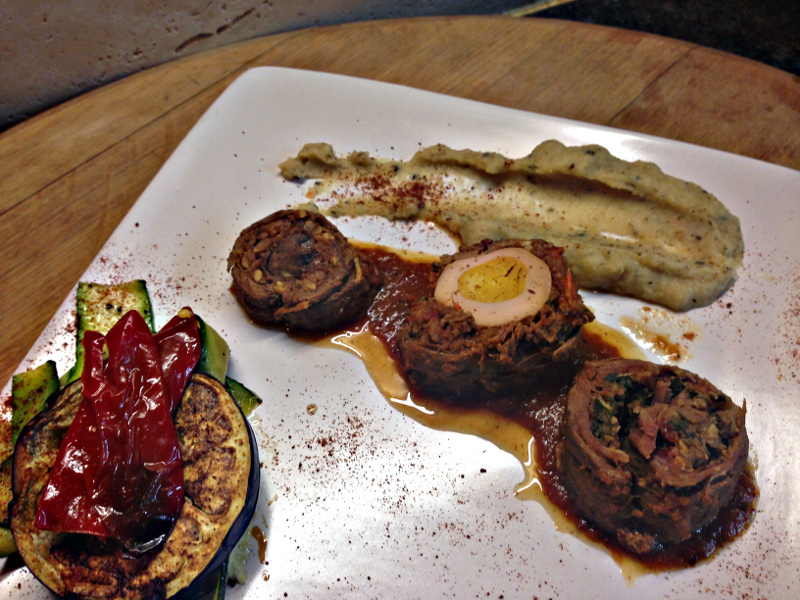 Even though the flavours of the three different fillings sort of "blended together" in the end, this was delicious.
The tomato sauce  had a wonderful meaty flavour and will make the perfect pasta sauce.  We are having it with leftover braciole and homemade pasta tonight – can't wait !
We had Risotto alla Milanese for a starter and Coffee Panna Cotta for dessert.
A "Villiera Down to Earth Touriga Nacional Shiraz 2014" and a "Boschendal "The Pavilion" Shiraz Cabernet Sauvignon 2015″ went well with our Italian Feast.