I was unusually uninspired when it came to creating a menu  for last week's date night.  I asked Adrienne what he wanted to eat and it took him 2 seconds to say "Eisbein".
So Eisbein it was.  But I wanted to do something different than the "Eisbein with sauerkraut and mustard" pub fare.  I came across a Luke Dale-Roberts recipe for "Eisbein with whiskey-and-maple "cafe au lait" on Woolworth's Taste website.
I had to improvise a bit as I could not find maple syrup or double cream in our Checkers and did not have time to go to Woolworths.
Eisbein with a whiskey-and-honey sauce and barley risotto
Adapted from a Luke Dale-Roberts recipe from the Taste website.
Ingredients
2 ham hocks
parsley, finely chopped (for garnish)
For the stock
2 carrots, roughly chopped
1 onion, roughly chopped
2 sticks celery, roughly chopped
1/2 bulb garlic
1 small bunch parsley
1 large sprig thyme
2 bay leaves
125ml whiskey
For the whiskey-and-honey sauce
1 onion, finely chopped
1 clove garlic, crushed
2 sprigs thyme
1 tbsp butter
50ml whiskey
1.5 cups eisbein stock
1.5 cups cream (preferably double cream)
1 tbsp honey
1 tbsp wholegrain mustard
Sea salt to taste – I used Maldon salt
For the risotto
100 g pearl barley
1/2 onion, finely chopped
1 clove garlic, crushed
5g thyme, chopped
3 tbsp butter
1/2 cup white wine
1 cup eisbein stock
100g asaparagus, chopped
2 oyster mushrooms, chopped
15g Parmesan, grated
Preparing the meat
Place the hocks  into a pot with the stock ingredients and enough cold water to just cover it.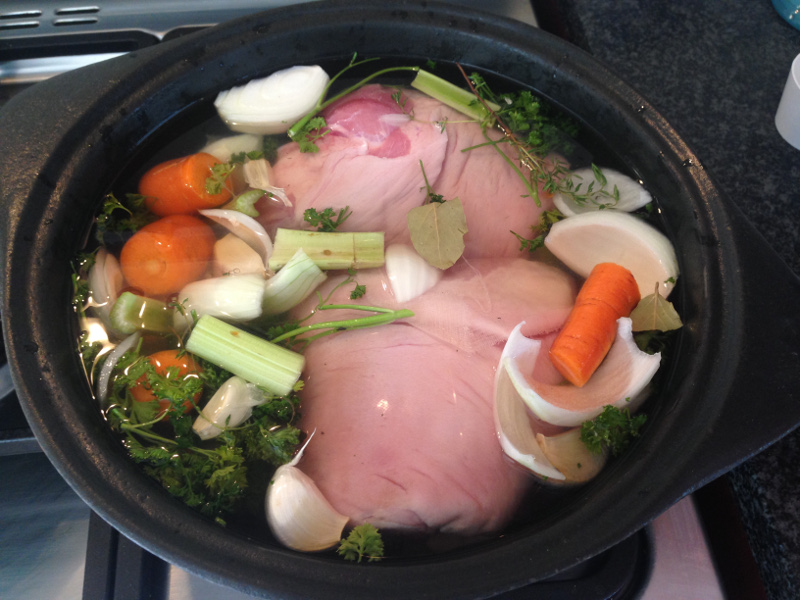 Bring to a boil and simmer for 2 to 3 hours until the meat starts falling off the bone.
Cool, remove from stock and refrigerate. Reserve the stock for the sauce and risotto.
When the hocks have hardened slightly cut away the meat and place on a baking tray.  Roast in a preheated oven at 180C to 10-15 minutes.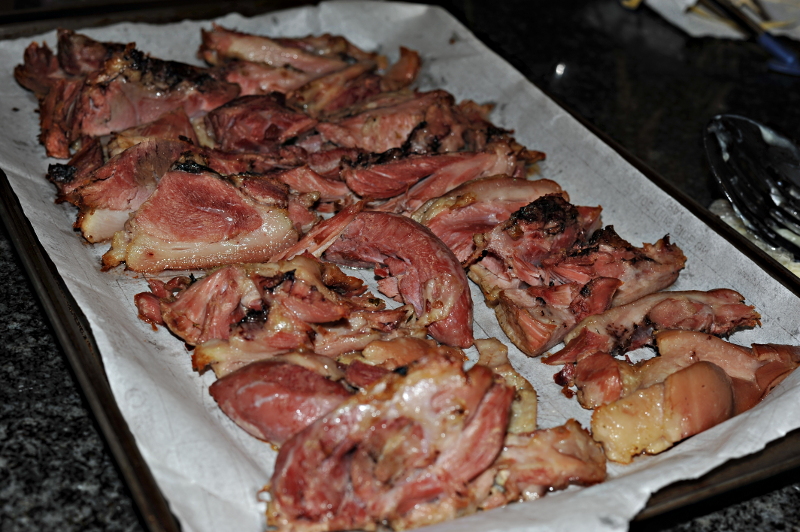 Preparing the sauce
Heat butter in a pan.  Fry the onion, garlic and thyme.  Turn up the heat and flambé the whiskey.  Add the stock.
Cook over hight heat until it has reduced by three quarters.
Add the honey and cream.  Simmer until it has thickened slightly.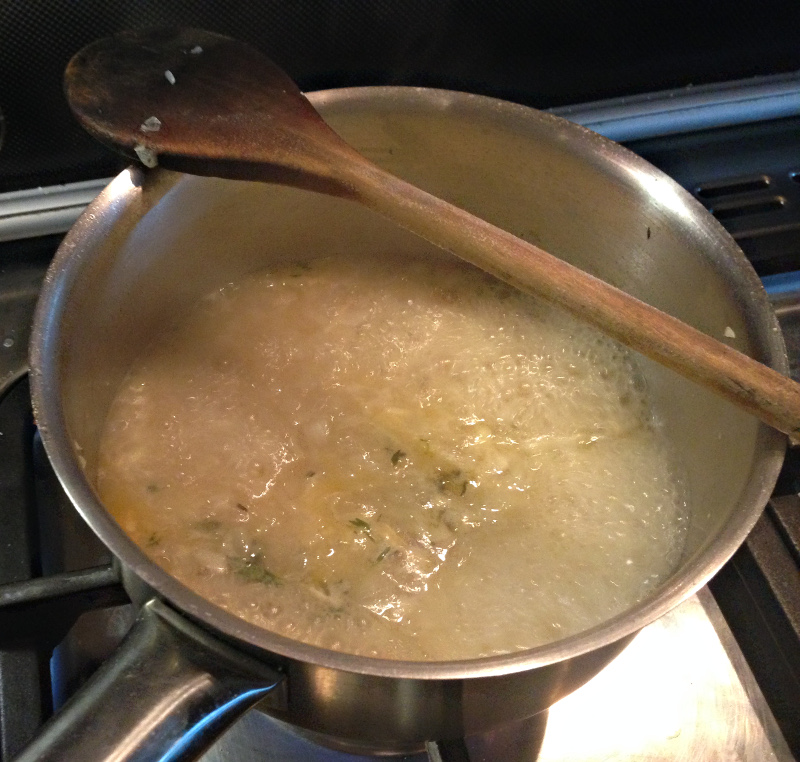 Strain and add the mustard.  Season with salt.
Preparing the risotto
Boil the pearl barley for 20 minutes. Strain and reserve.
Heat 2 tbsp butter in a pan and fry the onion, garlic and thyme until soft.
Add the barley and white wine and boil for 2 to 3 minutes to evaporate the alcohol.
Pour in just enough of the stock to cover the barley and simmer gently to reduce the liquid.
Add a little bit more of the stock once the liquid has been absorbed. Repeat this until the barley is soft (it must still have a bit of a bite to it).  Stir in the asparagus and mushrooms with the last of the stock.
Stir in the Parmesan and the remaining butter.  Season if necessary.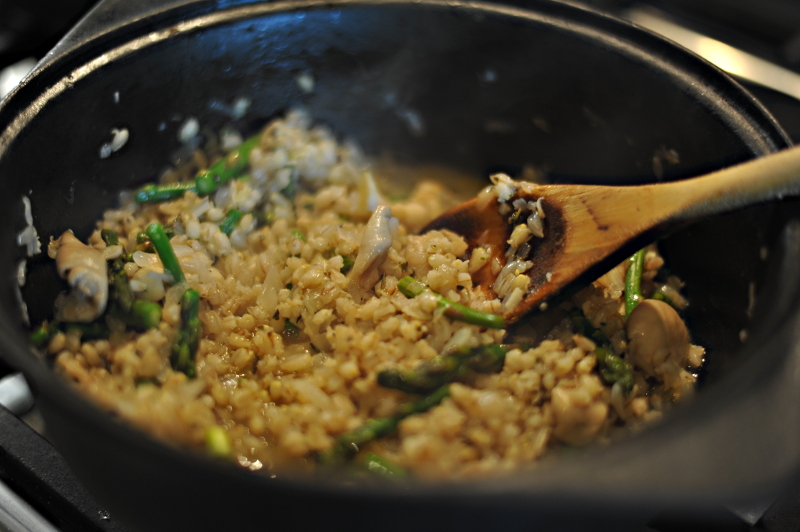 Place a couple of spoonfuls of risotto on a plate and layer a couple of slices of meat over it. Drizzle over some of the sauce and garnish with parsley.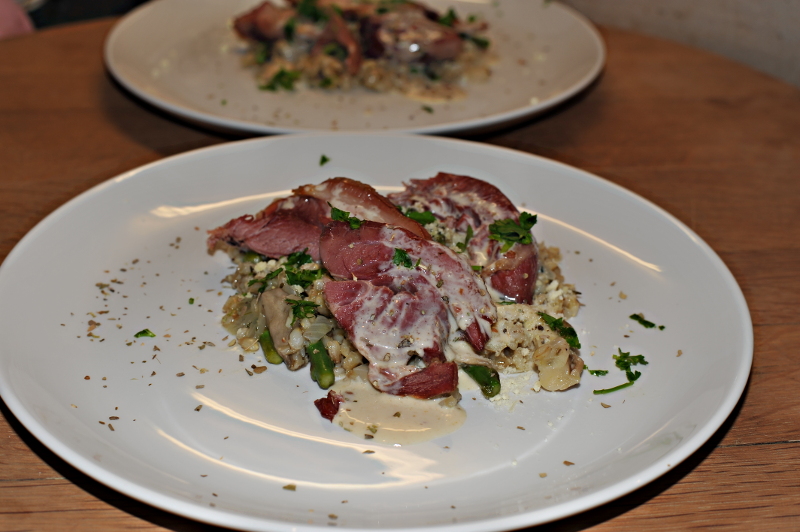 My dish was certainly not as pretty as the one in the original recipe (plating is always challenging after the first bottle of wine).
However the taste was amazing.  It's a very rich dish so this recipe could probably feed 6 people.
We enjoyed this with a Langverwacht 4 Barrel Shiraz 2016 and a Badsberg Merlot 2015 that we bought on our Breede River Valley wine road trip in October.