Looking for a  recipe for our Brazilian datenight I came across Xinxim de Galinha (Brazilian Chicken Stew).  How could I not make something with such a fabulous name ?  This famous Brazilian chicken, shrimp and nut stew comes from Bahia – an Afro-Brazilian region.
Xinxim de Galinha
Adapted from a recipe on the Flavors of Brazil blog – you can find the original recipe here.
Ingredients
For the paste:
3 large onions
2 cloves garlic
1/2 cup ground roasted cashews
1/2 cup ground roasted peanuts
1 cup loosely packed chopped coriander
1 Tbsp. chopped parsley
2 Tbsp. finely grated fresh ginger
1 jalapeno pepper, seeded
1/2 cup peeled dried shrimp (you can find this at Asian supermarkets)
1 cup water
2kg chicken pieces, skinned
1/2 cup peeled dried shrimp
1-2 cups coconut milk
1-3 Tbsp  coconut oil
A key ingredient in the dish is dendê palm oil which I could not find anywhere in Cape Town.  It gives the dish that vibrant orange colour.  Add half a cup to the dish just before serving if you are able to source it.
Method
Blend together all the ingredients for the paste.  I used my stick blender to do this.  As you can see it got a bit messy.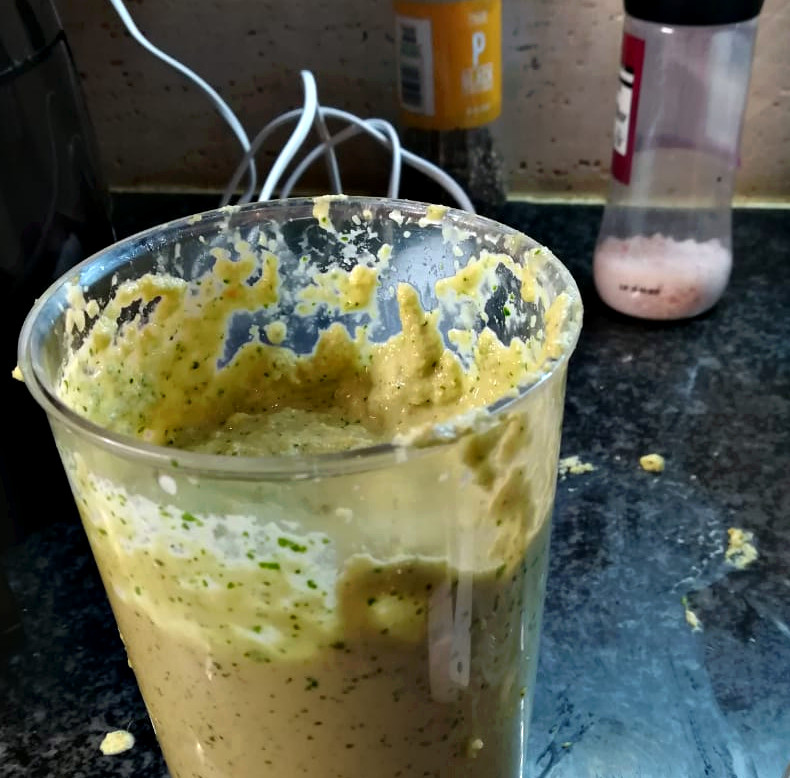 Heat the coconut oil.  Season and brown the chicken.  Do this in batches and be careful not to overcrowd the pot.  You don't want your chicken to steam.  Add more oil if necessary.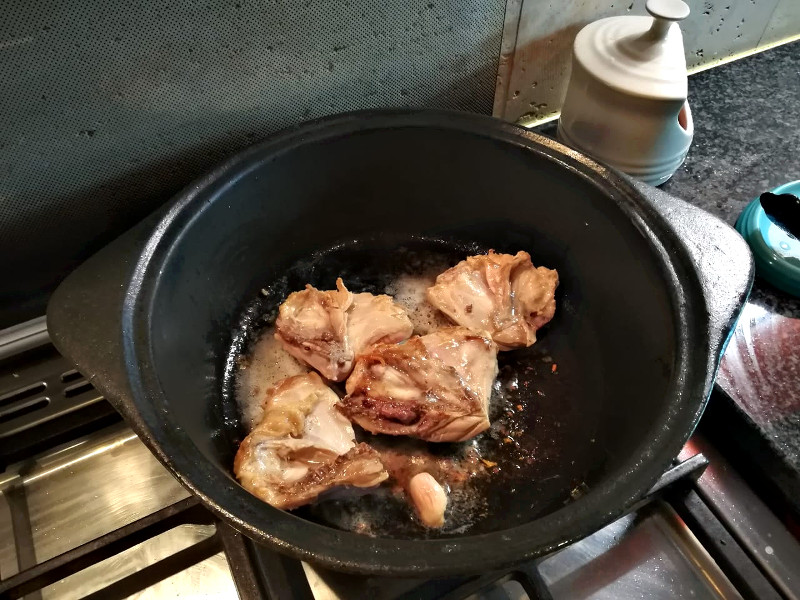 Remove the chicken from the pot.  Heat some more coconut oil and gently cook the curry paste for 1-2 minutes over low heat.  This is not in the recipe.  However I love the way that cooking a Thai curry paste brings out the flavour so I decided to use the same concept here.
Add the 1/2 cup of coconut milk to the paste and fry for another minute. Add the chicken and gently mix in with the sauce.   Now add the dried shrimps and 1/2 cup of coconut milk.  Some recipes use coconut milk and others doesn't.  It seems that the more authentic versions does not have it in and neither did the recipe that I used for this dish.  I love coconut milk though and as I did not have dendê palm oil I was not striving for authenticity anymore.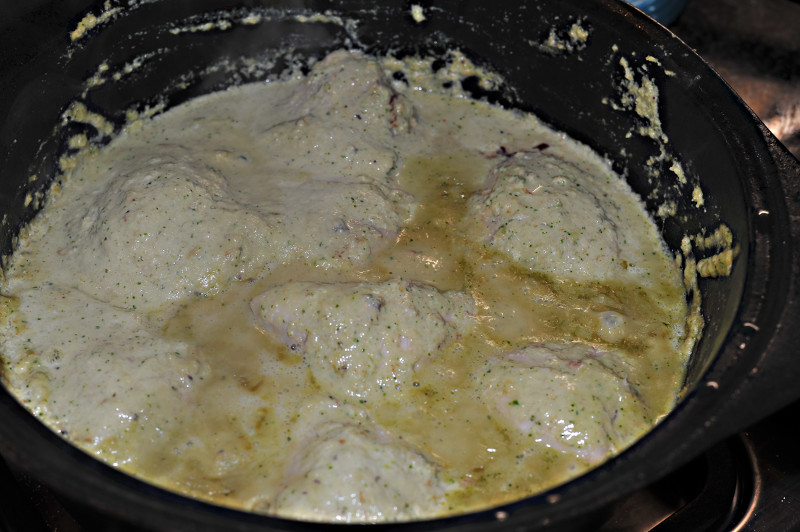 Bring to a boil, then reduce the heat to low and cover.
The original recipe's cooking time is 20 -30 minutes.  I cooked it at a very low heat for an hour.  Make sure from time to time that the sauce doesn't stick to the bottom of the pot and burn.  If the liquid starts drying up add more coconut milk.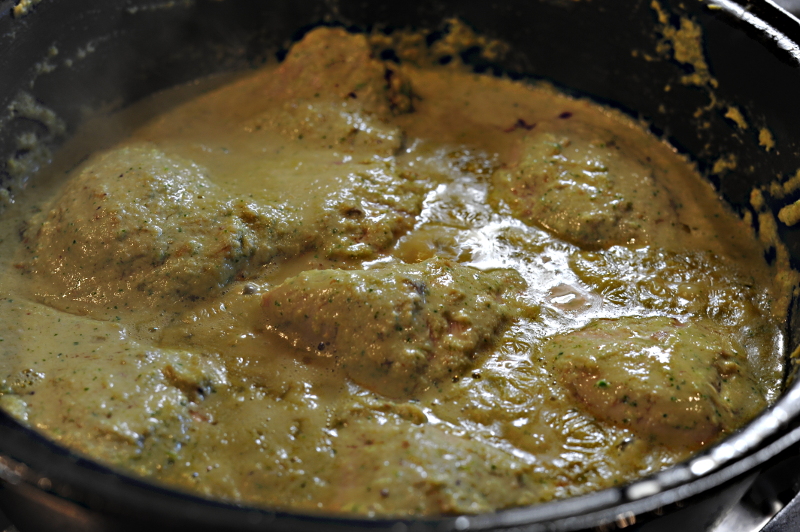 Xinxim de Galinha is usually served with plain white rice.  I served it with brown basmati rice. I liked the nuttiness of the rice with the flavours of the stew.
Verdict
This dish might not be everyone's cup of tea as the flavour of the dried shrimps is not subtle.  We enjoyed it as we love dishes with big flavours.  I'm glad that I used the coconut milk as the creaminess that it added to the dish worked well with the earthy flavours of the shrimp and nuts.  Of course without the dendê palm oil we'll never know what it is really supposed to taste like.  Fortunately there's a few shop in Portugal that stocks Brazilian ingredients.  Another item on my ever growing foodie wishlist for our next trip.