So what constitutes the perfect steak sandwich ? I take a look at some of the main criteria which for me contributes to a good steak sandwich and which should be kept in mind when preparing one.
For me a very good steak sandwich should at least adhere to the following criteria:
Decent portion
Good bread
Good quality steak
Thickness of the steak
Marinade the steak
Grill the steak properly
Garnish
Spread on the bread
The "special" sauce
A good wine
Decent portion
Nothing says "failure" more than somebody serving a steak sandwich, which you can pick up with one hand and stuff into one cheek. You do not do miniature steak sandwiches. When you serve a steak sandwich, put down a decent portion, with optional chips or salad, but it shouldn't be required.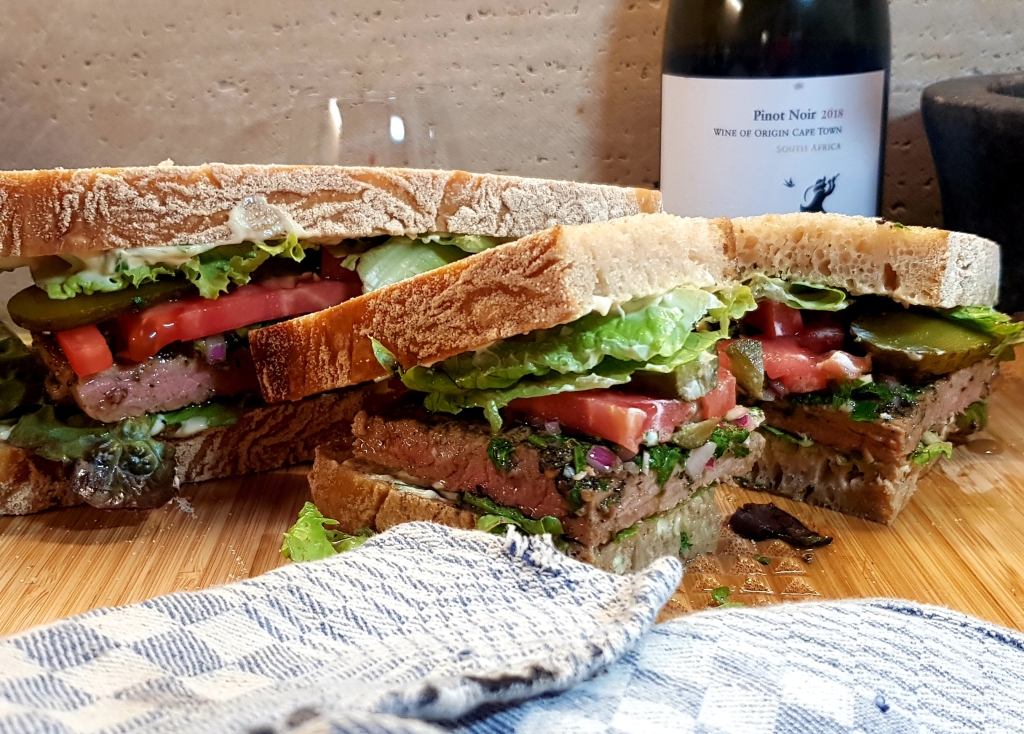 Good bread
Choose a fresh, substantial bread i.e. a bread that can support a heavy load and wouldn't get too soggy or fall apart on the first bite. Ciabatta, panini and sourdough bread are great options. If using a loaf of bread, cut 2cm slices. Of course, the bread can be slightly fried in butter before the time, if you choose to do so.
Good quality steak
Do not skimp on the steak. Do not use inferior steak and then try to pummel it with a meat hammer. Use good quality, 28 day aged, steak and make sure all the sinews are trimmed away. I can't think of a lot of things worse than biting into a steak sandwich and when pulling away, the whole sandwich is torn apart and disintegrates. Normally I would use good quality sirloin, because it portions easily, but rump and rib-eye will also suffice. Tenderloin (fillet) will also work, and although it lacks the flavour of the other cuts, it makes up with its tenderness.
Thickness of the steak
The steak must be cut into 2cm cuts and then slightly pounded with a meat hammer down to 1.5cm. Do not cut it thicker, then it will be more difficult to bite through and do not cut it thinner otherwise it will be difficult to grill a medium to rare juicy steak.
Marinade the steak
There are various steak marinades out there. Use one which will enhance your "special sauce". Be careful of using too much vinegar and lemon juice as it might prohibit the steak from getting the charred colour when grilled. Marinade for 4 hours at room temperature. There are some marinade recipes here. Instead of using a marinade, you can also use a rub.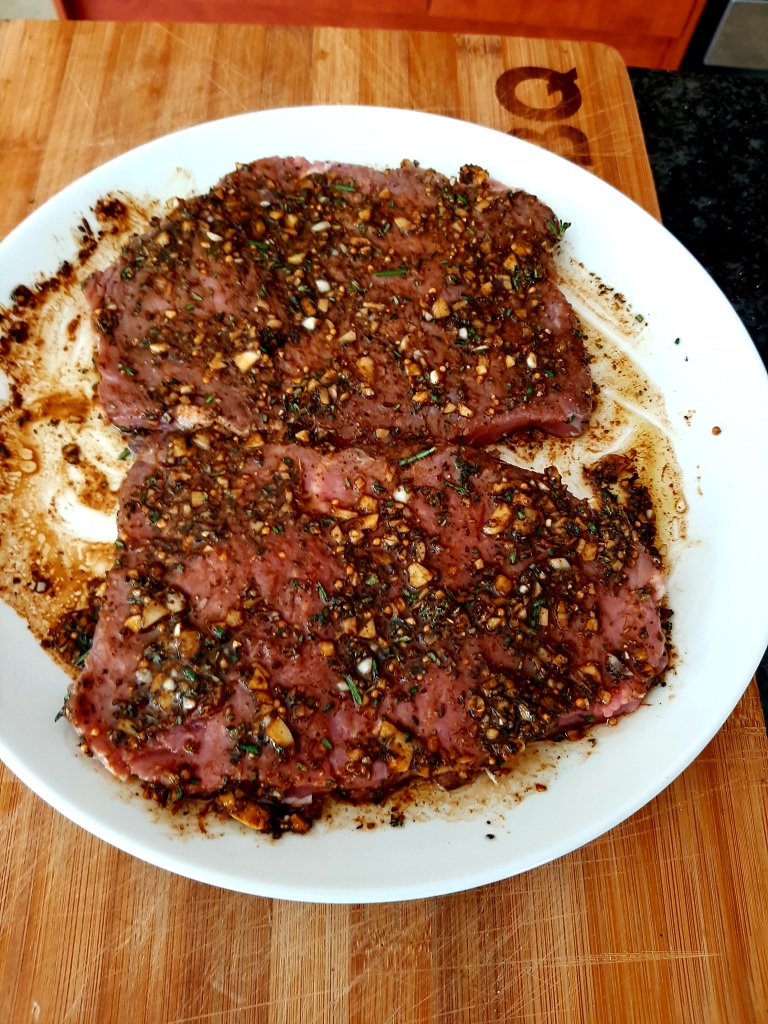 Grill the steak properly
The steak should be quickly seared on both sides and then cooked medium to rare. Try to use an open grill with hot coals. A steak plate over hot coals could also work. Try to stay away from pan fried steak for this one. Leave the steak for at least 3 minutes to rest before serving.
Garnish
Fresh tomatoes, lettuce or rocket and onions (raw or slightly fried) is a must on a steak sandwich. It provides another dimension to the sandwich and is mainly responsible for the texture as you bite into the sandwich. Pickles are also a good choice as it provides an additional vinegary taste.
Spread on the bread
The bread will need some sort of spread. Whether you use plain butter (no margarine please) or your favourite mayo or mustard, but there must be something on the bread.
The "special" sauce
You will need a "special" sauce to provide the umami taste. This sauce can be part of your marinade and then you can brush it on while grilling your steak. Or if you chose a more neutral marinade, you can make a sauce on the side and then serve it on top of the steak. Sauces that works very well with steak sandwiches are: prego sauce, blue cheese sauce, pepper sauce, mushroom sauce, guacamole, chimichurri and gremolata.
A good wine
This one is pretty obvious. A good red wine goes very well with a steak sandwich. My personal taste is a dry red wine like a Cabernet Sauvignon, but a Pinotage, Merlot or even a Pinot Noir will work just as well.