I recently got my hands on some very good quality warthog stewing meat. While searching for a suitable recipe, I stumbled upon this recipe by Nico Verster – Slow-roasted warthog potjie with dukka spice – which had me instantly intrigued. Dukka (or dukkah or duqqa) is an Egyptian seed and nut condiment where warthog is a venison meat often used in South African cuisine and cooked in a potjie which is a traditional way of cooking food in a cast iron pot. Fusion food indeed!
This recipe was also published in Nico's book, Savannah to Sea: Fine cuisine under an African sky. I changed the recipe quite a bit, but the core of the dish is still the same.
You will need the following ingredients for the dish.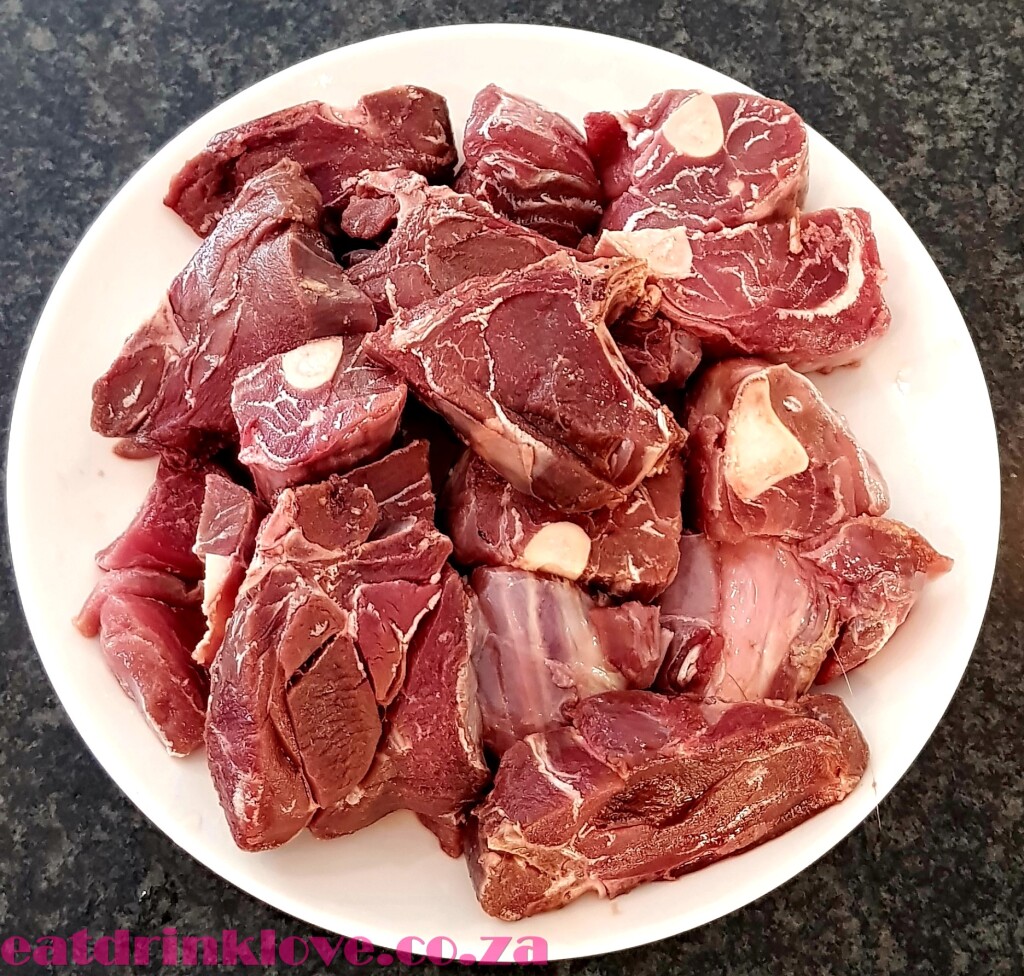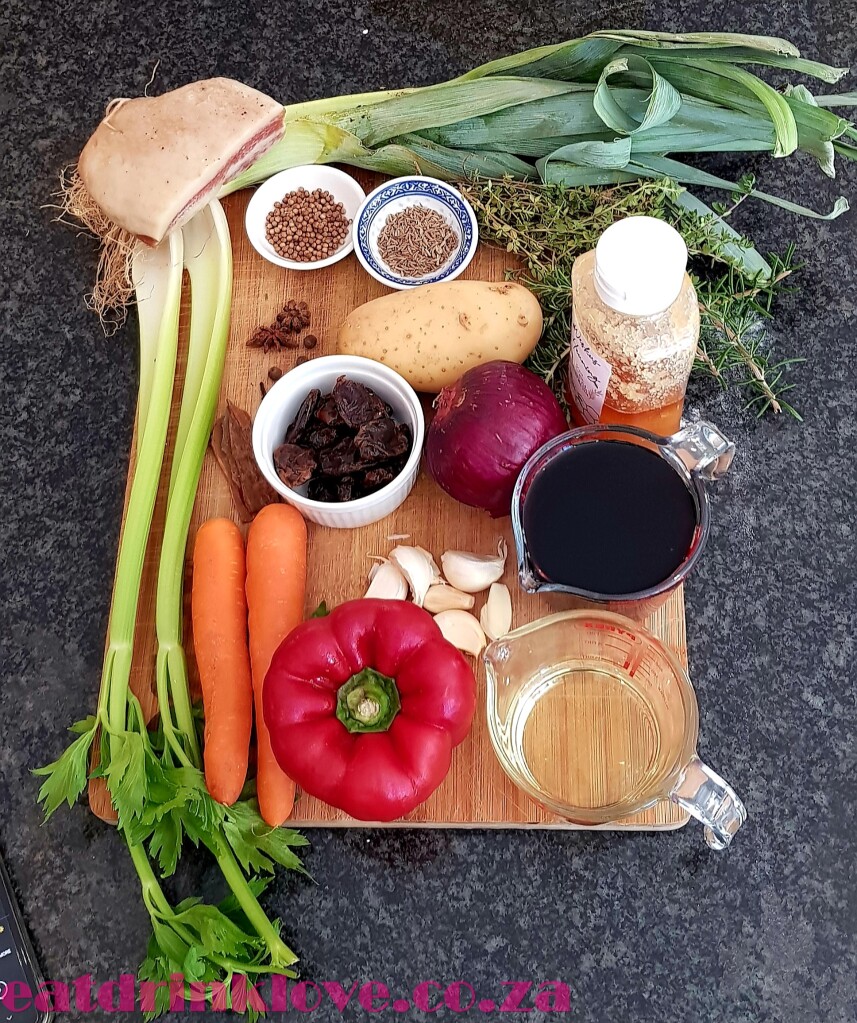 Ingredients
1.5kg warthog stewing meat (I got some good quality meat from Cape Venison)
180g guanciale (or chorizo or bacon), cut into 1cm cubes
80ml vegetable oil
2 medium carrots, cut into 1cm cubes
1 red onion, diced
2 leeks, cleaned, leaves discarded and cut into 3mm slices
2 celery stick with leaves, cut into 3mm slices
6 garlic cloves, chopped
1 red pepper, cleaned, de-seeded and cut into 1.5cm pieces
3 large potatoes, peeled and cut into chunks
1 bunch of thyme, leaves only, roughly chopped
6 sprigs of rosemary, leaves only, roughly chopped
2 tsp cumin seeds
2 tsp coriander seeds
2 allspice berries
3 whole cloves
2 whole star anise
2 5cm cinnamon sticks
500ml quality beef stock
500ml dry red wine
125g pitted dates, sliced into 3mm pieces
200ml plain / Bulgarian yoghurt
100ml quality dukkah (and some more for garnish)
Fresh coriander, chopped for garnish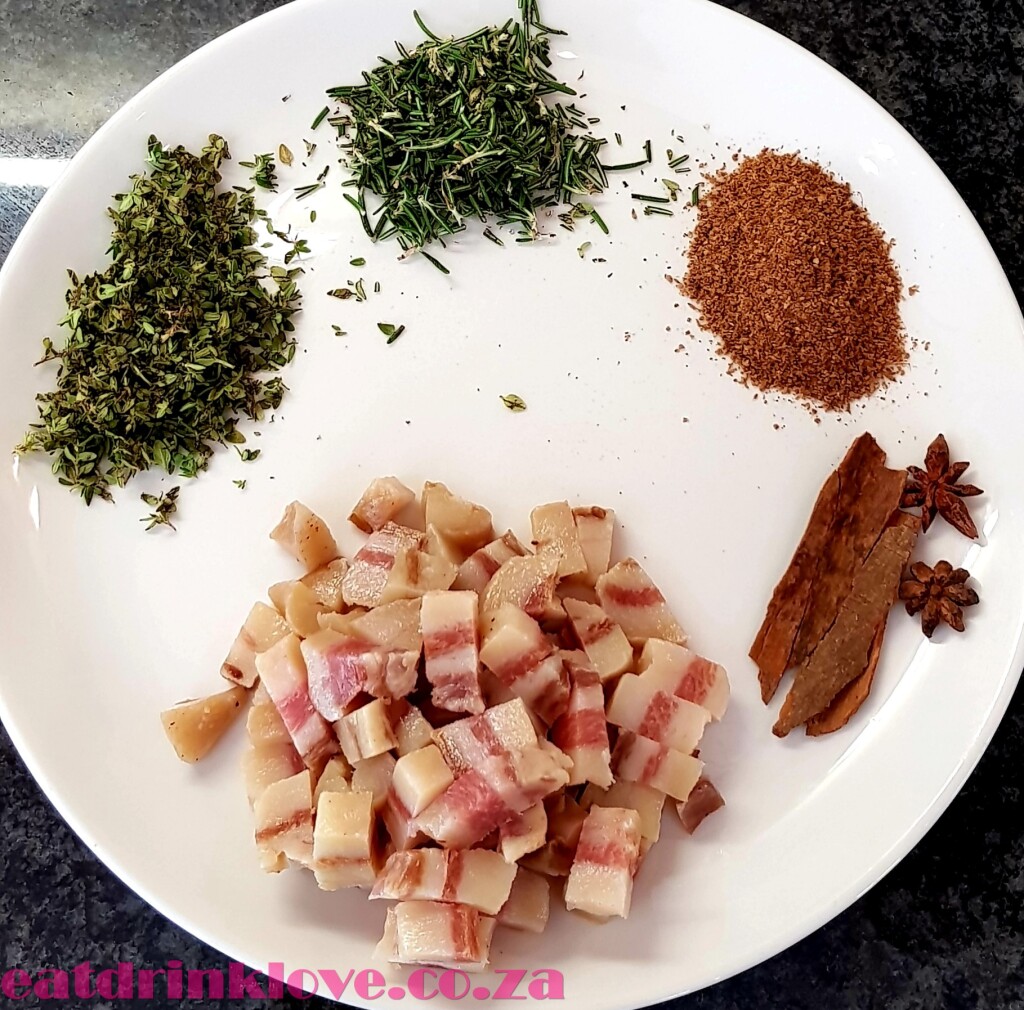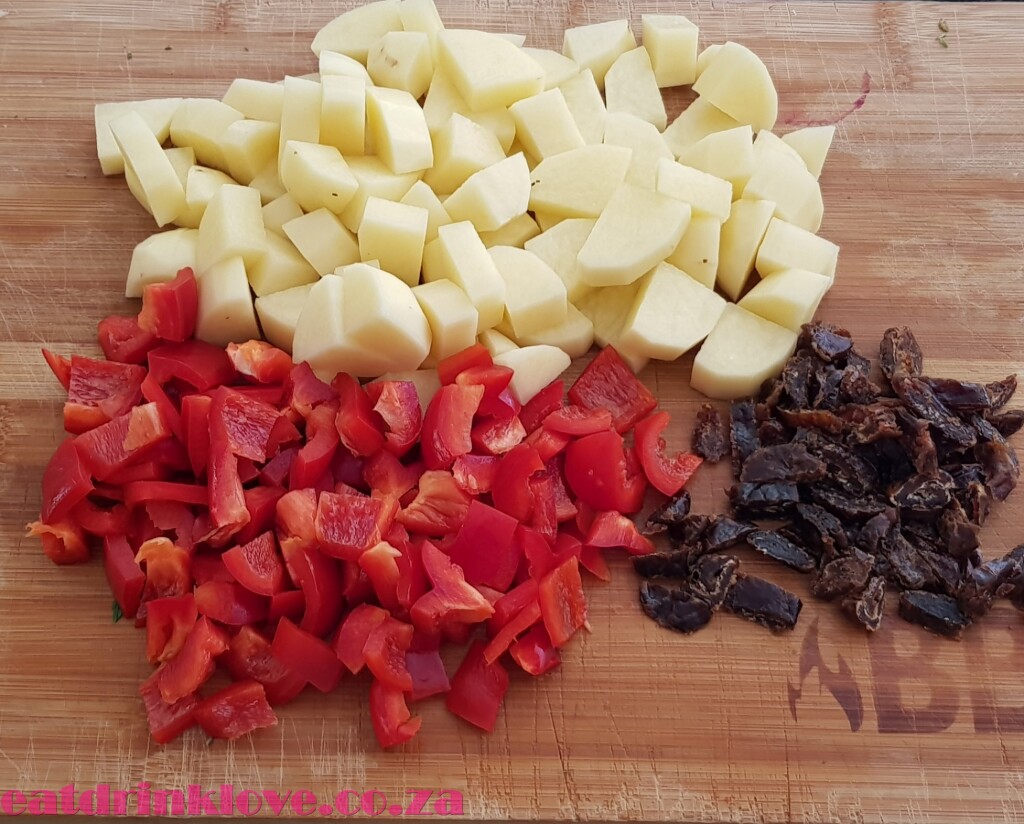 Method
In a large bowl, mix the warthog meat and the dukkah well. Place in the refrigerator for at least 6 hours.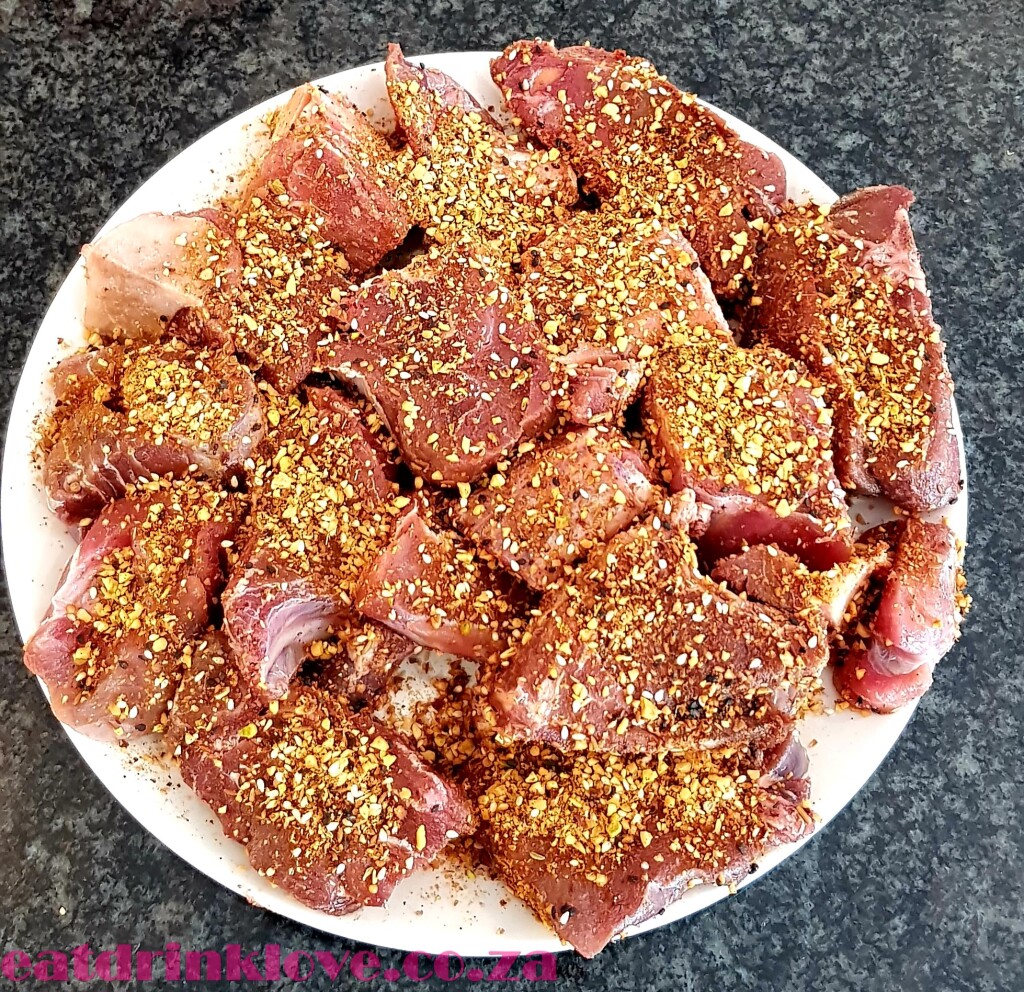 In a small pan, dry fry the cumin, coriander, allspice and cloves. Be careful not to burn the spices. Put it in a mortar and pestle and grind it to a fine powder. Set it aside.
Make a fire and heat up a potjie with the oil. Make sure it is at least a No. 3.

Fry the guanciale in the oil until it turns golden brown. Add the ground spices, star anise, cinnamon, thyme and rosemary and cook for another minute or so, stirring the whole time.
Add the carrots, onion, leeks and celery. Stir well and cook for another 10 minutes.
Add the warthog and brown the meat.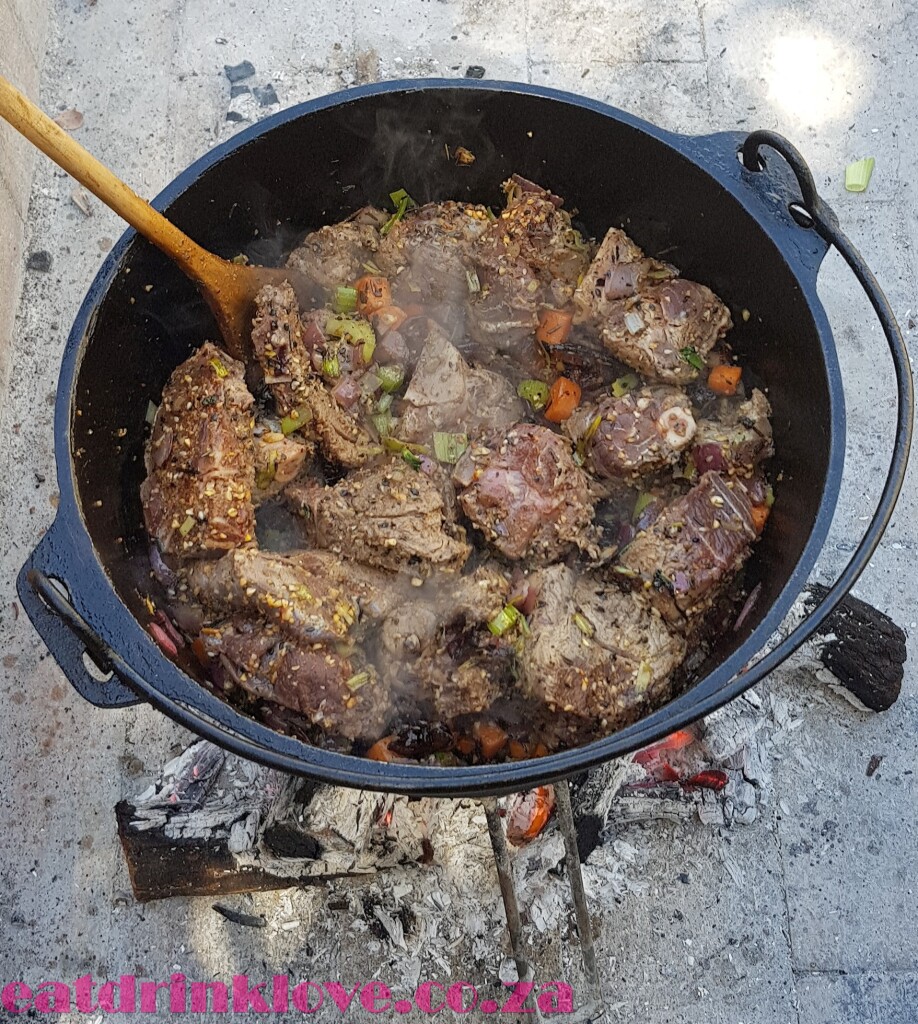 Deglaze the pot with the honey, 250ml of the red wine and the stock. Cover and cook for 2 hours, adding the rest of the wine if and when necessary. Stir every 20 minutes or so.
Add the potatoes, red pepper and dates and cook for another 30 minutes covered.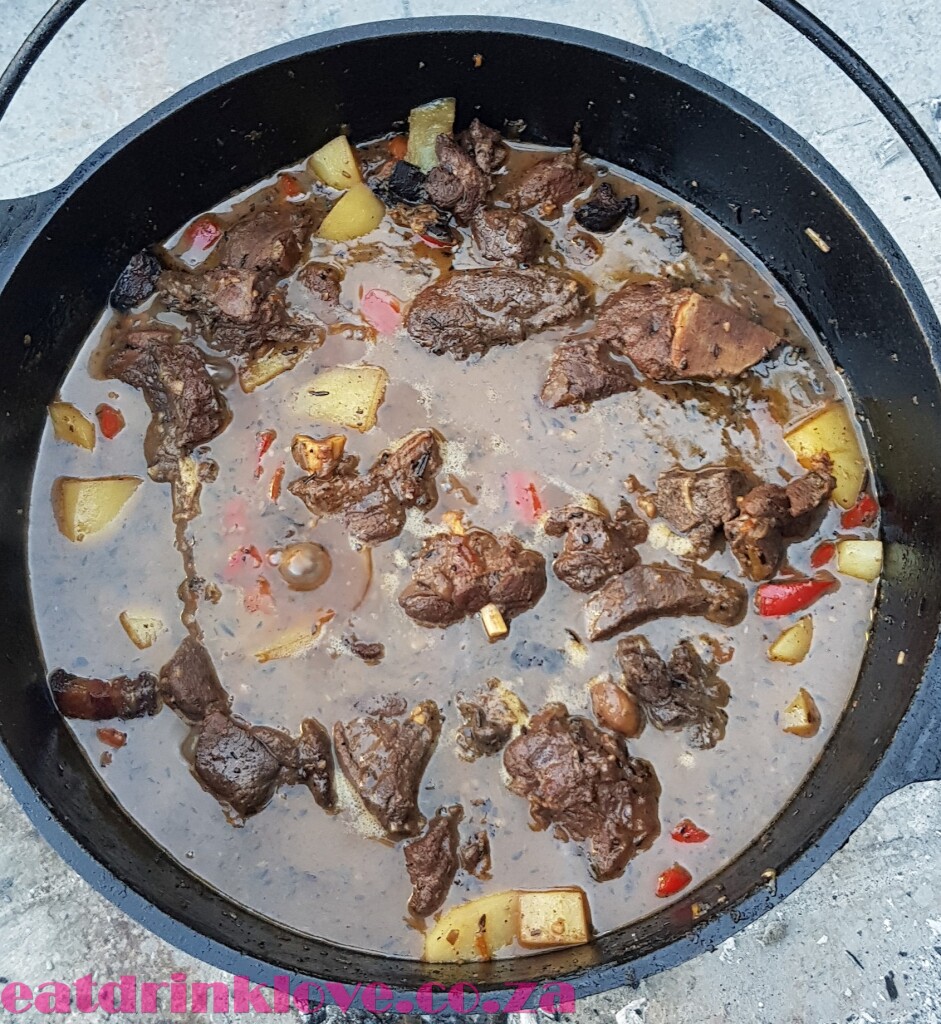 Stir in the yoghurt and remove the pot from the fire to rest for at least 20 minutes.
I served this with freshly baked sourdough bread.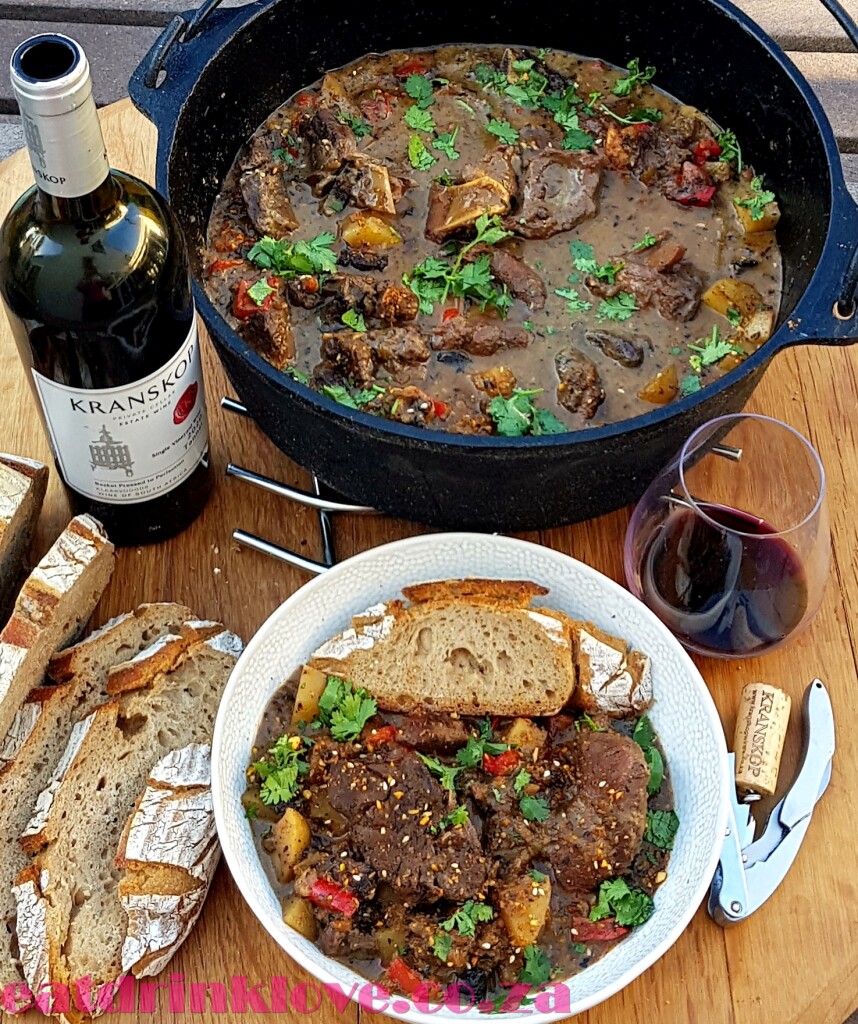 We paired this with a 2020 Kranskop Tannat. Here are the tasting notes for the 2018 vintage:
Here is also a quick video showing the steps: