Indulge in a comforting meal with this easy recipe featuring cabbage and corned beef, served alongside roasted potatoes. It's the ideal hearty dish to warm you up on a chilly winter's evening. Corned Beef and Cabbage is a timeless pairing of tender corned beef, flavorful cabbage, and delicious potatoes, traditionally enjoyed in Irish and American cuisines, especially during festive occasions like St. Patrick's Day.
You will need th following ingredients:
Ingredients for the main dish
1 small head of cabbage, cored and thinly sliced
500g corned beef diced
1 onion, diced
1 medium size carrot, peeled and diced
3 cloves of garlic, minced
½ tsp freshly ground black peppercorns
2 bay leaves
2 Tbsp vegetable oil
2 sprigs fresh thyme
1 tsp paprika
½ tsp cayenne pepper
Salt to taste
Fresh coriander for garnish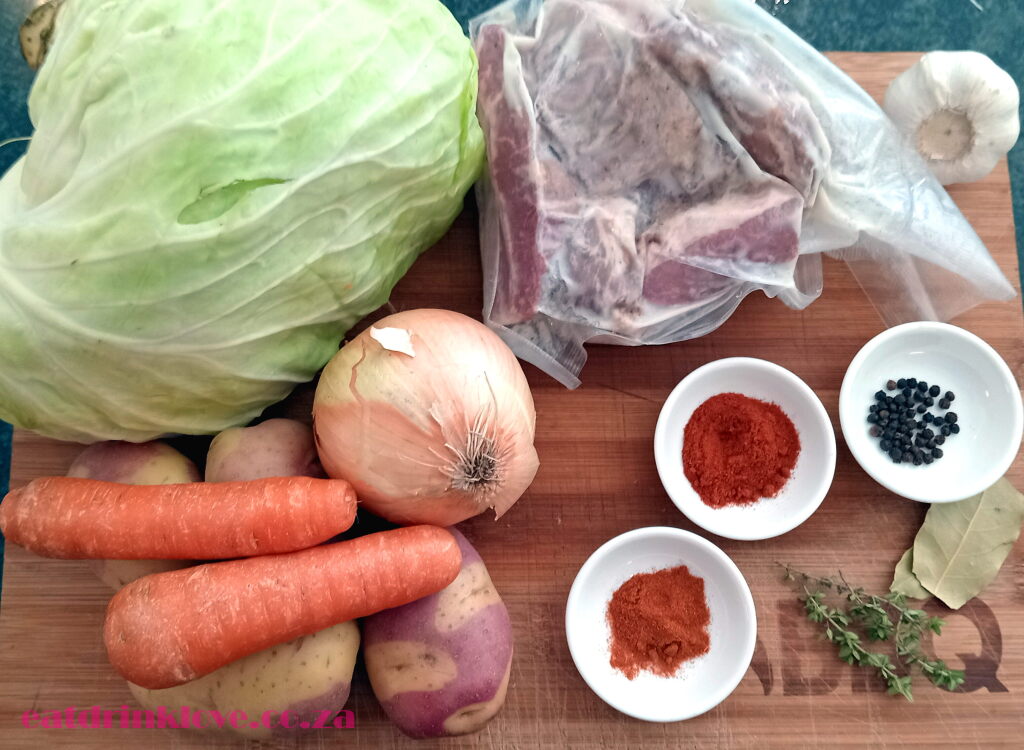 Ingredients for the potato dish
4 medium potatoes, peeled and thinly sliced ± 2mm
1 Tbsp olive oil
½ tsp fresh ground black peppercorns
½ tsp dried thyme
1 tsp kosher salt
In a large pot (with a lid), heat the vegetable oil over medium heat. Add the thyme, bay leaves, onion, minced garlic, and sauté until the onion becomes translucent and fragrant.
Add the peppercorns, paprika and cayenne pepper and cook for another minute while stirring.
Then, add the diced corned beef and carrots to the pot and cook for a few minutes until it begins to brown.
Lastly, add the thinly sliced cabbage to the pot. Stir well to coat the ingredients evenly.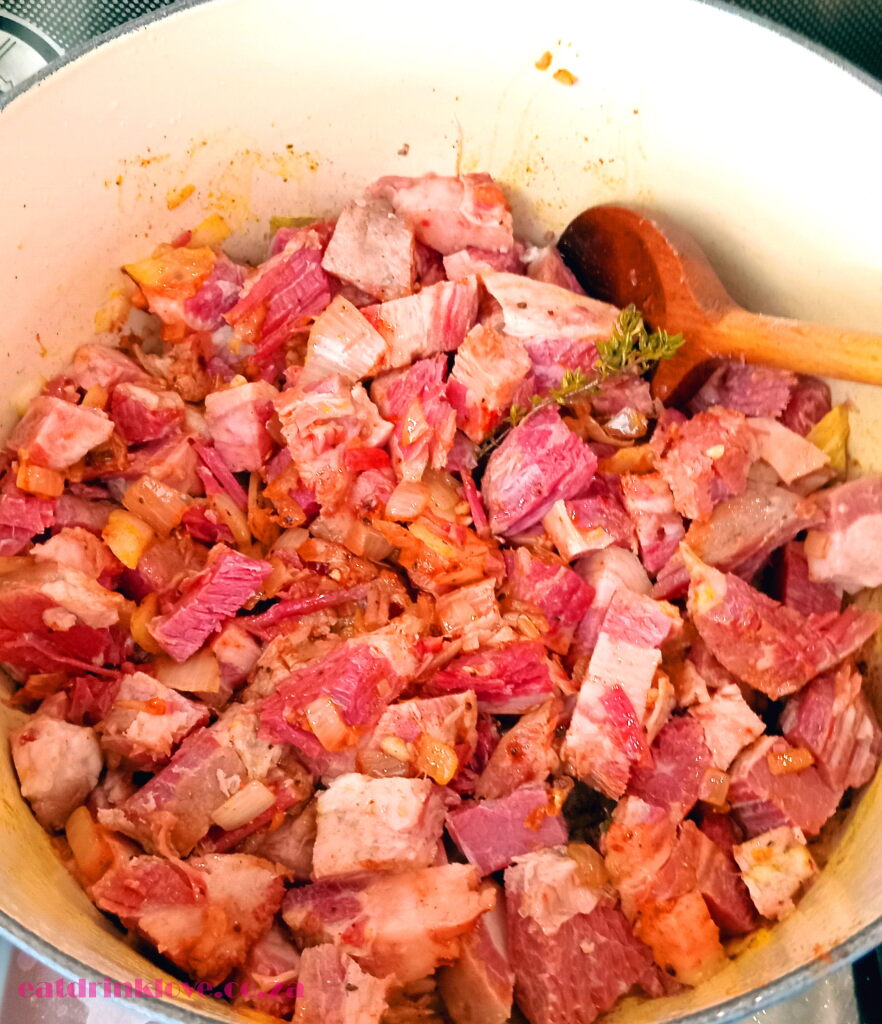 Reduce the heat to low, cover the pot, and let the mixture simmer for about 20-25 minutes, or until the cabbage is cooked to your desired level of tenderness.
Taste and adjust the seasoning if needed.
Mix the ingredients for the potato dish together and then either fry in an air fryer or in a heavy pan until the potatoes are brown and tender.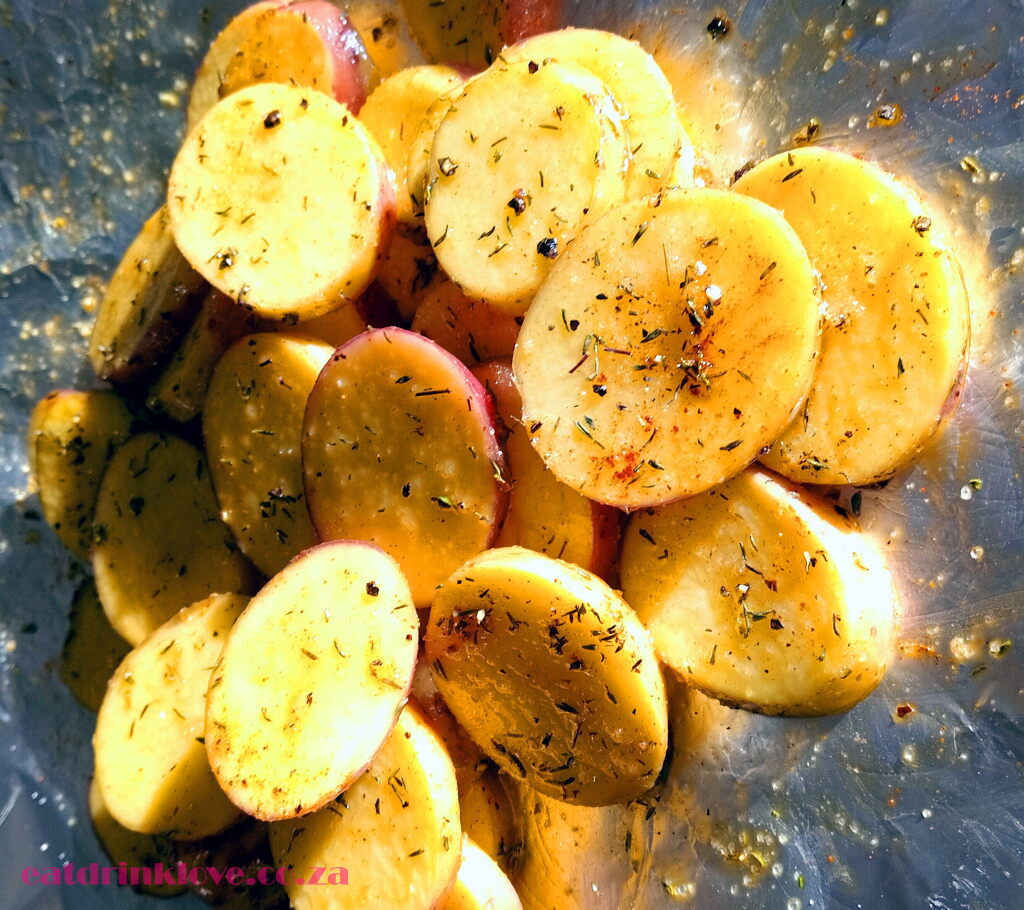 Serve the cabbage and corned beef hot with a side of potatoes and chopped fresh coriander on top.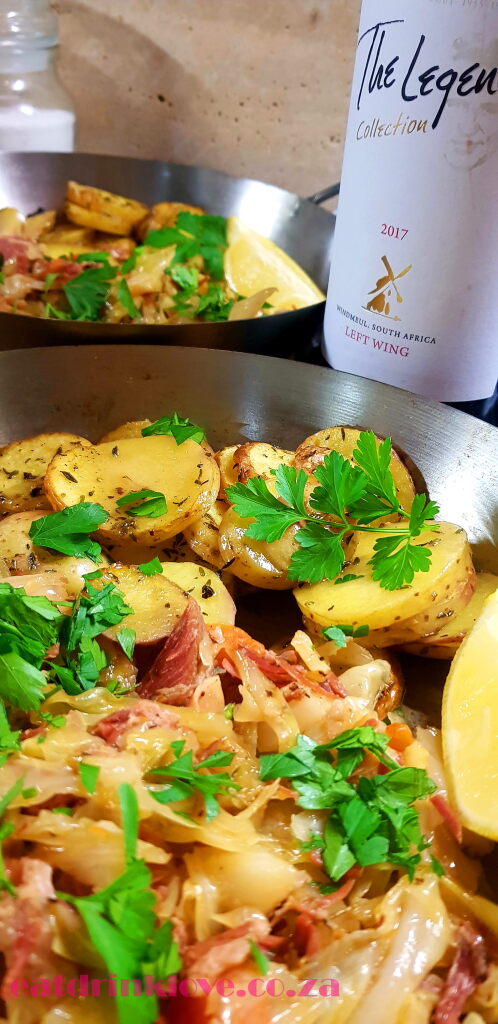 We enjoyed this with a 2017 Windmeul Pinotage from The Legend Collection called the Left Wing.
The Legend Range – named after the legendary TPD (Theunis Petrus Daniel) Briers, a veteran Springbok rugby player, and a past member and director of Windmeul Cellar.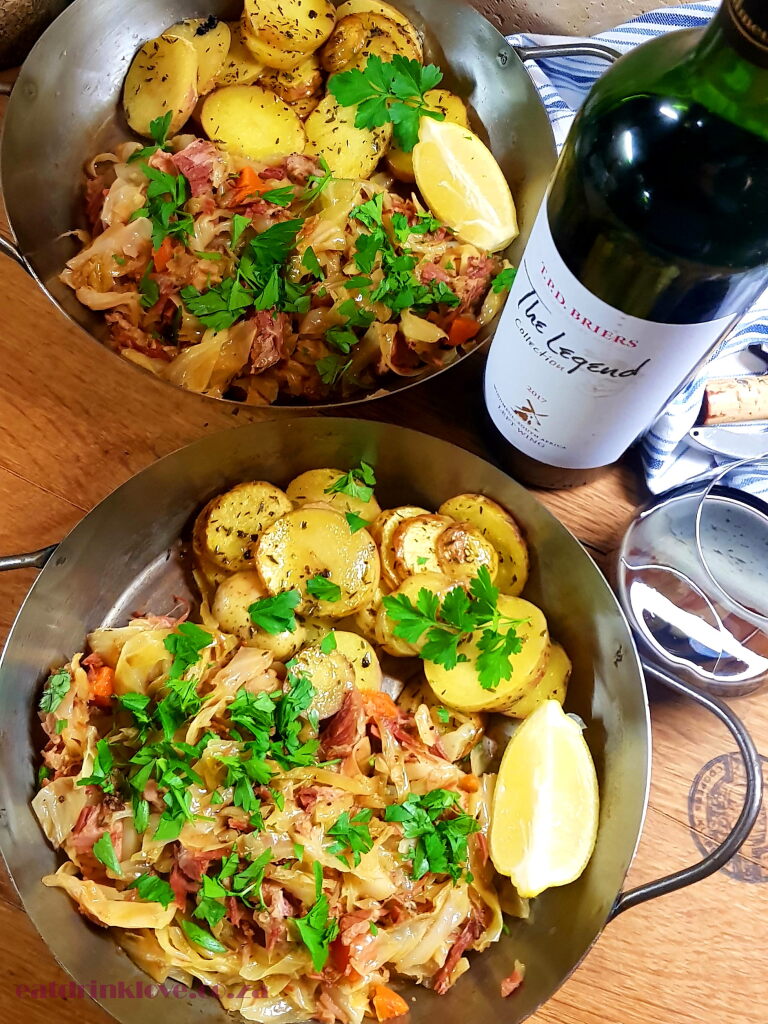 The 2017 vintage received the following accolades:
Michelangelo Wine Awards 2019 – Gold
ABSA Top 10 – Finalist
Here is a fact sheet for the 2017 vintage: