OK, so winter is upon us, so we have to take the soup pot out! Normally I start the first soup of the winter with a chicken based soup. This winter is no different.
Ingredients
200g table celery (I use table celery because it works better and contains a lot less sand than soup celery)
200g carrots
150g shallots
1 big onion (I used a white onion, red onions are also nice)
1 medium sweet potato (about 200 – 250g)
1 medium green pepper
4 large garlic cloves
1 liter sweet white wine (like a Late Harvest or Stein)
4 liters chicken stock (home made stock is always better, but cubes will do)
9 big, fresh chicken breasts
A handful of fresh thyme
800g brown mushrooms (you can use white mushrooms, but the brown mushrooms provides an earthier taste)
250g red lentils
1 liter fresh cream
150g salami (make sure it is proper cured salami and not cooked salami)
Pepper corns
Coarse salt
Oil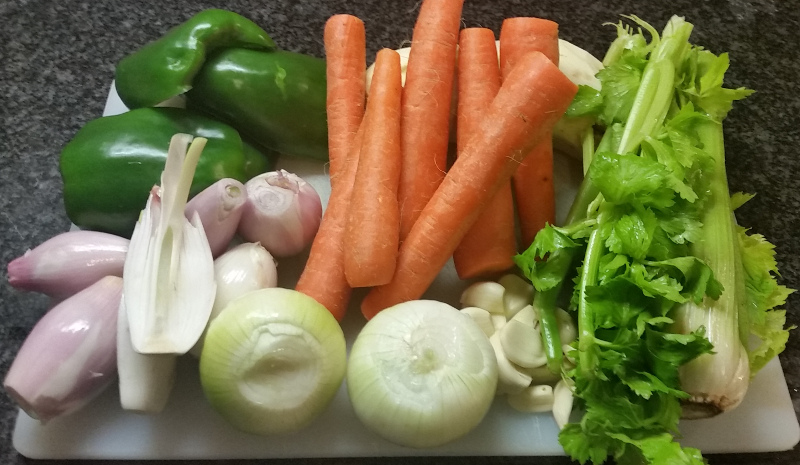 Chop the celery, shallots, onions and peppers into medium sized chunks (about 1cm x 1cm). Crush the garlic with the blade of a big knife and chop it into fine pieces. Grate the carrots and sweet potato. Add all of these into a big soup pot and fry until the onions are translucent. Remove a third of the ingredients from the pot and keep it in a separate bowl.
Chop the mushrooms into large chunks. Add the chicken stock, 400g (half) of the chopped mushrooms, wine,  thyme and chicken breasts. Cook until the chicken is well done, but still firm. Remove the chicken from the pot.
Pour the lentils into the pot and cook until it has dissolved. Remove the thyme twigs from the soup. (You never get all of them). Use a stick blender to liquidize the contents in the pot.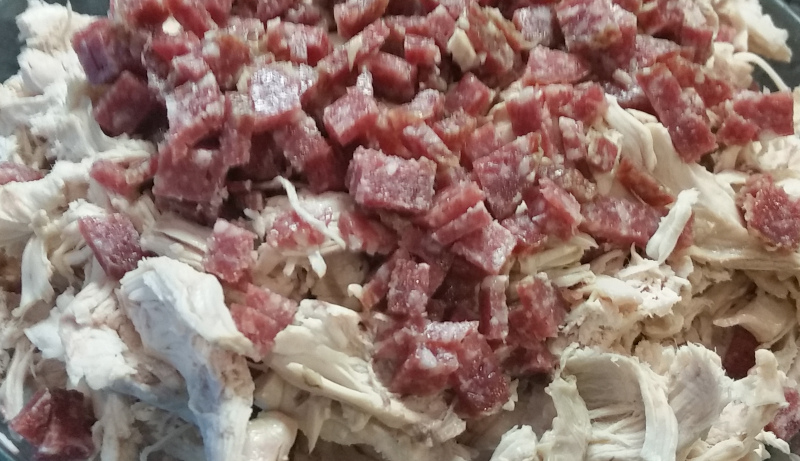 Remove the skin and bone from the chicken and cut the chicken into rough chunks.  Chop the salami into small pieces. Add the reserved vegetables, the other half of the mushrooms, cream, chicken and salami and let it simmer for an hour.  Add freshly ground pepper and salt to taste.
Enjoy!