The girls have hinted for a while that they want to taste my molecular gastronomy experiments so on Saturday I prepared a four course lunch for them taking inspiration from the Test Kitchen menu.  As usual there were hits and misses but everyone ended up helping with the plating and great fun was had by all.
For the first course we had salmon crema with parsley caviar, beetroot ravioli and pickled onion.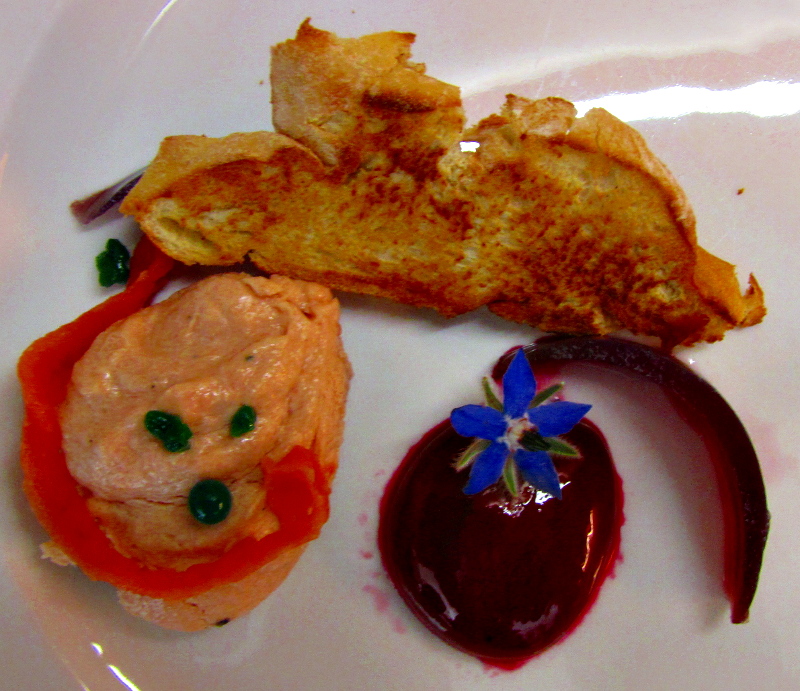 Crema is a mexican dairy product not unlike crème fraîche.  As you don't find it here I tried to make my own from Alton Brown's recipe using  smoked salmon instead of chili.  I used too much salmon though and it ended up tasting like a very nice salmon pate.
For the parsley caviar I used the cold oil spherification molecular gastronomy technique by  blending parsley with water to make parsley juice, then heating with agar agar and dripping into cold oil with a syringe to make the caviar.
I used the reverse spherification molecular gastronomy technique to make the beetroot ravioli.
The pickled onion I  marinated in apple cider vinegar, sugar and salt for a couple of days.
Then it was on to the second course – fish in a curry glaze served with a carrot cashew puree and cauliflower mousse.  I brushed angelfish fillets with a curry glaze from this recipe  and fried in butter.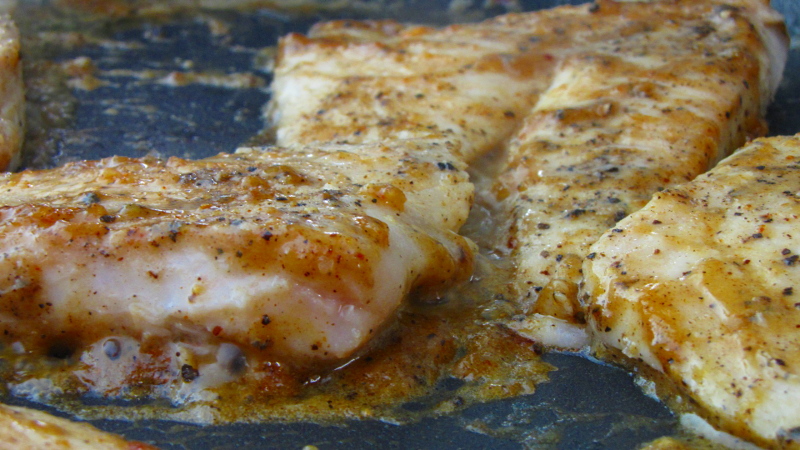 When I tasted the glaze on it's own I wasn't sure whether the flavours went together but it worked really well with the fish.
I really liked the carrot and cashew puree which I adapted from a recipe on the Epicurious website.
Carrot and Cashew Puree
Ingredients
3 medium carrots – chopped
1 small garlic clove
1/2 cup chicken stock
50g cashew nuts
1/4 teaspoon salt
2 tablespoons cream
1 teaspoon butter
Preparation
Simmer carrots, cashews, garlic, stock and salt covered until carrots are tender.  Puree with cream and butter until smooth.
You can find the original recipe here.
For the cauliflower mousse I blended cauliflower, onion, garlic, cream, stock and seasoning with soy lecithin powder to make a mousse / foam  but it did not want to foam and ended up being a very tasty cauliflower sauce.  My  friend Jackie who was kind enough to take all the photos got very creative in the plating of this dish.  The cork is from the divine Silverthorn The Green Man 2013 MCC we enjoyed with it.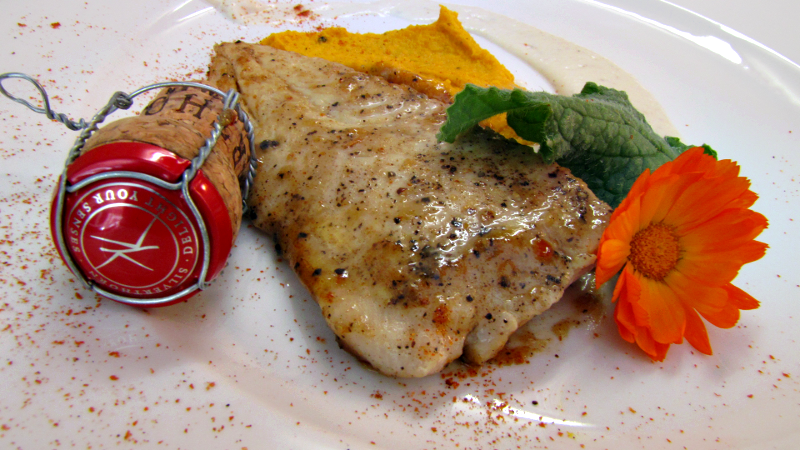 The third course was beef fillet with red cabbage puree, almond cream, pea ravioli and balsamic caviar.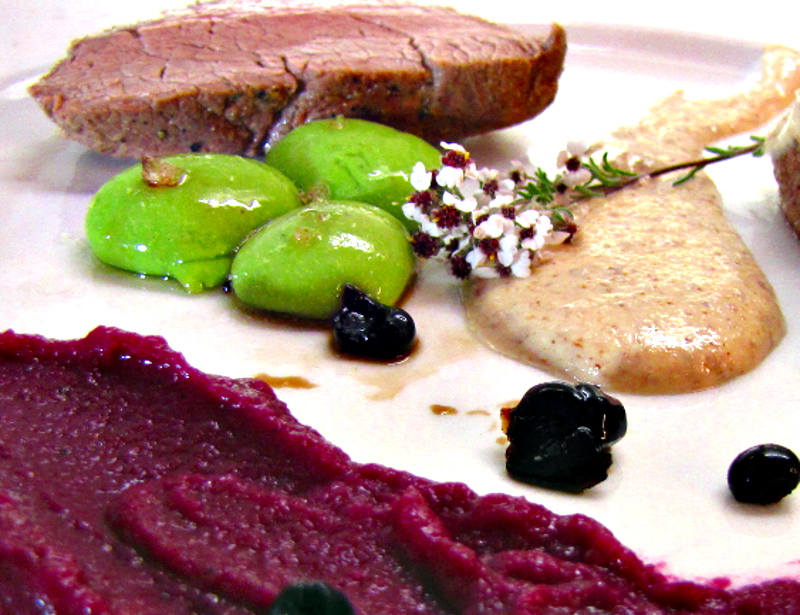 The fillet was pan fried and finished off in the oven but sadly it came out overcooked.  I am blaming this one on all the bubbly.  The  red cabbage puree (with cider vinegar) and  balsamic pearls were both too acidic for the dish but the almond cream was very nice.
Almond Cream
Ingredients
1 cup raw almonds, soaked in water for 2 hours
150ml water
2 Tbsp olive oil
1/2 Tbsp lemon juice
1 clove garlic
1/2 tsp onion powder
1/4 tsp smoked sea salt
1/8 tsp cayenne pepper
2 Tbsp cream
Preparation
Puree together all the ingredients and add salt if necessary.
This recipe was adapted from the Vegan Yack Attack website – you can find the original recipe here.
I made the pea ravioli using reverse spherification molecular gastronomy technique again.  One batch  I stored in water liquidised with peas (to preserve the flavour as the gel membrane around the sphere is permeable to small molecules and osmosis will occur if submerged in water and dilute the flavored liquid inside the sphere).  These spheres disintegrated for some reason when it came time to plate.  Fortunately I kept a second batch in plain water which held its shape when plated.
Dessert was a yoghurt panna cotta with guava compote and guava caviar,  guava ravioli on fig ice cream,  guava and rose jelly and raspberry granita.
For the panna cotta I used  my favourite panna cotta recipe from David Lebovitz  here.   I substituted half of the  cream with yoghurt which gave it a lighter taste.  The star of the show (in fact the whole meal) was the guava compote I made to go with it.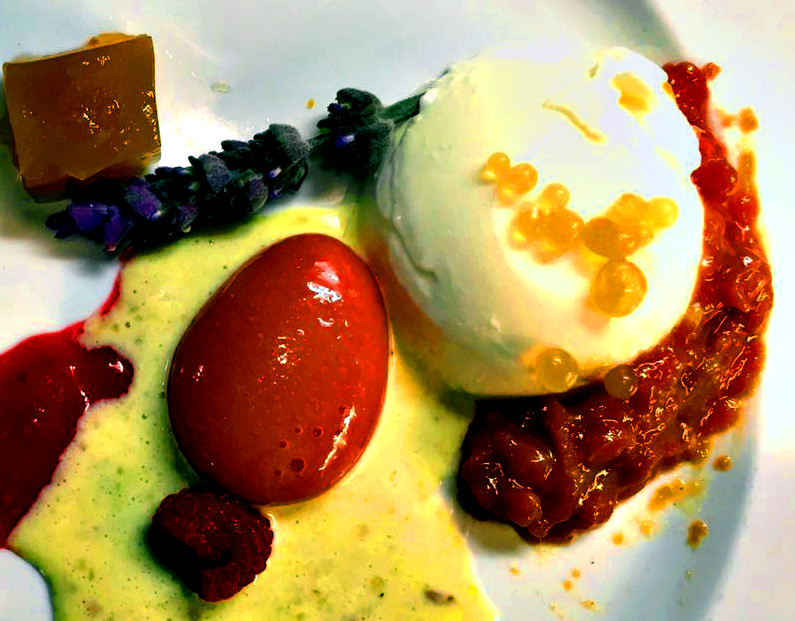 Guava Compote
Recipe courtesy of Marcela Valladolid
Ingredients
14 ounces whole guavas in syrup, cut into 1/2-inch pieces (I used fresh guavas)
1/3 cup brown sugar
1/3 cup granulated sugar
2 tablespoons butter
1 teaspoon ground cinnamon
1 teaspoon vanilla extract
Preparation
Bring the guavas, 1 cup water, the sugars, butter, cinnamon and vanilla to a boil in a heavy medium saucepan. Reduce the heat to medium low; simmer until almost all the liquid evaporates, stirring often, about 30 minutes. Cover and chill. (Can be made 2 days ahead). Serve warm or at room temperature.
You can find the original recipe
here
.
I made the guava caviar with the cold oil spherification technique and the guava ravioli with the reverse spherification technique. I stored the ravioli in guava juice until plating and it worked perfectly – unlike the pea ravioli.
The guava and rose jellies I made by heating guava juice, rose water, vanilla extract and sugar with agar agar and leaving in fridge to set.  They were quite bland but looked pretty on the plate.
The fig ice cream and raspberry granita did not set properly and in hindsight I should have just left it off the plate as the panna cotta with compote and ravioli  would have worked on its own.
We enjoyed all of this with a Silverthorn Green Man 2013 MCC, Laborie 2011 MCC, Graham Beck MCC, Villiera Rose MCC, and a Villiera Brut Tradition MCC.
A wonderful lunch with great friends.