Comfort food was in order for this week's date night and nothing says comfort more than slow cooked Cajun Seafood Gumbo.
So what is the difference between Cajun and Creole ?
The term "Cajun" comes from the word "les Acadians" – French settlers who were forcibly removed from Canada and had to settle in South Louisiana.
Cajun food is rustic, well-seasoned and usually made without tomatoes (which feature a lot in Creole cooking).  The roux is made from flour and oil as butter was scarce in the area when the cuisine was developed.
"Creole" describes people who were born to settlers in French colonial Louisiana, specifically in New Orleans, as well as native-born slaves of African descent.
The cuisine is seen as more "aristocratic" and is a blend of various cultures.  It has more of a variety and exotic ingredients.  You'll see a lot more tomatoes, butter and okra in Creole food.
I made Creole Chicken Skewers with a Remoulade Sauce for a starter.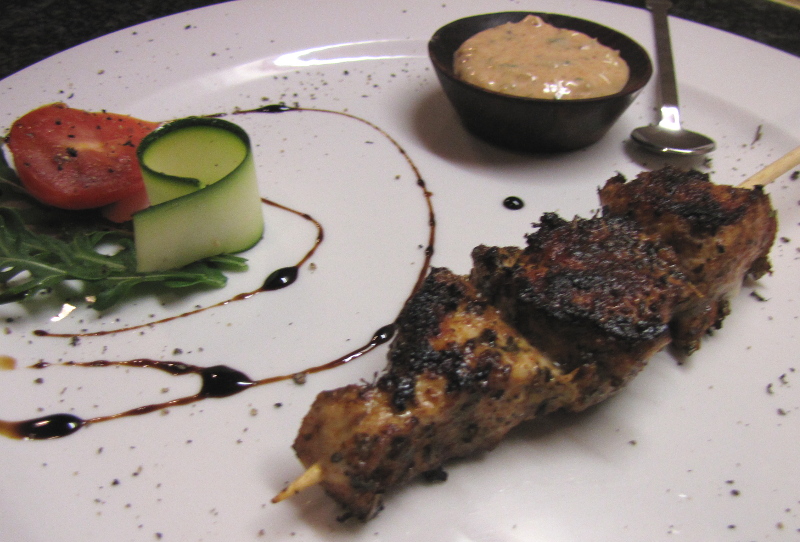 It turned out delicious.  The chicken looks a bit burned on the photo but it was just the spice rub – underneath it was beautifully tender.
You can find the recipes from Emeril Lagasse for the Creole spice rub and the Remoulade sauce here and here.
Cajun Seafood Gumbo
Seafood Gumbo is usually made with prawns, crabmeat and oysters.  I could not find any crabmeat or oysters on the day so substituted it with fish and calamari.  I also used smoked chorizo instead of the Andouille sausage that is traditionally used.
The thickeners used for gumbo are roux, okra, file powder or a combination of them.  As okra is out of season and you do not find file powder here I used roux.
Making the roux
The roux is probably the most important part of the gumbo.
Stir 95ml flour and 60ml oil over high heat with a whisk.
At this stage my roux looked very crumbly and I added some more oil which was mistake as the sauce ended up being a bit oily.
When it starts to bubble stir constantly for 5 minutes , then turn heat down to medium high.
Keep stirring – you will see the flour getting darker.  When it gets to a caramel colour turn the heat down to medium.
Keep stirring until it is the colour of milk chocolate.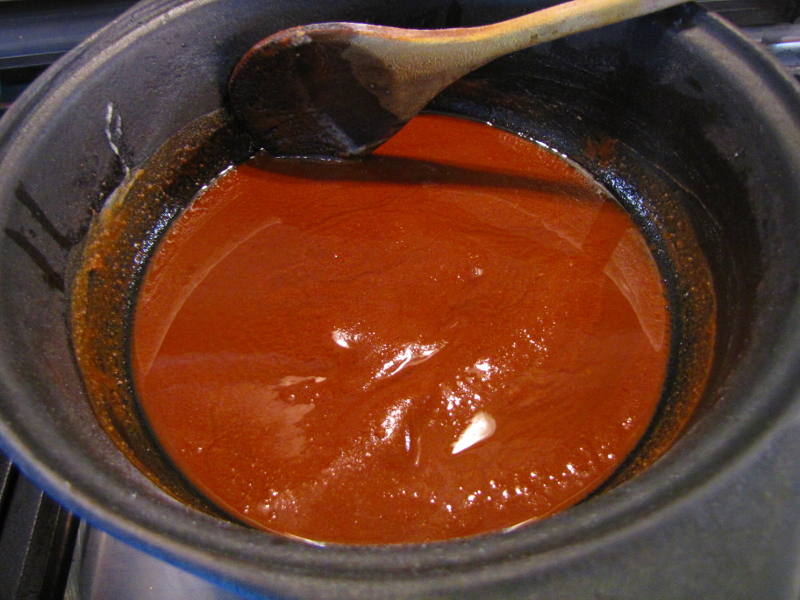 The holy trinity
Another important part of Cajun and Creole cooking is the combination of onion,  green pepper and celery called the holy trinity.
Add 125ml chopped onion, 60ml chopped celery, 60ml chopped green pepper and 1 clove chopped garlic to the roux once it gets to the right colour.  Saute on low for 5 minutes.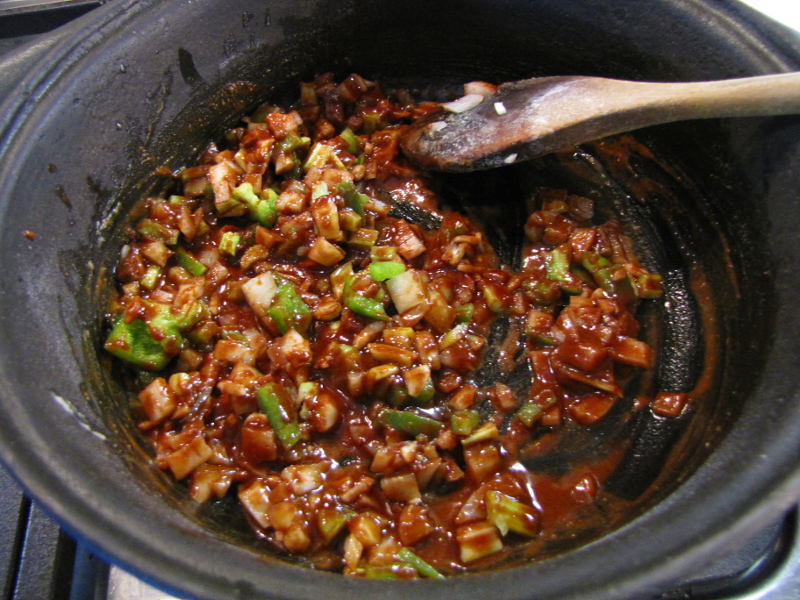 Slowly add 600ml seafood stock to the mixture, stirring constantly.
Bring to a boil, reduce and simmer for 30 minutes.
Add 150g chopped chorizo, 1 bay leaf, 1/8tsp each salt, red pepper and black pepper, 1/4tsp hot sauce and 1tbsp parsley.
Taste the smoked sausage before you use it.  The chorizo I used was very salty and it ended up making the whole sauce a bit too salty.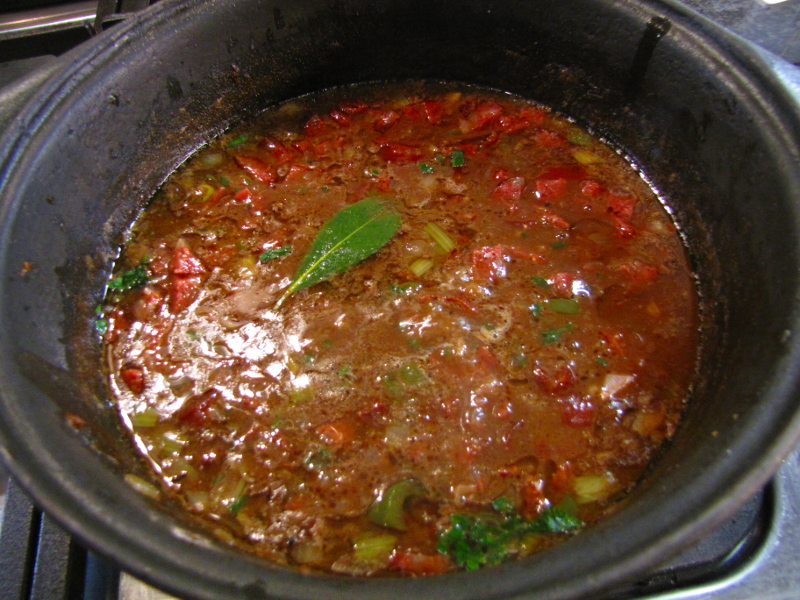 Simmer for 1 hour.  The recipe  says to simmer for 1.5-2 hours but the roux started burning and reducing after an hour even though it was cooking on my gas stove's lowest setting.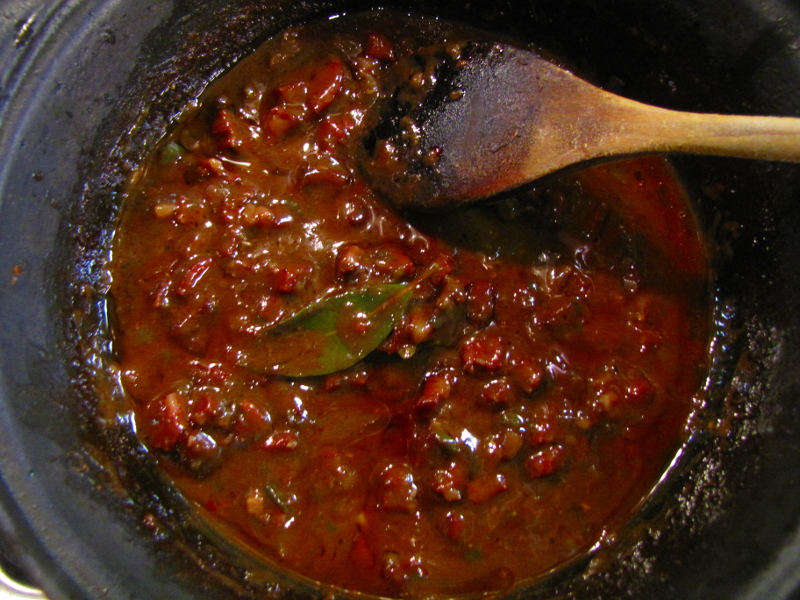 Add 350g prawns, 150g cubed fish and 150g calamari to the pot.
Remove from heat as soon as the prawns turn pink and the fish and calamari turn opaque.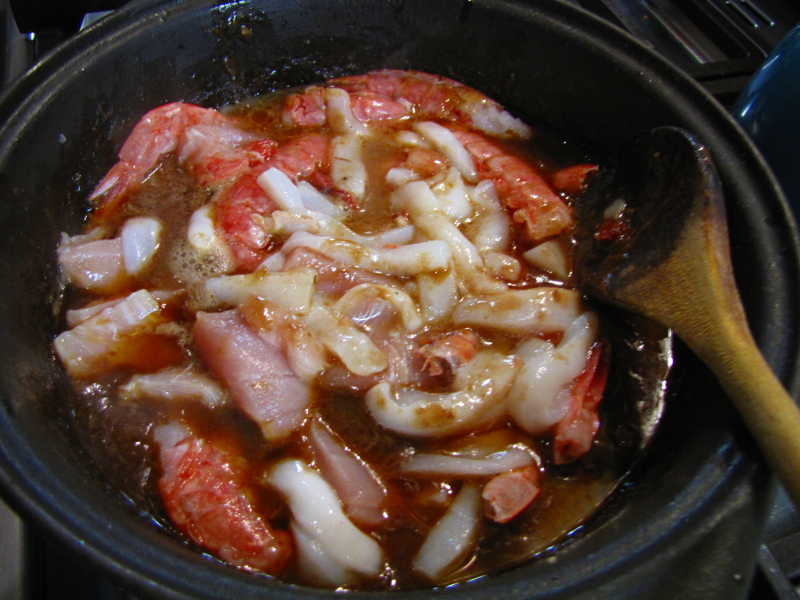 Sprinkle with spring onions and serve with rice.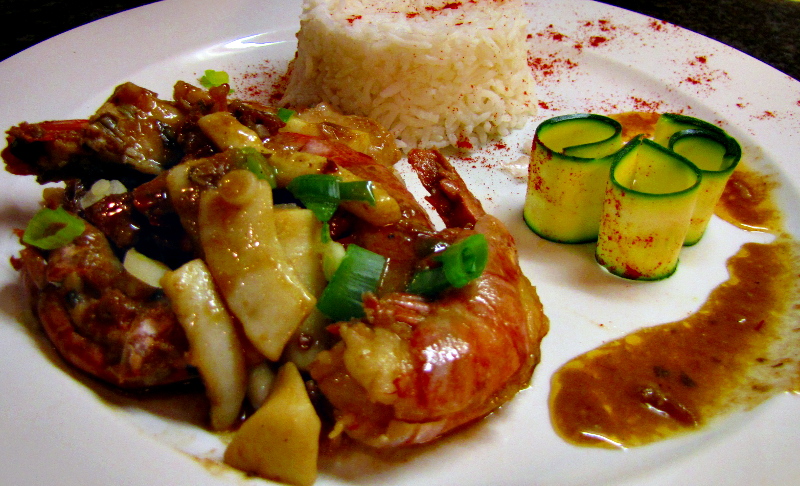 The Verdict
We enjoyed it even though the sauce was a bit too salty and oily – that is why we only spooned a little over the seafood instead of eating it like a stew.
I shall definitely try it again with a different type of smoked sausage.   I shall also use butter in the roux next time instead of oil.
You can find the original recipe that inspired the dish here.
I made Pecan Pralines for dessert.  It did not come out as expected so I won't be sharing the recipe.
We enjoyed this with a Raka Quinary 2011 and Wolftrap 2015.