We love meze platters and after a visit to one of our favourite restaurants – Anatoli – I was inspired to do a Turkish meze platter for this week's date night.
I wanted to make a lot of dishes but did not want to take days doing it, so I used a lot of shortcuts which I do not usually do.  For example  I used pre-roasted chicken and stock for the Chicken and Walnut Puree  instead of roasting a whole chicken and using it's broth.
I  decreased the serving sizes – as much as we love meze platters I did not want to eat it for days on end.  So much food, so little time.
I also kept the cooking instructions short and sweet.  For example I did not explain how to roast the peppers or eggplant for the salads.  However this is in all the links that I included for each dish.
Some of the ingredients in the  recipes below you don't find everywhere.  I bought the sumac and za'atar (my 2 new favourite spices) at the Food Lovers Market. A friend brought me some pomegrante syrup/molasses from Turkey, but I'm sure you should be able to find it in a good deli.  If not you can make it by using this recipe.
Cerkez Tavugu – Chicken and Walnut Puree
Add 40g of stale bread crumbs to 100ml stock, breaking it up with your fingers.  Mix in 40g walnuts(toasted and crushed), 1/2 minced garlic clove,1/4tsp sweet paprika and 65g roasted shredded chicken. Season to taste and refrigerate for a few hours. Mix 1tsp olive oil with 1/3tsp paprika and drizzle the oil over the top. Decorate with walnuts.  You can find the original recipe here.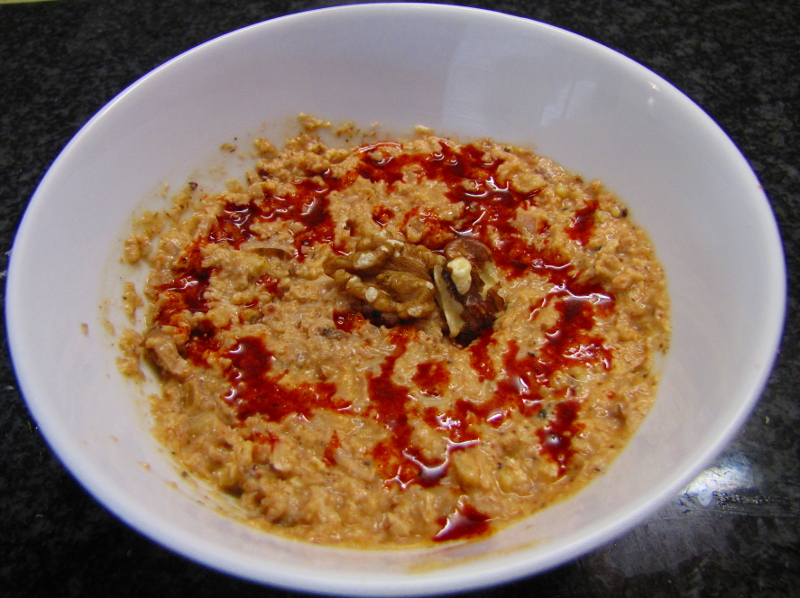 Muhummara – Roasted Red Pepper and Walnut Dip
Combine 70g roasted red peppers, 40g toasted walnuts, 1/2 clove garlic, 1/4 tsp paprika, 1/4 tsp cumin, 1/4 tsp red pepper flakes, 1.5 tbsp pomegranate molasses and 2 tbsp olive oil in a blender.  Blend and season to taste.   You can find the original recipe here.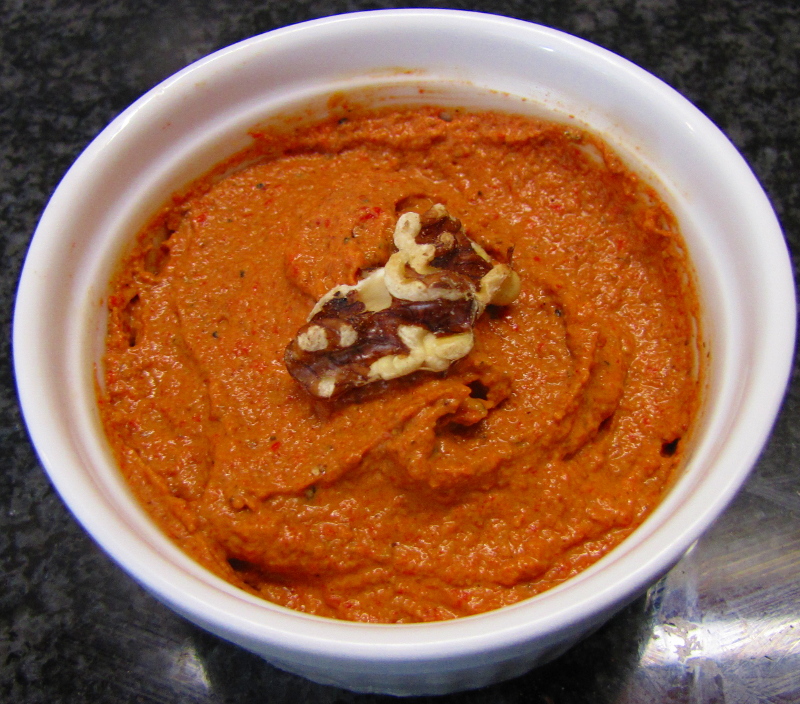 Turkish  Eggplant Salad
Mix together 1 eggplant (roasted and chopped), 1 garlic clove(minced), 200ml yoghurt, 5ml dried mint, 15ml olive oil and a squeese of lemon.  Drizzle with olive oil.  You can find the original recipe here.
'Cacık' – Turkish Yoghurt with Cucumbers and Herbs
Mix together 250ml yoghurt, 1 cucumber (peeled and diced), 1/2 tbsp olive oil, 1/2 tsp salt, 1/4 tsp pepper, 1 clove garlic (minced), 1/2 tsp dried dill, 1/4 tsp dried mint, 2 tbsp fresh mint, 1/4 tsp dried oregano and 1/8 tsp red pepper flakes. Garnish with mint. You can find the original recipe here.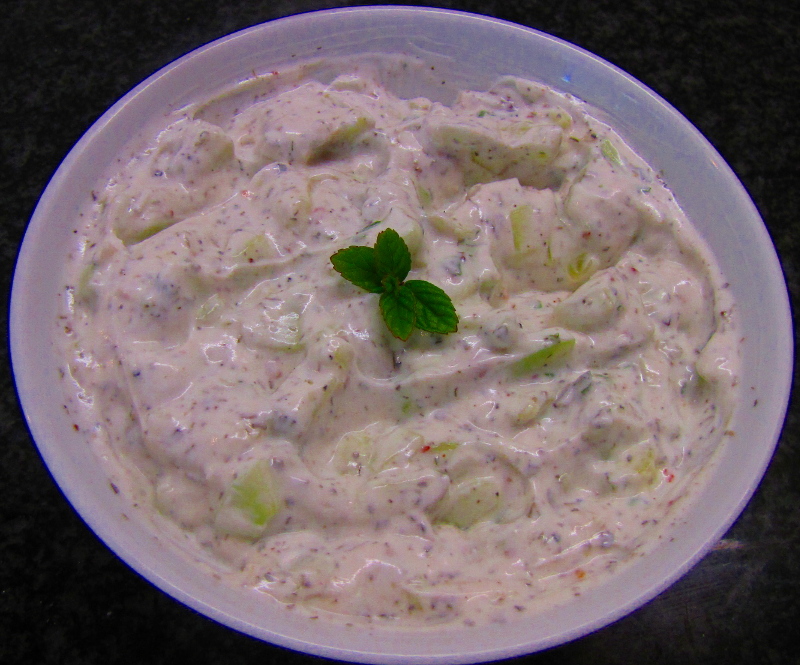 Turkish-Style Hummus with Cured Meat
Simmer drained chickpeas in just enough water to cover them until the water disappears. Transfer to a food processor and blend with 2 cloves garlic (sauteed), 3/4 cup tahini (I did not have tahini so I used almond butter), 2 tbsp lemon juice, 1 tsp salt, 1 tsp cumin, 1/2 tsp paprika, 1/2 tsp white pepper, 3/4-1 cup water.  Blend until smooth.  Transfer to a baking dish, cover with foil and bake at 180C until warmed though.  Fry biltong (our version of the Turkish "pastirma" – air-dried cured beef of Anatolian origin ) until crispy and sprinkle over top.  You can find the original recipe here. Just note that I found the salt in the original recipe to be too much.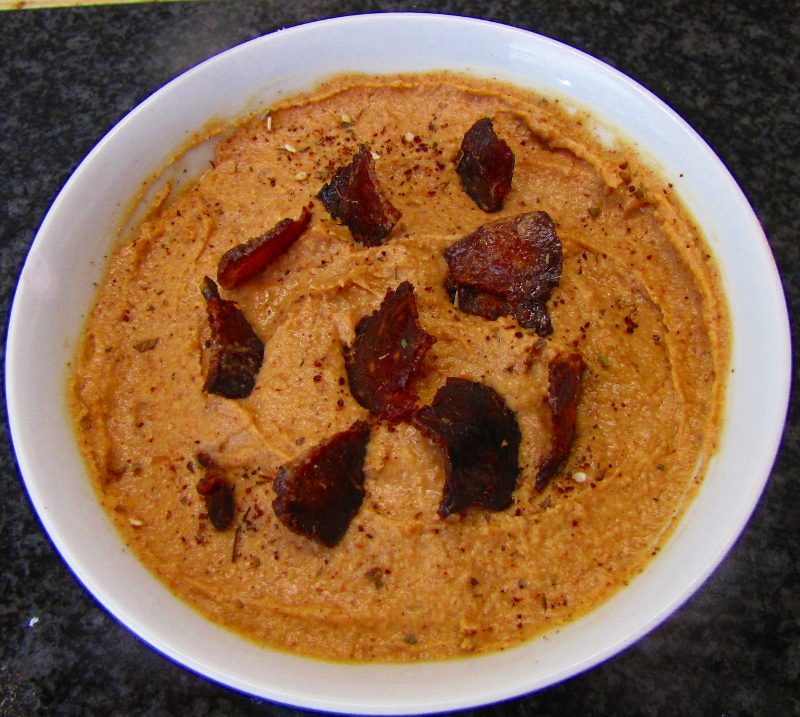 Marinated Red Peppers
Roast 2 red peppers and marinade in mixture of 125ml olive oil, 90ml white grape vinegar, 30ml sugar, 1/2 head garlic, 1/2 tbsp peppercorns, 15ml salt, 2 bay leaves and 2 sprigs parsley.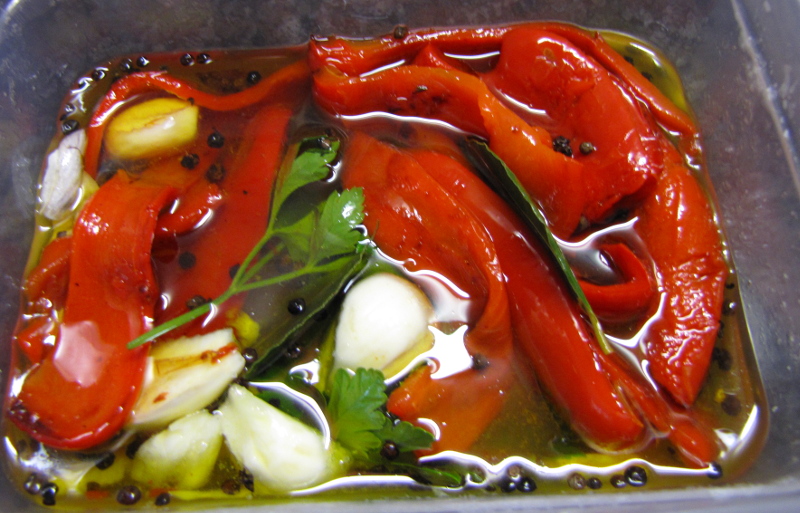 Turkish Lamb Phyllo Parcels
Mix together 150g finely chopped lamb (leftovers frozen from Adrienne's divine Lamb Shank),1/4 clove garlic(minced), 1/4 tsp each cinnamon, red pepper flakes, cumin and mint, 1 tbsp tomato paste, 1 tsp sugar, 1 tsp pomegranate molasses, 1/2 handful parsley and 10g toasted almond slivers.
Brush a sheet of filo pastry with olive oil or butter and top with another layer. Cut into 4 strips. Place a spoonful of lamb at the end and fold the corner of the pastry across to make a triangle.Brush with oil and fold upwards.  Continue folding till you reach the end of the strip. Repeat with the rest of the filo. Brush the parcels with more oil, brush egg wash over the edges and bake for 25 minutes at 200C.  You can find the original recipe here.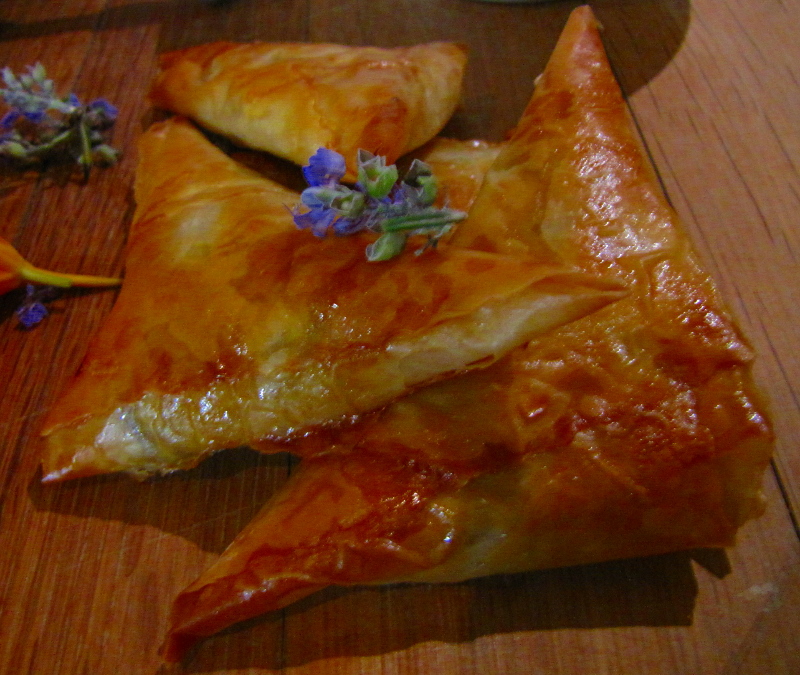 Pomegranate and Za'atar Chicken Kebabs
Mix 3 tbsp grated onion, 3 tbsp pomegranate molasses and 1 tbsp za'atar spice. Marinate 2 cubed chicken fillets for a couple of hours or overnight.
Baste with another 3 tbsp pomegranate molasses before baking in the oven for 20 minutes at 200C.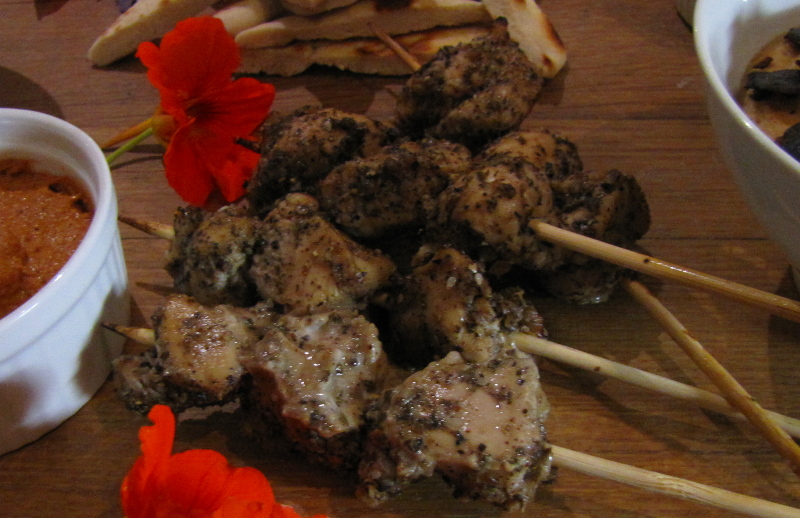 Sumaklı Köfte- Turkish Sumac Meatballs with Yoghurt Sauce
Mix 500g beef mince, 1 onion (finely chopped), 2 cloves garlic (crushed), 1 egg, 1/2 bunch parsley, 1 slice bread (crust removed and crumbed), 1.5 tbsp cumin, 1 tbsp red pepper flakes, 2 tbsp thyme, 1/2 tbsp ground sumac and 1 tsp salt. Form into finger shapes and bake in oven at 200C for 20 minutes.
For the sauce :
Mix 500ml yoghurt, 2 cloves garlic (minced), 1.5 tbsp ground sumac, 1/4 bunch parsley and salt to taste.
You can find the original recipe here.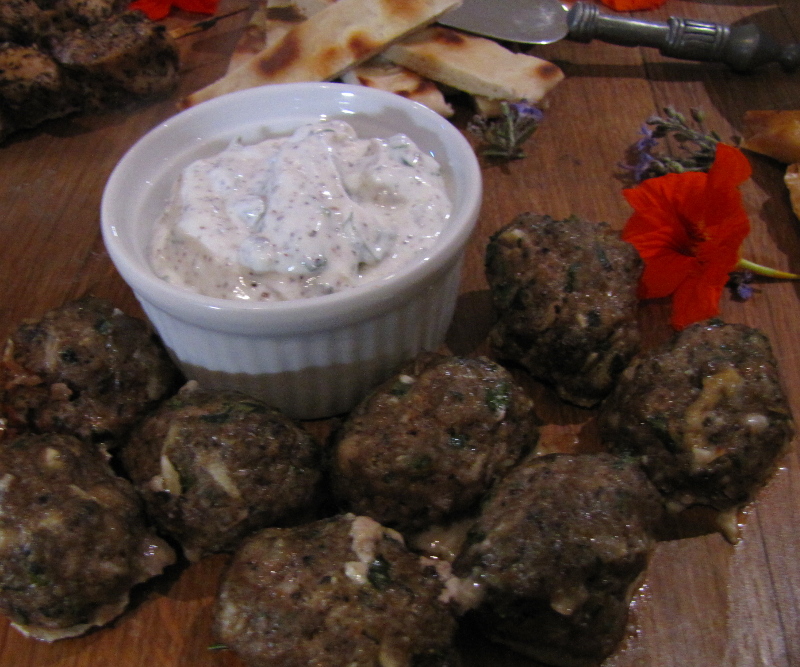 Bazlama – Turkish Flat Bread
Disolve 2g yeast, 1/4 tsp sugar and 1/4 tsp salt in 95ml warm water.  Add the water and 30ml yoghurt to 250ml flour and mix well.  The dough should be soft but not sticky. Shape into a ball, turn out onto a floured surface and cover with damp cloth. Leave for 3 hours at room temperature to rise.
Divide into 3 balls, flatten with hand and bake in a skillet until brown spots appear on the bottom – about 1 minute.  Flip and bake for an additional minute. You can find the original recipe here.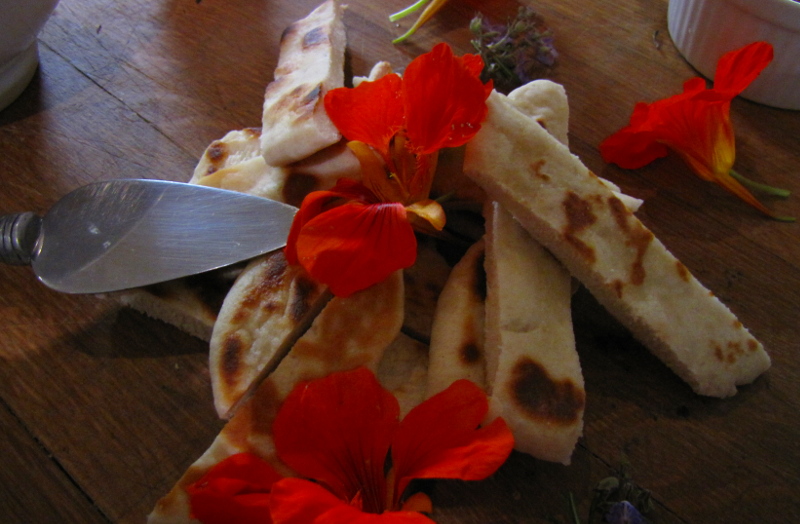 Semolina Cake with Pomegranate Syrup
I was  glad to see that Semolina Cake is also a popular Turkish dessert as time was running out and I had some cake in the freezer. (left over from the Burmese Semolina Cake I made for my Asian menu).   I made some pomegranate syrup to keep with the Turkish theme by mixing 1 tbsp of castor sugar with 3 tbsp of pomegranate molasses and heating till disolved.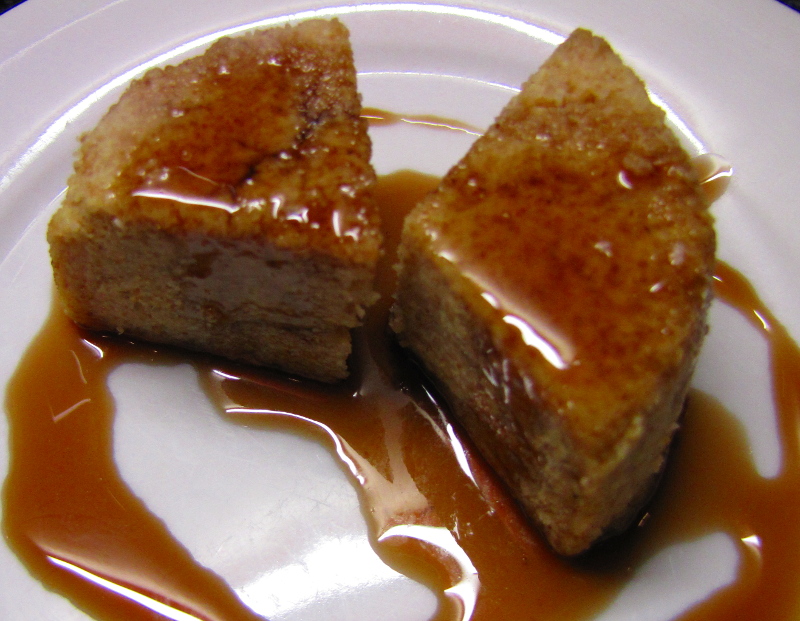 We had this with a Diemersfontein Cabernet Sauvignon Shiraz 2015 and a Hartenberg Alchemy Cabernet Sauvignon Shiraz 2014.