I have always wanted to make a proper Mexican mole sauce (a rich blend of chillies, spices, and chocolate).  Alas I could not source the  proper Mexican chillies you need for this dish in SA so never made it.
Then I came across a company called Mexican Imports SA in Plettenberg Bay that imports all kinds of goodies from Mexico.  As luck would have it I had friends going to Plett that weekend and they were kind enough to bring me back some Ancho and Guajillo chillies.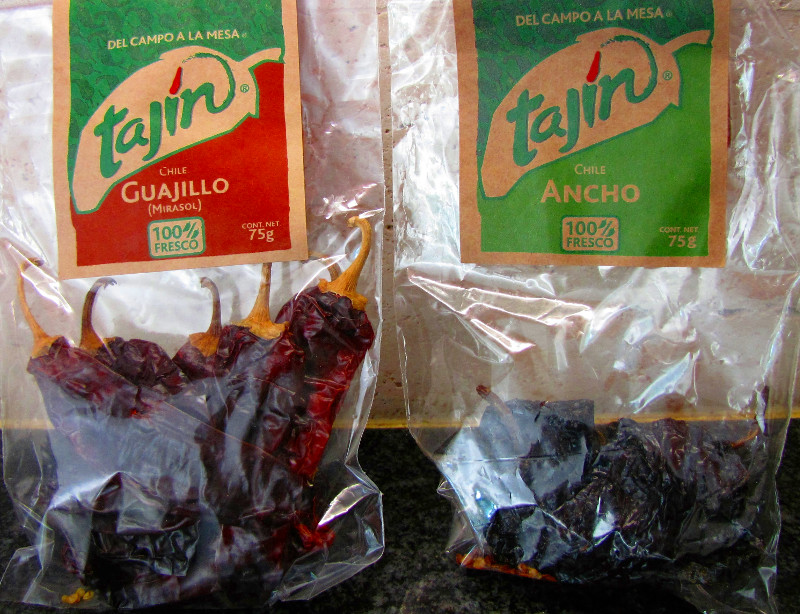 They also sell the Arbol and Pasilla chillies and various sauces and seasoning products.
Mexican Prawn Cocktail
As the focus was on making the mole sauce I made a simple starter.  I sauteed prawns sprinkled with Tajin Classico (a blend of Mexican chillies, lime juice and sea salt) that I also bought from Mexican Imports.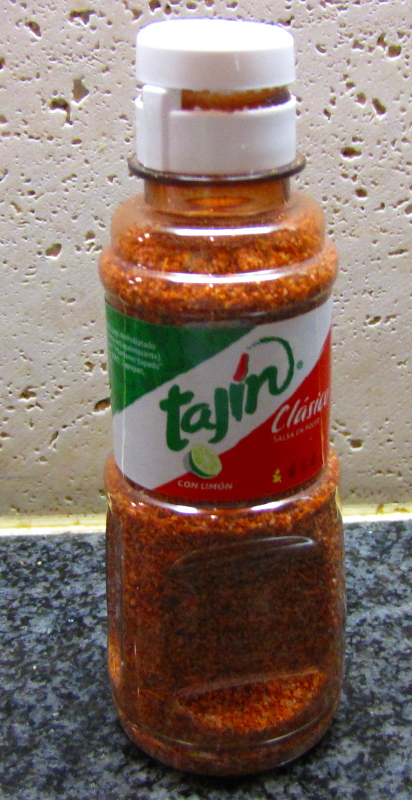 I mixed this with salsa and avo for a quick Mexican Prawn Cocktail.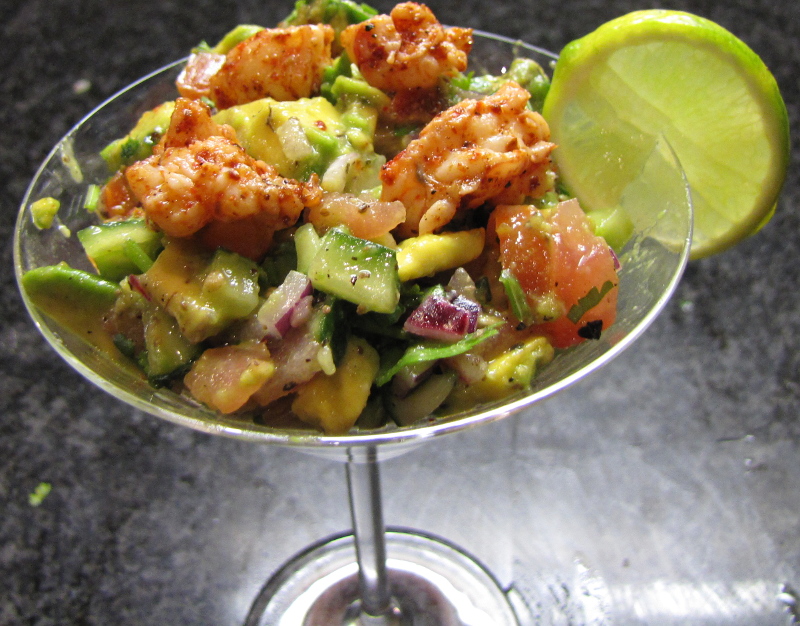 Chicken Mole Poblano
It was difficult to settle on a mole recipe as there's loads of  different versions and recipes. I decided to make Mole Poblano which is considered by many to be "national dish" of Mexico.
I used this recipe which I found on the Epicurios website.
Preparing the Chicken
Parboil the chicken in water seasoned with salt and pepper.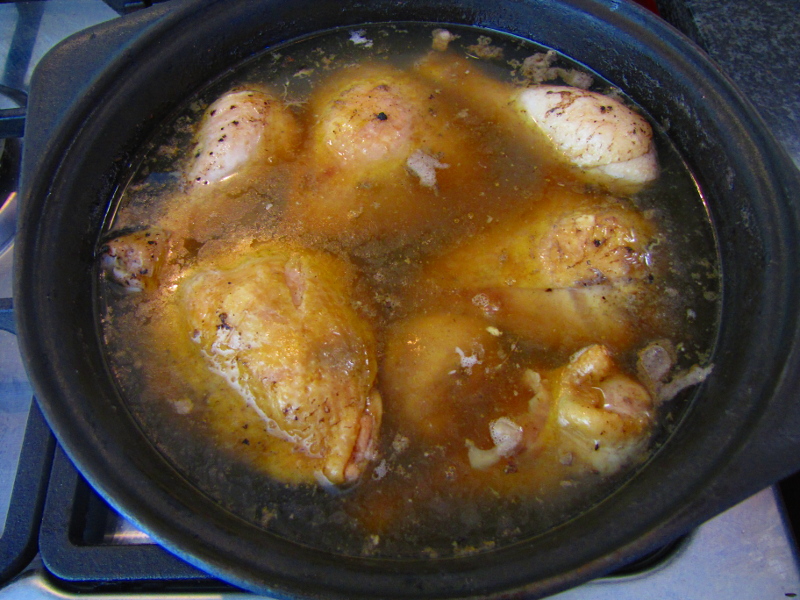 Reserve the broth and refrigerate until later.
Making the Chilli sauce
The recipe used Mulato, Pasilla and Ancho chillies.  I only had Ancho and Guajillo chillies, so used those in the same quantities.
Clean the chillies by removing stems, veins and seeds.  Reserve some of the seed.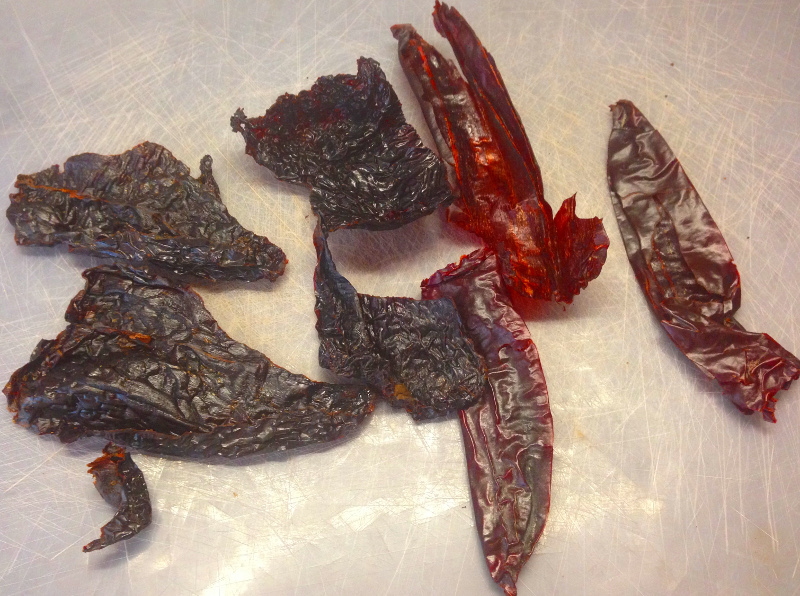 Fry the chillies until crisp, about 10-15 seconds, turning once.  Make sure that they do not burn.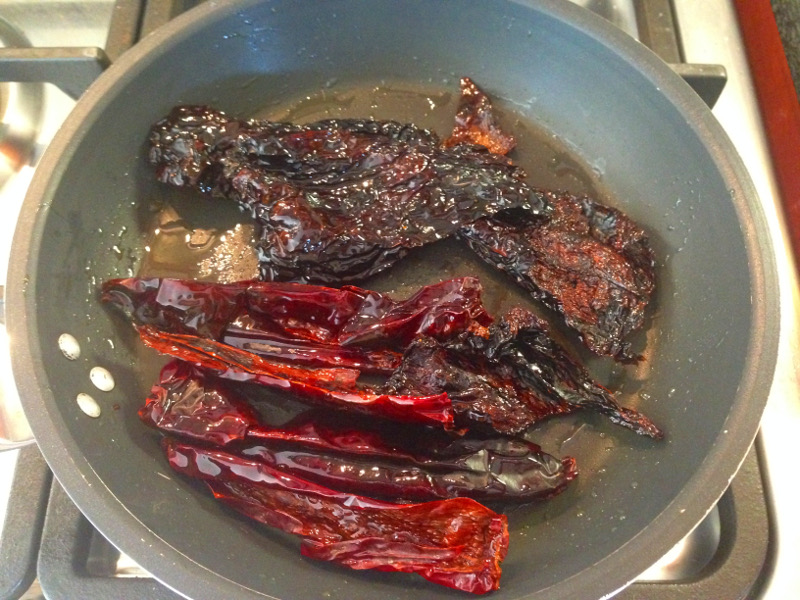 Drain, cover with hot water and set aside for 30 minutes.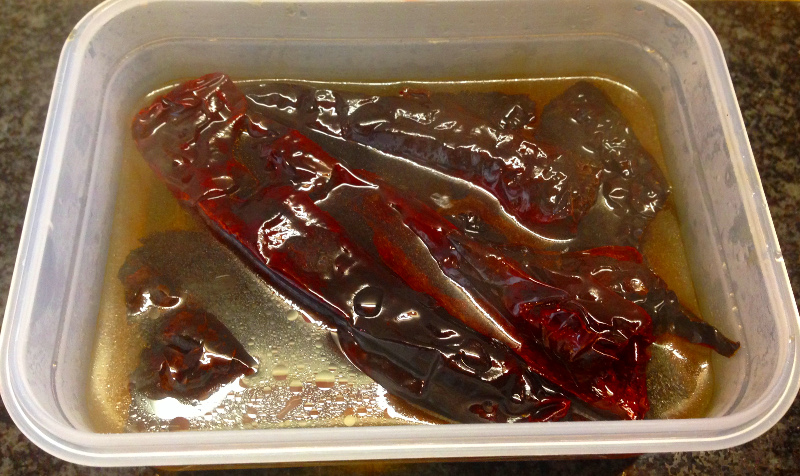 Drain the chillies and puree with enough  of the reserved water to make a smooth paste.  Heat oil in a pan and cook for 15 minutes, stirring often.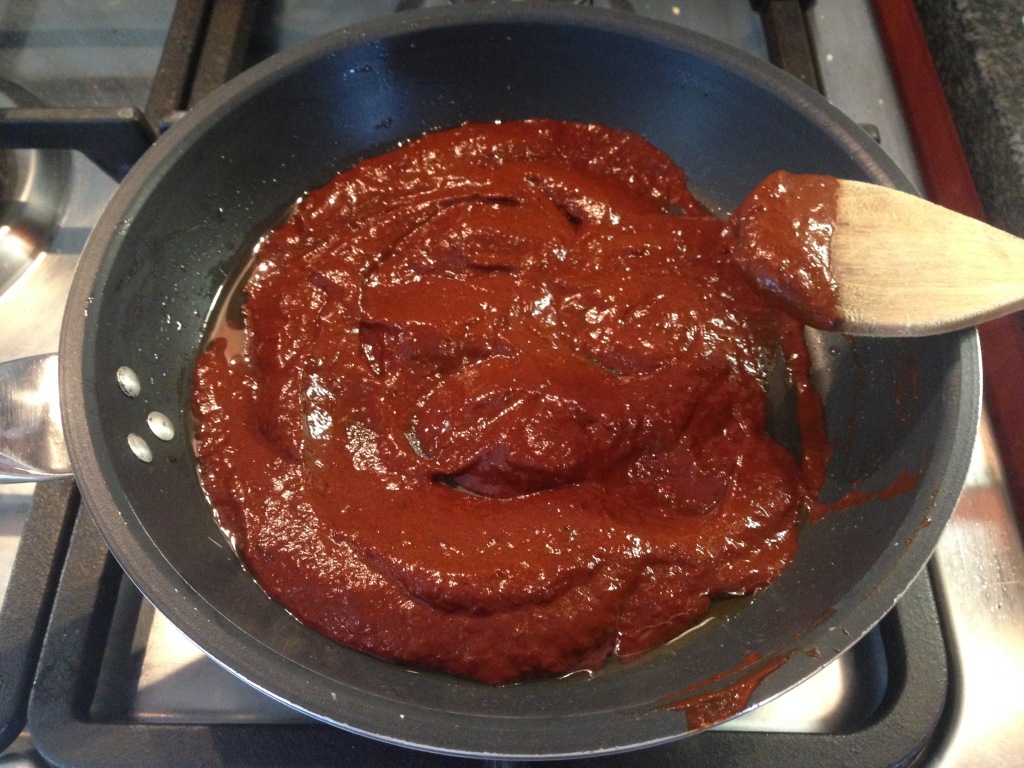 Remove from heat and set aside.
Making the Tomato, Spice, Nut sauce
The recipe called for tomatillos, but as I could not find any I used tomatoes.
Puree tomatoes and roast garlic.
Toast chilli, coriander and sesame seeds individually and grind with cloves, peppercorns and cinnamon n a coffee or spice grinder.
Heat oil in a pan and fry raisins, almonds and pumpkin seeds individually to intensify and lock in the individual flavours.
Fry bread slices until golden.
So here's all the prepared ingredients for the sauce.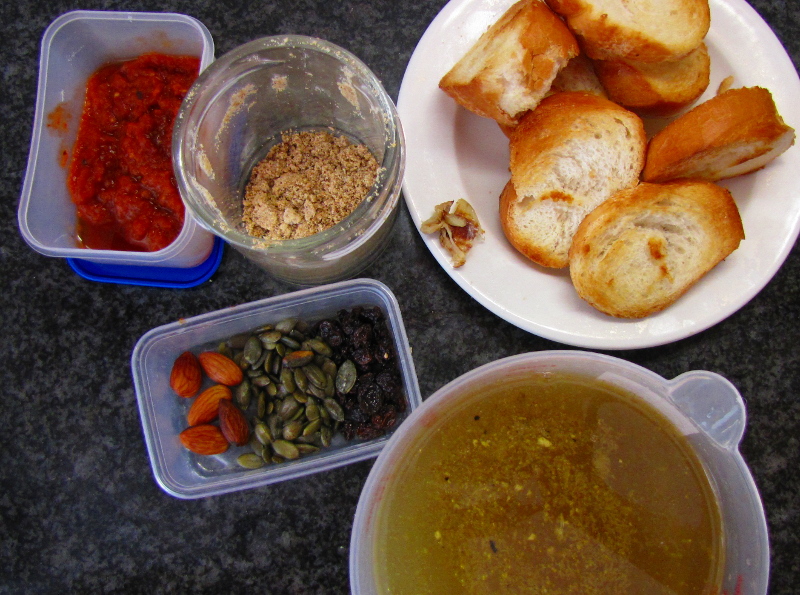 Blend the tomatoes, seed mixture and roasted garlic until smooth.
Add the raisins, almonds. pumpkin seeds and bread to the tomato puree and blend, using some of the reserved chicken broth to make a smooth sauce.
Now we have the 2 sauces for our mole sauce.  The final ingredient is Mexican chocolate.  I had to settle for some Lindt 70% dark chocolate.
Heat oil in a pot and add the 2 sauces and chocolate.  Cook over medium heat for 15 minutes.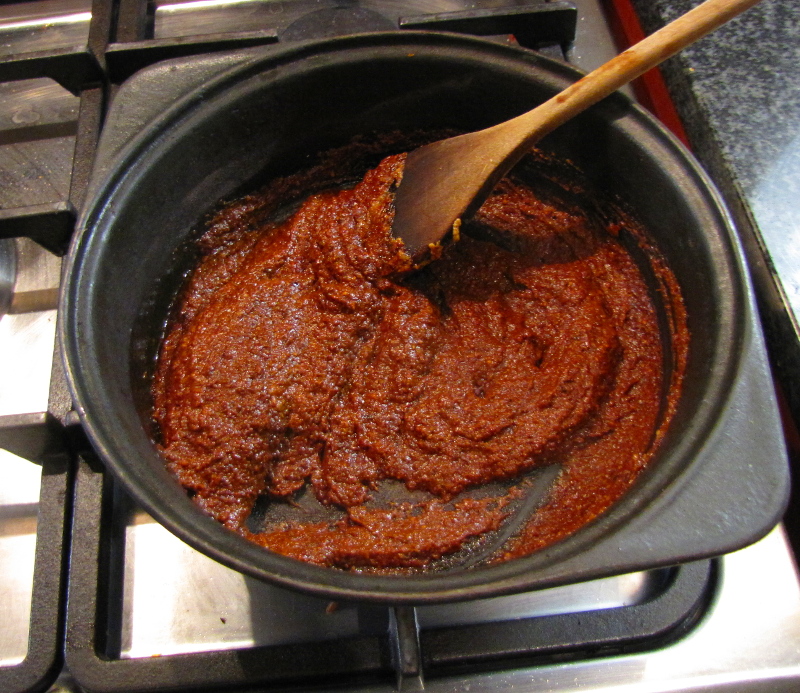 Add the remaining broth and cook over a low heat for 30 minutes, stirring often.  During the last 15 minutes, add the parboiled chicken and heat through.  Garnish with toasted sesame seeds and serve with rice.

The Verdict
We did not cook it for as long as the recipe said (45 minutes) as it was reducing too fast.  We also added some sugar as the sauce was slightly bitter.  As I've never eaten an authentic mole sauce before I was not sure whether it was supposed to taste like that or whether it was the seeds in the raisins (I did not use seedless raisins) that made it slightly bitter.
The sugar took away the bitterness and the end result was a sauce with a  rich and earthy taste – well worth the effort.
Mexican Flan
For dessert we had a orange and vanilla flan from this recipe.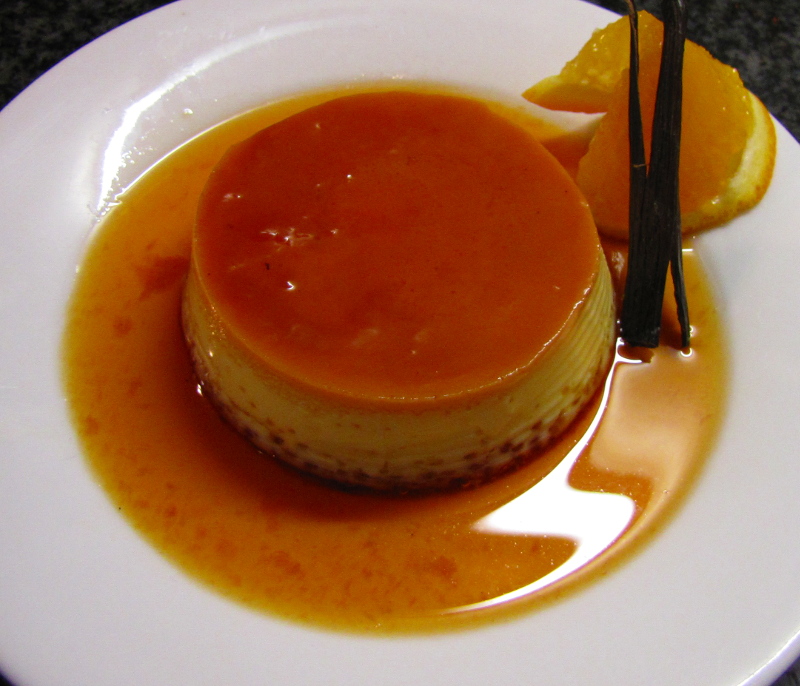 We really liked this flan as it is made without the condensed milk that so many of the flan recipes use. It was not too sweet and the orange and vanilla flavours really came through.  Even Adrienne had more than his customary 3 bites of dessert.
We had this with a Goedverwacht Great Expectations Shiraz Rose 2016 which we bought at Wine on River, and an Alvi's Drift Pinotage 2015.