This is actually a date night from December but totally forgot about it with all the Silly Season chaos.
There's so much more to Indian cuisine than the Butter Chicken, Vindaloo, Madras and Korma's we see on local menus.
Goa – a coastal region in western India is well known for it's seafood dishes.   Goan cuisine is heavily  influenced by its Hindu origins, Muslim rule and subsequent Portuguese colonialisation.
This prawn  curry starts of with a masala of spices, garlic, ginger and vinegar (the Portugese influence), before coconut milk is added to make a creamy curry full of flavour.
But as it was date night there had to be a starter.  As I wanted to focus on the curry I decided to make Tikka Fish Skewers – quick and easy.  This recipe was adapted from a Sanjeev Kapoor recipe.  You can find the original recipe here.
Tikka Fish Skewers
Ingredients
200g fish (any firm fish will do)
1tbsp lemon juice
Salt to taste
1/2 tsp garlic, minced
1/2 tsp ginger, minced
1/4 tsp turmeric powder
1tsp Kasmiri chilli powder
1/2 tsp mustard seeds
1/4 tsp fenugreek seeds
1/2 tsp fennel seeds
1/4 tsp coarse salt
125ml yoghurt
Place the fish in a bowl and mix with the lemon juice, salt, garlic, ginger, turmeric powder and chilli powder.
Dry roast the mustard seeds, fennel seeds and fenugreek seeds.  Crush in a mortar en pestle with the salt.
Add the spices and yoghurt to the fish and marinade for 30 minutes.
The original recipe call for the kebabs to be cooked in a pre-heated oven at 200C for 10-15 minutes.  I panfried mine in butter.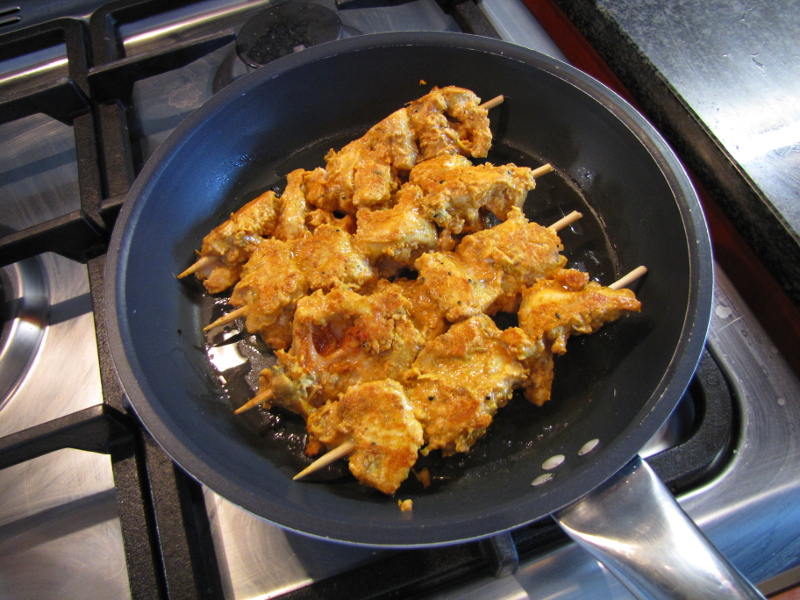 We had this with some homemade naan bread and cucumber raita.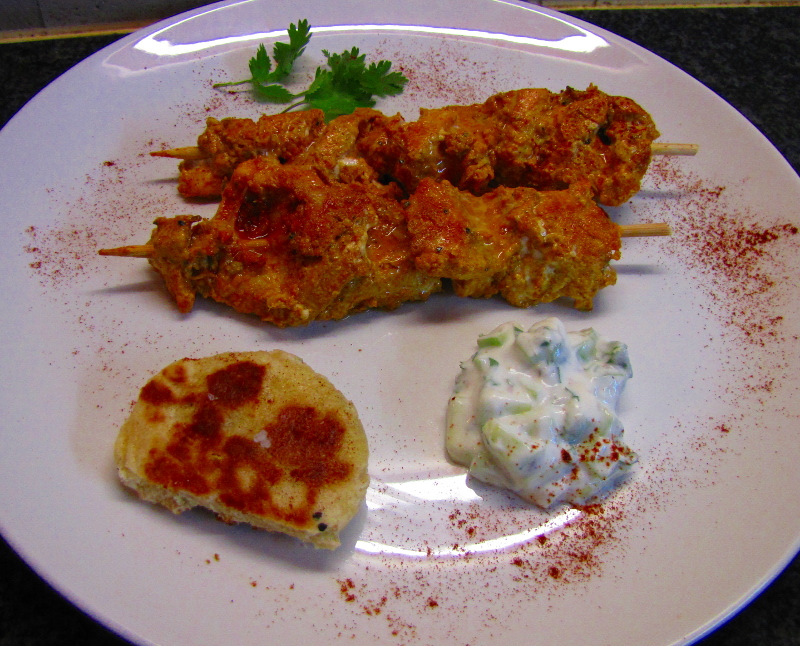 Goan Prawn Curry
There's a several different versions of Goan prawn and fish curries.  I took inspiration from this recipe from a cooking column in The Guardian.  The author tried out several recipes from well known Indian chefs and put together her own version.  You can find the original recipe here.
Ingredients
1 tbsp coriander seeds
8 dried red chillies, deseeded
1 tsp cloves
2 star anise
1 tsp cumin seeds
1/2 tsp turmeric
1 tbsp palm sugar
1 tsp salt
5 garlic cloves, peeled and crushed
3cm ginger root, peeled and grated
1 1/2 tbsp white vinegar
3 tbsp vegetable oil
1 onion, finely grated
1 tomato, grated
400ml coconut milk
2 green chillies, deseeded and finely chopped
400g prawns
Coriander for garnish
Dry roast the cloves, coriander, cumin, chillies and star anise until fragrant.
Grind in a pestle and mortar (or in a food processor) and mix in the turmeric, palm sugar, salt, garlic, ginger and vinegar to make a masala paste.
Heat oil in a large pot and fry the onion until soft. Stir in the masala paste and cook until fragrant.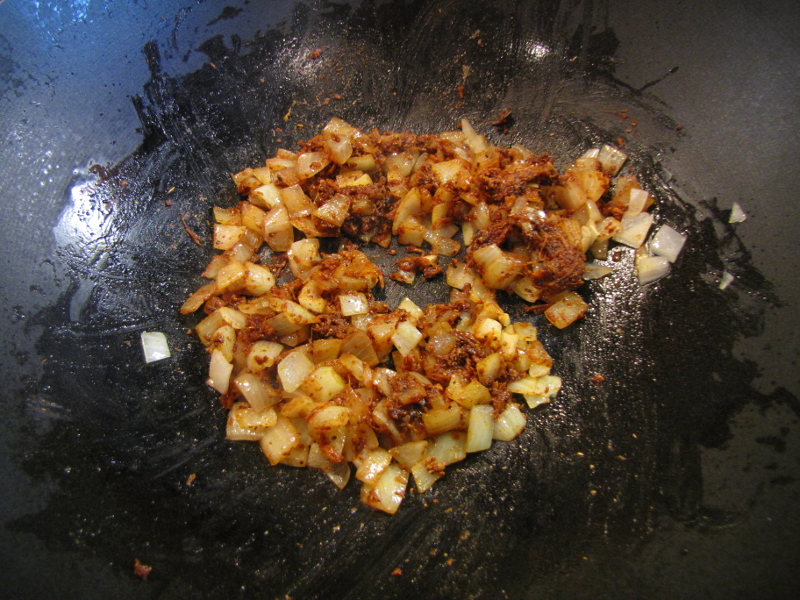 Stir in the tomato and cook until most of the liquid has evaporated.
Mix in the coconut milk and chillies and bring to a boil.  Lower the heat and simmer for about 12 minutes or until the sauce starts to thicken.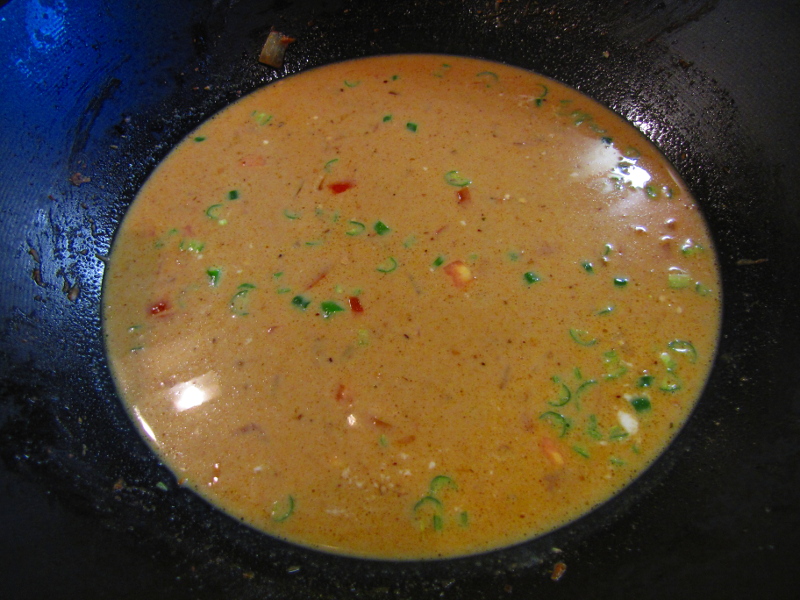 Add the prawns and cook until cooked through – about 5 minutes.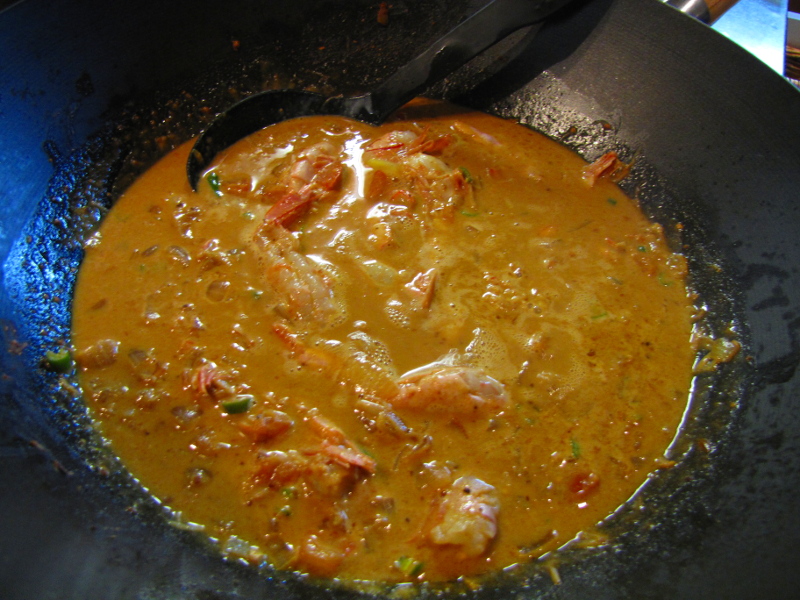 Garnish with coriander and serve with basmati rice.