Lamb Kleftiko is a traditional Greek dish of lamb slowly cooked in parchment paper.  The name originates from the word "Klepht" (meaning thief).  Klephts were highwaymen who stole lambs and cooked it in  sealed pits to avoid detection.
Lamb Kleftiko
This recipe was adapted from my new favourite greek food blog – My Greek Dish.
You can find the original recipe here.
Ingredients
1-1.2kg leg of lamb boneless or 2kg bone in
2 red onions, cut into quarters
2-3 red/yellow/green peppers, cut into 3cm cubes
2 cloves of garlic,  sliced
5 potatoes, peeled and cut into quarters
1/2 tomato, sliced
Salt and pepper
100g parmesan cheese, grated
Marinade
2 cloves of garlic, whole
2 tbsp mustard (I used Dijon)
1 tbsp dried oregano
125ml olive oil olive oil
150ml lemon juice
Method
Marinate the lamb and all the vegetables (except the potatoes and tomato) overnight.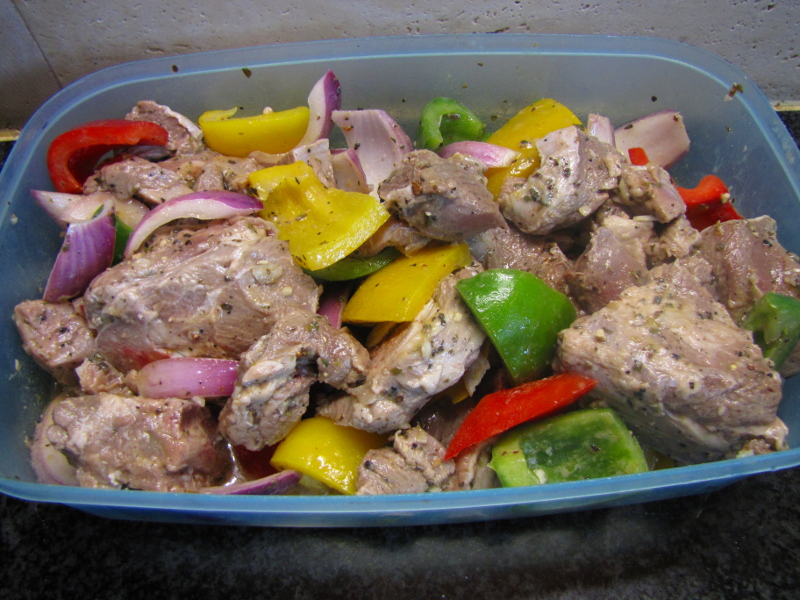 Take the lamb out of the fridge a couple of hours before cooking so that it can return to room temperature.
In the original recipe cubed kefalotyri or graviera cheese would now be added to the lamb and vegetables.  I could not source either of these cheese, so substituted it with parmesan cheese which I sprinkled over the finished dish.
Preheat the oven to 180C.
Cut parchment / baking paper into 4 long strips and lay over one another to form a star.
Place the potatoes onto the paper and season with salt and oreganum.
Pour the marinade from the lamb over the potatoes and place the lamb and vegetables on top of it.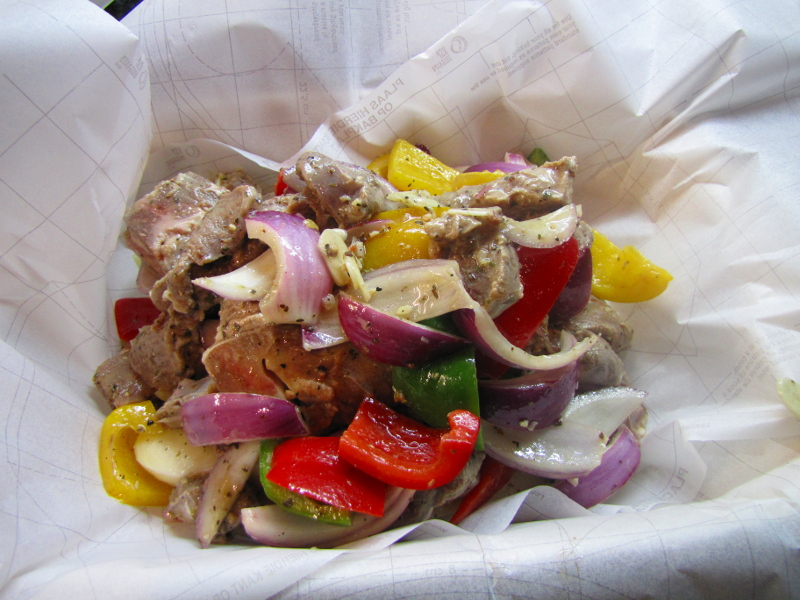 Add the tomato.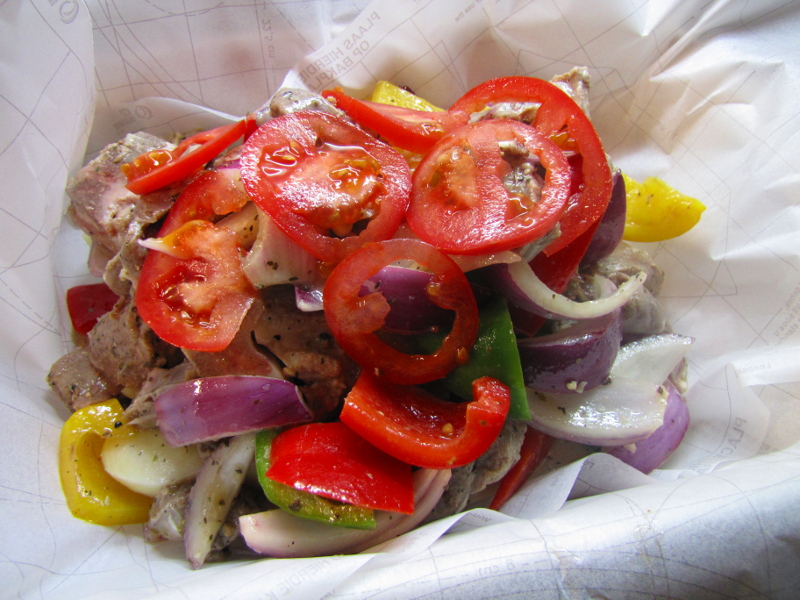 Bring together the edges of the parchment paper to form a parcel and tie with kitchen string.  Make sure that the parcel is properly sealed so that non of the liquid leaks out.
You can also cook this in a tightly sealed casserole dish.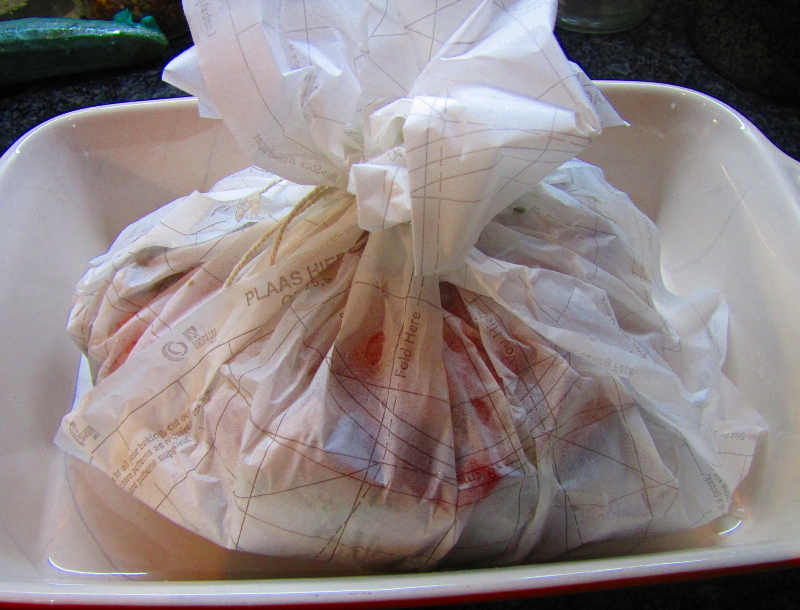 Place in a baking dish and bake for 1 hour 45 minutes.
Remove the baking dish from the oven and increase the temperature to 220C.
Untie the string and open the parcel.  Baste the lamb with the juices and bake for another 20 minutes.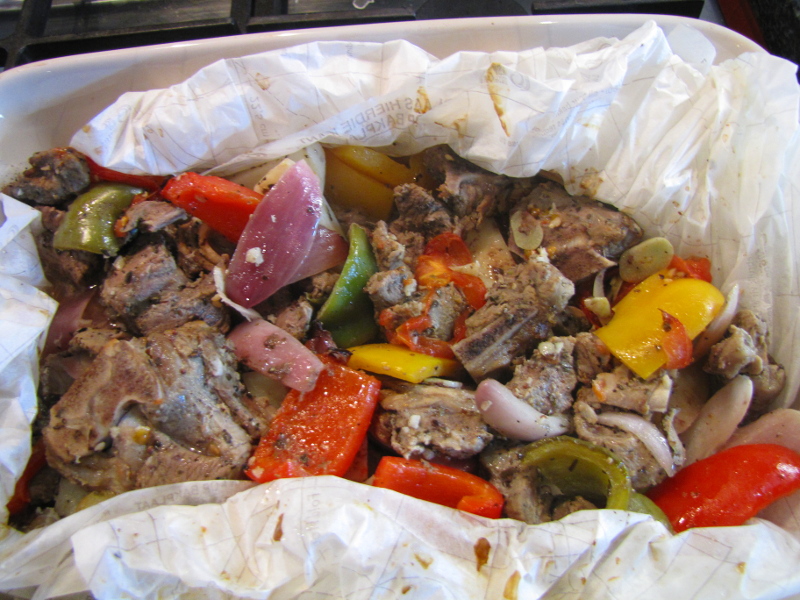 Take the dish out of the oven and remove the lamb and vegetables (except the potatoes).  Wrap in foil to keep warm.
Bake the potatoes for a further 20 minutes until nicely browned.
Return the lamb and vegetables to the baking dish,sprinkle with parmesan cheese and serve with a simple Greek salad.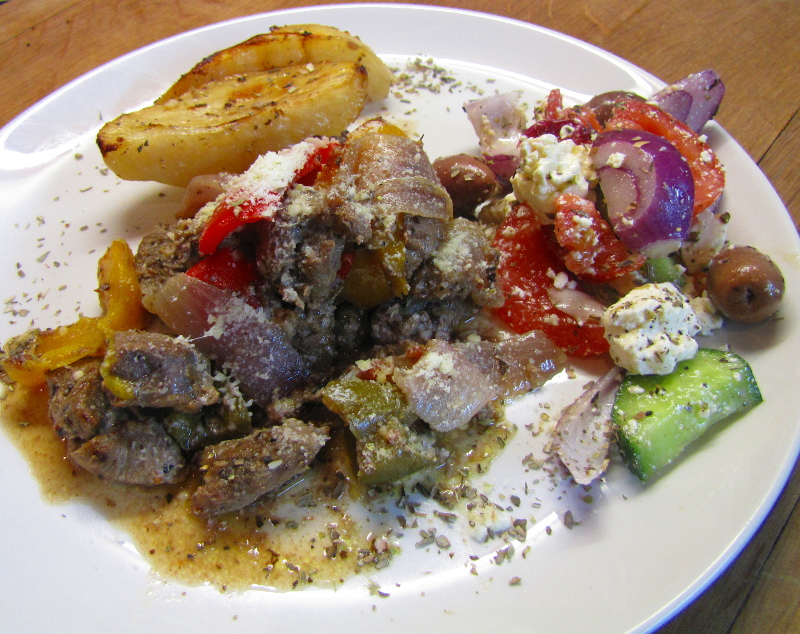 Verdict
The freshness of the lemon and the slight sweetness of the red onions went very well with the savoury lamb.
The greek salad was the perfect accompaniment to this dish as it cut through some of the richness of the meat.
We started off our Greek date night with Youvarlakia soup –  a traditional greek meatball soup  in an egg lemon saauce.
Dessert was ricotta with honey, cinnamon and berries.
We enjoyed all of this with a Zonnenbloem Shiraz Mourvedre Viognier 2014 and a Boekenhoutskloof Wolftrap 2016.