I have not made nearly enough curries or South East Asian food lately, so  Beef Rendang was a good choice for this week's date night.
Rendang originated in Indonesia and spread to Malaysia and Singapore when the Minangkabau settlers migrated to those countries.  This is a slow cooked dry curry, rich with spices and  full of flavour.
Beef Rendang
This is adapted from another recipe I found on the Rasa Malaysia website.  You can find the original reciper here.
Ingredients
800g beef shin- cubed (reserve the bones)
5 tbs oil
3 cardamon pods (shell cracked)
1 cinnamon stick
3 cloves
3 star anise
1 stalk lemongrass – cut into 10cm length and pounded
6 tbsp toasted coconut
1 cup water
2 tsp tamarind paste
1 cup coconut milk
6 kaffir lime leaves
1 tbsp palm sugar / white sugar
Salt to taste
Spice Paste
1 onion
2.5cm galangal (I found preserved galangal at the Asian grocer)
3 stalks lemongrass (white part only)
5 cloves garlic
2.5cm ginger
12 dried chilies (soaked in warm water and seeded)
Method
Chop the ingredients for the spice paste.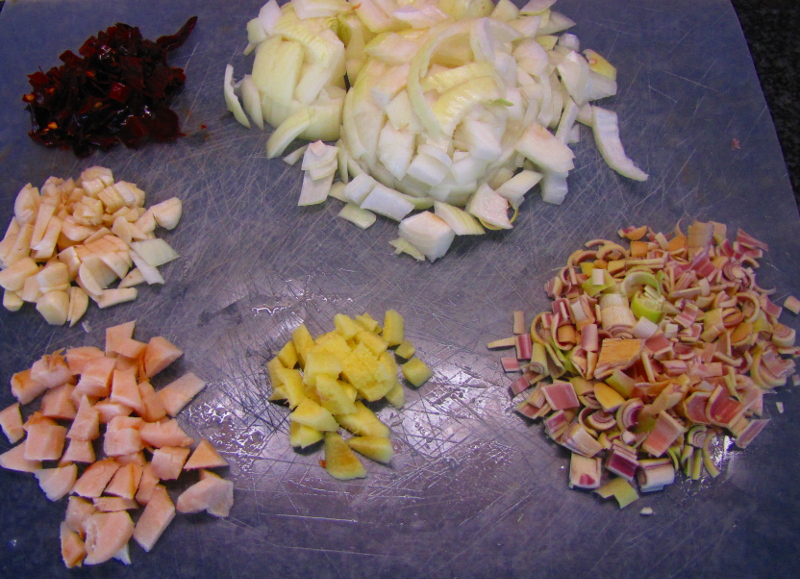 Process into a paste.  Add some water to help with the blending process if needed.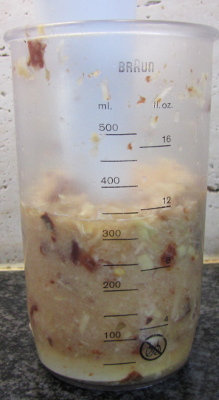 Heat oil in a pot and add the spice paste, cardamon, cloves and star anise.  Fry for 3-5 minutes.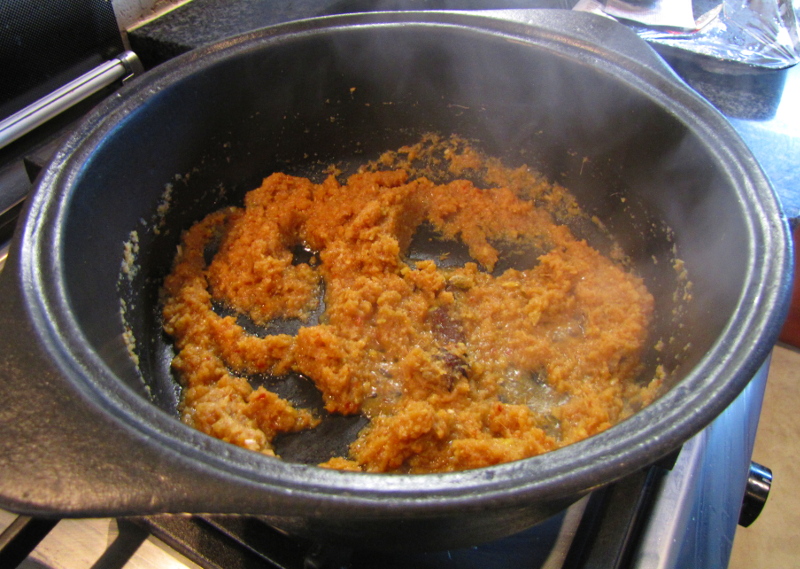 Add the beef and lemongrass.  Cook for another minute.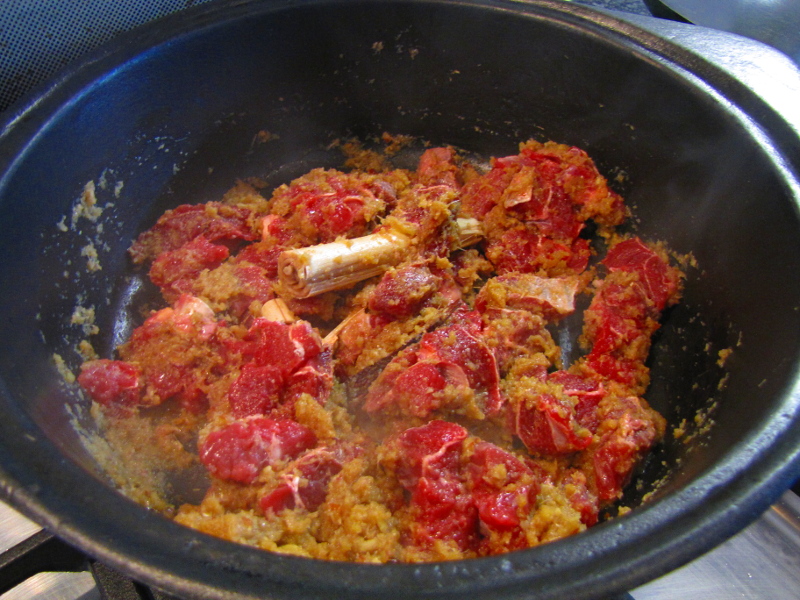 Add the water, taramind paste and coconut milk.  Simmer on medium heat until the meat is almost cooked.  Stir frequently.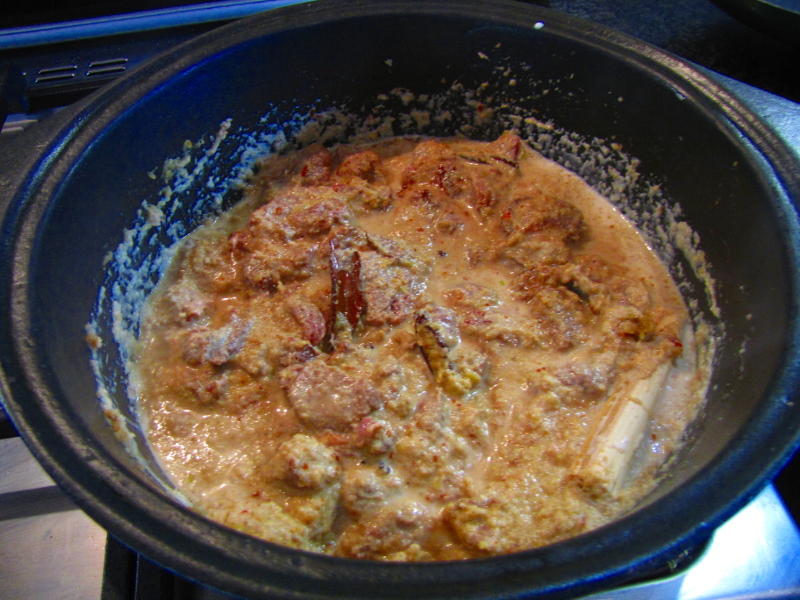 While this is cooking, toast the coconut.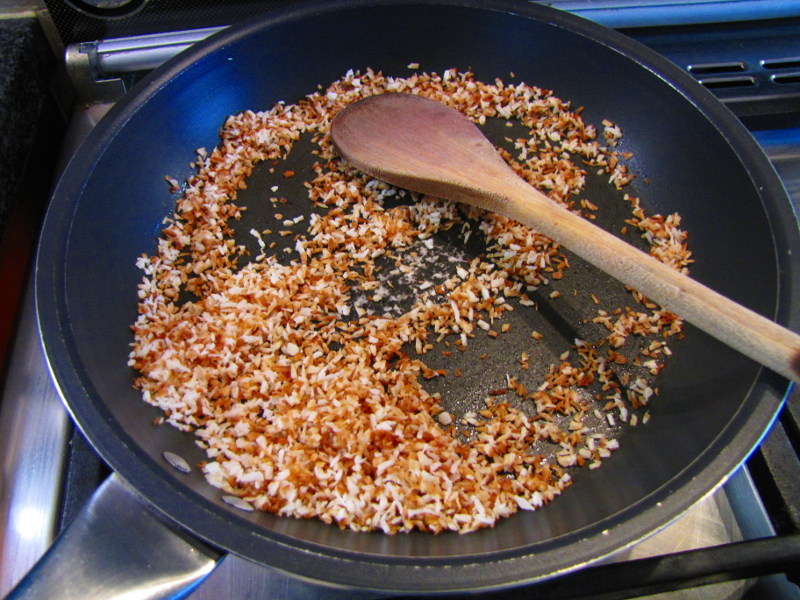 Add the reserved shin bones, toasted coconut, palm sugar and kaffir lime leaves to the pot.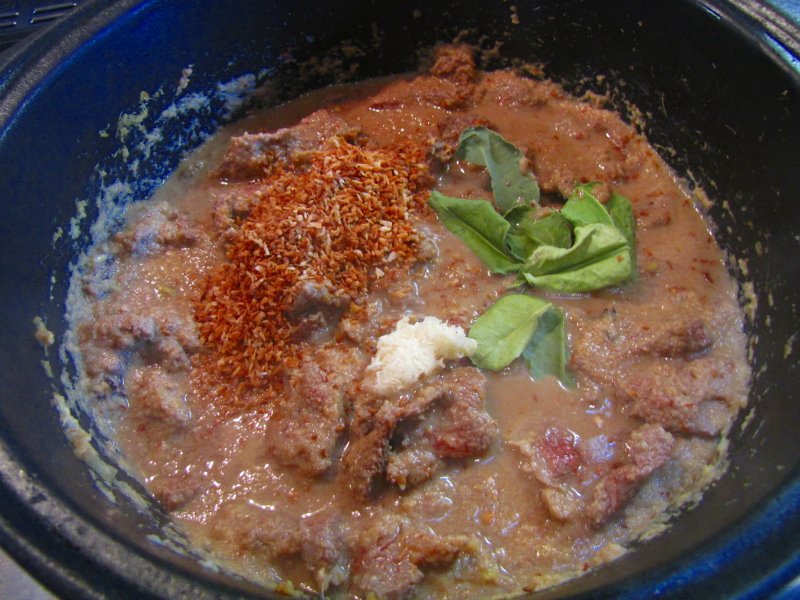 Lower the heat, cover and simmer for 3-4 hours until the meat is tender and the gravy has dried up.
When the marrow inside the shin bones are soft, spoon it out and stir into the curry.
The original recipe uses boneless beef ribs and specifies a cooking time of 1-1.5 hours.  I used shin for more flavour.  That did increase the cooking time significantly.
Add salt to taste.  If you want a sweeter curry, add some sugar as well.
Serve with white rice.

The Verdict
This was so good! And even better the next day.  One of those dishes that just improves in flavour.  It's well worth to make extra spice paste and freeze, as that is the only real work in this recipe.
We had this with a Van Loveren Pinot Noir which was disappointing – we only had half a glass each.  The Nederburg Baronne 2016 (which we rarely buy) was quite good for the price tag.