For most people following a low carb diet bread is usually the most difficult food to give up. After all it is delicious and super convenient.
Since we started eating a bit more low carb a couple of years ago I've tried countless low carb bread recipes. Almond flour is too expensive and I don't like the taste of coconut flour in a savoury bread. Grinding up linseeds and sunflower seeds became my preferred low carb "flour".
I posted a low carb bread recipe in 2016 which you can make in the microwave. This one is a bit more work but absolutely worth it. I suppose you can make it in the microwave if you want to but it freezes so well that it's worth it to make a couple of batches in the oven.
One of the best recipes I tried over the years is Low Carb is Lekker's Victory Bread. The yoghurt and cultured milk in the bread gives it a "sourdough" taste. However I could still taste the coconut flour so I played around with the recipe. I swapped around the coconut flour and linseed flour quantities. This meant that I had to use less of the liquid ingredients as there were less coconut flour in the batter to absorb it. This is what I came up with and even if I have to say so myself – this is my favourite low carb bread so far.
My Favourite Low Carb Bread
Adapted from a Low Carb is Lekker recipe. You can find the original recipe here.
This recipe makes 5 small to medium breads. You can adjust the quantities if you want to make less but it freezes beautifully so I usually make 10+ breads at a time.

Dry Ingredients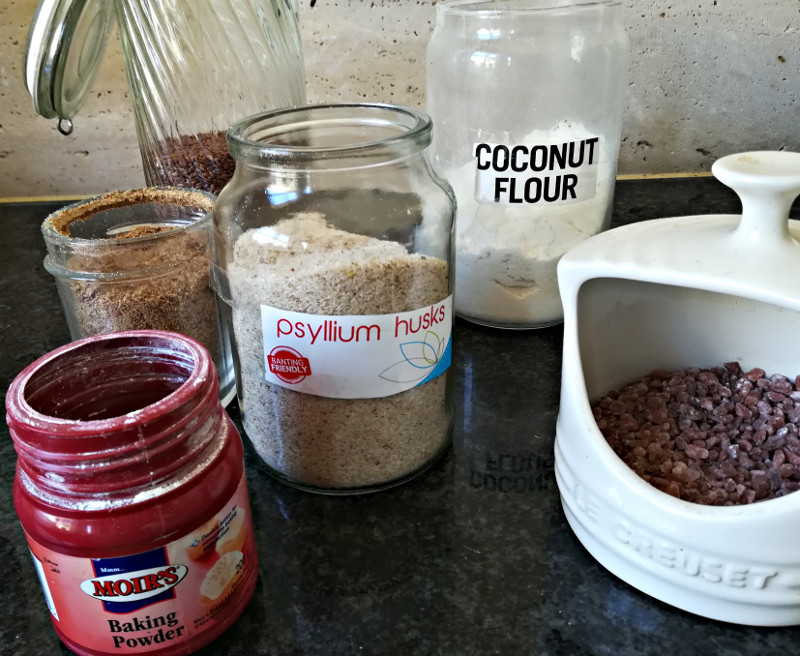 3 cups linseed/flaxseed flour
1 cup coconut flour
1 Tbsp salt
60ml baking powder
150ml psyllium husks
Wet Ingredients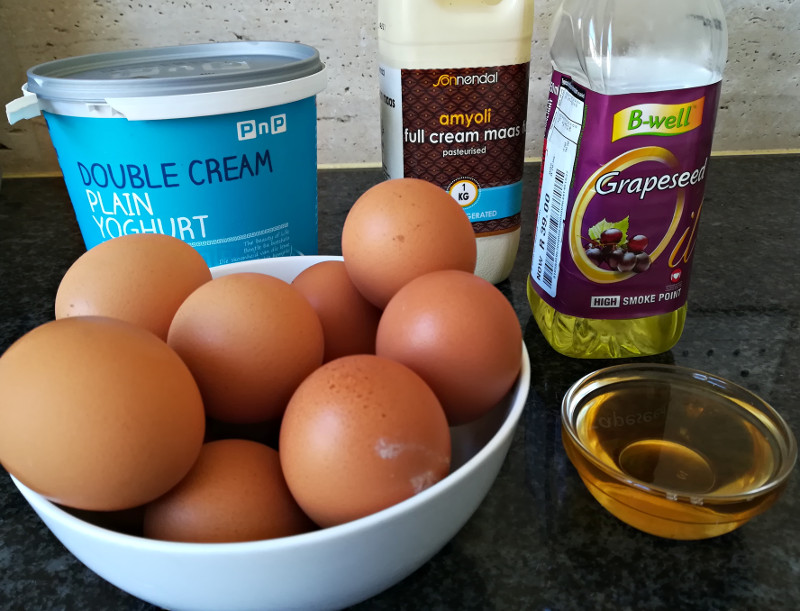 18 large eggs (don't use extra large as it will make the batter too runny)
200ml full fat yoghurt
200ml full cream maas (cultured milk)
100ml cider vinegar
100ml avocado/olive/grapeseed oil
Method

Mix together the dry and wet ingredients seperately.
Mix together and let it stand a couple of minutes (it will get firmer as the flours absorb the liquid)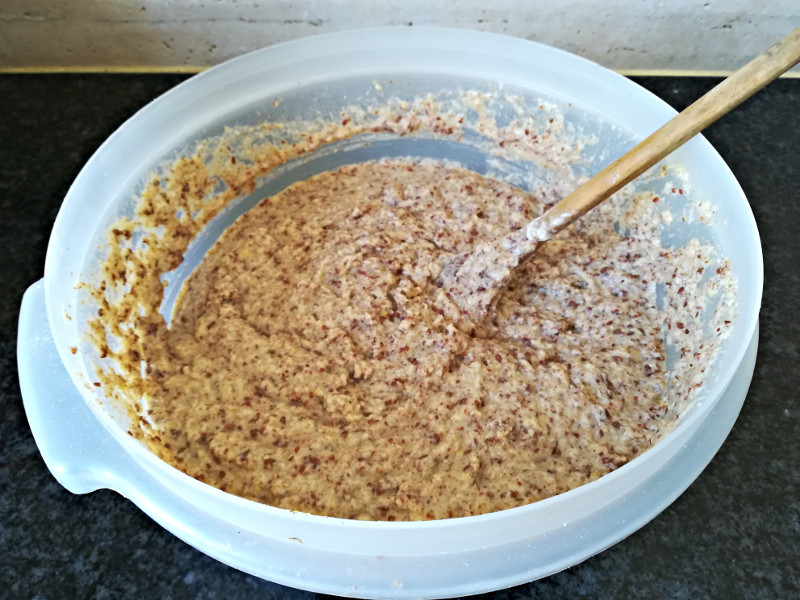 Shape the batter into round or oval shapes and place on baking sheet lined with baking paper. Score the top of the bread and bake at 190C for 45 minutes. Insert a sharp knife or skewer into the thickest part of the bread. If it comes out clean your bread is done. Let cool on a wire rack.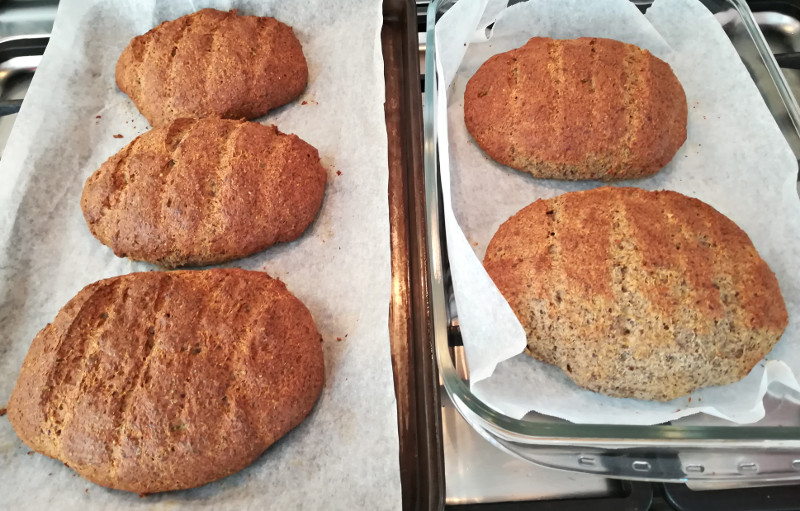 Enjoy your guilt free low carb bread !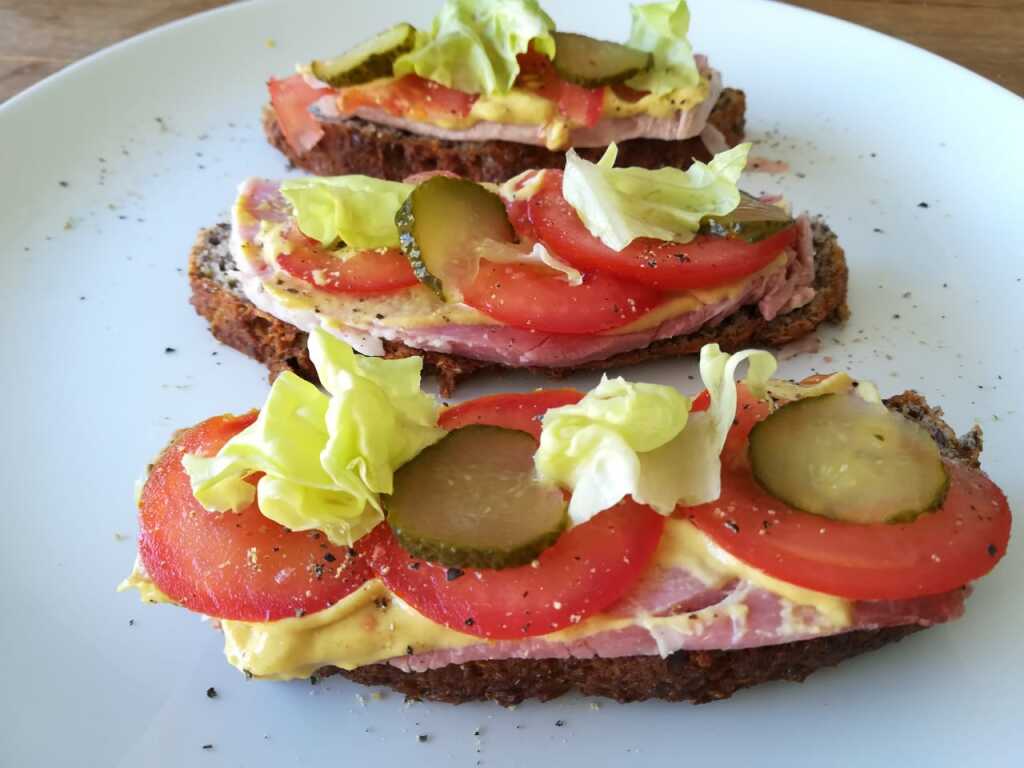 Notes
You can buy the flax meal that is already ground up for this recipe but I prefer to buy the seeds and grind it up in my coffee grinder. I usually use the brown flax seeds as it is more readily available but golden flax seeds give the bread a lovely colour.
You can substitute the maas for buttermilk or more yoghurt.
If your batter is too wet to hold its shape (sometimes the large eggs you buy is extra large) or if you want to make a loaf shaped bread you can pour the batter into a bread pan. In this case you might have to bake the bread a bit longer.