I recently got hold of some good quality springbok knuckles on my travels and decided to make this dish. The way the meat is prepared is based on Jamie Oliver's Insanely Good Oxtail Stew Recipe and the pilaf is based on Nagi Maehashi's Rice Pilaf with Nuts and Dried Fruit recipe. Jamie's recipe I tweaked a bit and turned it into a one-pot dish while adding some ingredients like garlic and onions. Nagi's recipe I pretty much kept standard, but I decided to work with ingredients at hand.
For those of you that are not familiar with springbok, it is a medium-sized antelope found in South Africa and also the national animal of this country.
Oven Braised Springbok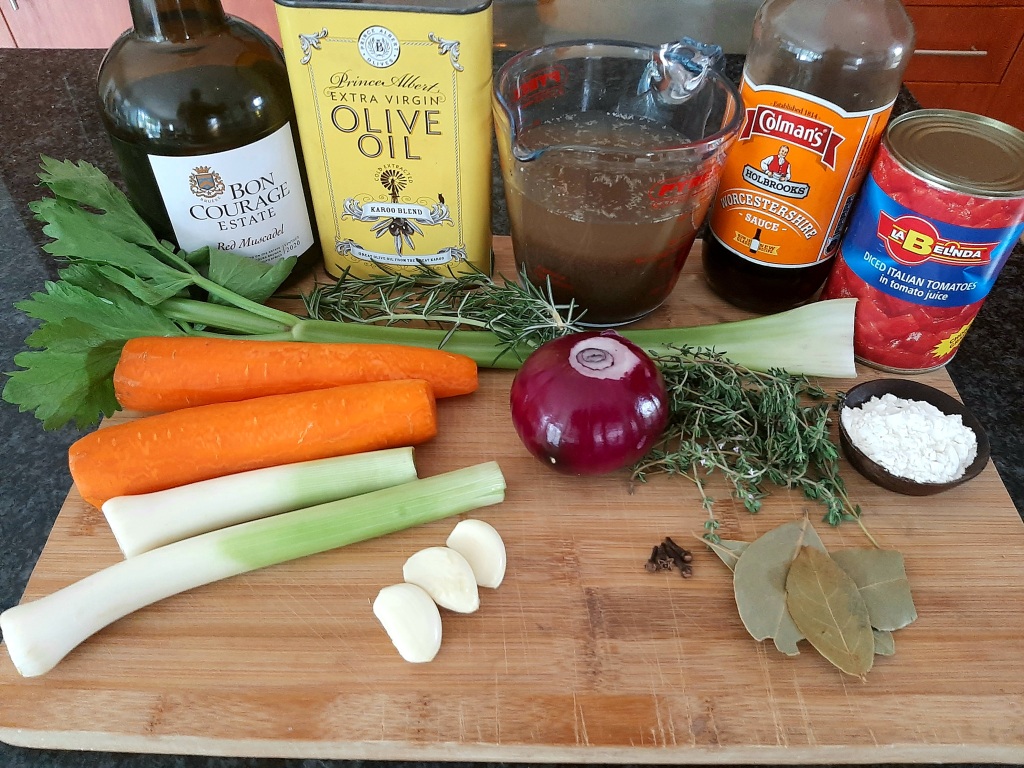 Ingredients
1kg springbok knuckles or other venison
2 leeks cut in half and then into 2cm pieces
2 carrots cut into 2cm slices
1 onion diced
1 celery stick with leaves cut into 2cm pieces
3 sprigs rosemary
5 sprigs thyme
3 cloves of garlic, thinly sliced
4 bay leaves, fresh if possible
4 cloves
1 Tbsp all-purpose flour
100ml red muskadel or port or other sweet wine
400ml venison or beef stock (homemade stock produces a far superior dish)
425g tinned, diced tomatoes
Worcestershire sauce
Olive oil
Salt and pepper
Method
Preheat a large casserole pot with lid in the oven at 220 degrees Celsius.
Remove the pot from the oven, add the meat, season it with salt and pepper, add a good lug of olive and mix it well.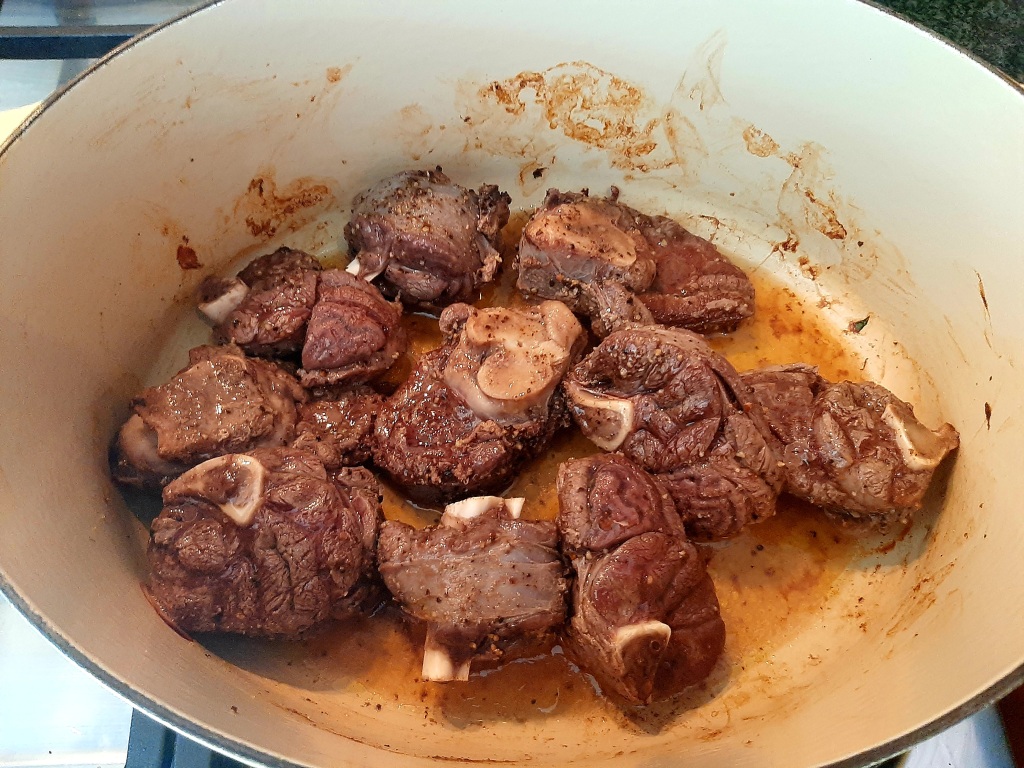 Put the casserole back in the oven (with the lid) for about 20 minutes.
Remove the casserole from the oven and put it on low-medium heat on the stove. Turn the oven down to 170 degrees Celsius.
Add the leeks, carrots, garlic, onion, celery, rosemary, thyme, and bay leaves to the meat, stir well and cook for about 20 minutes with the lid on.
Vegetables added to the meat
Add the flour and cloves, and mix well.
Add the muskadel or wine, tomatoes and stock and mix well.
Turn the heat up and bring to boil.
Put the casserole (with lid) back in the oven for about 4 hours, turning the food over every hour or so.
Remove the casserole from the oven, add a good dash of Worcestershire sauce and let the dish settle for about 30 minutes before dishing up.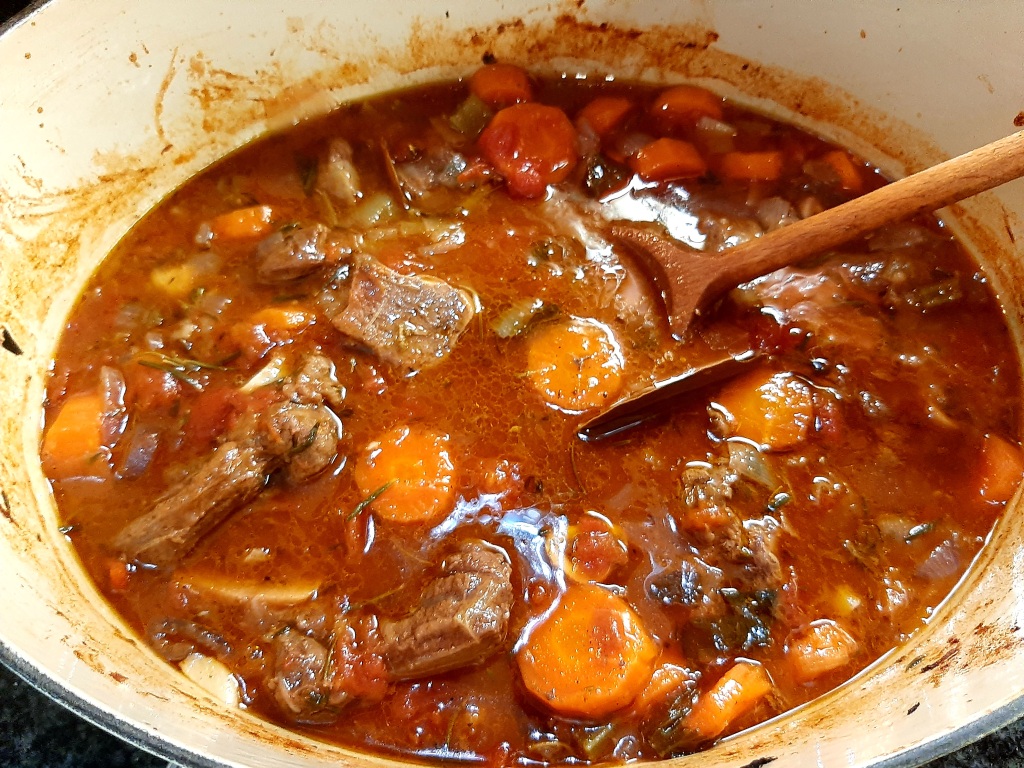 Rice Pilaf with Nuts and Dried Fruit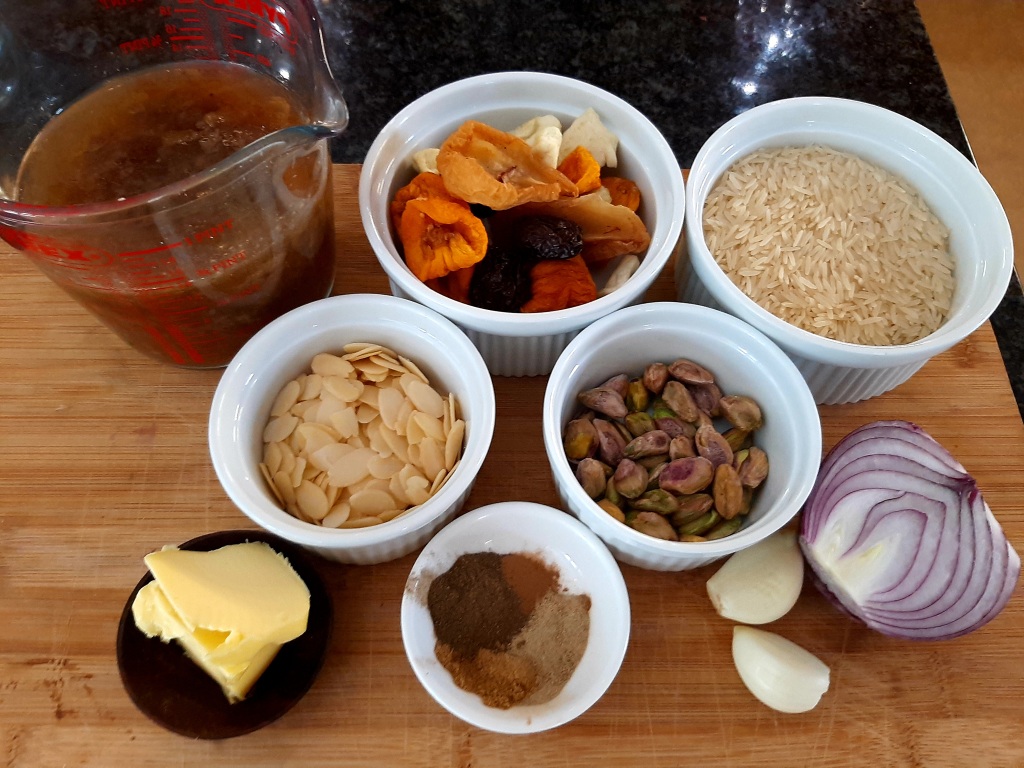 Ingredients
125g mixed dried fruit, chopped (See Note 1)
30g flaked almonds
30g shelled whole pistachios
180g (1 cup) basmati rice
1/2 onion, finely chopped
2 garlic cloves, minced
30g butter
375ml chicken stock (once again, home made stock will produce a far superior dish)
1/4 tsp ground cinnamon
1/4 tsp cardamom
1/4 tsp black pepper
1/8 tsp ground cumin
Method
Dry fry the nuts in a pan over medium heat. Be careful not to burn the nuts and note that the almond flakes will toast quicker than the whole pistachios.
Melt the butter in a large sauce pan over medium heat, add the onion and garlic and saute until translucent.
Add the rice and fry until mostly translucent.
Add the cinnamon, cardamom, pepper and cumin and stir.
Add the stock, and dried fruit and stir.
Cover with the lid, bring to simmer and then immediately turn the heat down to medium low or low.
Cook for 15 minutes until the liquid is absorbed. (Try not to open the lid while cooking). Remove the pot from the stove and leave for 10 minutes undisturbed.
Crush the pistachios slightly, add most of the nuts and toss.
Serve with remaining nuts as garnish.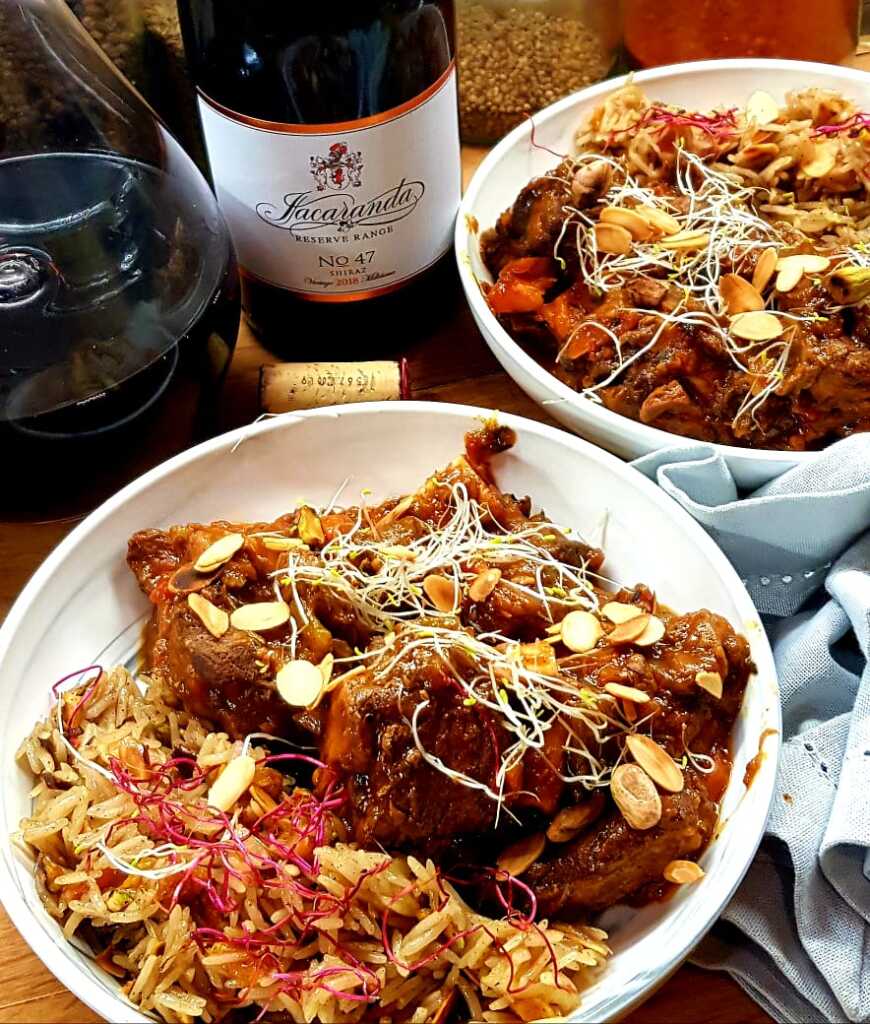 We served the springbok and rice pilaf together with a bottle of Jacaranda Wines No. 47 2018 which is a Shiraz and contributed very well to the spiciness of the dish.
Note
You can basically use any dried fruit. The original recipe uses apricots, sultanas and raisins. The dried fruit mixture I used consisted of peaches, apricots, pear, prunes (pitted) and apples.