Arní me fasolákia is a Greek lamb stew with green beans and tomato sauce. Arní translates to lamb and fasolákia translates to green beans or string beans. As a twist I added baby onions, garlic and cumin which is not traditionally done.
The following ingredients will suffice for 4 generous portions:
Ingredients
60ml olive oil (more may be needed)
+/- 1.4kg lamb stewing meat, cut into bite-size pieces
500g fresh green beans, ends trimmed and cut in half
300g baby onions, cleaned (pouring boiling water over them makes it easier to peel)
5 medium potatoes, diced
1 medium onion, diced
2 tomatoes, diced
6 garlic cloves, minced
400g tomato puree
250ml quality lamb stock
1/2 Tbsp fresh mint, chopped
1 Tbsp fresh origanum, chopped
1 Tbsp fresh flat leave parsley, chopped
2 bay leaves
1/4 tsp cinnamon
1/2 tsp cumin
Salt to taste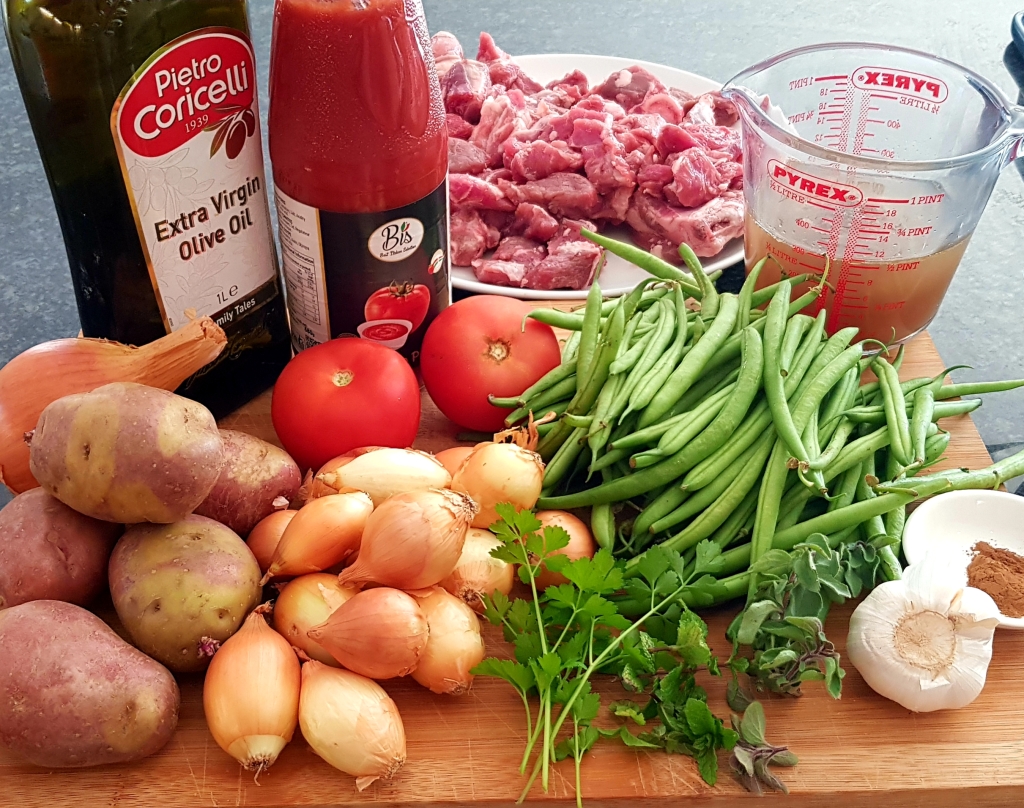 Method
Heat up a large heavy pot over high heat – I prepared this dish over an open fire. Add the olive oil and brown the meat in batches. Add more oil if necessary. Set the meat aside.
The meat on the left and the onions and garlic on the right
Add the onion and garlic and cook until the onion turns brown, adding more oil if needed.
Deglaze the pot by adding the stock and releasing all the caramelized bits stuck to the bottom of the pot.
Add the tomatoes, tomato puree, meat and bay leaves. Bring to a boil and then turn down the heat. Let it simmer for at least 45 minutes until the meat is tender.
The meat and tomato added
Add the green beans, potatoes, baby onions, mint, parsley, origanum, cumin and cinnamon. Stir well, bring to a boil and then turn down the heat again.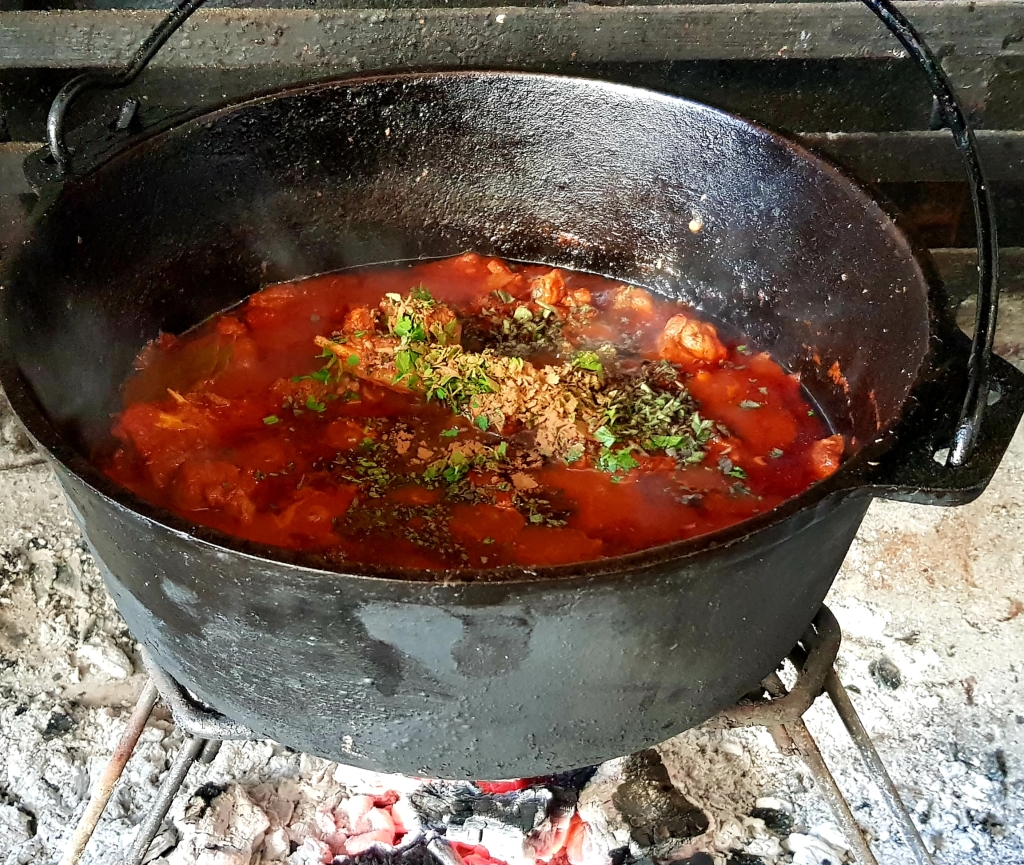 Let it simmer for another 45 minutes until the potatoes are soft. The baby onions should be cooked, but still firm and crunchy.
While cooking, we enjoyed a bottle of Sauvignon Blanc of Tamasa Wines.
Cooking over the fire with a good bottle of Sauvignon Blanc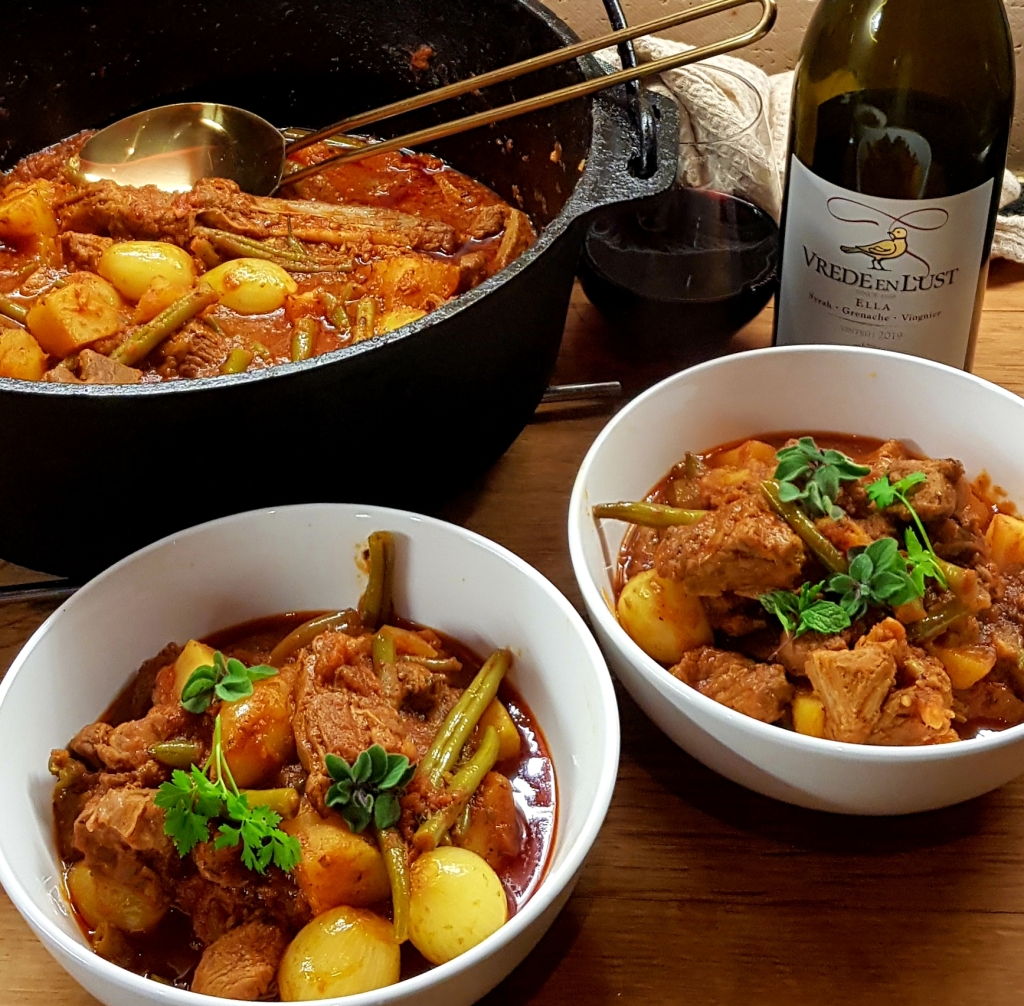 And finally, we served the arní me fasolákia with a Vrede en Lust Ella which is a red Rhône-style blend consisting of Syrah, Grenache and Viognier. The wine paired very well with this dish.
Tasting notes 
An elegantly styled wine with aromas of violets, concentrated red fruit followed through with a soft, juicy palate and well-rounded tannins.

Winemaker's notes
The grapes were harvested at optimal ripeness and the different components all fermented and aged separately,. The wine matured on oak for 12 months before bottling.