This is a multi-part recipe featuring a flavorful crocodile curry, homemade naan bread, and a refreshing Indian salad with tomato and mint dressing. This culinary creation draws inspiration from both Northern Indian cuisine and Nagi's recipes.
This recipe consist of 3 main parts:
The butter crocodile curry
The naan bread
The Indian salad with tomato and mint sauce
All off the above components I got from Nagi's blog called RecipeTinEats.
Butter Crocodile Curry
Butter chicken, also known as Murgh Makhani, is a beloved dish that originates from Northern India, particularly Punjab. This culinary gem stands out for its relatively mild and creamy character, distinguishing it from the bolder and spicier Indian curries that have gained popularity worldwide.
The history of butter chicken traces back to the vibrant streets of Delhi, where it was first created in the 1950s. Legend has it that the dish was a delicious accident, born out of the desire to transform leftover tandoori chicken into a delectable new creation. The chefs ingeniously simmered the chicken in a rich tomato and butter sauce, giving rise to what we now know as butter chicken.
In our crocodile version of this classic, the tender meat is marinated in a fragrant mixture of yogurt, spices, and citrus for a delightful flavor infusion. Then, it's grilled to perfection before being incorporated into the creamy tomato-based gravy.
Nagi of RecipeTinEats adapted this recipe from Luke Mangan, a renowned Australian chef and restaurateur, and, except for replacing the chicken with crocodile, I made some further adaptations.
Marinade Ingredients
700g crocodile tail, 1½cm slices
125ml plain yogurt
Juice of ½ lemon
Zest of ½ lemon, grated
2 tsp garam masala
1 tsp chili powder
1 tsp cumin seeds
12g fresh ginger, grated
6g fresh turmeric, grated
4 cloves garlic, crushed
Curry Ingredients
30g ghee
250ml tomato passata
250ml heavy/double cream
1 Tbsp sugar
1¼ tsp salt
½ tsp freshly ground black pepper
Fresh coriander for garnish
Instructions
Roast the cumin seeds in a dry pan until fragrant.
In a small bowl, combine the marinade ingredients (yogurt, turmeric, black pepper, lemon juice, grated lemon zest, garam masala, chili powder, cumin seeds, ginger, and garlic).
Rub the marinade evenly over the crocodile meat, covering the entire surface. Cover and refrigerate for at least 24 hours.
Remove the marinated crocodile from the fridge and let it come to room temperature.
Heat the ghee in a large frying pan over high heat.
Remove the crocodile from the marinade, allowing excess marinade to cling to it (do not pour the remaining marinade from the bowl into the frying pan). Place the crocodile in the frying pan and cook for approximately 3 minutes, or until the crocodile turns white all over (it won't brown significantly due to the marinade).
Add tomato passata, heavy cream, sugar, salt, pepper, and any remaining marinade left in the bowl.
Turn down the heat to low, cover and simmer for 30 minutes, turning the meat halfway. Adjust salt to taste.
Garnish with fresh coriander just before serving.
Naan Bread
Naan bread is a soft and fluffy leavened flatbread that originates from South Asia. This versatile and popular bread is known for its deliciously chewy texture and slightly charred, bubbly surface. It's typically made from a simple mixture of flour, yeast, yogurt or milk, and a pinch of salt. Naan is traditionally cooked in a tandoor, a clay oven, which imparts a distinctive smoky flavor and creates those characteristic bubbles.
Naan can be enjoyed plain, brushed with ghee or butter, or sprinkled with various toppings like garlic, sesame seeds, or fresh herbs. It pairs wonderfully with a wide range of dishes, from curries to kebabs, and is perfect for scooping up sauces and dips. Its popularity has spread worldwide, making it a beloved accompaniment to many international cuisines.
Ingredients
1 tsp instant yeast
125ml lukewarm water
1 Tbsp white sugar
2 Tbsp full-fat milk
1½ Tbsp whisked egg (at room temperature)
½ tsp salt
450ml bread flour
30g ghee, melted
60g ghee, melted (for finishing)
1 Tbsp cumin seeds (for finishing)
Instructions
Roast the cumin seeds in a dry pan until fragrant, then set aside.
In a small bowl, mix yeast with warm water and sugar. Cover with cling wrap and let it sit for 10 minutes until foamy.
Whisk milk and egg together.
Sift flour and salt into a separate bowl.
Make a well in the flour, add yeast mixture, butter, and egg mixture. Mix together to form a ball.
Cover the bowl with cling wrap and leave it in a warm place for 1 – 1½ hours until it doubles in size.
Divide the dough into 6 equal pieces and shape them into balls.
Place balls on a lightly-floured tray or plate, then cover loosely with a lightweight tea towel. Let them rise for 15 minutes until they increase in size by about 50%.
Roll out each ball into 3 – 4mm thick rounds (about 16cm wide).
Heat a cast-iron skillet over high heat until you see wisps of smoke.
Cook each naan for 1 to 1½ minutes on each side until bubbly and golden.
Brush freshly cooked naan with melted ghee and sprinkle with roasted cumin seeds.
Indian Salad with Tomato and Mint Dressing
The Indian salad with tomato and mint sauce is a vibrant and refreshing dish that perfectly complements the rich and flavorful flavors of Indian cuisine. This salad features ripe, juicy tomatoes, sliced into rounds, and thinly sliced red onions. What makes it truly special is the aromatic and zesty mint dressing that ties everything together.
Salad Ingredients
3 large ripe tomatoes, sliced into rounds
¼ red onion, very thinly sliced
⅛ tsp garam masala
Raita Mint Dressing Ingredients
250ml plain yogurt
500ml mint leaves
Juice of ½ lemon
Zest of ½ lemon, grated
¼ tsp salt
Instructions
Blitz the dressing ingredients in a food processor until it becomes a smooth, bright green sauce.
Place sliced tomatoes in a bowl. Sprinkle with a pinch of salt and mix. Let them rest for 10 minutes.
Drain the tomatoes, mix them with the thinly sliced red onion in a serving bowl.
Bringing it All Together
Serve the salad with the warm naan and curry. Pour some of the dressing over the salad and add a pinch of garam masala on top. Don't forget to add fresh coriander on top of the curry. Enjoy!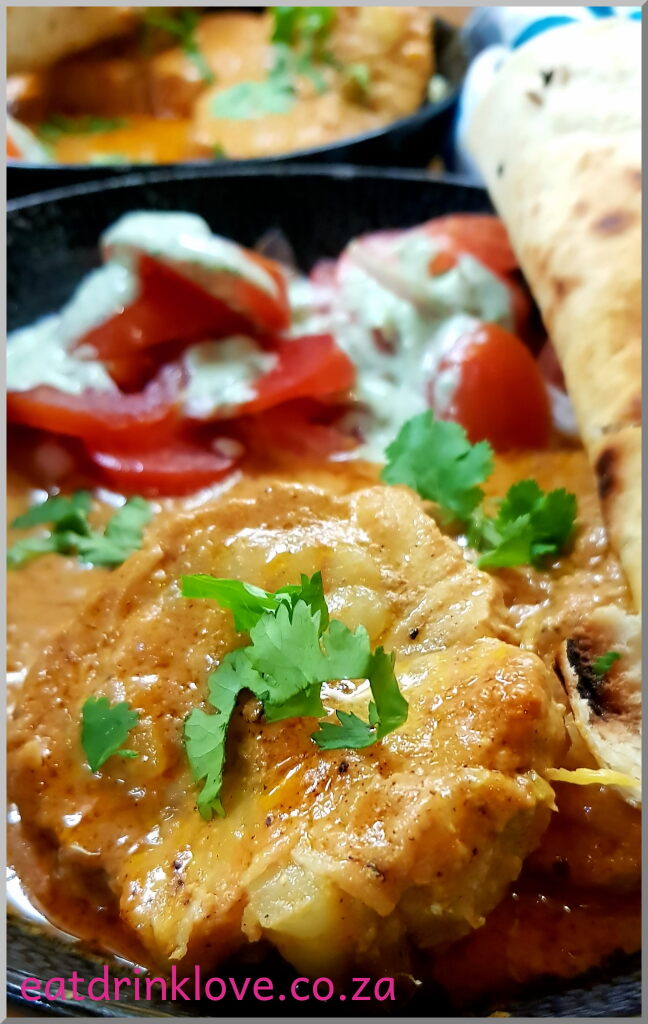 We enjoyed this with a 2021 Badsberg Chardonnay / Colombar Generaal Smuts.
The Chardonnay/Colombar was awarded best Wine at the 2021 SA Young Wine Show. Fermented in oak barrels and matured on lees for 6 months. This wine has the perfect balance between rich butterscotch and tropical flavours with a hint of citrus and soft oak tannins.
— From Badsberg website