For the second part of the South East Asian date night menu I made an Indonesian Oxtail Soup (who knew they ate oxtail in Indonesia), a Thai Coconut Fish dish (always a favourite) and a Filipino Pork Adobo which is a dish I've been wanting to make for ages.
Indonesian Oxtail Soup
This is a very popular dish in Indonesia. Variations of the dish are also made with grilled or fried oxtail.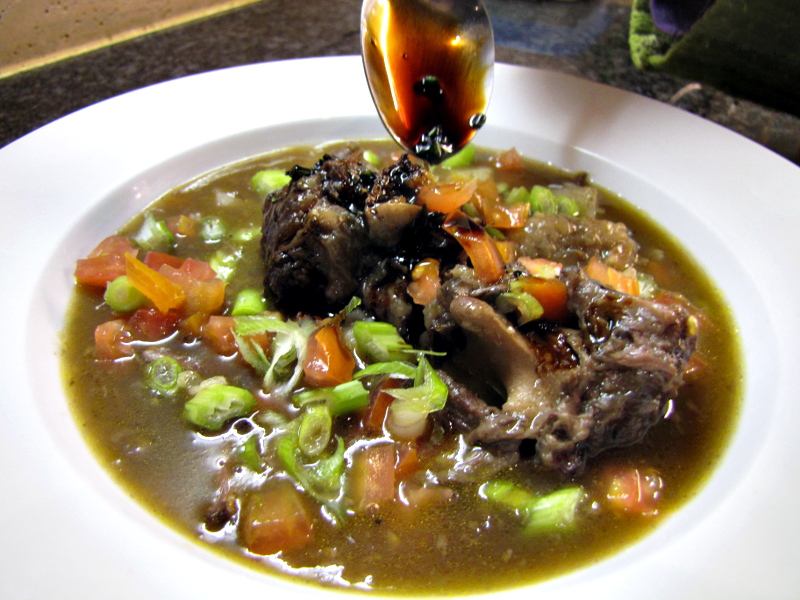 In the original recipe you boil the oxtail in water for 2-3 hours and use the broth for the soup.  I was not going to cook oxtail for a starter so "borrowed" some of the leftover oxtail that Adrienne cooked for the previous weeks' date night for my dish.
I sautéed an onion, garlic and ginger paste , cinnamon stick, cloves and nutmeg until fragrant and added this to the defrosted oxtail and some beef stock.  Bringing the broth to a boil, I added some carrot, potato and seasoning and let it simmer for 40 minutes. The soup was served with chopped tomato, spring onion and celery as a garnish. Before serving I drizzled over a chili sauce made from kecap manis (Indonesian sweet soy sauce) and fresh chilies.
We loved the flavour of the cinnamon, cloves, nutmeg and chili with the oxtail.
You can find the recipe on the Daily Cooking Quest website here.
Thai Fish in Coconut Milk
We love Thai food and even did a cooking course in Chiang Mai last year.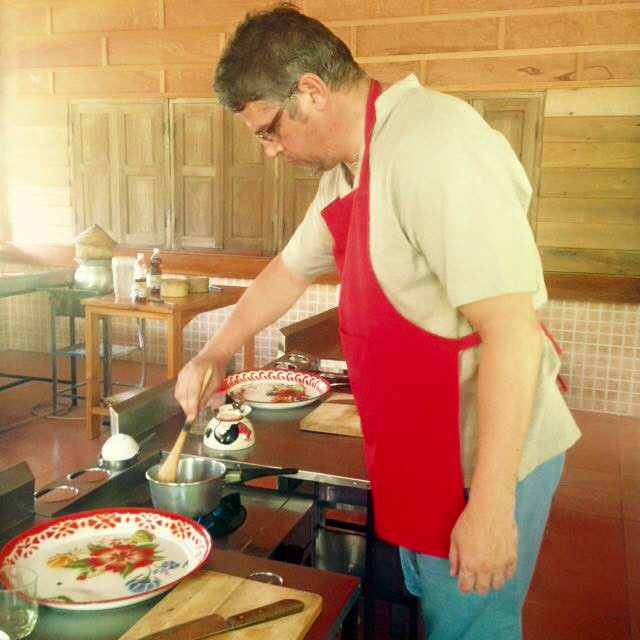 One of the things that we learned there was that they leave the kaffir lime leaves, galangal and lemongrass in the broth that they use for the soup / curry when they serve it.  So it keeps on infusing the food while you're eating it.  I tend to now make the broth a couple of hours ahead of time so that the flavours have more time to develop.
As I had a lot of other dishes to prepare, I opted to make a simple broth instead of a curry sauce.  That's the great thing about Thai food- even the most simple dishes are so tasty.
Thai fish in coconut milk
2 Servings
Ingredients:
300g fish
Broth:
1tbsp coconut oil
1/4 onion, finely chopped
1.5 cloves garlic, finely chopped
1/2 – 1 bird's eye chili, finely chopped
1 can coconut milk
2tsp fish sauce
3 kaffir lime leaves
2 pieces dried galangal (available at  Asian stores)
1 stalk lemongrass, cut into 3 pieces and bruised with blunt side of knife
1tbsp fresh coriander, finely chopped
1tsp palm sugar, grated (available at  Asian stores)
1tsp lime juice (you can find this at some Woolworths shops or at an Asian store)
Fresh coriander and lime wedges for seasoning
Instructions:
Heat oil, add onion, garlic and chili and cook until the vegetables are soft.  Add the rest of the broth ingredients and simmer for 15 minutes. Take off heat and leave to infuse for a couple of hours.
Season the fish, pour the broth into a pan and add the fish to the pan.
Bring the broth to a simmer and cook until just cooked through.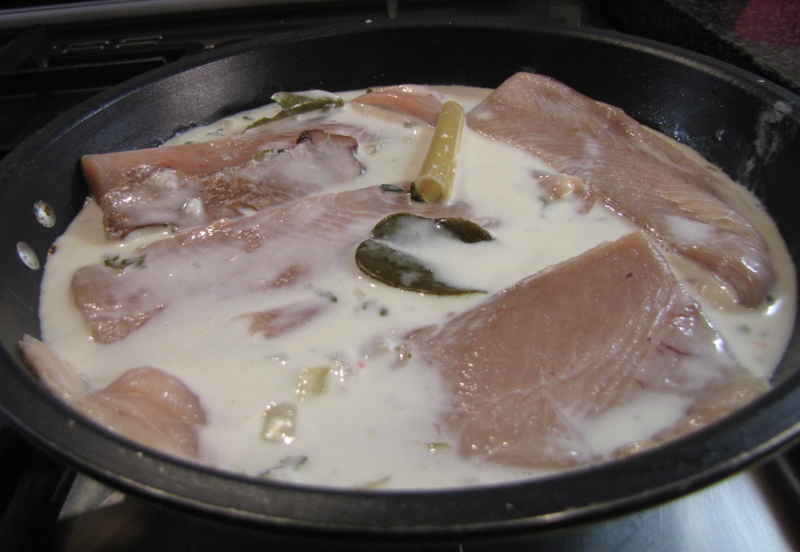 Transfer the fish to bowls and ladle sauce around the fish. Garnish with coriander sprigs and lime wedges.  Serve with jasmine rice.

Filipino Pork Adobo
Adobo is considered the unofficial national dish of the Philippines as well as the cooking process of meat simmered in soy sauce, vinegar and garlic.  Filipinos have been cooking meat in vinegar for centuries to keep it fresh for longer. Spanish colonists gave the cooking method the name "adobo" (marinade/sauce in Spanish).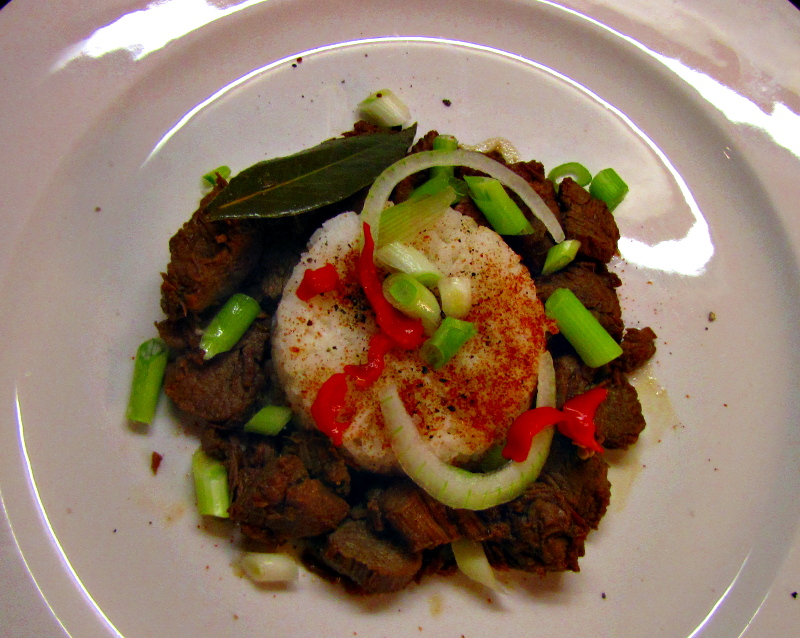 Pork Adobo
4 servings
Ingredients:
900g pork fillet
2 tbsp garlic, minced
5 bay leaves
4 tbsp rice vinegar
½ cup soy sauce
1 tbsp whole peppercorns
1 cup water
Instructions:
Combine the pork, soy sauce, and garlic and marinade for an hour.
Briefly saute the pork in a heated pot and add the rest of the ingredients. Bring to a boil and simmer for 1 hour. Serve with jasmine rice.
We really enjoyed this dish and it was so simple to make.  Next time I'm making Chicken Adobo.
We enjoyed this with a very nice bottle of Hartenberg Shiraz 2014.