People tend to associate ramen noodles with the dried noodles you zap in the microwave for a quick cheap meal.  This does not compare with freshly made Japanese ramen noodles.
Ramen also refers to the Japanese dish of noodles served in a broth and topped with meat and/or vegetables.  I decided to make ramen noodles with a miso broth and miso roasted pork belly for this week's date night.
Ramen noodles
There are various recipes for ramen noodles but the distinguishing ingredient is "kansui" – alkaline mineral water.  This gives the noodles it's "springy" texture and yellow hue.
As it is difficult to get "kansui" outside Japan you can make your own alkaline agent by baking baking soda at 120C-150C for an hour.  This turns the sodium bicarbonate into sodium carbonate.
Apparently you can even make "Asian" noodles by adding baking soda to your cooking water when cooking pasta.  (I haven't tried that one yet but definitely will)
Ingredients
3 cups bread flour
4 tsp baking soda (baked at 150C for an hour)
1/2 cup warm water
1/2 cup cold water
Dissolve the baking soda in warm water by whisking it.
Add your bread flour and cold water. Mix well.
Knead for 5 minutes and rest covered in cellophane for 20 minutes.
Knead again for 5 minutes and rest for an hour.
I used my pasta machine to roll it out.  I put it through the first setting 6 times.  I then put it through settings 2-5 once.
I used the "spaghetti" cutting attachment to get the round noodle shape.
I got the recipe for the ramen noodles here.
Miso broth
Ingredients
1 tbsp garlic, grated or finely chopped
1 tbsp ginger, grated
1 tbsp oil
2 tbsp miso paste
2 tsp soy sauce
1/4 tsp chilli flakes (optional)
600ml vegetable stock
Method
Sautee the garlic and ginger in oil until fragrant.
Add the rest of the ingredients and simmer for 10 minutes.
This broth is delicious and so easy.  I can definitely see this becoming a winter staple with some shredded chicken or pork stirred in for a more substantial meal.
I got the inspiration for this recipe here.
Miso Roasted Pork Belly
You find that a lot of Japanese recipes for pork belly calls for braising the meat.   I wanted to get rid of the excess fat and get some crackling, so decided to roast it. I used a recipe from Kylie Kwong  that you can find here.
Ingredients
800g boneless pork belly – skin on and scored
500ml boiling water
1 tbsp sesame oil
1 tbsp salt flakes
For the marinade:
2 tbsp miso paste
1 tbsp five-spice powder
1 tbsp brown sugar
1 tbsp soy sauce
Method
Pour the boiling water over the pork skin to help it crisp up when cooking.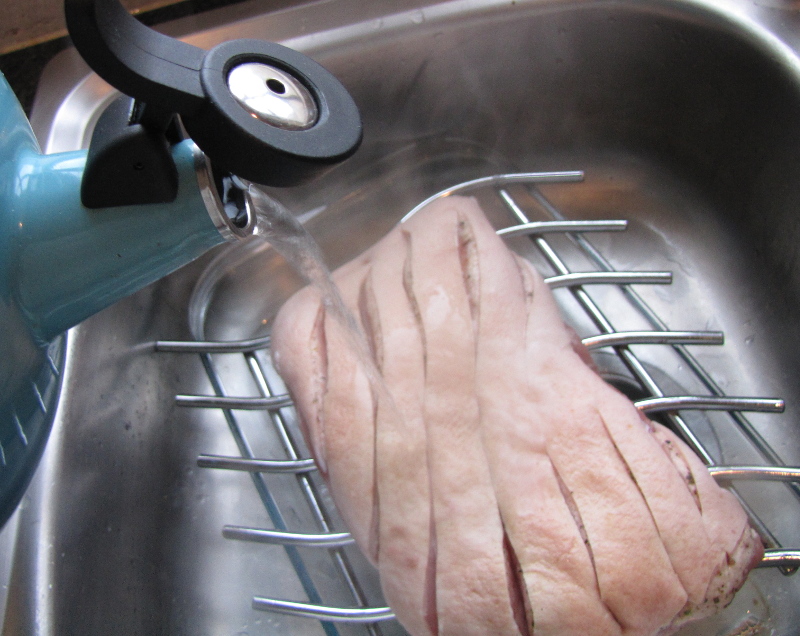 Pat dry and leave uncovered in the fridge for 2 hours.
Take out of fridge and using the tip of a sharp knife, make little holes in the pork skin. Be careful not to go all the way through the skin.
Turn over and make small cuts in the flesh side.
Mix the miso paste, five-spice powder, sugar and soy sauce.  Rub into the flesh side of the pork.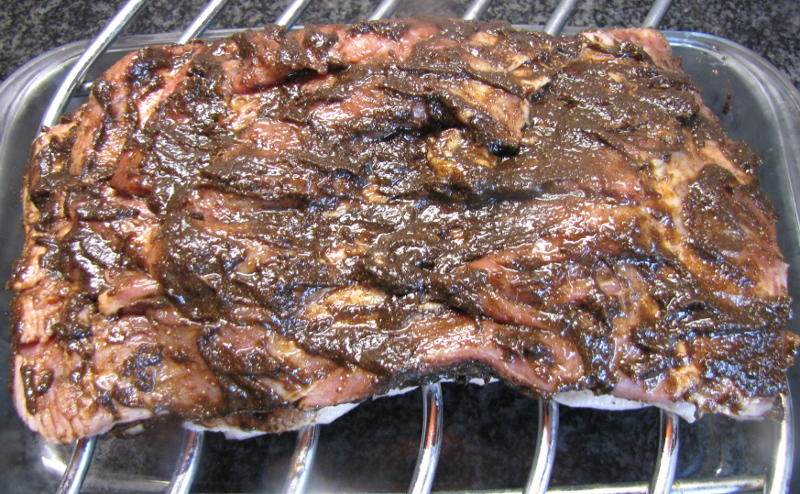 Place pork, skin-side up, on a wire rack over a tray or plate. Leave uncovered in fridge overnight.  The skin will dry out during this time so that the crackling is crisper when roasted.
Bring pork to room temperature and preheat oven to 150C.
Transfer pork and wire rack to a roasting tin. Rub the skin with the sesame oil and salt.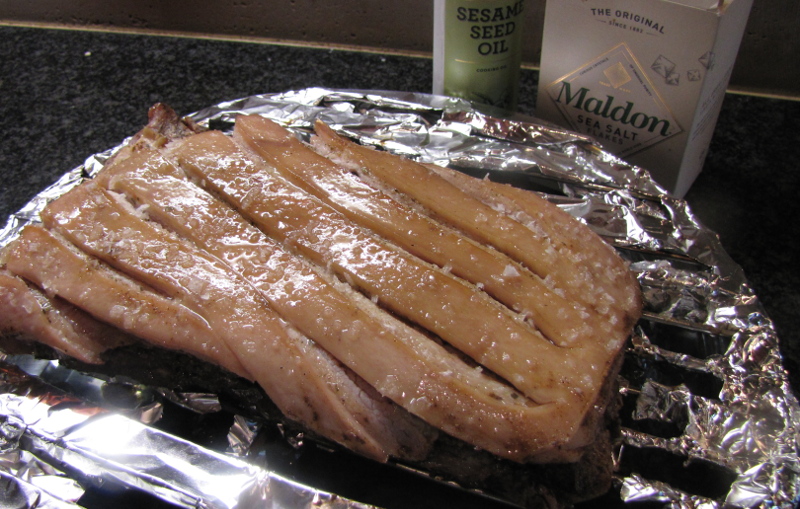 Roast for 1.5-2 hours until tender.  Increase oven to 220C and roast for a further 15 minutes to crisp up the skin into crackling.
After 15 minutes at 220C I found that the skin was still not crispy enough, so I turned the heat up to maximum for another 5 minutes.
Remove from oven and let it rest for 15 minutes.
Slice into 1cm pieces and serve on top of the noodles and broth with vegetables and medium boiled eggs.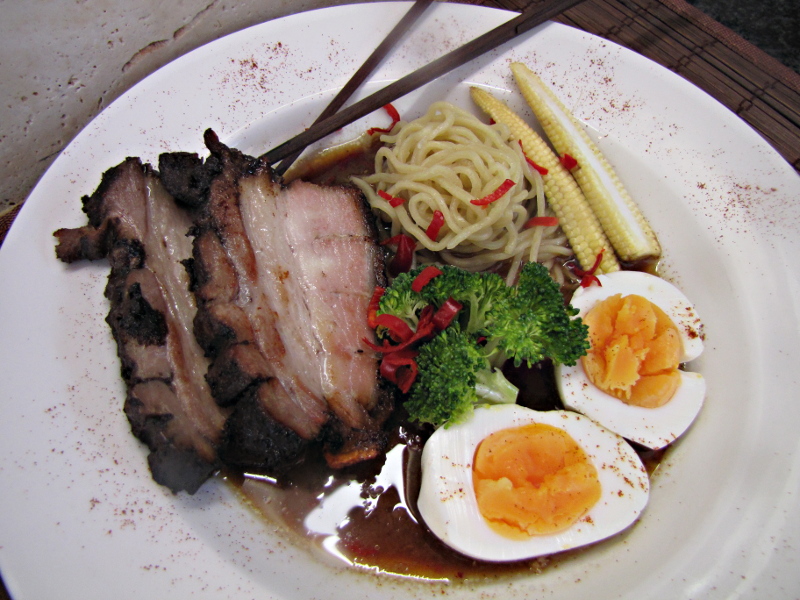 We had this with a lovely chardonnay we bought at Wine on River last year – a De Wetshof The Site Chardonnay 2014.