Vietnamese caramelised pork belly is a dish traditionally served during Tết (Vietnamese New Year).  Pork is marinated in a salty sweet sauce and cooked in coconut juice –  Vietnamese comfort food at its best.
Vietnamese date night starters
We started off our Vietnamese date night with Prawn Summer Rolls.  You can find the recipe for these tasty fresh rice paper rolls in our South East Asian Date Night post.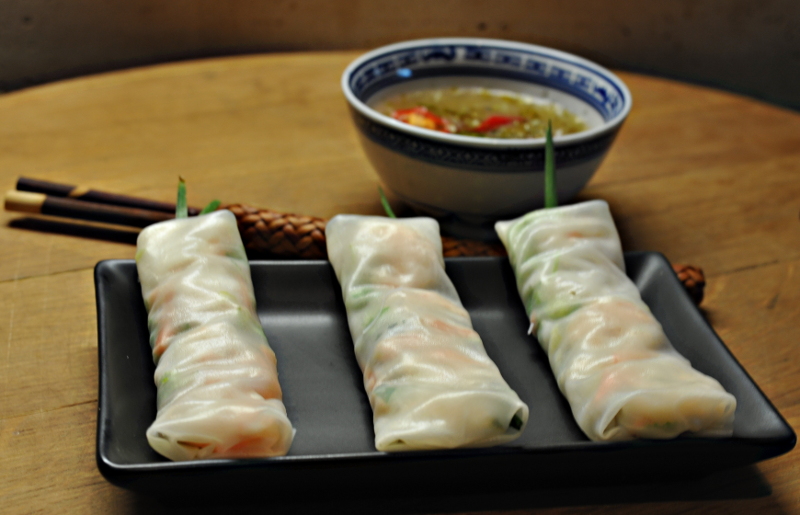 Vietnamese Caramelised Pork Belly (Thịt kho tàu)
Adapted from a Luke Nguyen recipe from the "Grab You Fork" blog.
There's different ways to make this dish.  Some recipes skip the marinating part and calls for simmering the pork in the coconut juice for 1.5-2 hours.  I opted for a Luke Nguyen recipe where the meat is marinated and not cooked for so long. He has a recipe for the slow cooked version as well which I cannot wait to try.
Ingredients
Serves 2
Marinade ingredients :
1 tbsp finely diced red onion
1 tbsp finely diced garlic
2 tbsp sugar
3 tbsp fish sauce
1 tsp Vietnamese caramel sauce
(I could not source this so made my own from this recipe)
1 tbsp oyster sauce
1/2 tsp salt
300g pork belly, sliced thinly
1 tbsp finely diced red onion
1 tbsp finely diced garlic
2 tbsp vegetable oil
250ml coconut juice or coconut water
1/2 tsp black pepper
1 fresh chilli  sliced
Hard boiled eggs (optional)
(I used quail eggs)
To serve
Jasmine rice
Pickled mustard greens (optional)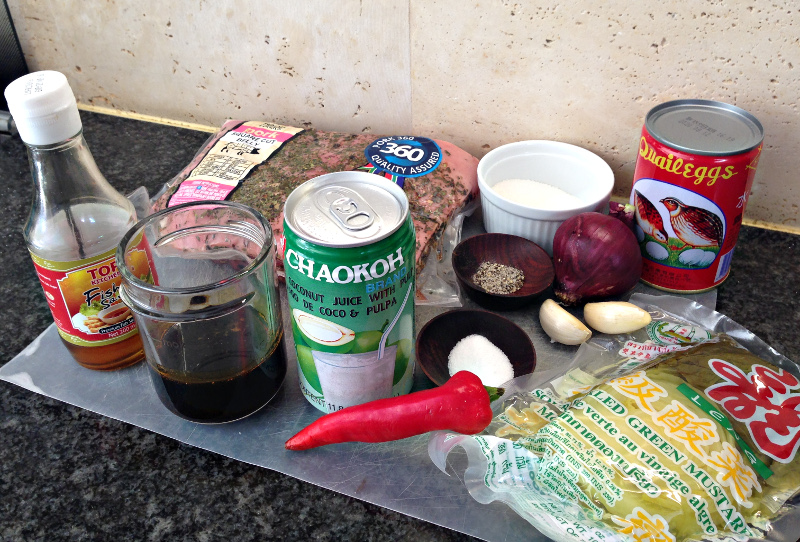 Method
Mix together the marinade ingredients, stirring until the sugar dissolves.  Marinade the pork for at least an hour.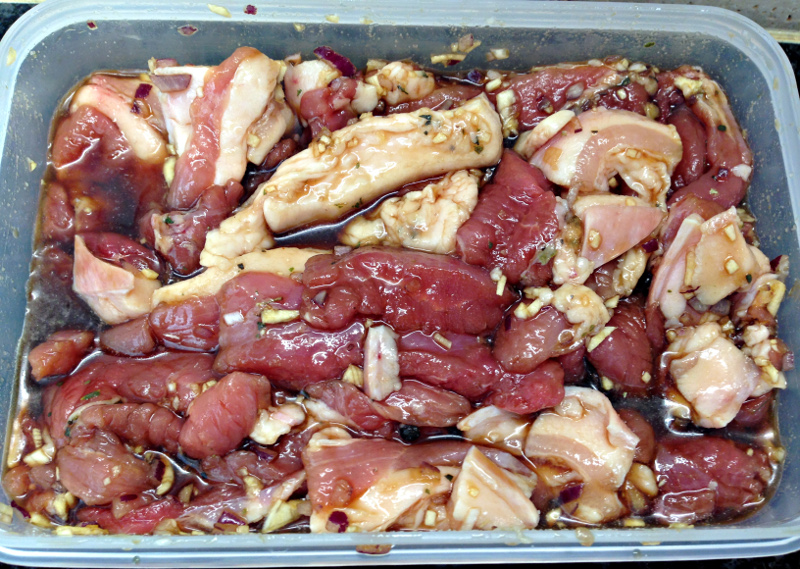 When marinated, drain the pork reserving the marinade sauce.
Heat the oil and fry the onion and garlic for 2 minutes.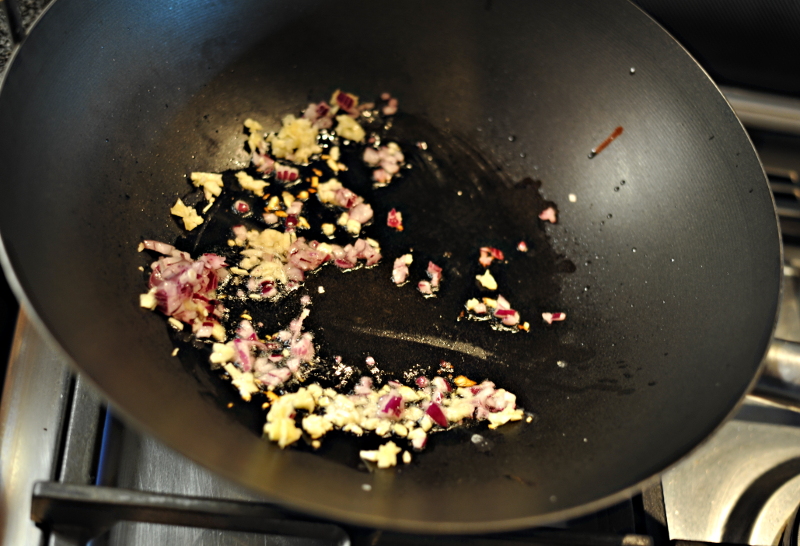 Add the pork belly and stir fry for another 2 minutes.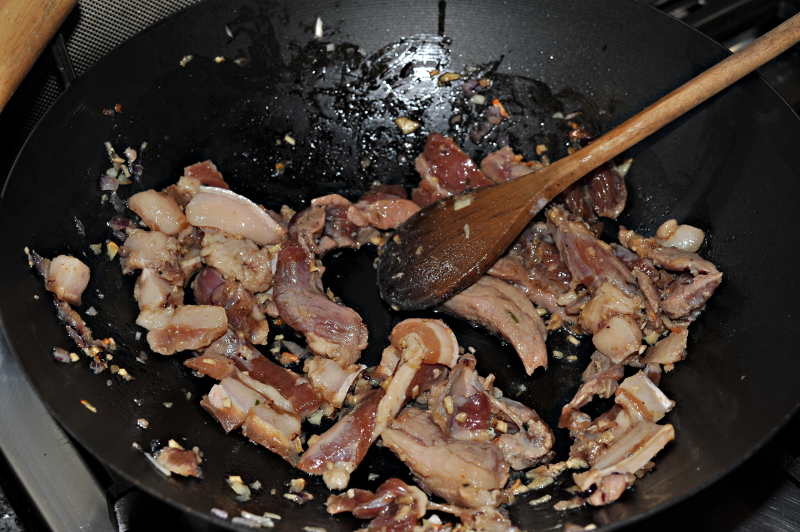 Add the reserved marinade and stir well.
Now add the coconut juice/water and bring to a boil.
Reduce to low and simmer for 15-20 minutes or until the liquid has reduced to half.  Add the eggs during the last 10 minutes of cooking.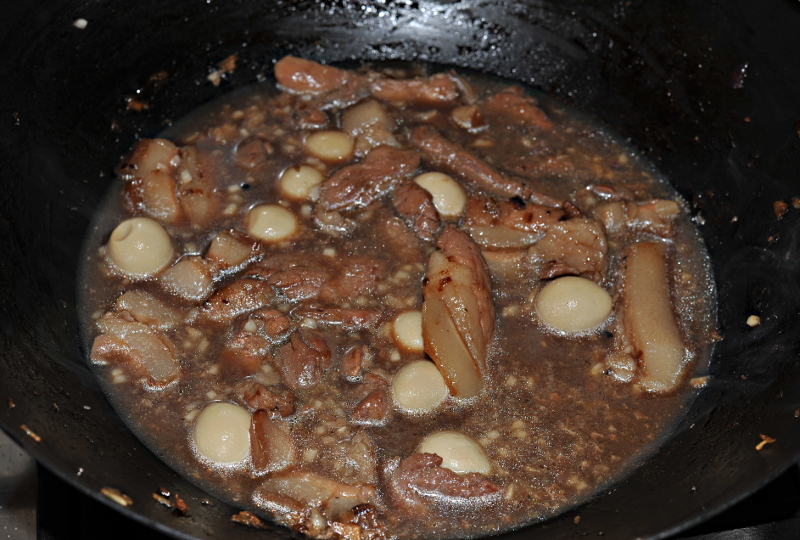 Turn off the heat, add the black pepper and stir.
Transfer to a serving bowl and garnish with sliced chilli.
Serve with sticky rice and mustard greens / pickled vegetables.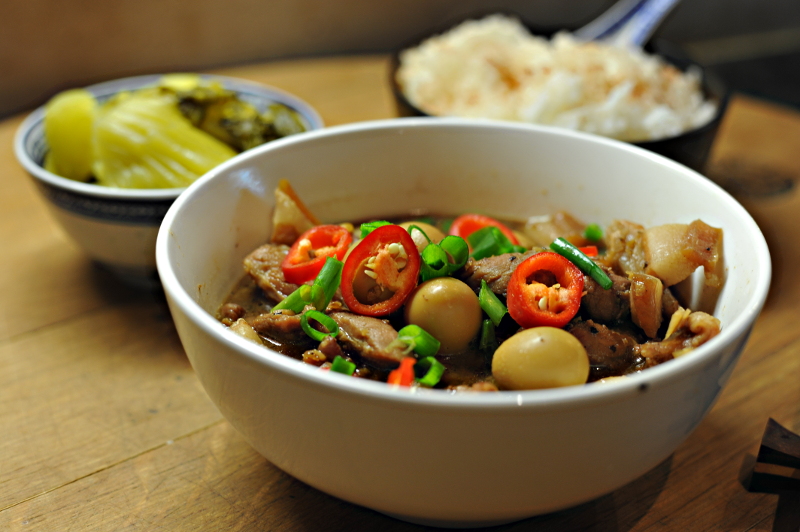 The combination of the caramel sauce and fish sauce in the marinade gives this dish a very unique taste.  We loved it.  It would be interesting to make the "slow cooked" version next time.
We enjoyed this with an Alto Rouge 2015 and Alvi's Drift Cabernet Sauvignon 2015.