I've been wanting to make ossobuco for ages but have not been able to source veal.  Then I read that  Anna del Conte uses pork when she can't source veal in the UK.  If the doyenne of Italian cooking says it's OK who am I to argue.
Milan born Anna del Conte is famous for her Ossobuco alla Milanese – veal shanks braised with vegetables,  white wine and stock. The english translation for ossobuco is "bone with a hole" which sounds decidedly less appealing.  The recipe almost seems too simple as there's no garlic or herbs in it ( two of my favourite ingredients). But I heed her warning that "The main lesson you have to learn is simplicity when it comes to Italian cooking" and force myself not to reach for the garlic and thyme.
This makes sense as too many flavours would overwhelm the saffron in the risotto and the delicate flavour of the gremolata.  As this is a Milanese ossobuco it is cooked "in bianco" (without tomato) and flavoured with lemon rind (used in the gremolata).
Starters
A friend brought me a black truffle from Croatia so I made pasta (homemade of course) with truffle shavings for a starter.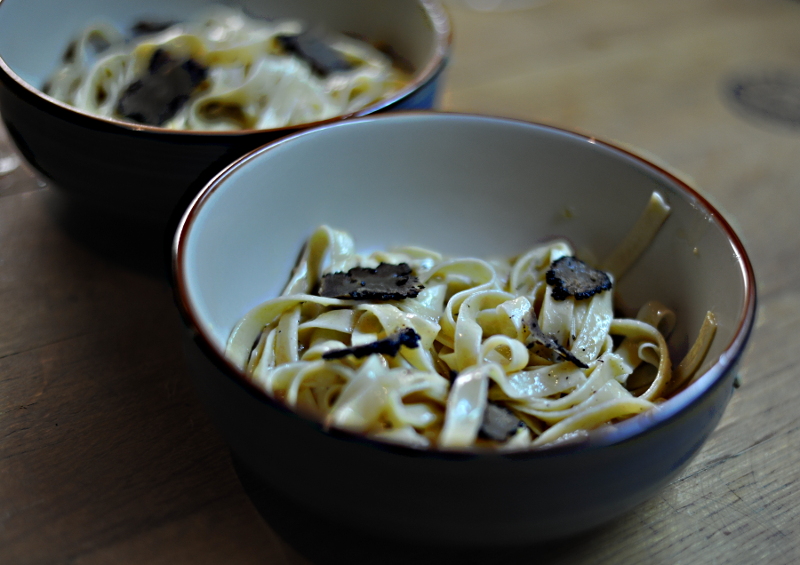 Ossobuco alla Milanese
Adapted from "Secrets from an Italian kitchen" by Anna del Conte
Ingredients
1 kg pork shanks cut into slices (the original recipe uses veal)
30ml olive oil
Flour for dusting
Salt
40g butter
1 small onion, finely chopped
1/2 celery stick, finely chopped
1/2 carrot , finely chopped (the original recipe is without carrot)
150 ml dry white wine (I used chardonnay)
300 ml chicken stock (the original recipe uses meat stock)
Pepper
For the gremolata
5ml grated lemon rind
½ garlic clove, peeled and very finely chopped
15ml chopped flat-leafed parsley
Method
Lightly coat the meat with some  flour in which you have mixed a teaspoon of salt. Brown on both sides and remove.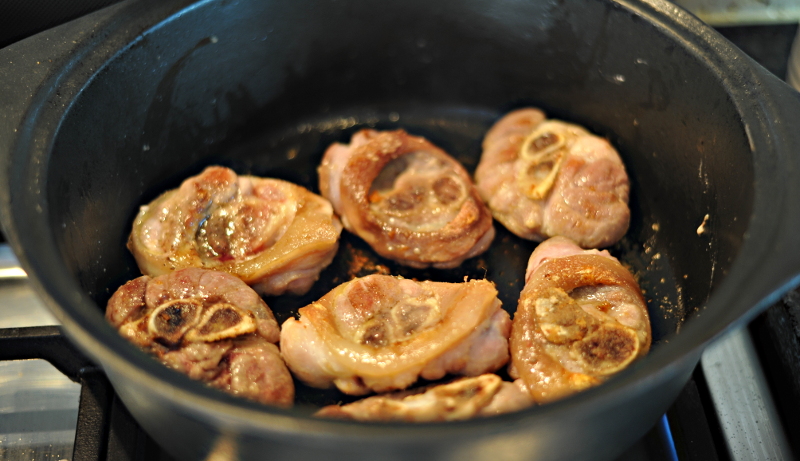 Add 30g of the butter to the saucepan.  Sauté the onion, celery and carrot until soft.
Add the reserved meat and the wine to the vegetables.  Turn up the heat and reduce the wine by half.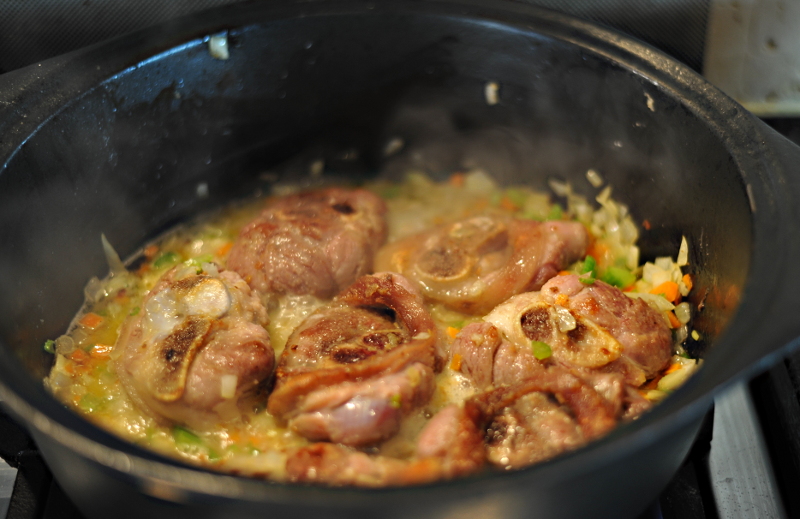 Pour in about three-quarters of the stock, turn the heat to low and cover.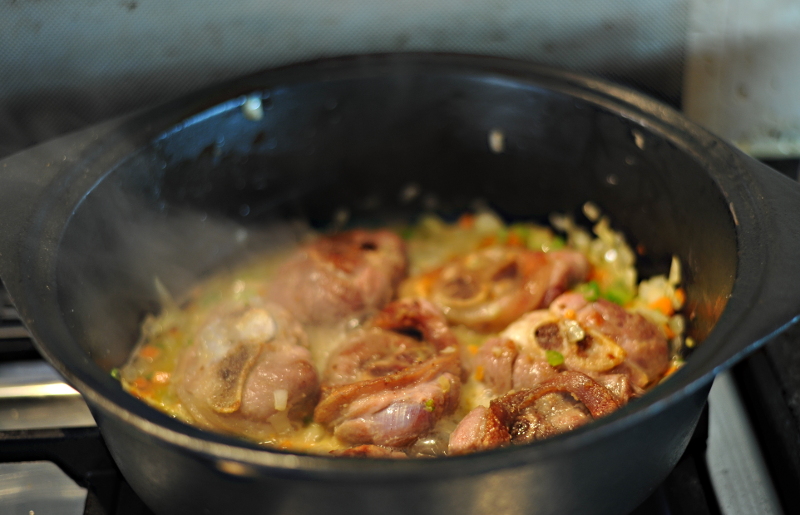 Cook for 1½-2 hours, carefully turning the meat every 20 minutes. Add more stock if necessary.  If your stock is too thin by the time that the meat is cooked, remove the meat from the pan and reduce it.
Add the remaining butter to the dish to give it a glossy shine.
Serve with Risotto alla Milanese. I used another Anna del Conde recipe which you can find here.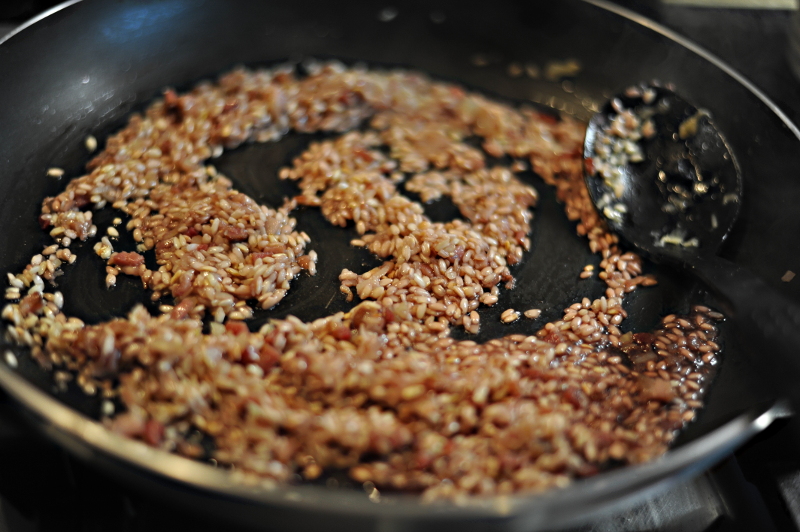 Mix together the ingredients for the gremolata and use it as a garnish before serving.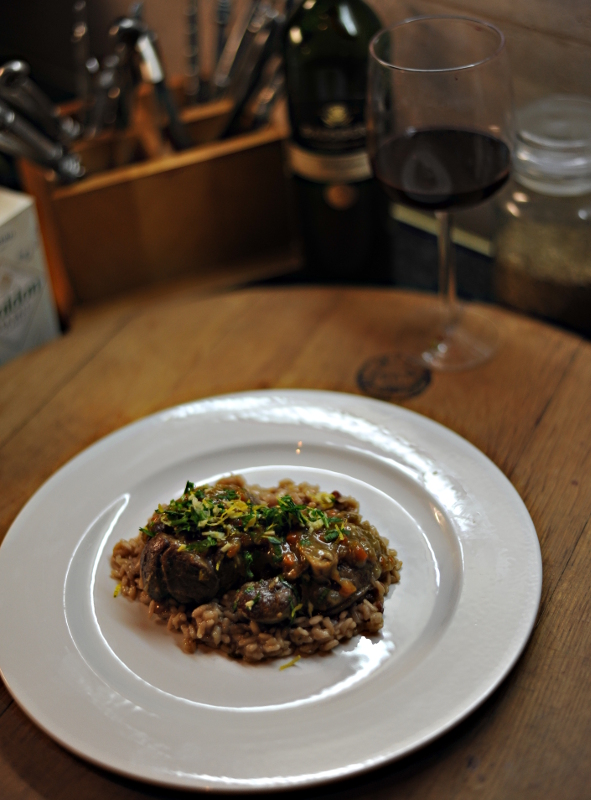 We enjoyed this with a bottle of Badsberg Belladonna 2015.
This was delicious – the flavours of the ossobuco, risotto and gremolata works together beautifully.  I'll try a non Milanese version with tomatoes next time, although I don't think it could possibly beat this.
Dessert
For dessert I made a lemon cheesecake in my air fryer.  Not expecting much I was pleasantly surprised at how well it came out.