A visit to the  Asian grocery store in Milnerton's China Town inspired me to try and cook an authentic Chinese Red Cooked Beef  dish for date night.  We do not eat Chinese food that often – the American Chinese versions of chow mein and chop suey that you get in most Chinese restaurants here does not appeal to us.  As is often the case, if you want to get close to any authentic ethnic cuisine you have to cook it yourself.
As summer is upon us  I wanted to use some short ribs in the freezer before it became too hot to make any type of braised dishes.  Looking for a Chinese braised beef recipe I came across this recipe for Chinese Red Cooked Beef – short ribs braised in a sauce with dried tangerine peel, cinnamon and star anise.  The recipe is from the Appetite for China blog.
Red Cooked Beef
Ingredients
900g beef short ribs (or 450g shin / stewing meat)
1/2 cup flour
2 tbsp peanut or vegetable oil
1 large onion, diced
2 tbsp Chinese rice wine (or dry sherry)
2 cups water
3 tbsp soy sauce
2 tbsp sugar
2.5cm ginger, peeled and sliced into 3 pieces
2 cloves garlic, minced
1 cinnamon stick
2 pieces star anise
2 pieces dried tangerine peel
3 whole dried chillies
1/2 tsp ground Sichuan pepper (optional)
2 carrots, peeled and chopped into tiny pieces
Salt and pepper

Making dried tangerine peel
I could not find dried tangerine peel so I made it myself.
Peel the tangerine and scrape off as much of the white pith as possible.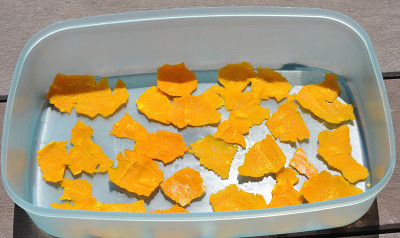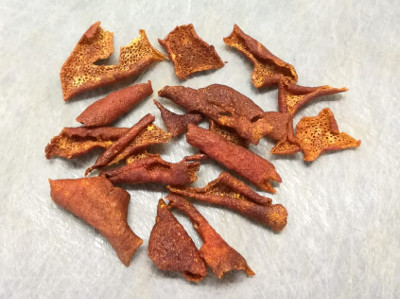 Dry in a sunny spot for a couple of days.  You can also dry it in the oven at a low heat or in the air fryer.  I dried mine for a couple of hours in the sun and then in the air fryer for 15 minutes at 180C.
The tangerine peel is also delicious as a garnish in citrus flavoured gin.
Method
Toss the beef lightly in the flour and season.  Heat 1 tbsp oil in a wok or heavy-bottom pot and brown the meat on all sides.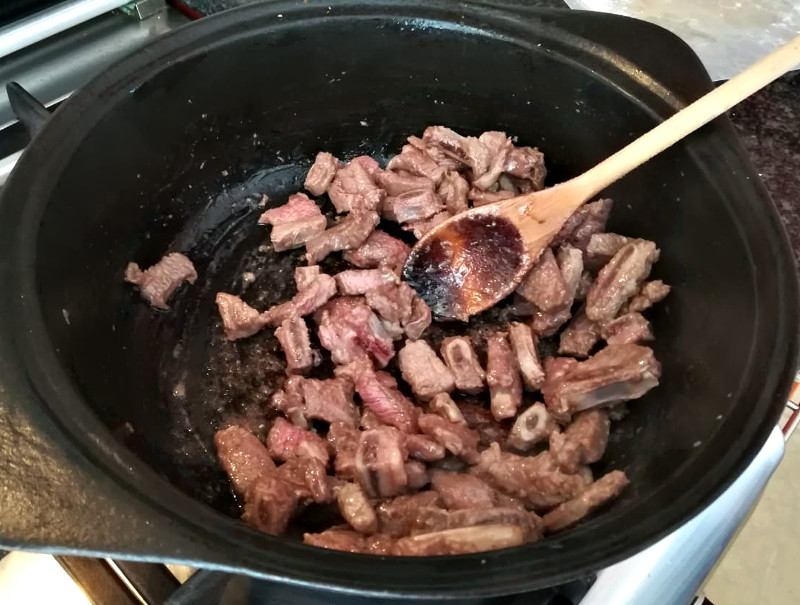 Remove the meat and add another tbsp of oil.  Fry the onion until it softens.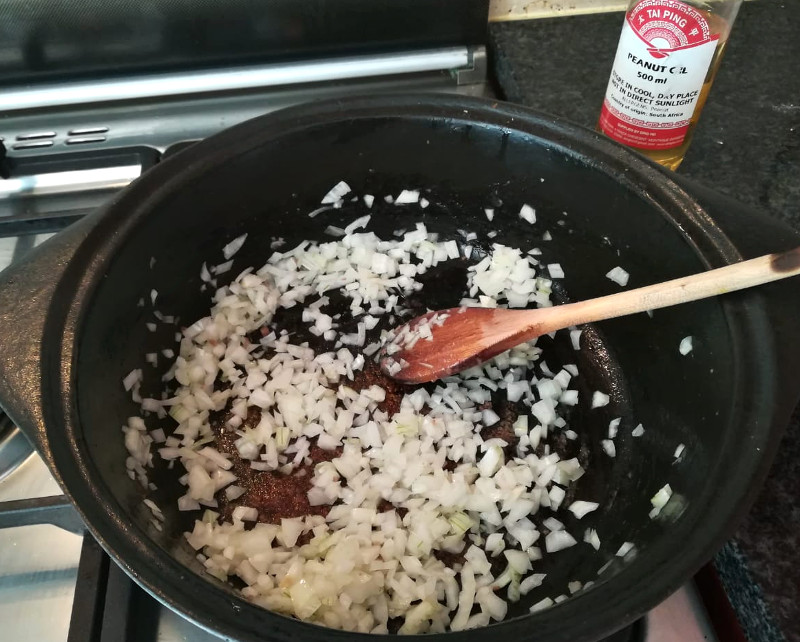 Return the meat to the pot and add the Chinese rice wine.  Stir to loosen up any bits sticking to the pot.
Add all the remaining ingredients except the carrots to the pot.  Bring to a boil and simmer uncovered for 50 minutes.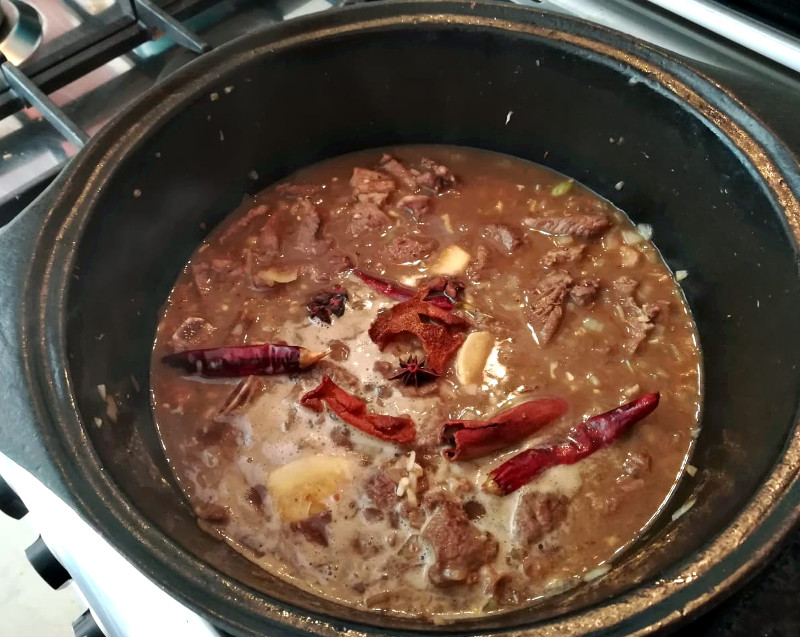 Add the carrots to the pot and cook uncovered for another 20-30 minutes.  By this stage the sauce should have thickened enough to coat the back of a spoon.  Adjust the seasoning if necessary and serve with rice and a green vegetable like bok choy.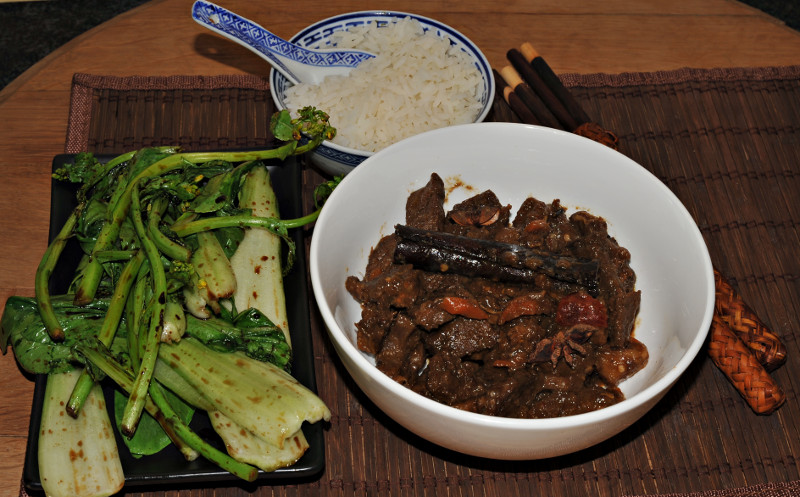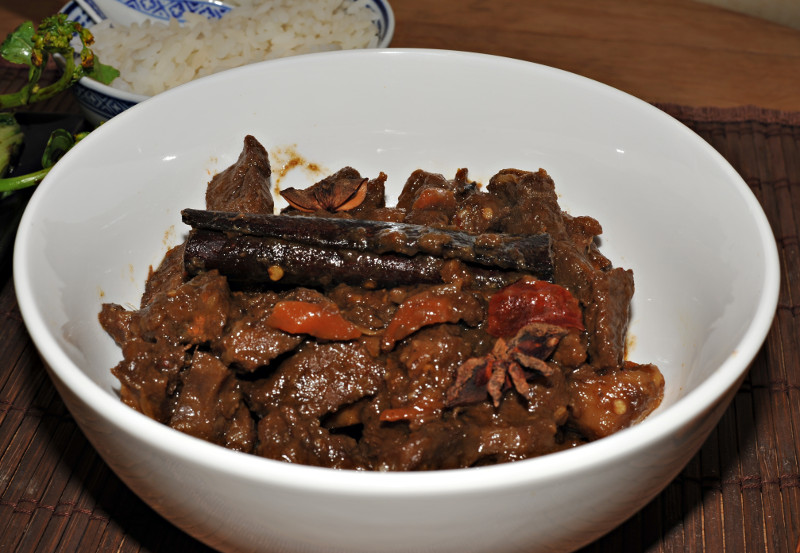 Verdict
We loved the Chinese Red Cooked Beef.  The cinnamon, star anise and tangerine peel flavours are very pronounced which might not be to everyone's taste but we love big flavours.  This went perfectly with a Kanonkop Kadette Pinotage Rose 2018.