I got the inspiration for this dish by this Spanish recipe by Lauren Aloise, but I had to make quite a bit of changes as we are not so fortunate in South Africa to always get the produce our counterparts get in Europe – like Iberian pork cheeks for example. I also took the starch out of the dish and made a separate starchy dish to go with the main course.
Ingredients
1kg pork cheeks, trimmed and cut into +/- 5cm x 5cm pieces (See Note 1)
1 medium onion, roughly chopped
6 shallots, peeled and halved lengthwise
2 medium carrots, thinly sliced
1 medium celery, roughly chopped (See Note 2)
1 red apple, diced into 1cm cubes (See Note 3)
150g roasted red peppers (See Note 4)
4 cloves of garlic
1 tsp fresh thyme
1 tsp fresh flat leaf parsley
1 Tbsp honey
2 bird's eye chillies, finely chopped with the seeds in (See Note 5)
2 Tbsp all purpose flour
750ml homemade pork or chicken stock (See Note 6)
250ml white muscadel (See Note 7)
250ml red muscadel (See Note 7)
2 Tbsp ghee
Salt & pepper to taste
The meat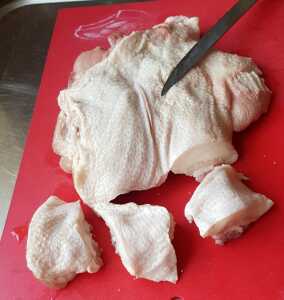 The marinade
To make the marinade for the cheeks, use a mortar and pestle and grind the garlic, thyme, parsley, honey and a tablespoon of water into a smooth paste. Cover the pork cheeks with the paste and let it marinade for at least one hour, but more if possible.
Ingredients in mortar & pestle and paste rubbed over pork cheeks
Cooking
On high heat, melt the ghee in a deep casserole – I made this dish in a potjie over the fire.
Put the flour in a plate, dust the cheeks slightly (it should not be completed covered) and sear the meat until it is brown. Remove the meat from the casserole.
The pork cheeks seared in ghee
Add the onions, carrots, shallots, turn down the heat to medium-low and sauté for about 15 minutes.
Add the muscadel, peppers and chillies and simmer until about 50% reduced.
Add the stock and the apple and simmer on low heat for about 1.5 hours until the pork cheeks are fork tender.
Simmering away, on the right with the apple added
Serve with neutral starch like plain polenta.
We enjoyed this with a bottle of Jacaranda Racine which is Chenin Blanc, Viognier and Semillon blend and it paired very well with this rich dish.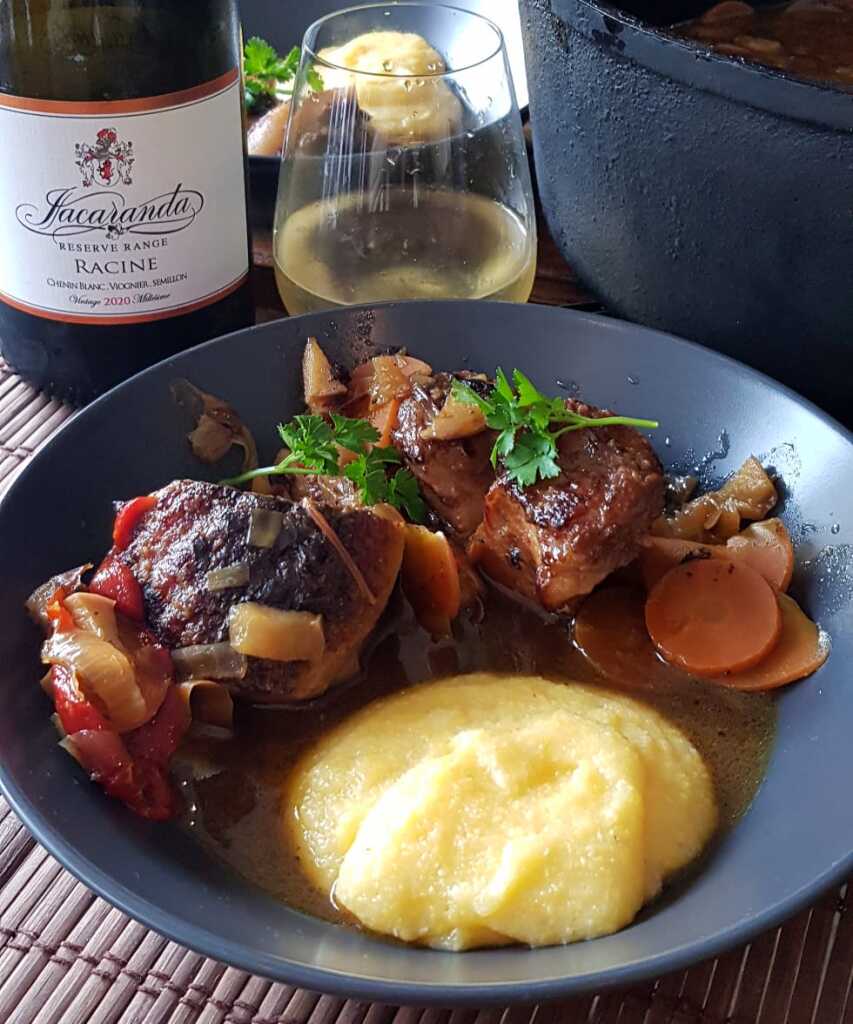 Notes
The original recipe suggests using Iberian pork cheeks – 12 of them. In South Africa it is very hard to come by Iberian pork, so I had to replace it with our local pork. From Lauren's website: What is carrillada, you ask? Simply put, it is cheek — beef cheek is carrillada de ternera, pork cheek is carrillada de cerdo, lamb cheek is carrillada de cordero…etc. And despite their differences in taste, all carrilladas are delicious.
The original recipe does not contain celery, so I guess you can omit it.
I used a red apple, the original recipe uses a green apple.
The original recipe suggests using one red fresh pepper.
There are no chillies in the original recipe, so you can either omit it or take out the seeds
The original recipe uses beef stock, I opted for homemade pork stock instead.
In South Africa we are no longer allowed to call our fortified wines port. So now we use descriptions like Cape Tawny or we refer to the grape itself, like muscadel or jerepigo.