Ras el Hanout is a mix of earthy spices resulting in a very vibrant spice mix which can be used across various dishes. I decided to make a Ras el Hanout chicken potjie over the coals, and serve it with fried butternut and aubergine couscous.
Ras el Hanout
Ras el Hanout is a Moroccan spice which comes in many different variations and translates directly from Arabic to English as "head of the shop", but it actually means "top shelf". I found an easy recipe with some background on Ras el Hanout here. This is a very easy recipe which uses ground spices as oppose to whole seeds, roots and leaves (which some people insist on using). Some variations of Ras el Hanout contains up to 80 different spices! The recipe below only uses 13 spices.
Ingredients
2 tsp ground ginger
2 tsp ground cardamom
2 tsp ground mace
1 tsp ground cinnamon
1 tsp ground allspice
1 tsp ground coriander
1 tsp ground nutmeg
1 tsp ground turmeric
1/2 tsp freshly ground black pepper
1/2 tsp ground white pepper
1/2 tsp ground cayenne pepper
1/2 tsp ground anise seed
1/4 tsp ground cloves
Method
Mix all well together and keep in an airtight container.
Chicken Potjie
For the chicken potjie I used the following ingredients
Ingredients
1 whole chicken portioned (or 8 chicken thighs)
1 medium onion, finely diced
1 green pepper, finely diced
2 medium carrots, finely diced
2 stalks celery, finely diced
4 garlic cloves, minced
5 large dates, pitted and diced
500ml

quality

chicken stock
2 Tbsp corn flour, mixed in a little bit of water
Fresh coriander for garnish
Olive oil
Salt
Freshly ground black pepper
The vegetable mix and the dates
Method
Season the chicken pieces with salt and black pepper and generously rub with the Ras el Hanout mixture.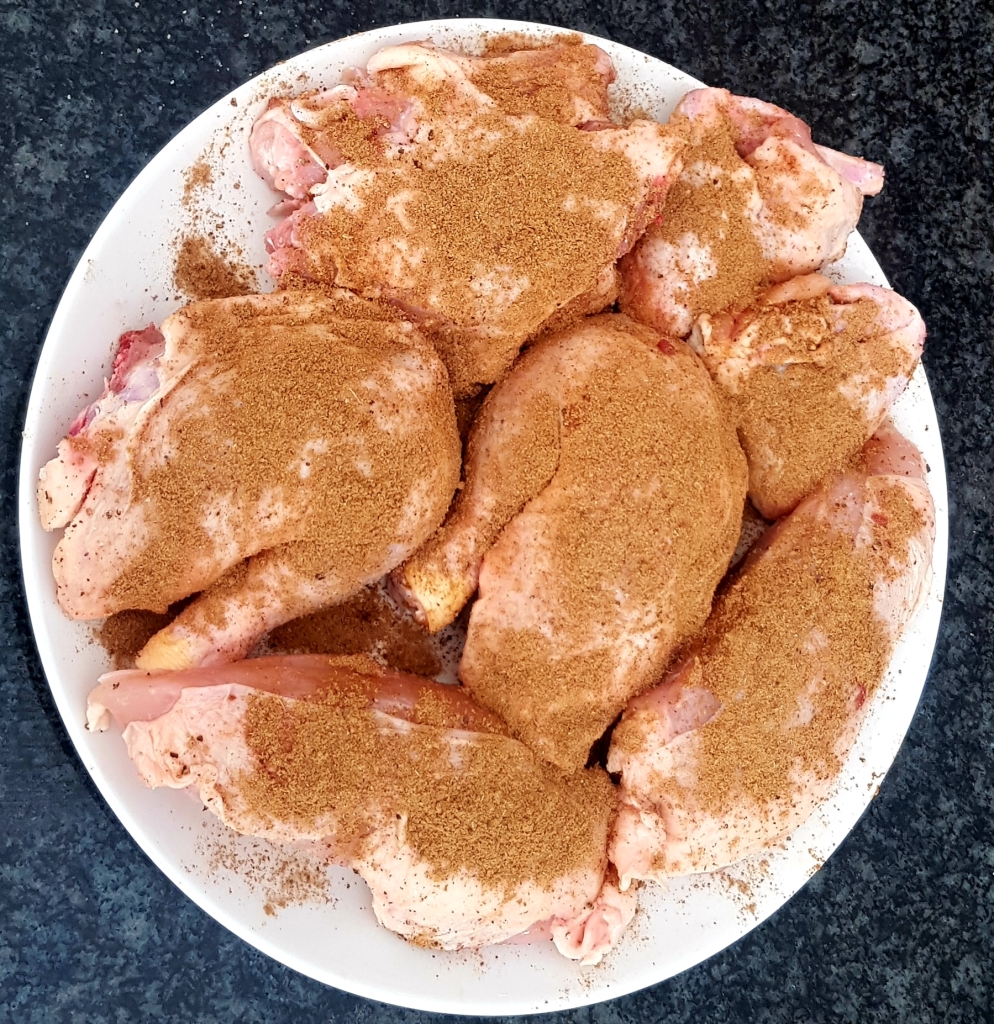 In a large, heavy pot or Dutch oven, heat up a dash of olive oil and fry the onions, pepper, carrots, celery and garlic until the onions turn slightly brown.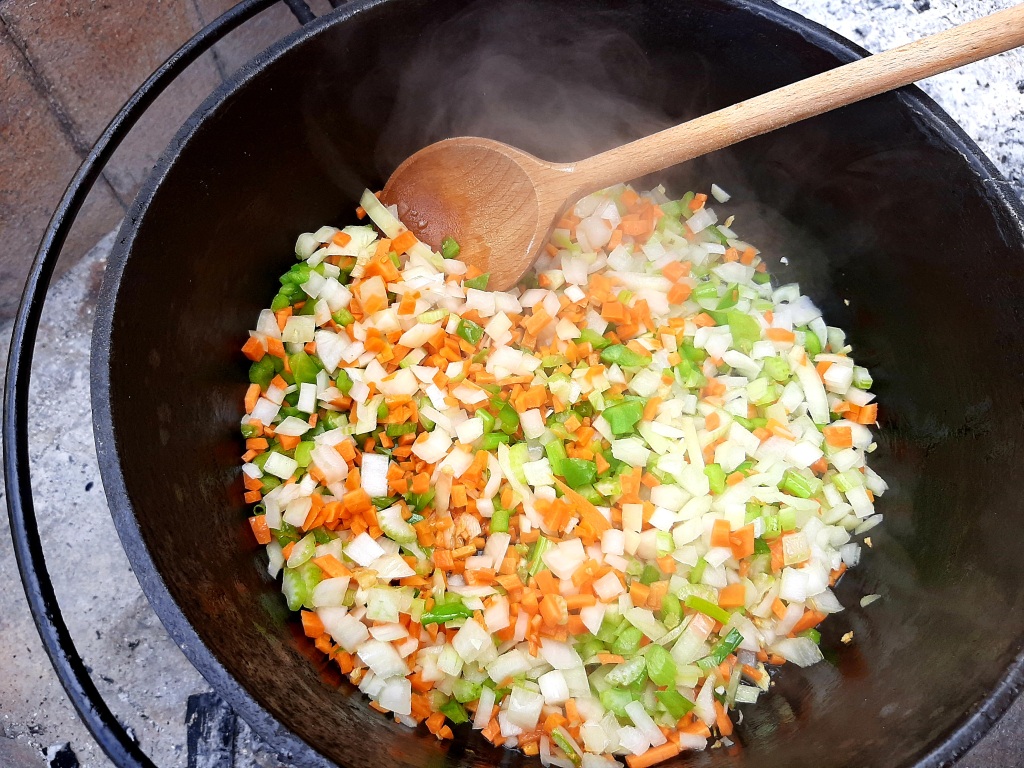 Add the chicken pieces and brown them on both sides.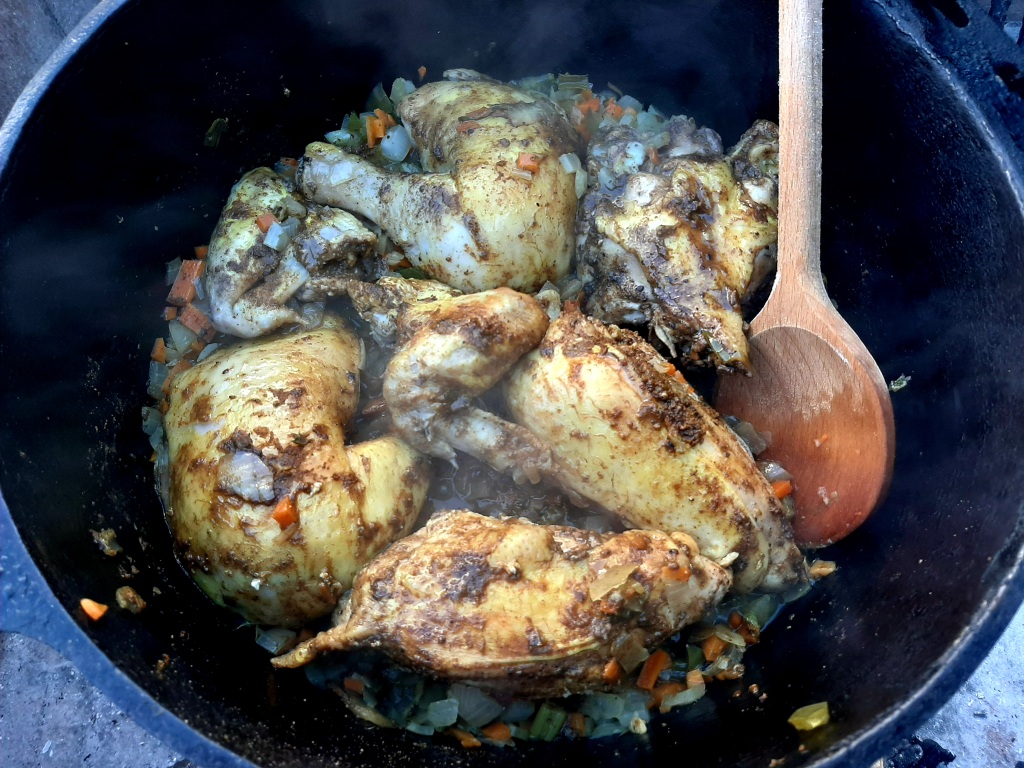 Add the chicken stock and the dates, cover the pot and let it simmer for 40 minutes.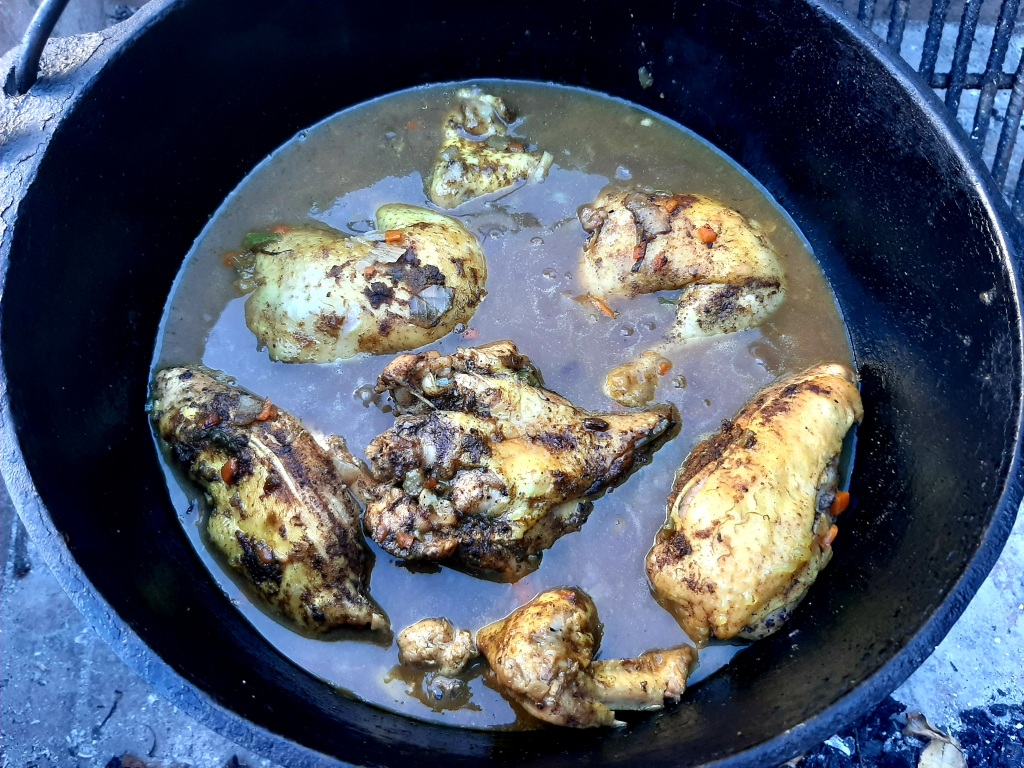 Remove the chicken from the pot, set it aside and stir in the corn flour, whisking continuously. Let it cook through for about 10 minutes.
Add the chicken and juices back into the pot and let it cook through for another 20 minutes. Here I put some coals on top of the lid as well.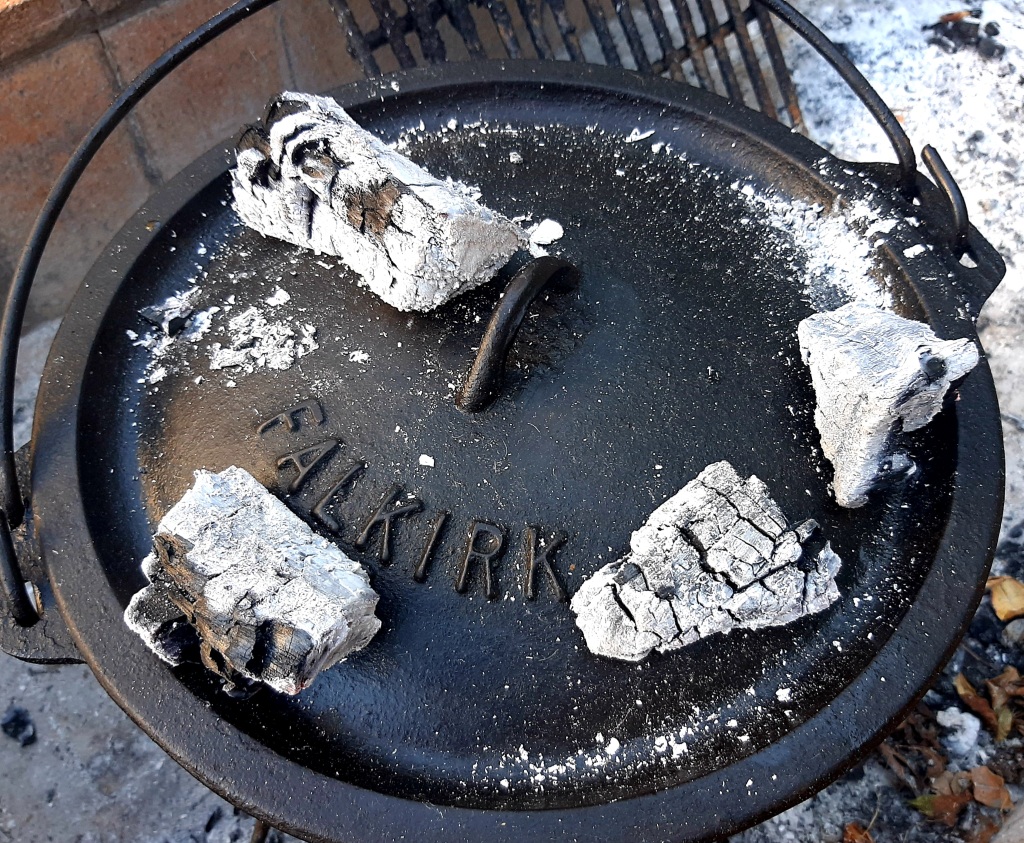 Add the coriander as garnish.
Couscous
For the couscous I took 1 aubergine and 1 butternut, peeled it, cut it into 2cm x 2cm pieces and fried it with olive, salt and pepper in the air fryer.
Fried veggies to be added to the couscous
Cook 1 cup of couscous with vegetable stock and add the butternut and aubergine.
Together we enjoyed it with a bottle of Rosé from De Grendel.