Carbonara has a very long and interesting history. There are many variations, even in Italy, but most Italians will agree there is only one way to make the authentic version.
I started off by watching a video of Gennaro Contaldo, but later decided on this recipe at Recipes from Italy. I altered the recipe slightly, but it still uses only the 5 basic ingredients of an authentic Carbonara: Spaghetti, Pecorino Romano cheese, eggs, guanciale and black pepper. Ingredients like bacon, pancetta, cream, garlic, parsley, onions etc., are used in variations of this dish, but not in the authentic version.
Staying in South Africa, has its challenges, one of them being trying to find guanciale. So I had to make my own and it was actually a lot easier than expected. You can find that article here.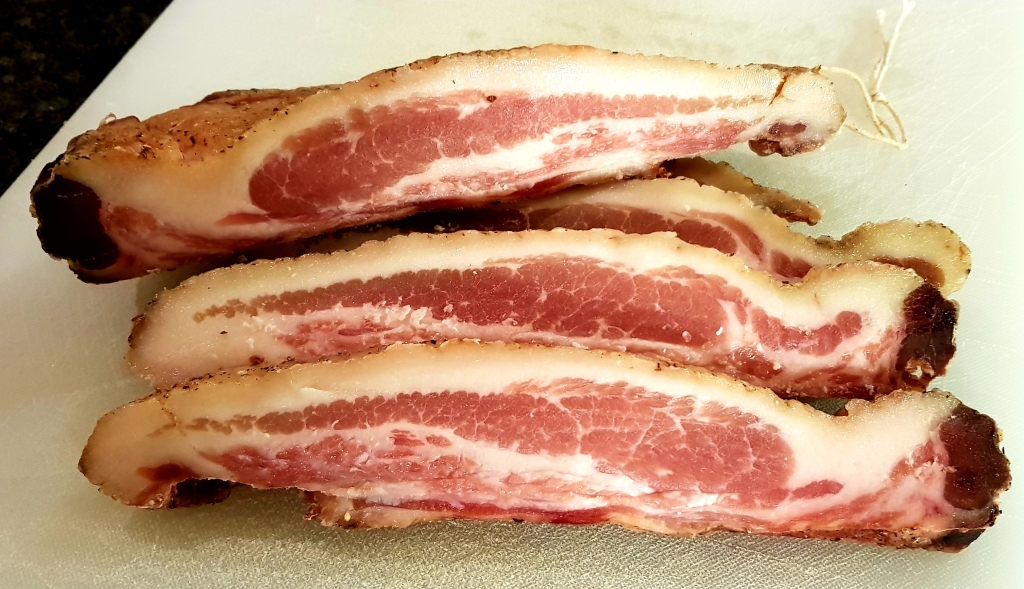 You will need the following ingredients for 4 servings.
Ingredients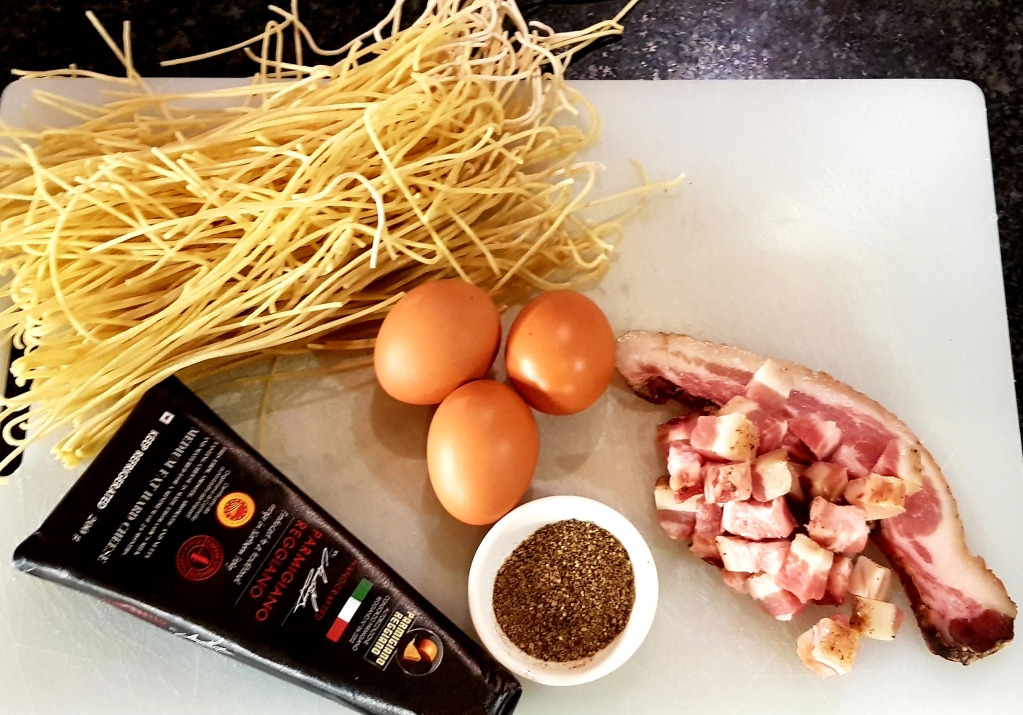 400g spaghetti – obviously homemade spaghetti using 00 flour would be far superior to anything you buy in the shop
200g guanciale, cut into 1cm cubes
4 eggs
100g finely grated Pecorino Romano cheese
Freshly ground black pepper
2Tbsp finely grated Pecorino Romano cheese as topping
Cook the pasta until it is al dente. Use 1l of water per 100g of pasta and add 1Tbsp salt for each 1l of water.
While waiting for the water to boil, fry the guanciale in a dry pan to release the fat. Do not use oil as the guanciale is fatty enough. Fry the meat until it is crispy and most of the fat has been released.
Put the 100g grated cheese in a bowl, add the eggs and some black pepper and beat it until it becomes a creamy liquid.
When the spaghetti is ready, save some of the water, and strain the rest.
Add the spaghetti in the pan with the guanciale and mix well while you add some of the cooking water you saved – typically 2-4 tablespoons.
Turn the heat off.
Let the pan cool down a bit and then add the creamy liquid while stirring.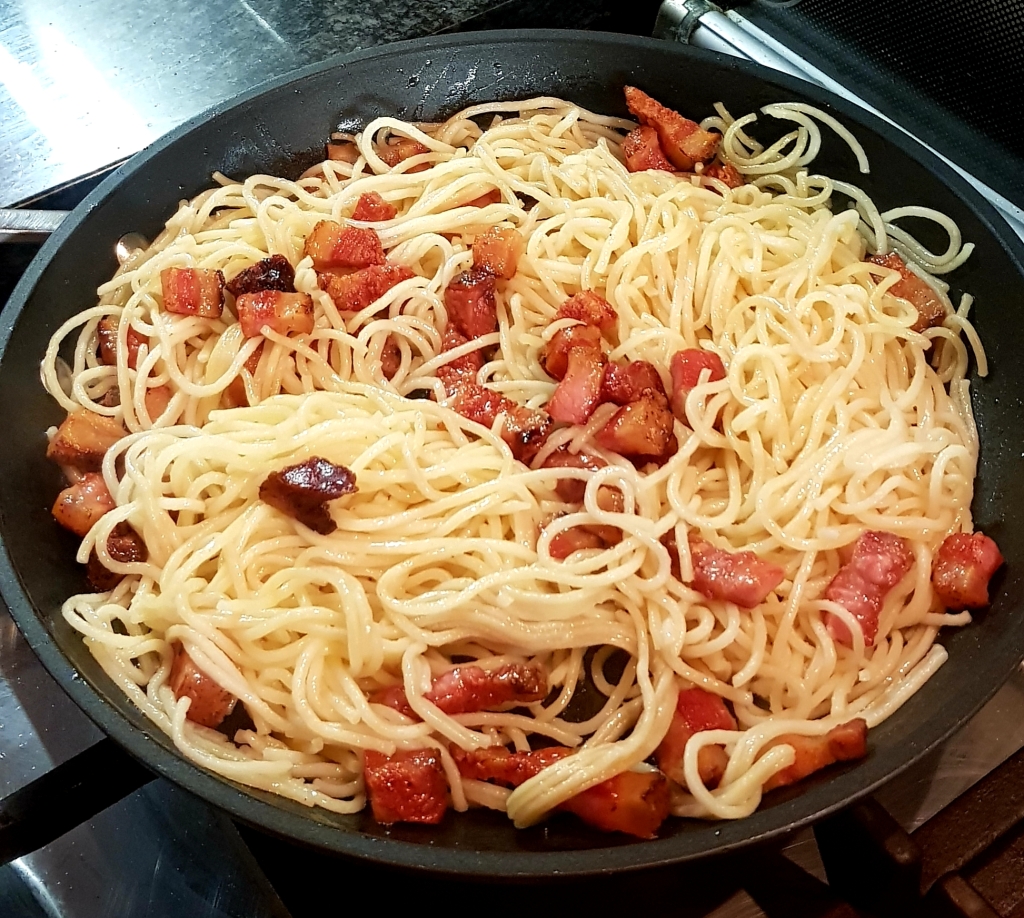 If the pan is too hot, you will get scramble eggs, if the pan is too cold, you will have a cold egg and cheese mixture with spaghetti. This is the only tricky part of this dish.
Serve immediately using a spoon and a fork to create a spaghetti "nest".
Add the guanciale from the pan at the top and sprinkle with the additional cheese and some black pepper.
This is an absolutely beautiful dish which should be served and enjoyed immediately with a good wine!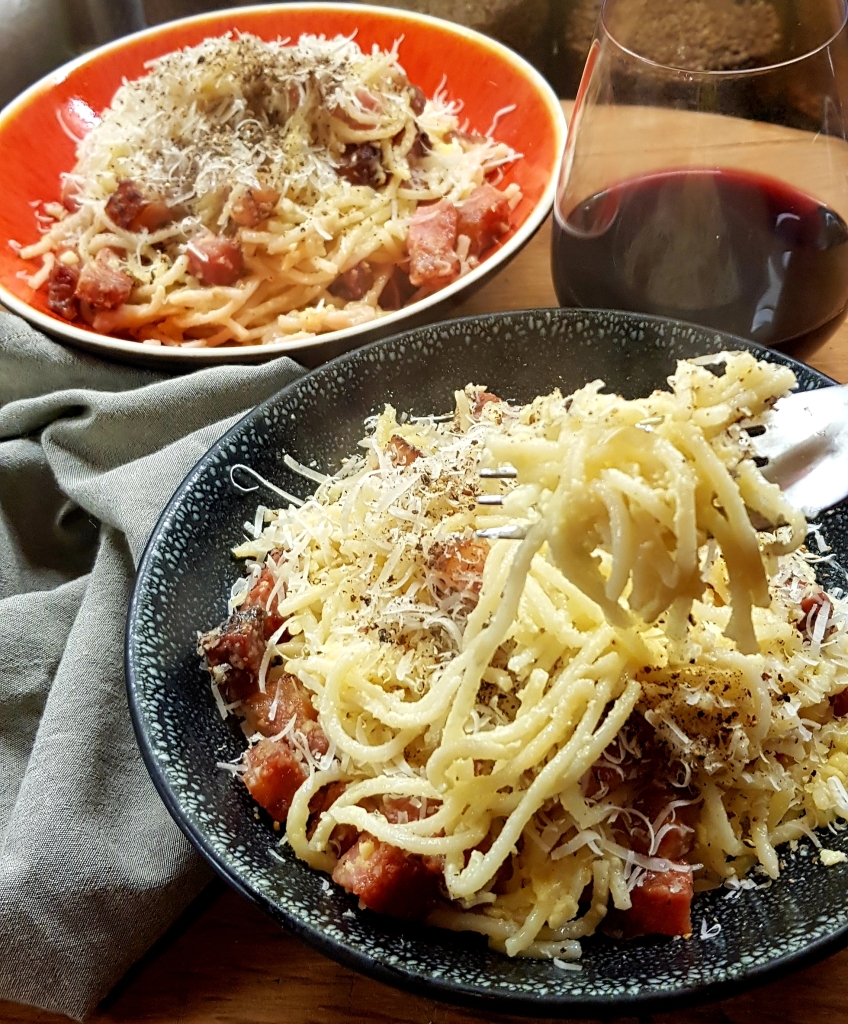 Be sure to watch this video of Gennaro, it is very inspiring!