Bourbon chicken is a bit of Cajun and Chinese cuisines mixed together. There are quite a variety of recipes for bourbon (or whiskey) chicken, but my aim was simplicity and a short preparation time as well as a good sauce with a hearty starch.
Ingredients
For the chicken:
8 pieces of chickens thighs, bone in
1 medium onion, chopped
6 garlic cloves, chopped
60g guanciale or bacon, cut into small cubes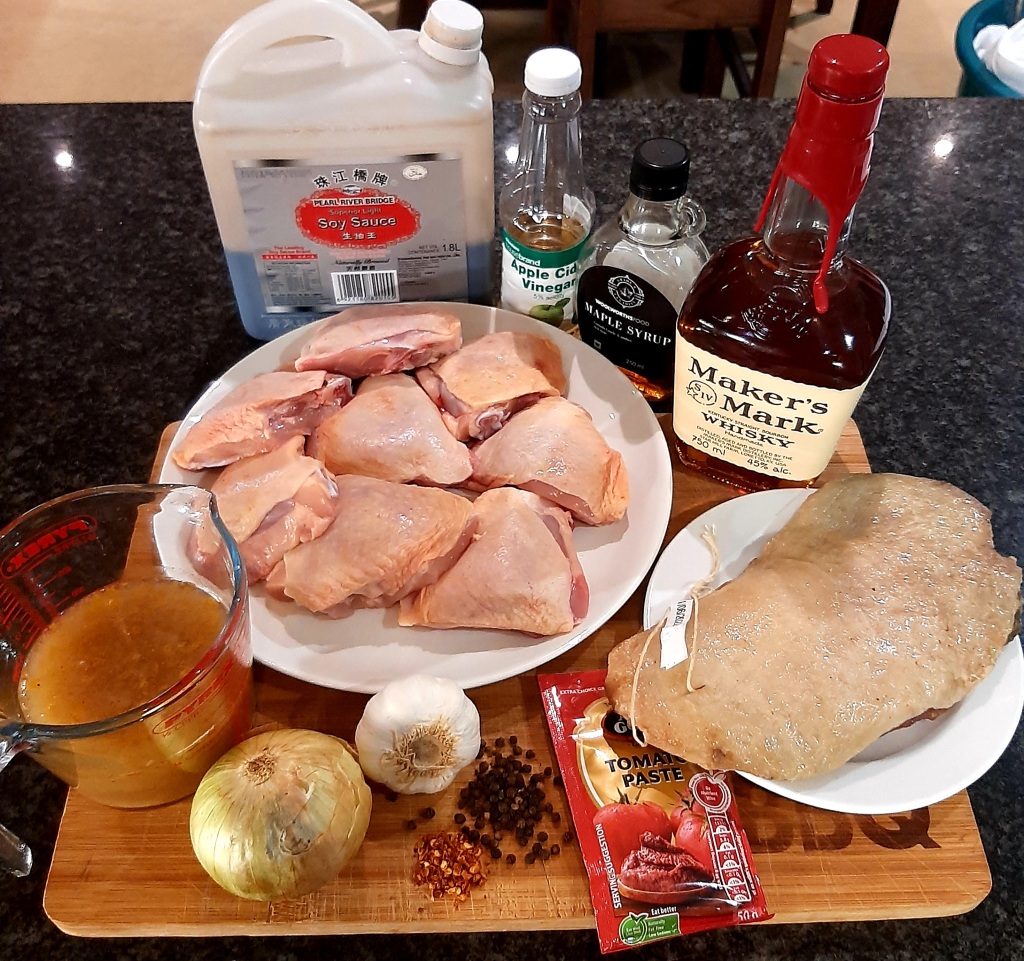 For the sauce:
250ml good quality chicken stock
2 Tbsp soy sauce
3 Tbsp apple cider vinegar
3 Tbsp quality bourbon (I used Maker's Mark)
1 tsp freshly ground black pepper
1/2 tsp red chili flakes
2 Tbsp maple syrup (you could use honey instead)
1 Tbsp tomato paste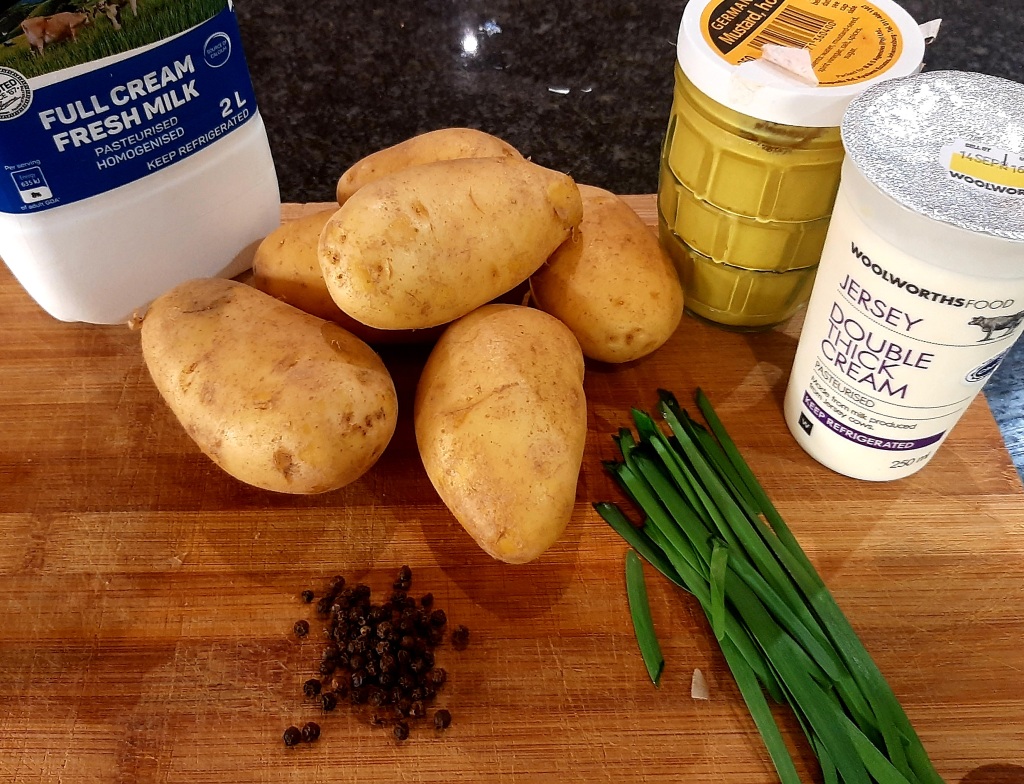 For the mash:
6 medium potatoes
6 cloves of garlic, minced
1 tsp freshly ground black pepper
250ml full cream milk
100ml double cream
15ml Dijon mustard (I used German mustard)
1 Tbsp butter
Salt
Chopped chives for garnish.
Instructions
Preheat the oven to 180°C.
Add the ingredients for the sauce in a mixing bowl and mix well.
In a large, heavy casserole or pan (with a lid) fry the guanciale or bacon until some of the fat is released. Add the onion and garlic and fry until the onion is translucent. Add the chicken pieces and brown them on both sides.
On the left the guanciale, onions and garlic and on the right the chicken added
Add the sauce to the pan, bring to a boil and let it simmer for 5 minutes.
Put the lid on the pan and put the pan in the oven. Let it cook for 1 hour.
In the meantime, to prepare the mash, boil the potatoes, covered in water, until they are soft. Strain the potatoes and put them in cold water for 5 minutes. Remove the skins. In a large mixing bowl, mash the potatoes.
Heat up the butter in a medium pot and fry the garlic until it is light brown. Add the mashed potatoes, pepper, milk, cream and mustard and mix well. Add salt to taste. Let it simmer on very low heat, while waiting for the chicken to come out of the oven.
Once the chicken is removed from the oven, let it rest for 5 to 10 minutes.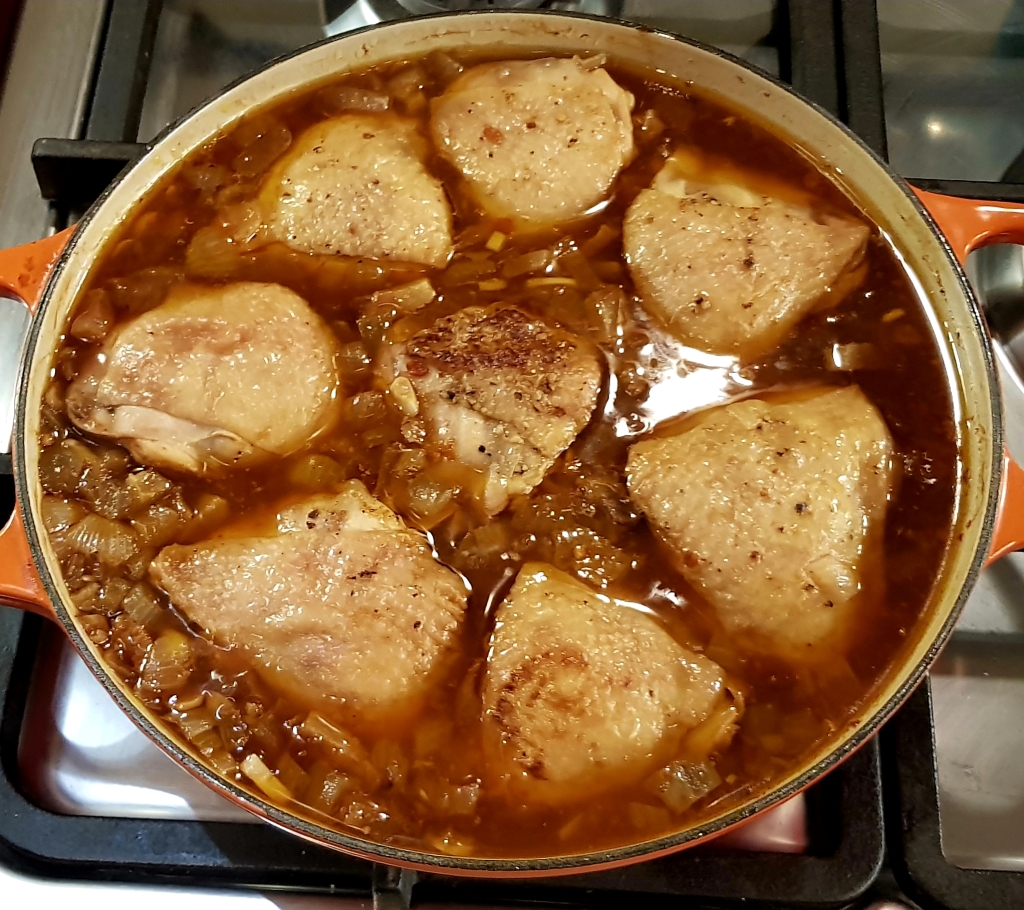 Serve the chicken with mashed potatoes and scoop some sauce over the chicken. Garnish with the chopped chives.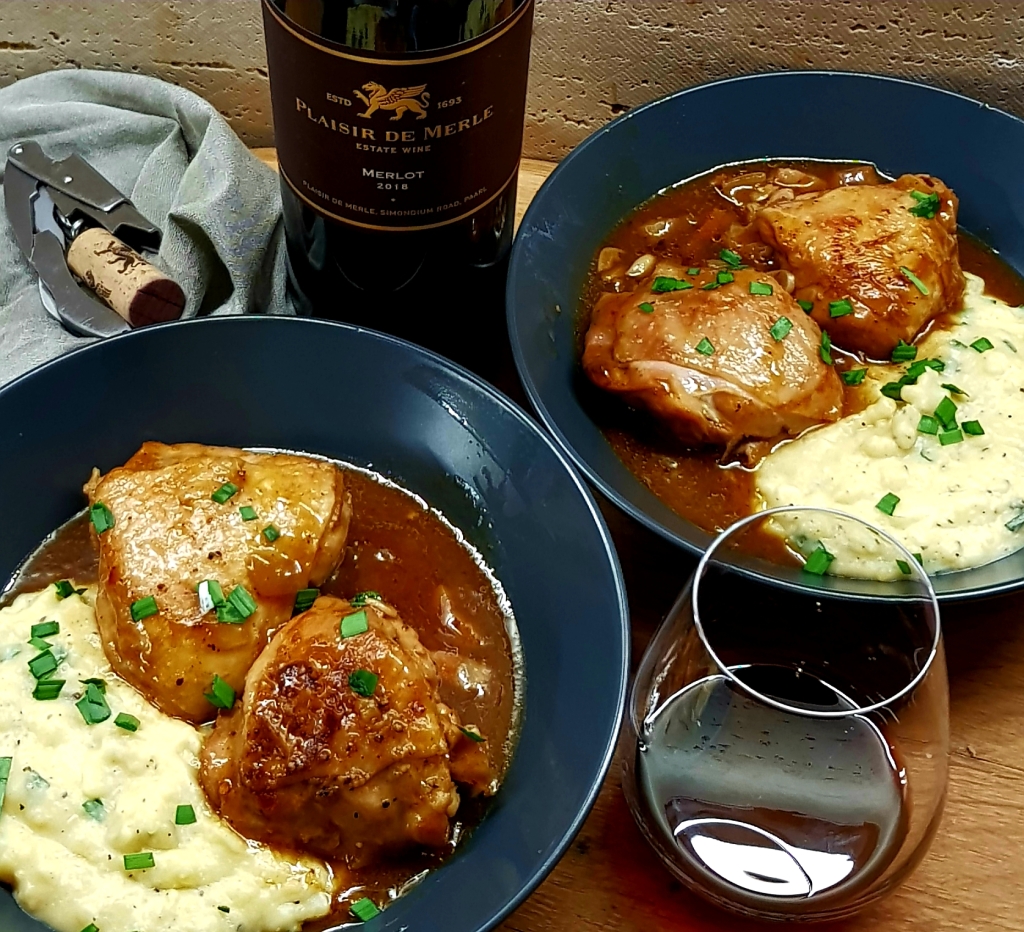 We enjoyed this with a 2018 Merlot from Plaisir de Merle. Here is the fact sheet: