This rigatoni with fennel sausage and pecorino and anchovy pesto dish is a recipe I got from Yotam Ottolenghi and can be found here.
I recently attended a charcuterie class by Richard Bosman where he showed us to make an Italian salsiccia sausage. Seeing that this sausage is packed with fennel, I decided it would be ideal for this dish.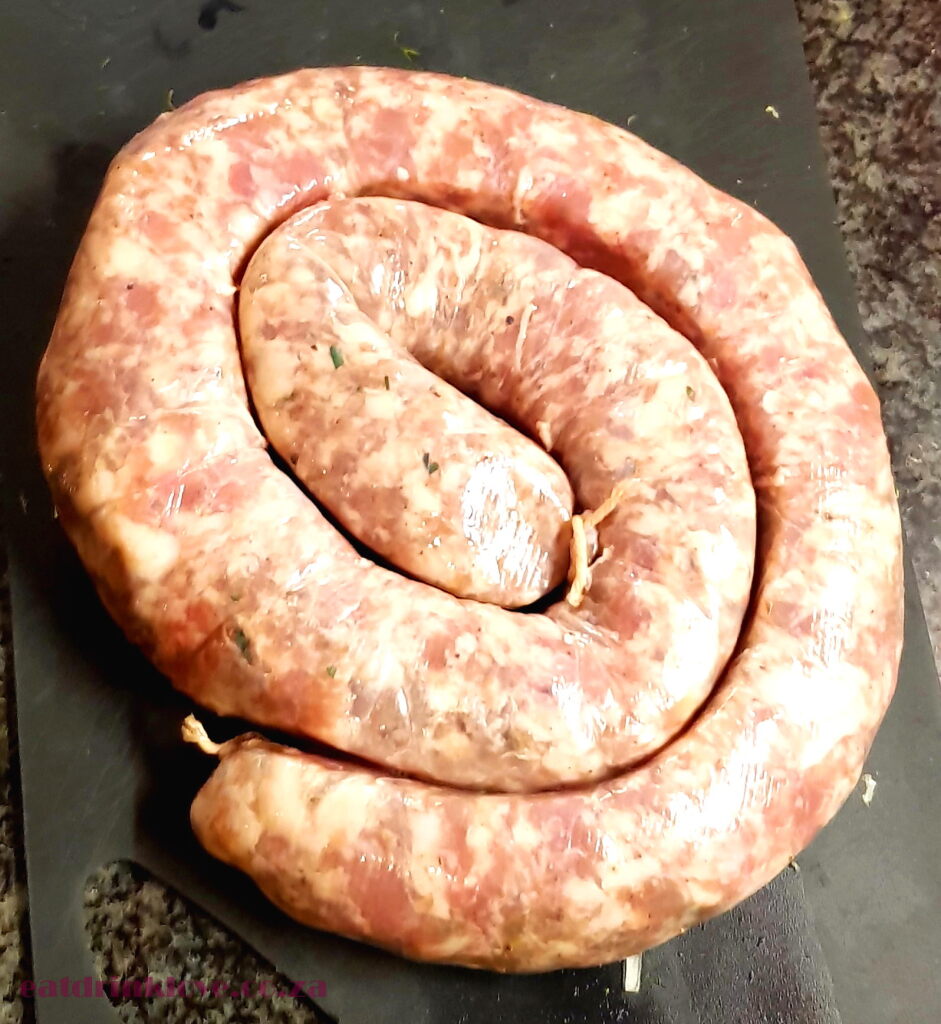 You will need the following ingredients:
Ingredients for the main dish
500g Italian (salsiccia) sausage, cut into 1.5 cm pieces
1 onion, peeled and chopped
150g baby fennel, roughly chopped and keep some fronds for garnish. The original recipe uses one fennel bulb
1 tsp smoked paprika
3 garlic cloves, peeled and sliced
2 tsp fennel seeds, lightly toasted and slightly crushed
100ml dry red wine
400g tinned chopped tomatoes
½ tsp caster sugar
2½ Tbsp olive oil
50g pitted black olives, cut lengthwise in half
500g rigatoni (penne would also work)
Ingredients for the pesto
30g pecorino cheese, roughly crumbled
2 anchovy fillets
2 garlic cloves, peeled and crushed
60ml olive oil
50g basil leaves, torn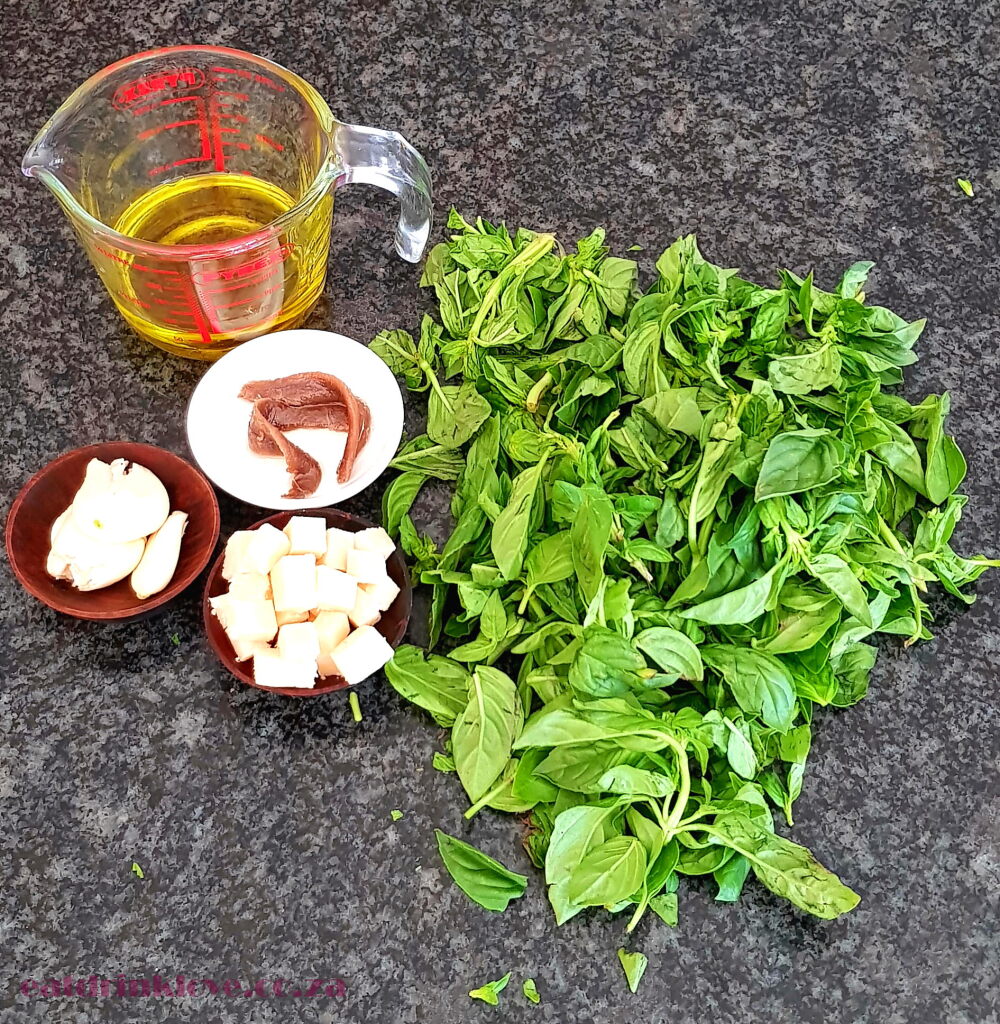 Method
Add all the ingredients of the pesto in a food processor except for the basil leaves. Add a teaspoon of water and blitz to a rough paste. Add the basil leaves and then just blitz it enough to combine. Don't over-blend the pesto.
Heat the olive oil in a large sauté pan for which you have a lid and fry the sausages for 10 minutes until golden-brown over medium-high heat. Remove the sausages from the pan and set aside.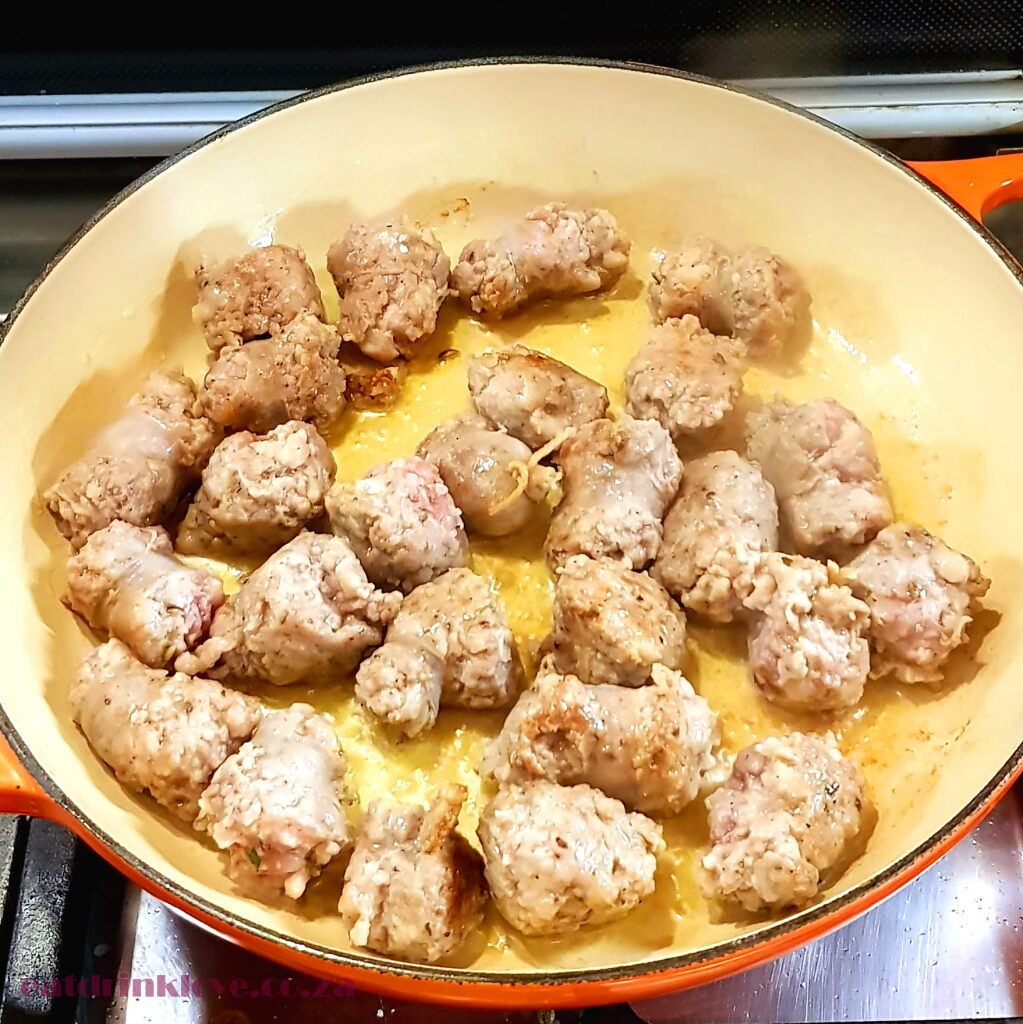 Fry the onion and fennel in the same pan for 15 minutes until the onion is soft and caramelized. Add paprika, garlic, half the fennel seeds and fry for another 2 minutes.
Onions, fennel, paprika, garlic and fennel seeds
Add the wine and bring to boil for 30 seconds. Add tomatoes, sugar, 100ml water, the seared sausage and half a teaspoon of salt. Simmer for 30 minutes with the lid on.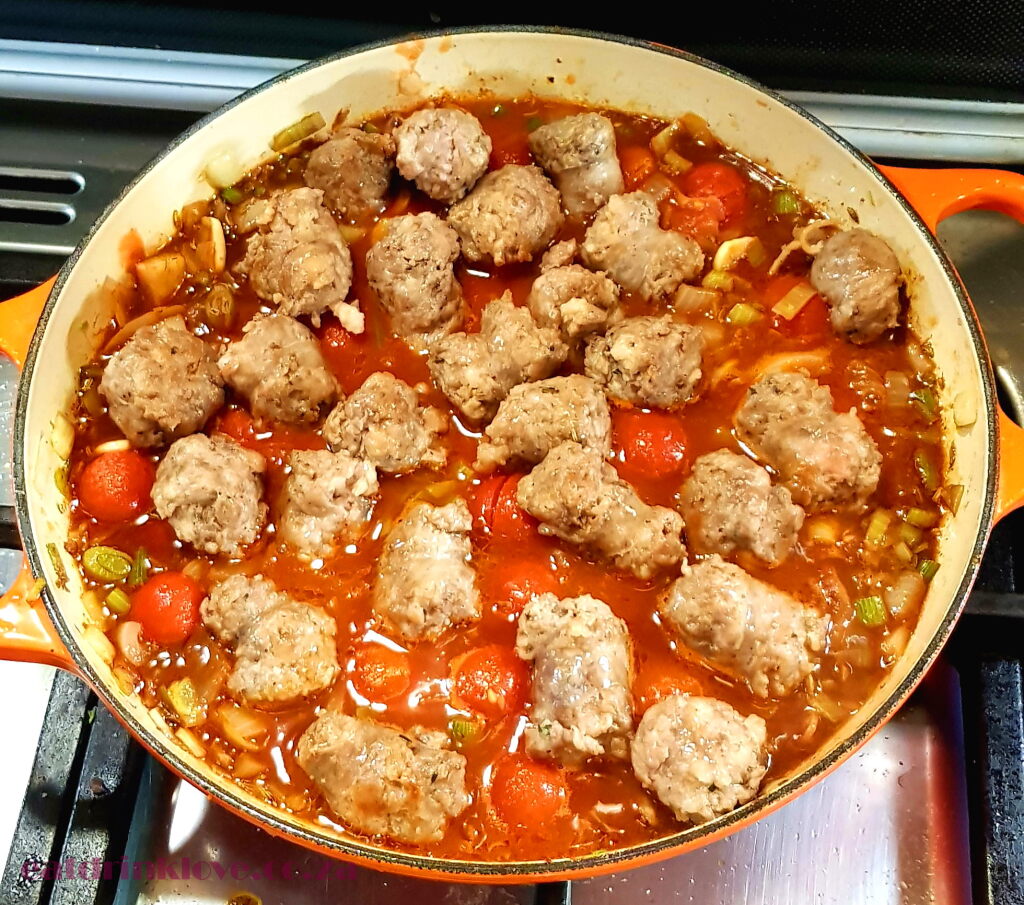 Remove the lid after 10 minutes and cook until the sauce thickens.
Stir in olives and remaining fennel seeds and set aside until you serve.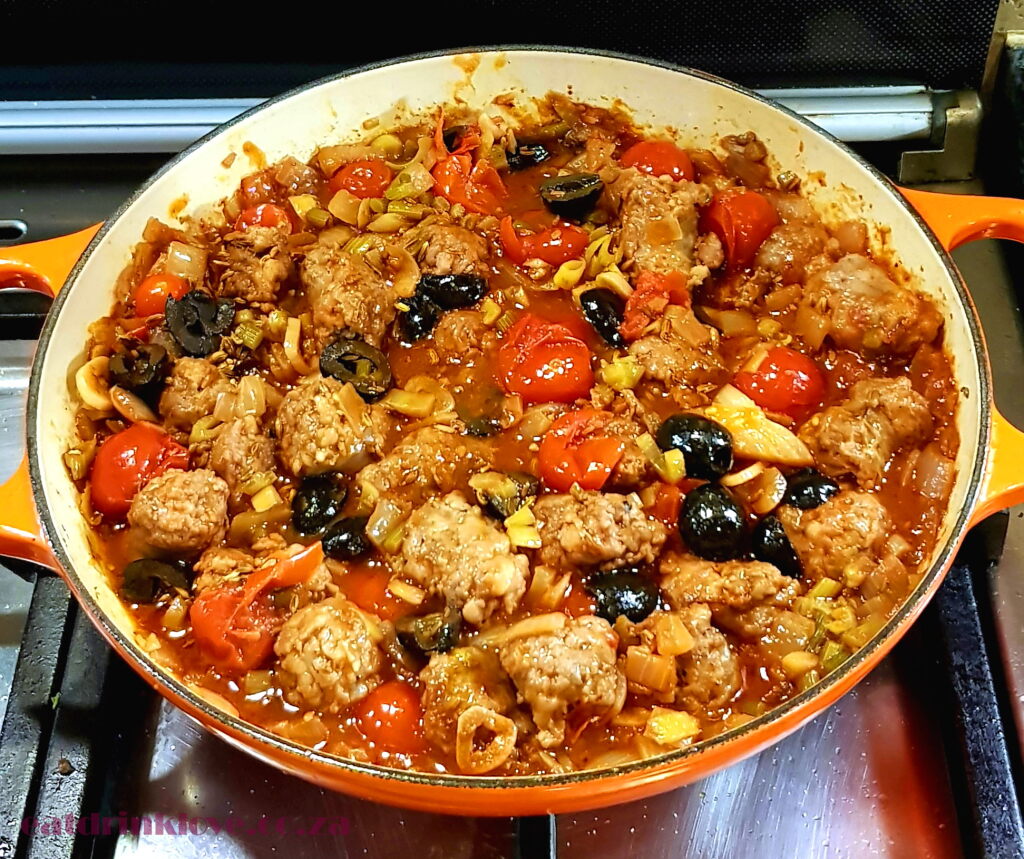 Bring a large pot of salted water to a boil. Add the pasta and cook until it is al dente, which usually takes around 12-14 minutes.
While the pasta is cooking, reheat the sauce.
Once the pasta is cooked, drain it and return it to the pot. Stir in a tablespoon of oil.
Divide the pasta between the bowls and spoon the ragù over the pasta and top it with a spoonful of pesto.
Sprinkle chopped fennel fronds over the top and serve immediately.
We paired this with a beautiful 2017 Perdeberg Chenin Blanc – The Dry Land Collection Courageous Old Vine Barrel Fermented.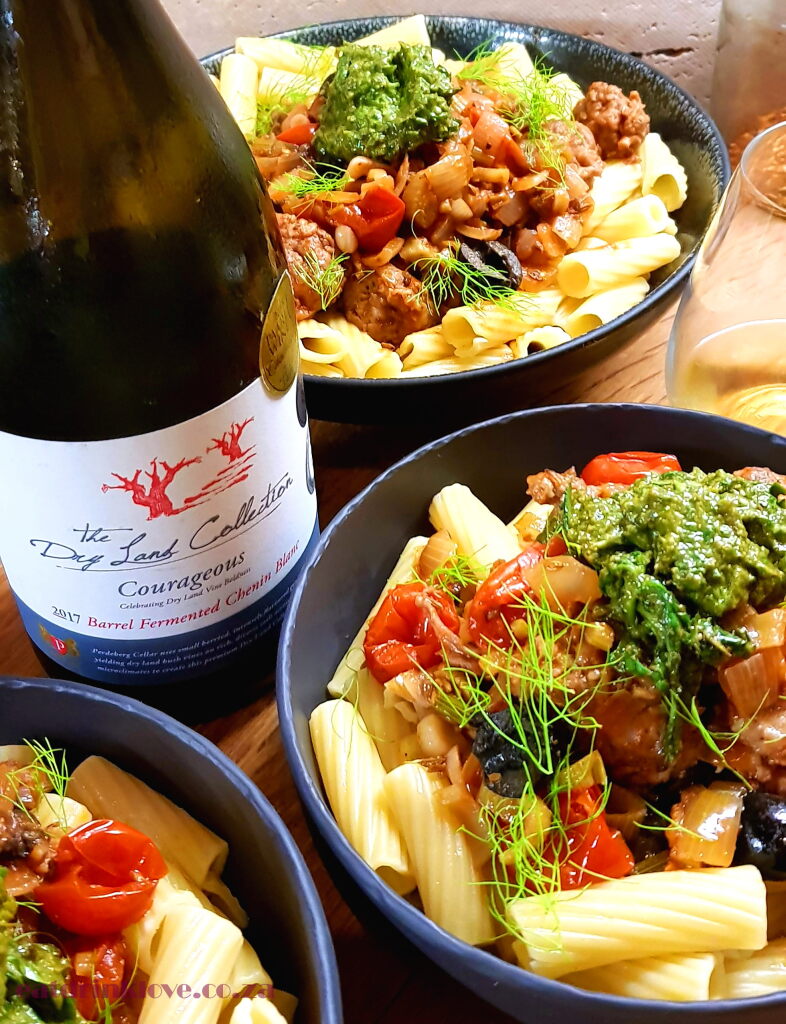 Here is the tasting notes and fact sheet for 2021 vintage: