I recently got my hands on wild boar and seeing that cider and sage are commonly used with pork, I decided to improvise and use an apple and beer with a browned sage sauce instead to contribute to the rustic flavours and image of the wild boar.
The following ingredients are needed: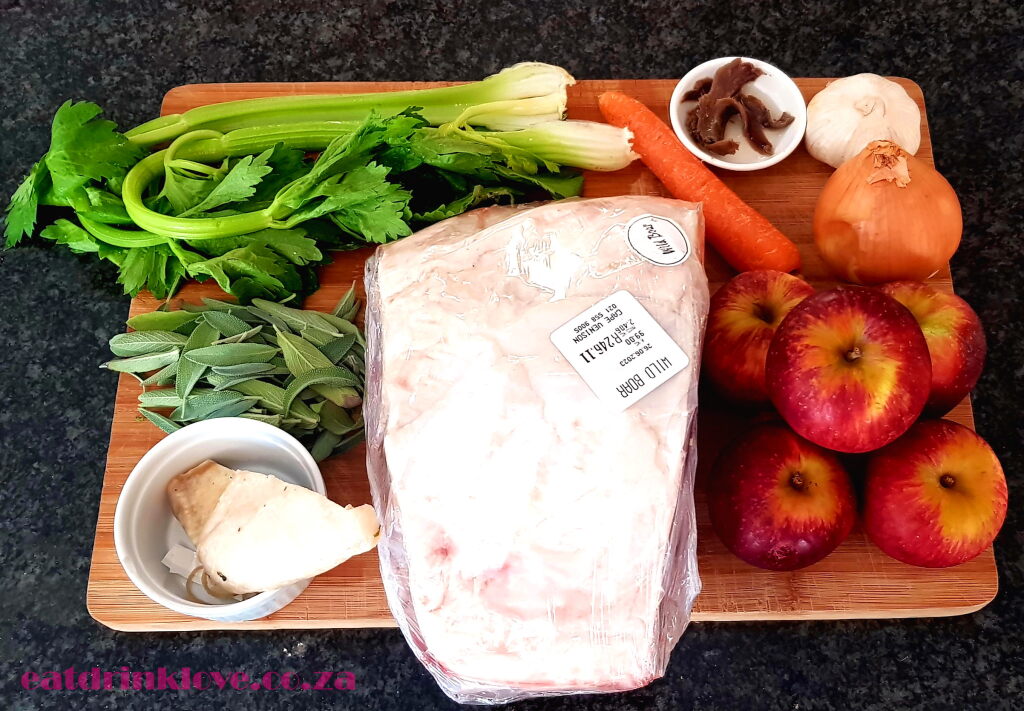 Ingredients
2.5kg wild boar loin (bone in), this can be replace by a pork loin
5 red apples, peeled, de-seeded and cut into chunks
1 onion, roughly chopped
5 garlic cloves, roughly chopped
1 carrot, diced
2 celery stalks, roughly chopped
1 cup sage leaves
4 anchovies, chopped
100g guanciale or bacon, diced
450ml beer
Salt and freshly ground black pepper
Cooking oil
Method
In a heavy pot or dutch oven with a lid, heat a splash of oil over medium heat. I did this over an open fire as I wanted to grill the meat over an open flame at the end, but you can skip that step.
Add the sage leaves and guanciale (or bacon) and fry until the sage leaves are brown and the guanciale is crispy.
Remove the sage and guanciale with a slotted spoon and set aside.
Add the meat to the pot and slightly brown the meat on all sides. Add more oil if necessary. Remove the meat from the pot and set it aside.
In the meantime, liquidize the apples, anchovies, beer, 250ml water and half of the sage and guanciale mix.
Add the garlic, onion, celery and carrot and fry until the onion turns slightly brown and soft.
Add the meat back to the pot and pour the mixture over the meat. Reduce the heat to a simmer.
Cook covered for about 4 hours, turning the meat every 40 minutes or so.
When the meat is fork tender, remove it from the pot and quickly grill it over an open flame (this step can be skipped, but the char does add to the rustic taste and look).
Turn up the heat again and reduce the liquid to about 60% of the original quantity. Adjust the taste with salt and pepper if necessary.
Cut the meat into slices and serve with the reduced sauce and the rest of the sage and guanciale mix as garnish.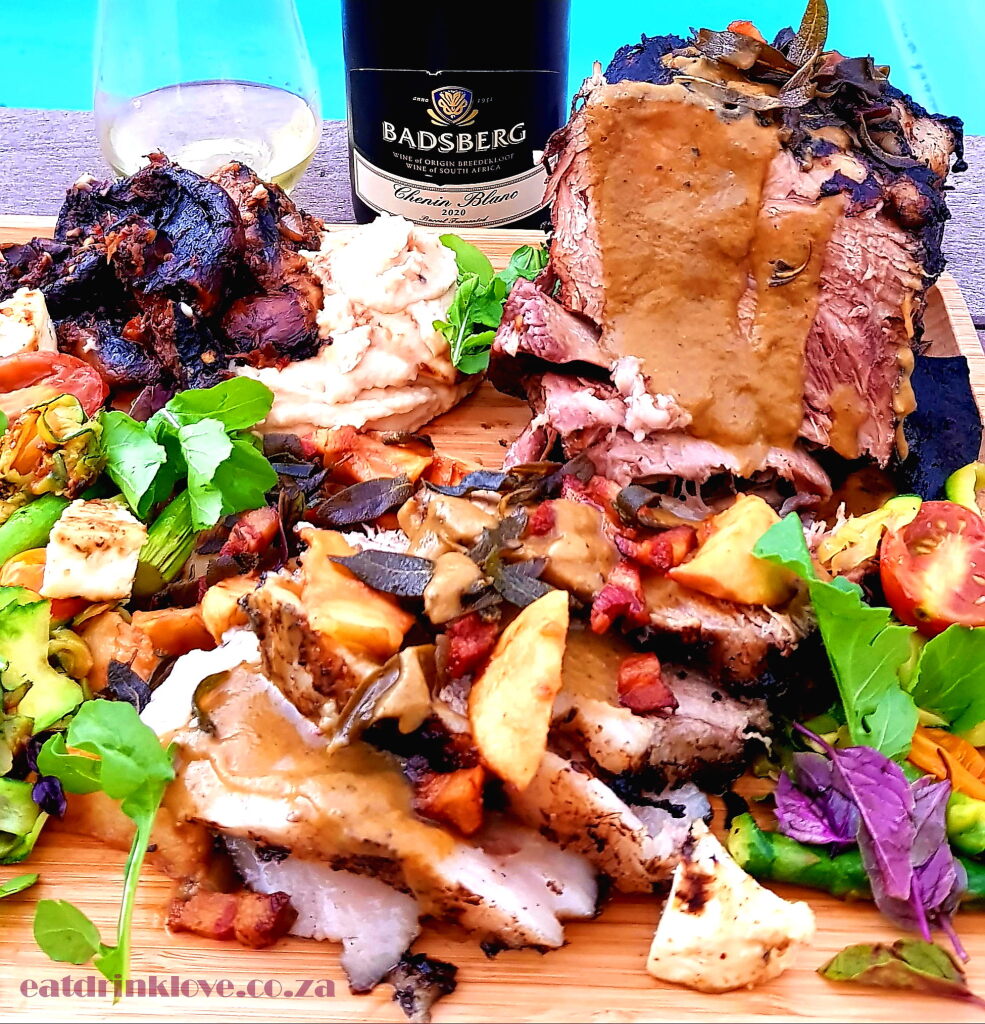 We served this with caramelized apples, a fresh garden salad and Yotam Ottolenghi's Portobello steaks on a butter bean mash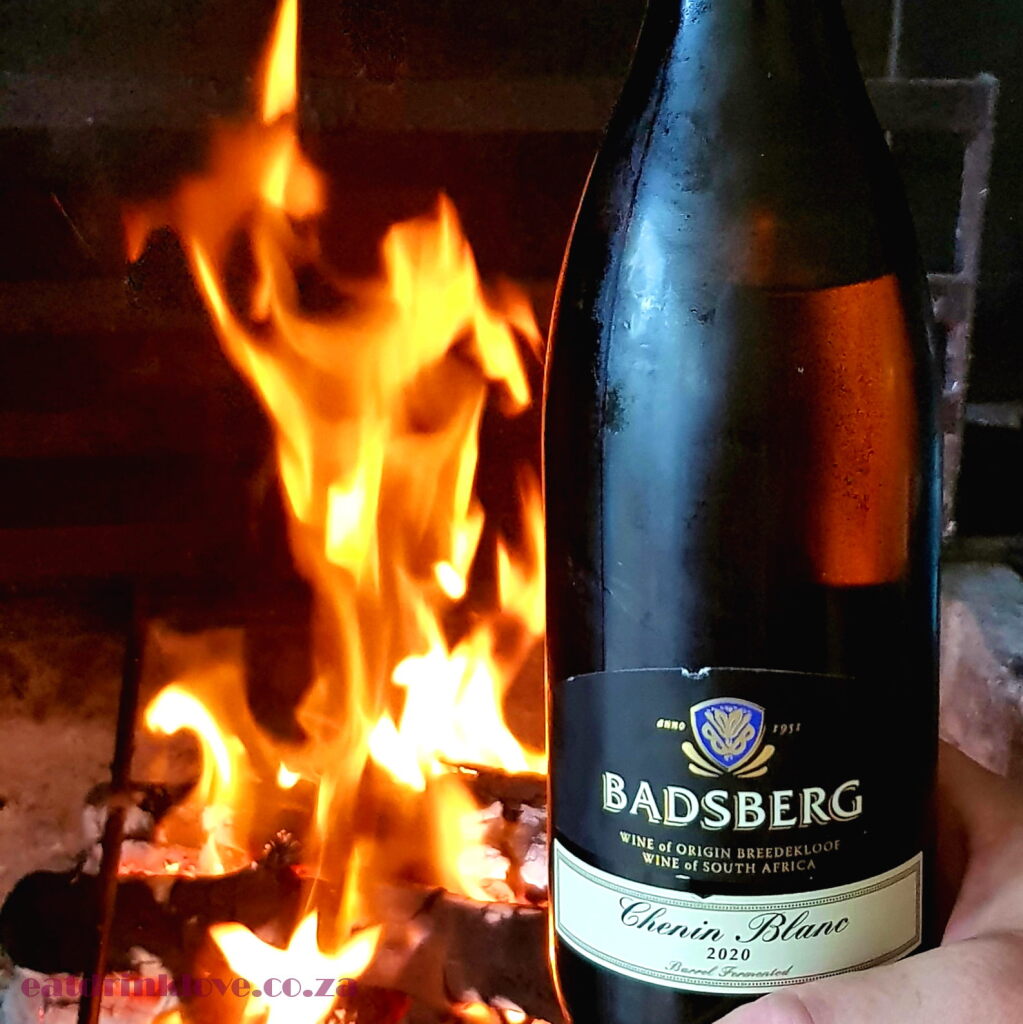 And further more enjoyed it with a 2020 Badsberg Barrel Fermented Chenin Blanc which is fermented in oak barrels and matured on the lees for 8 months.