Pasta alla Gricia is a classic Roman pasta dish that exemplifies simplicity at its finest. This humble yet incredibly flavorful dish is a staple in the traditional cuisine of Rome, showcasing the region's love for cured pork and aged cheese. With just a handful of ingredients, Pasta alla Gricia delivers a satisfying and comforting meal that will transport you straight to the heart of Italy.
The beauty of Pasta alla Gricia lies in its simplicity and the quality of its ingredients. It is a celebration of the flavors and traditions of Rome, paying homage to the region's culinary heritage. Whether enjoyed as a quick weeknight dinner or served as part of a festive gathering, Pasta alla Gricia is a dish that brings people together, captivating their taste buds and leaving them craving for more.
Ingredients
350g spaghetti / rigatoni / bucatini
150g guanciale cut into 1cm cubes
100g pecorino grated
2 Tbsp olive oil
2 tsp freshly ground black pepper
Salt
Instructions
Begin by preheating a frying pan or iron skillet. Add the extra virgin olive oil and guanciale to the pan.
Fry the guanciale cubes in the skillet until they turn crisp and golden.
While the guanciale cooks, fill a separate pot with water and place it over high heat for the pasta. Once the water starts boiling, add salt (25ml per liter) and let it return to a boil. Cook the pasta in the boiling salted water until it reaches al dente. Set aside a cup of the pasta water for later use before draining the pasta.
Stir in about 75ml of the reserved pasta water into the skillet with the guanciale, ensuring it is well combined. This will create a flavorful sauce.
Reduce the heat on the skillet and add the cooked pasta, thoroughly incorporating it with the guanciale and sauce.
Remove the skillet from the heat, then add ⅔ of the grated Pecorino cheese and the black pepper. Stir well to combine all the ingredients.
Serve the pasta immediately, with a final sprinkling of the remaining grated Pecorino cheese on top.
Traditionally, Pasta alla Gricia is not garnished with any additional ingredients. The dish is meant to highlight the simplicity and bold flavors of its core ingredients: guanciale, black pepper, and Pecorino Romano cheese.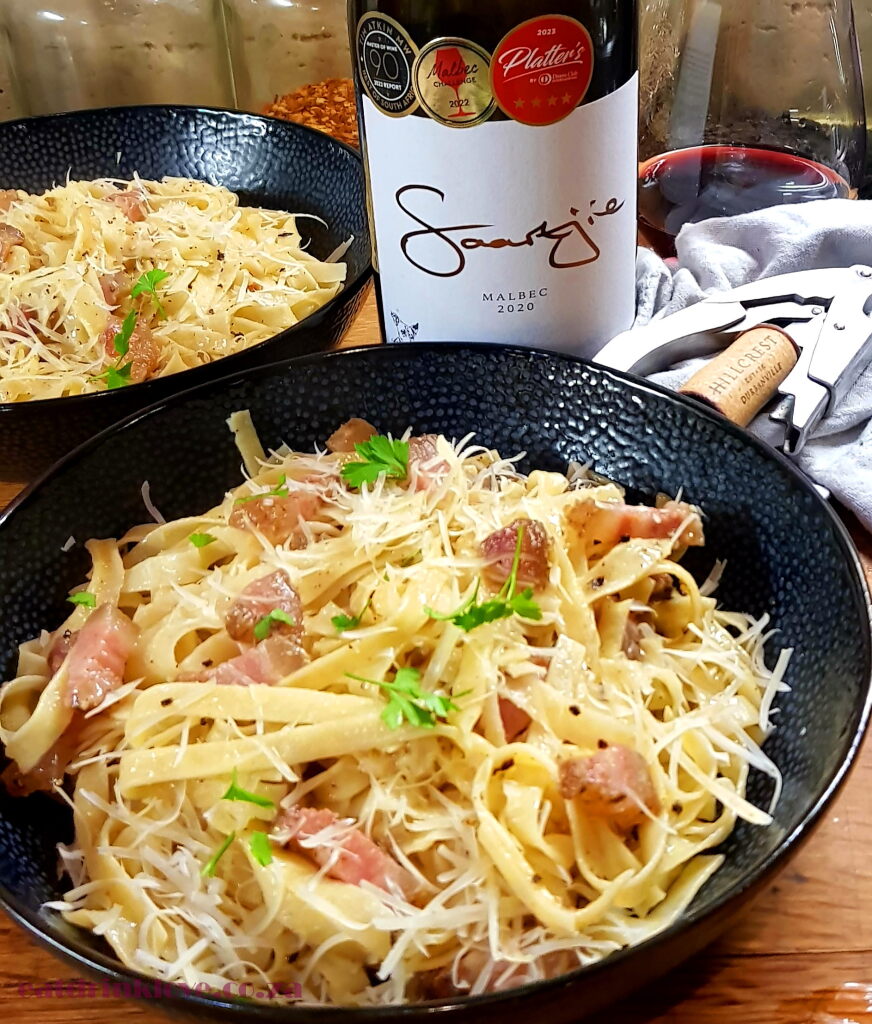 We enjoyed this with 2020 Saartjie Malbec from Hillcrest Wine Estate. Write-up on their web site is as follow:
The Saartjie Malbec is a luscious single-vineyard wine displaying beautifully complex flavours of black cherry, Plums and Violets on the Nose and intense dark fruit and spices on the palate with balanced oak flavours complimenting the wine. This is a well-balanced wine with accessible supple tannins. Drinking well now but can be aged further.
The Saartjie range of single cultivar wines, are estate-grown and produced from small single blocks of vines. The utmost care and careful selection take place to ensure only the best wines are produced as a result. The Saartjie name was introduced after our winemaker's Jack Russell pup, Saartjie.

Analysis:
Alc: 13.04%
RS: 2.4 g/l
TA: 5.3g/l
pH: 3.81