We have not had proper Mexican food in ages. Most "Mexican" restaurants around here is decidedly more Tex Mex – load of tacos and chilli poppers but sadly not a  Mole or Recado Rojo sauce in sight.  Not that we don't enjoy Tex Mex  occasionally but it doesn't come close to the real deal.  I made  Chicken Mole Poblano  and Adrienne made Achiote Chicken and Ancho Pork a while back. Since then our  Ancho (dried Poblano) and Guajillo (dried MIrasol) chillies have been sitting in the back of the food cupboard. To make up for this travesty I decided to make 3 main dishes for our Mexican date night.
I really wanted to make some Puerco Pibil (Achiote Pork) but did not have any red achiote paste.  I only had the green paste which is really more used as a seasoning/rub on meat.  Red achiote paste contains  annotto which gives dishes like Puerco Pibil that distinctive colour and flavour.  So I decided to still make pork in a red sauce but with dried chillies instead of achiote paste – a dish called Pipian Rojo.
Pipián Rojo (pork in a red sauce)

Slightly adapted from a recipe in the Mexico in my Kitchen blog.  You can find the original recipe here.
Ingredients
700g pork fillet , sliced
3 tbsp olive oil
2 Ancho chillies
2 Guajillo chillies
1 Chipotle chillie
1/4 cup peanuts
1/3 cup pumpkin seeds
1/4 cup sesame seeds
3 cm cinnamon stick
2 cloves
2 allspice berries
1 tsp cumin seeds
1 small tomato
1/3 medium onion
2 garlic cloves
Salt and freshly ground pepper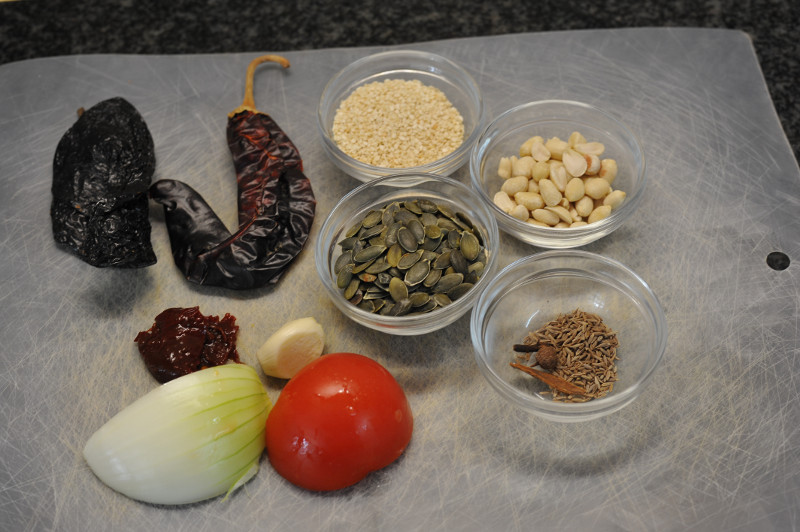 Method
Fry the pork fillet slices until just done.  The original recipe calls for cubed pork loin that is cooked until tender.  As I had a few dishes to prepare I  took a shortcut here.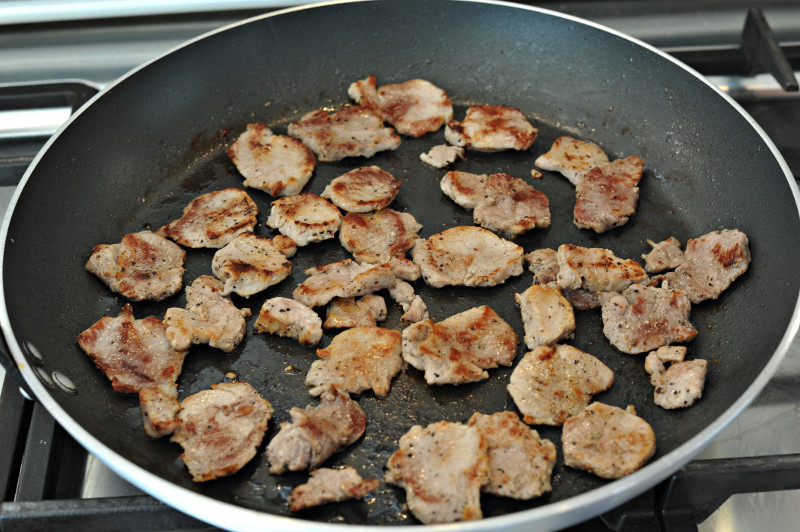 Making the sauce:
Do not attempt to make this if you cannot find Ancho and/or Guajillo  chillies. You cannot replicate the flavours with ordinary dried chillies.  We get ours from
Azteca
in JHB.
Deseed the dried chillies and soak in warm water for 20 minutes.
Dry the chllies and toast in a pan for around 30 seconds on each side.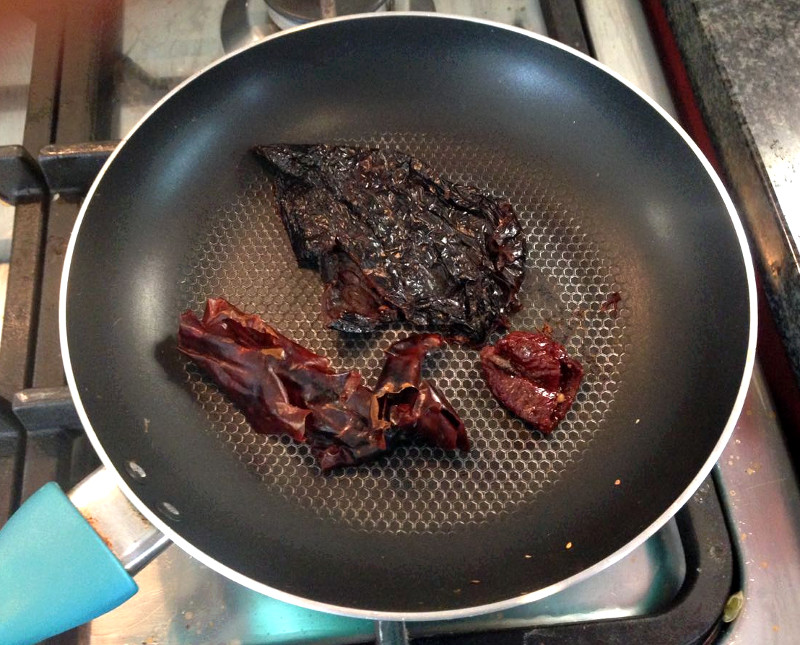 Remove the chillies and toast the peanuts, pumpkin seeds and sesame seeds seperately.  Be careful not to let it burn.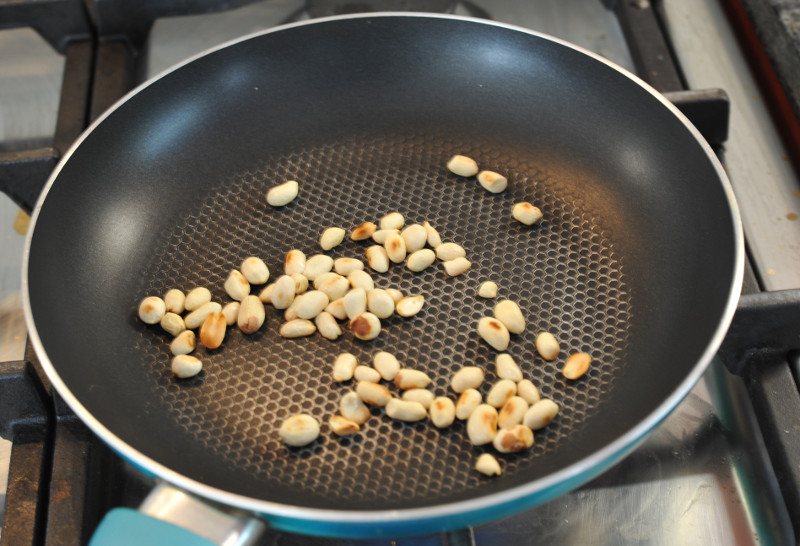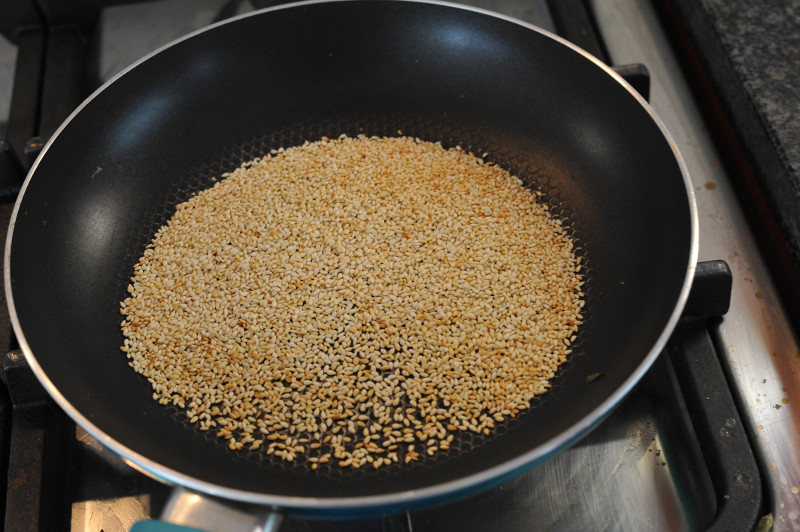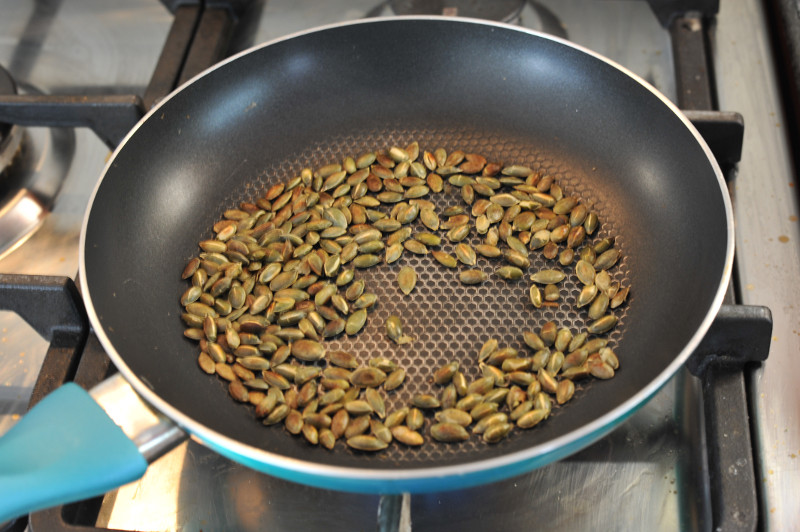 Toast the cinnamon, cumin seeds, cloves and allspice next.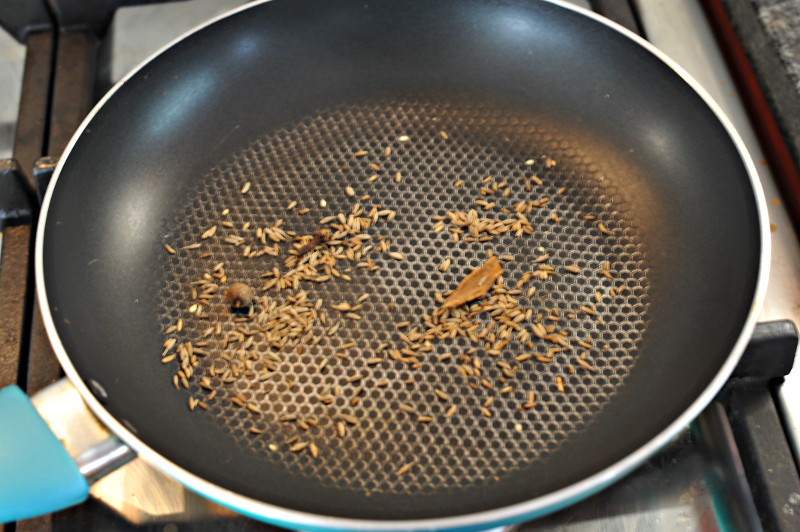 Roast the tomatoes, onion and garlic.  I roasted the veg in my air fryer at 200C for 8 minutes.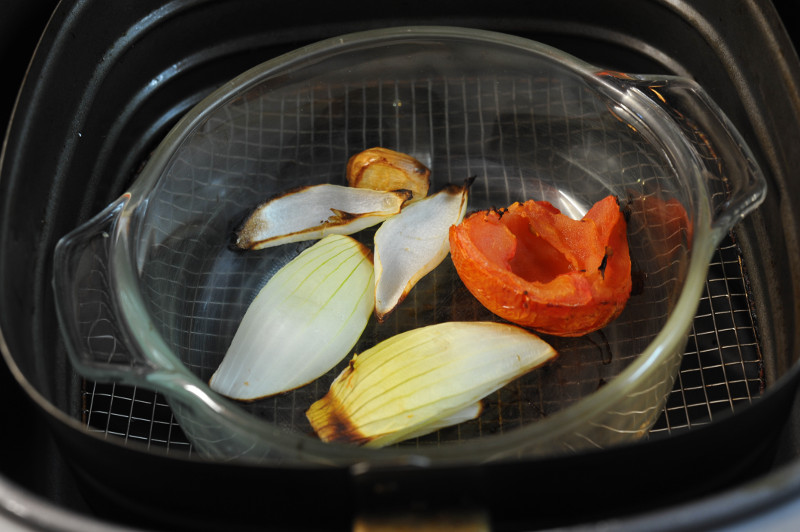 Place the chillies, spices and vegetables in a saucepan with 2 cups of water.  Cook for about 8 minutes.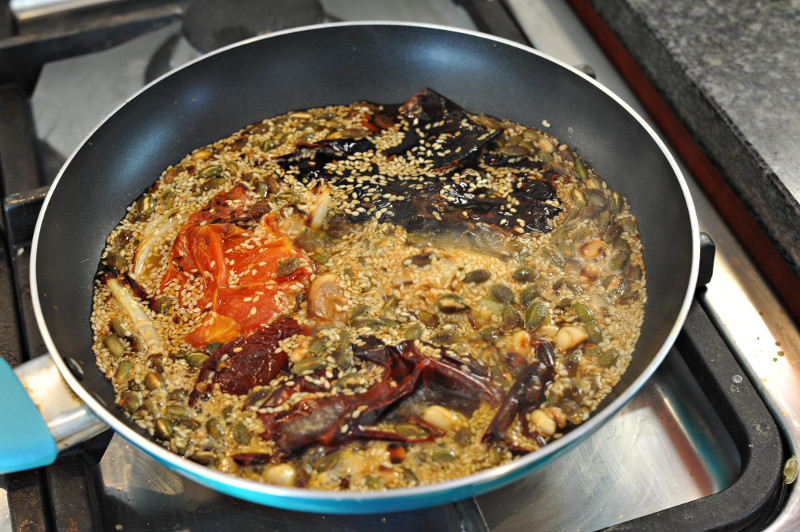 Blend until you have a smooth sauce.  Be careful not to blend it for too long.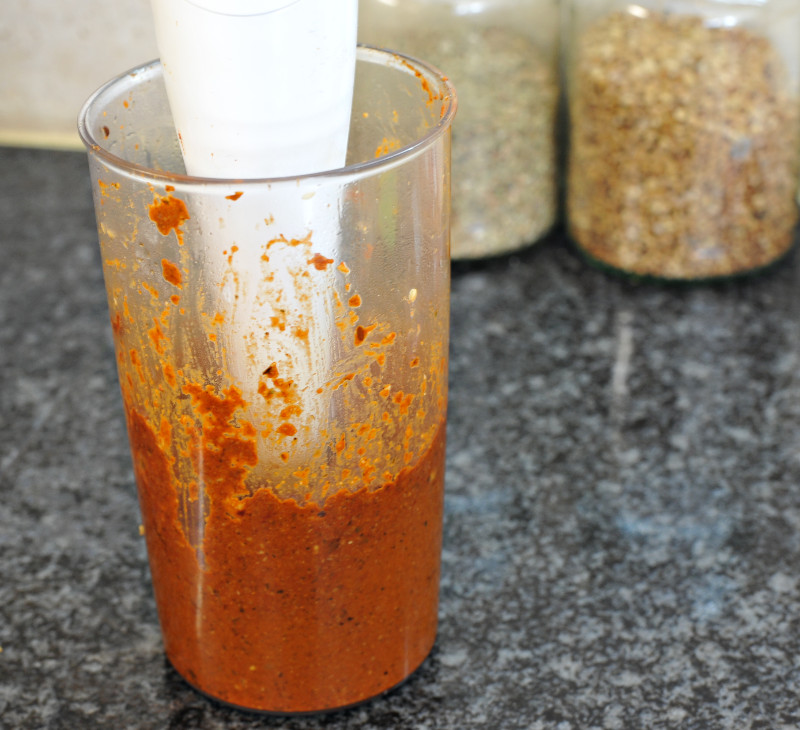 Pour the sauce into a pan and cook at a medium high heat for about 2 minutes.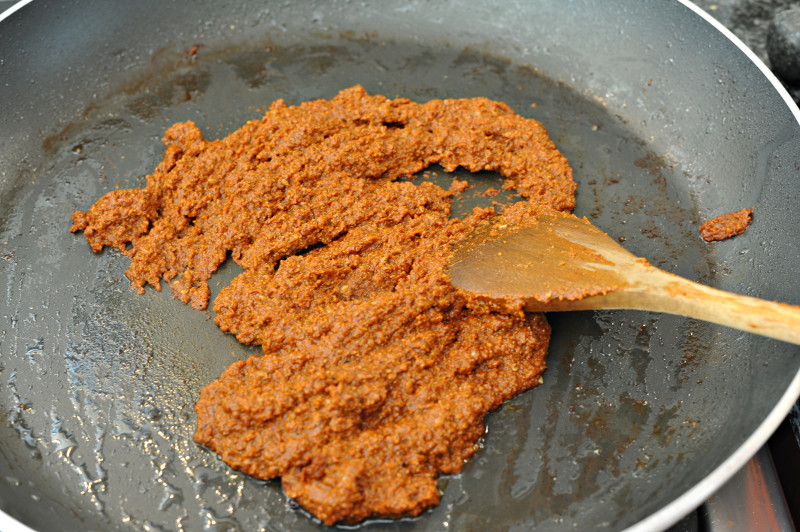 Add the pieces of pork and cook at a very low heat for about 10 minutes.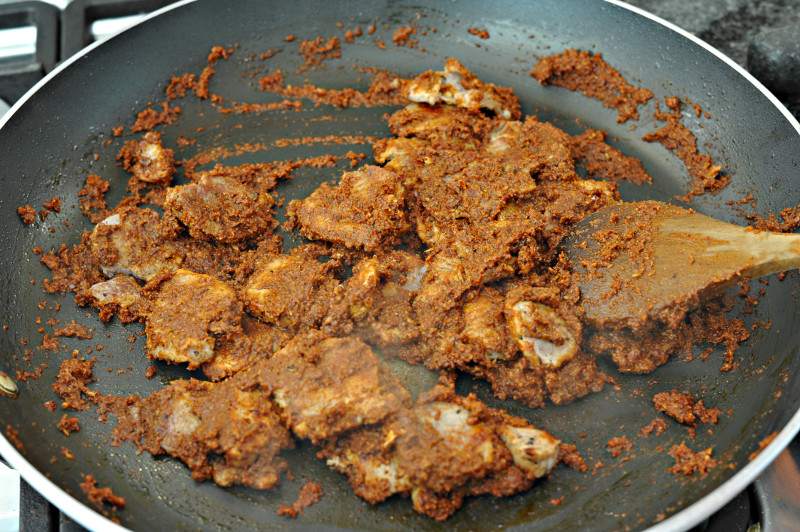 If the sauce seems too thick add some chicken stock or water. Season if necessary.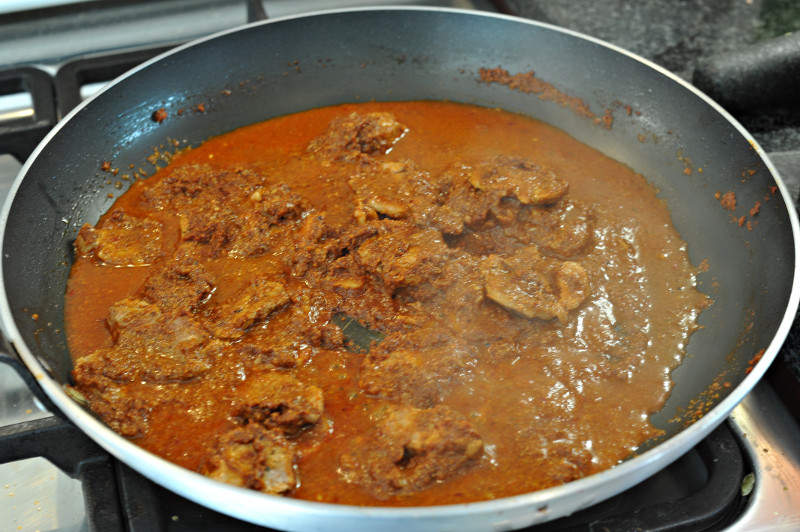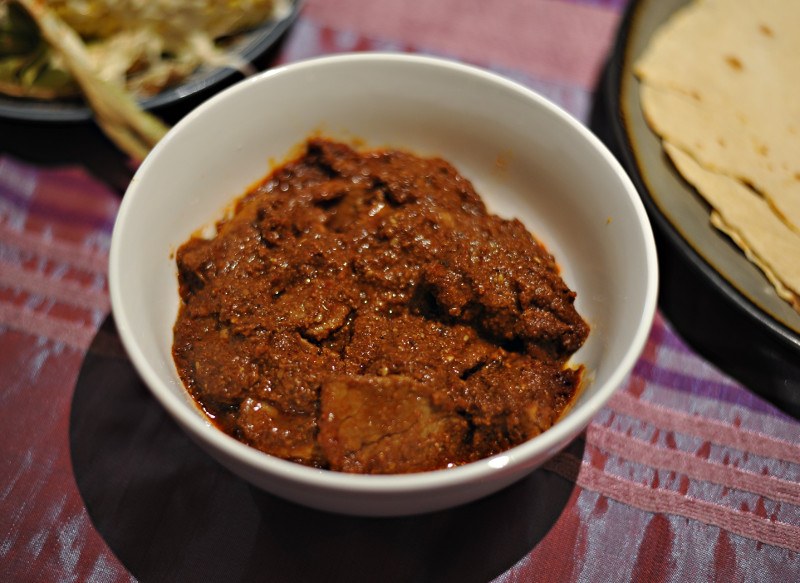 I kept my other 2 dishes a bit more simple.  Both are recipes I found on the Rick Bayless website. Rick Bayless is a chef who specialises in authentic Mexican cuisine and my go to website when I don't feel like searching too much for a great Mexican recipe.
Albodingas (Chipotle Meatballs)
A Rick Bayless recipe – you can find the original recipe here.
Ingredients
450g ground beef
1 egg
2 garlic cloves, peeled and chopped finely
2-3 tbs mint leaves, finely chopped
3/4 cup fresh breadcrumbs
2 tbsp olive oil
Sauce
400g tomatoes, diced
1-2 canned chipotle chillies
1 tbsp chipotle canning sauce
1 tsp dried oregano (Mexican if you can get hold of it)
2 garlic cloves, peeled and halved
1/3 cup chicken stock
Method
Combine the beef, egg, garlic, mint and breadcrumbs to make the meatballs.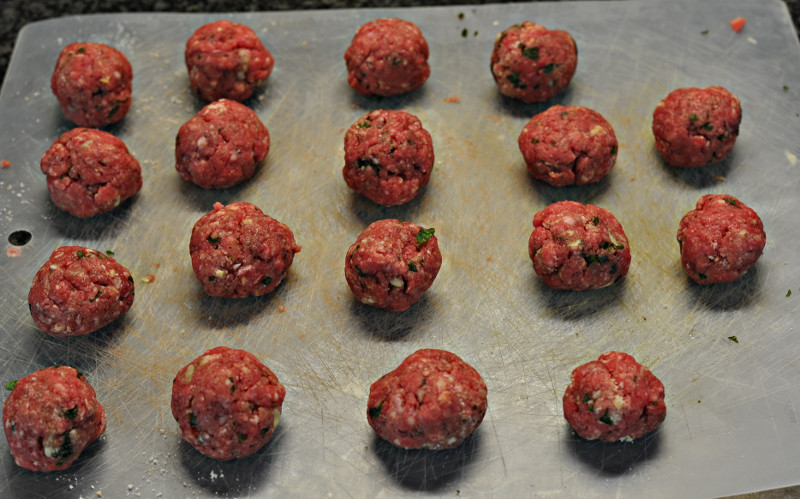 Fry the meatballs in the olive oil until browned all over.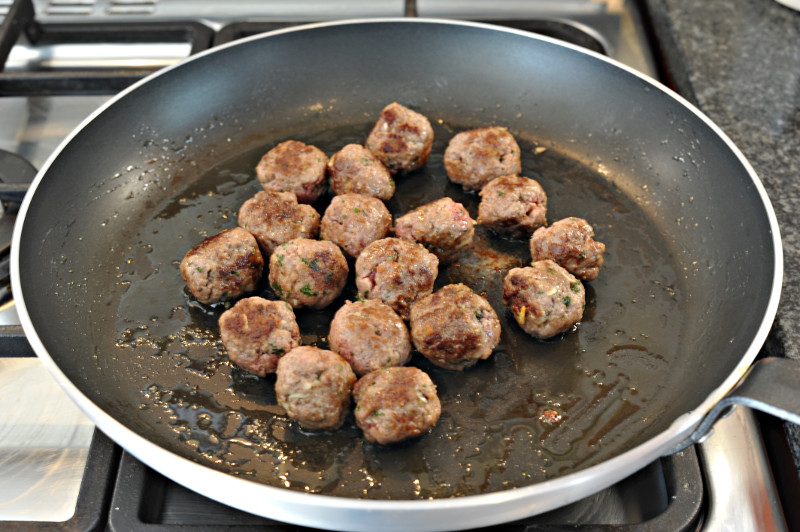 Blend together the ingredients for the sauce.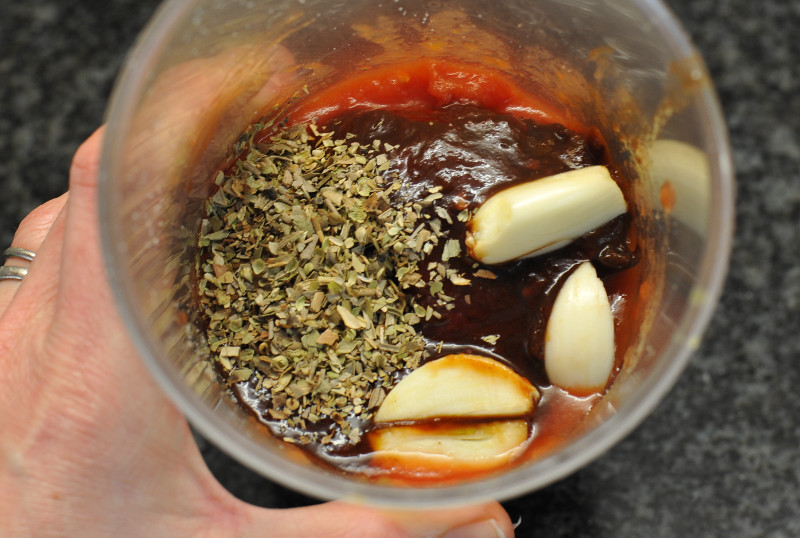 Pour the sauce over the meatballs, cover and cook at medium low heat until cooked through.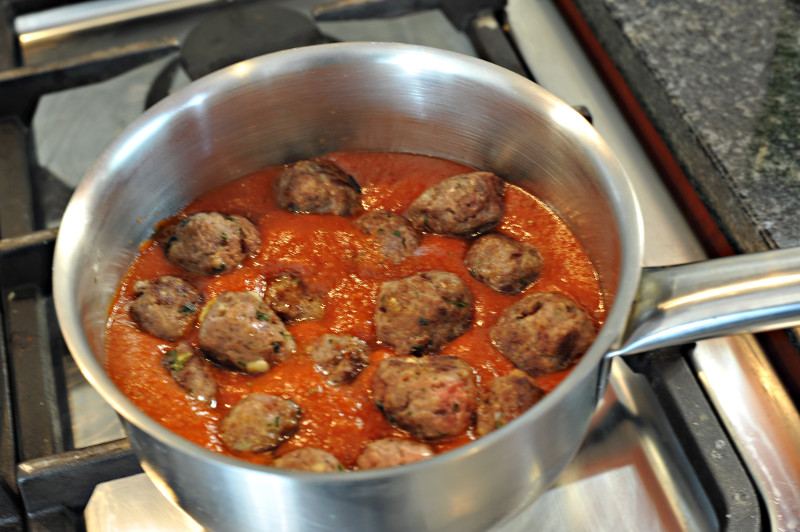 Remove the meatballs from the sauce.  Add the stock to the sauce and simmer for 1-2 minutes.
Season and pour the sauce over the  meatballs.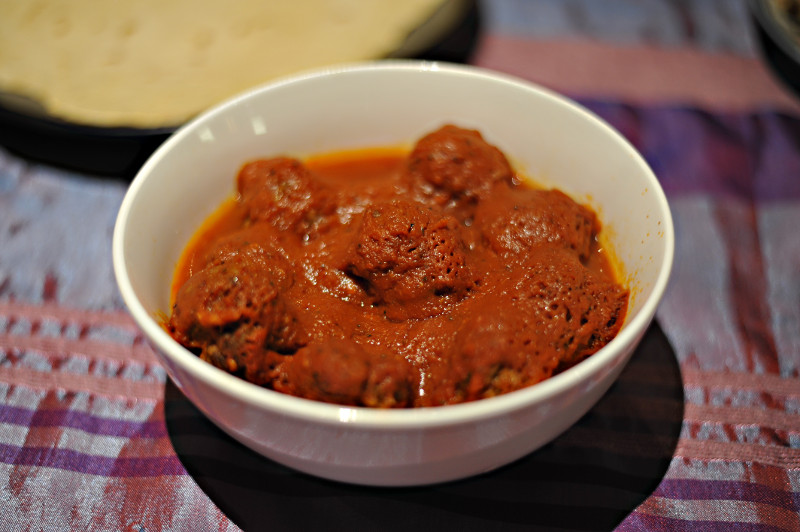 Chicken in Escabache
Adapted from a Rick Bayless recipe – you can find the original recipe here.
Ingredients
6 chicken fillet halves
5 tbsp olive oil
2 medium onions, sliced 3mm thick
5 large garlic cloves, peeled and halved
3 carrots, peeled and sliced thinly on the diagonal
2 cups mushrooms sliced 3mm thick
3 cups chicken stock
1/4 cup cider vinegar
2 sprigs fresh thyme plus extra for garnish
2 sprigs fresh oregano plus extra for garnish
5cm cinnamon (Mexican if you source it)
1/2 tsp black pepper, freshly ground
3 bay leaves
3 cloves
4 pickled jalapenos, stemmed, seeded and thinly sliced
1 tsp salt
Method
I put the chicken in a brine mixture for 3 hours.  This is not in the original recipe but I always brine  chicken fillets when I have the time. It's so easy and guarantees juicy chicken.
I then rinsed the chicken and cut it into cubes.  I mixed some achiote verde paste with olive oil and a splash of orange juice and  marinated it for 3 hours.  This is also not in the original recipe but I thought that the extra flavour couldn't hurt.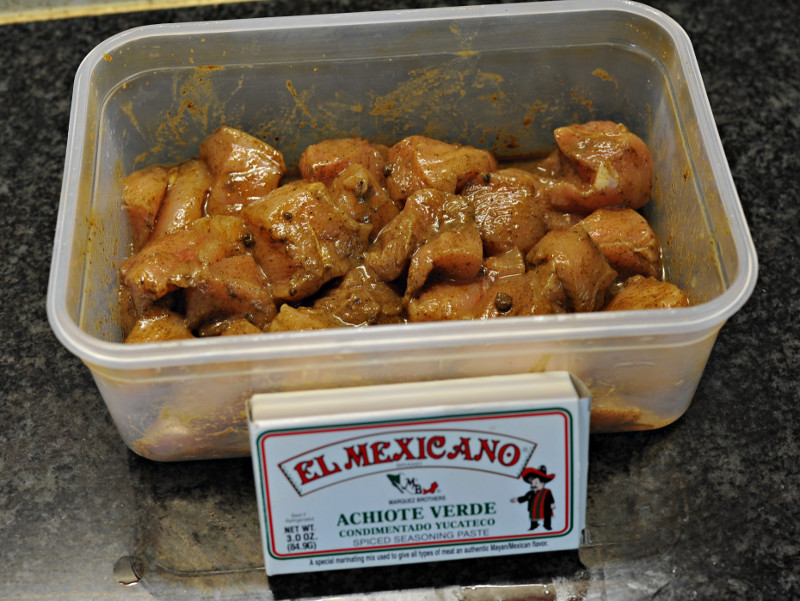 While the chicken was marinating I made the Escebache. Escebache is the name for various dishes in the Mediterranean America where fish or meat is cooked and marinated in a vinegary mixture.  A version of Escebache is usually made with jalapeño chilies in Mexico.
Heat 4 tbsp of oil in a pan. Fry the onions, garlic and carrots for about 5 minutes until the onions are tender but not brown.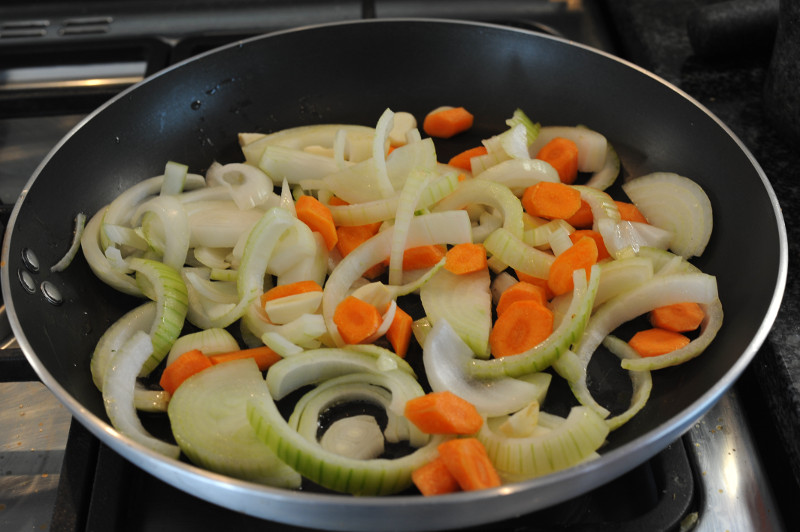 Add the mushrooms, stock, vinegar, thyme, oreganum, cinnamon, pepper, bay leaves and cloves.
Simmer, covered over low heat for about 30 minutes.  Stir every now and then.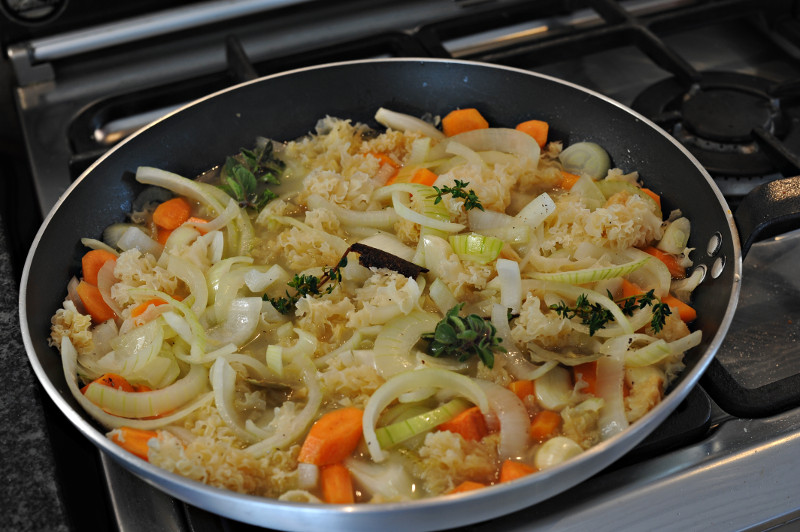 Remove from heat, stir in the jalapenos and season with the salt.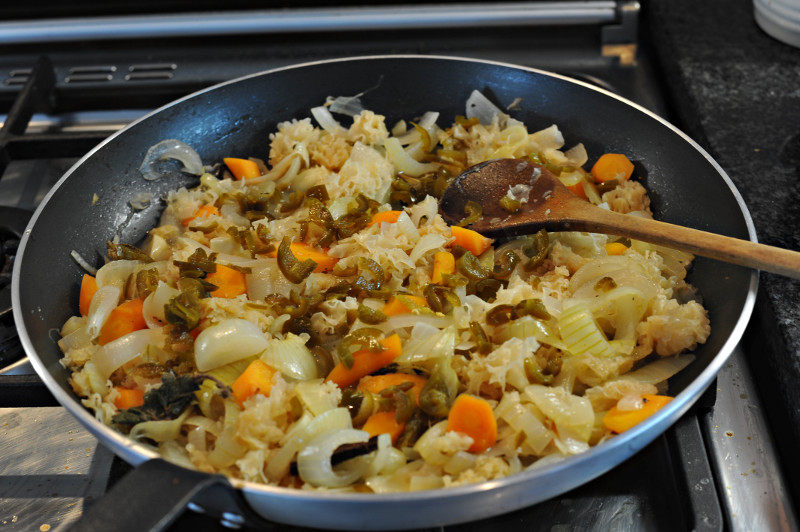 Pour into a baking dish.
Heat 1 tbsp of olive oil in a pan and cook the chicken until browned and cooked through – about 4 minutes per side.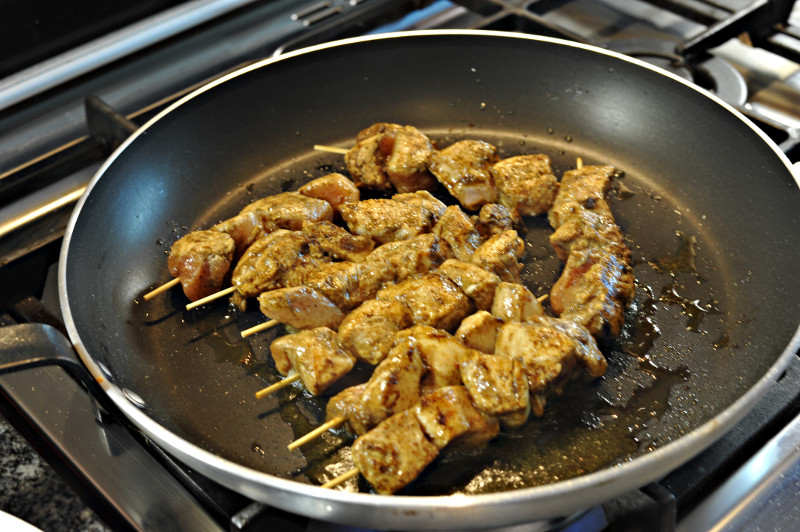 Put the chicken into the escabeche and let it cool completely, about 1 hour. Cover and refrigerate if you're not going to serve it straight away but then make sure to warm the dish to room temperature before serving it. Garnish with sprigs of thyme and oreganum.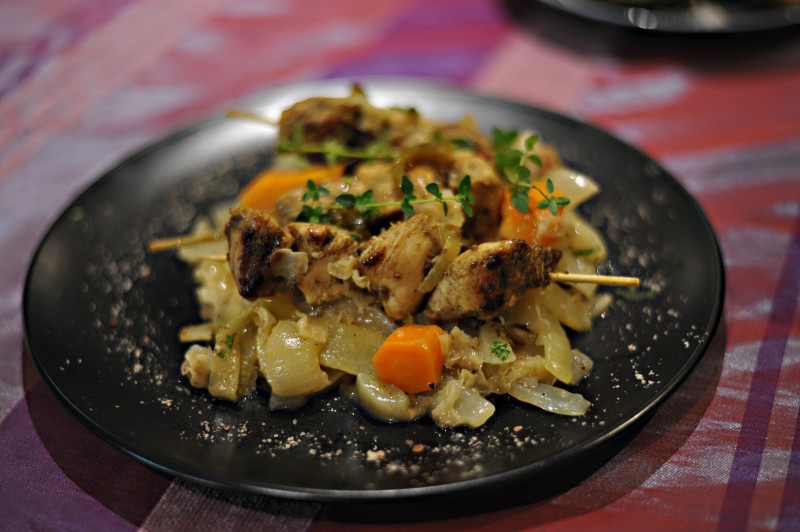 Side dishes
While the main dishes were cooking we made some tortillas.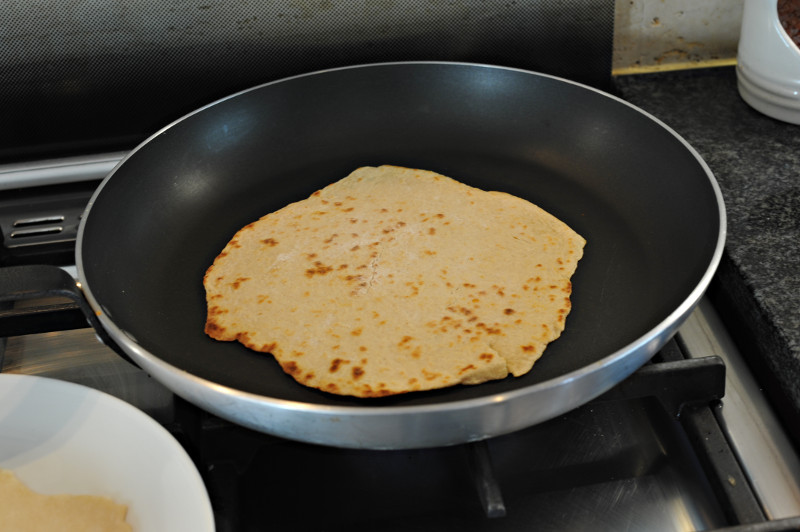 And had some Margaritas.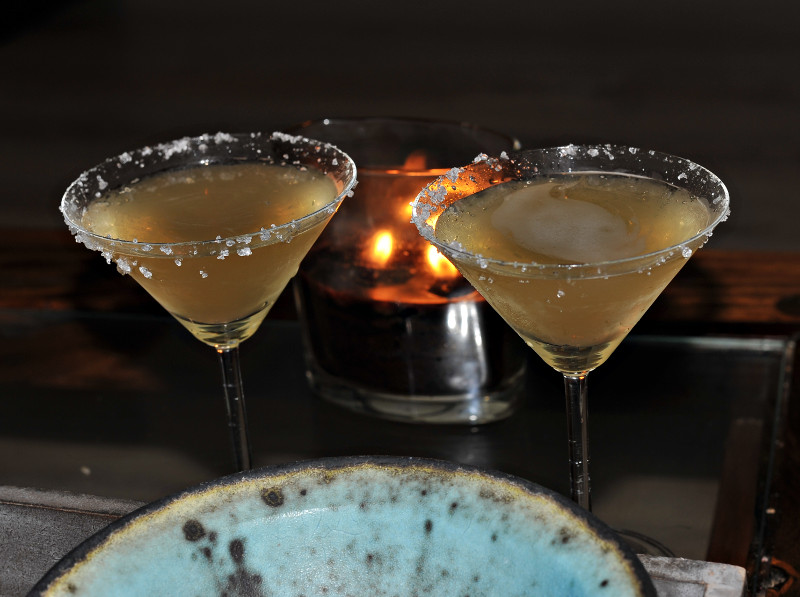 I served my Pipián Rojo, Chipotle Meatballs and Chicken in Escabeche with tortillas, mexican rice, corn and a salad.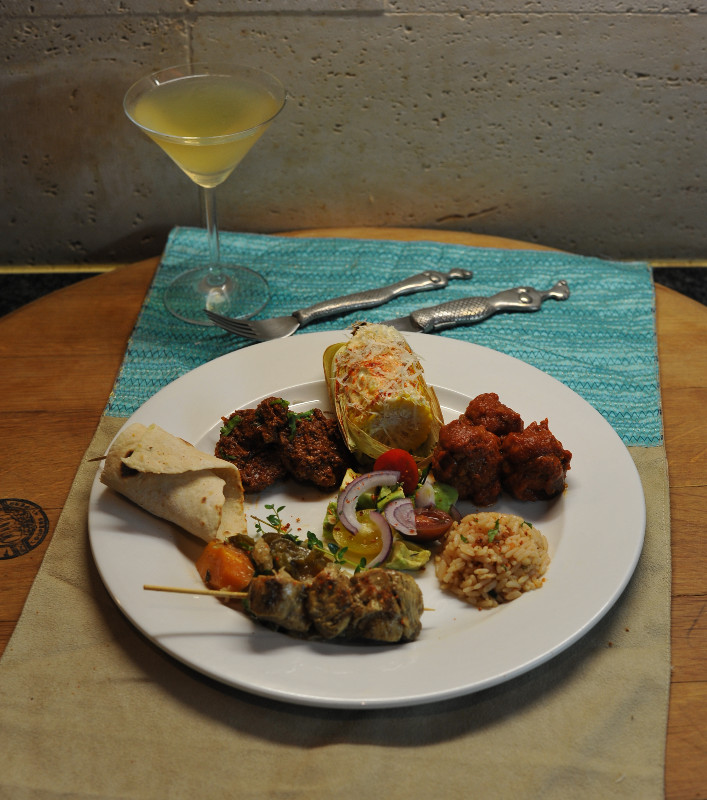 Verdict
Our favourite dish in terms of flavour was of course the dish that took the longest to make – the Pipián Rojo.  The Chipotle Meatballs were so easy to make and full of flavour that I see it becoming a staple mid week meal in our house from now on. The Chicken in Escebache was nice enough but didn't have the wow factor of the other 2 dishes.  We loved the  Mexican style corn which I'll write about in a separate post.
For dessert we had some strawberries marinated in lime juice and  tequila.