I decided to cook Moroccan food for date night last week as my preserved lemons were a month old and  finally ready to use.  I love Paul Wolfert's recipes so decided to make her Chicken with Preserved Lemons and Olives for our Moroccan date night.
This is a classic traditional Moroccan tagine recipe.  I won't call my effort a tagine though as I did not cook it in a tagine pot.  Every time I pass Le Creuset I want to buy one but then I hear the "but how often will you use it" voice in my head.
Chicken with Preserved Lemons and Olives
Adapted from Paula Wolfert's book "Couscous and Other Good Food from Morocco".
Ingredients
Marinade
4 cloves garlic, peeled and crushed
2 tsp ground ginger
1/2 tsp ground cumin
2 tsp sweet paprika
1/2 tsp ground black pepper
2 tsp salt
1/2 cup olive oil
2-3kg chicken – I used a combination of drumsticks and thighs
2 1/2 cups grated onion, drained
1/4 tsp saffron thread soaked in 15ml hot water
1/2 cup chopped coriander and Italian parsley
(plus extra for garnish)
1 1/2 cups green olives
2-3 fresh lemons
500-750ml chicken stock or water
2 preserved lemons, rinsed and pulp discarded if desired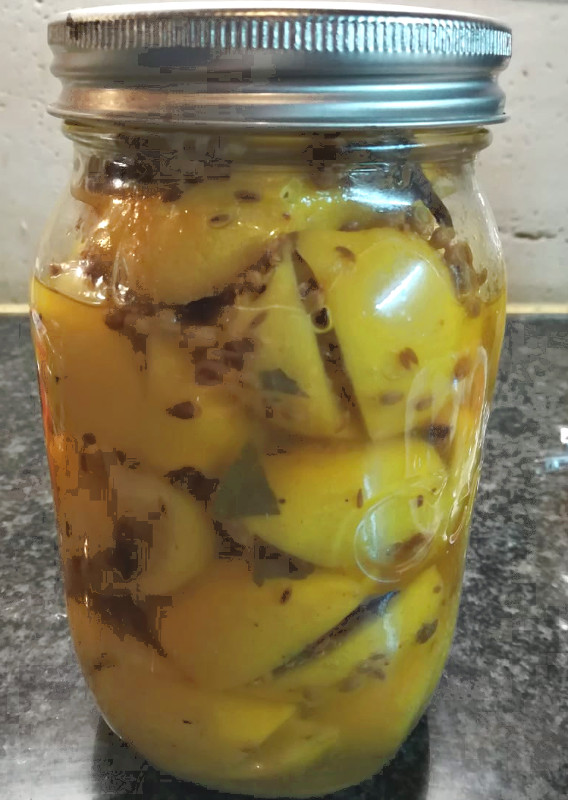 Method
Mix together the marinade ingredients and pour over the chicken. Marinate the chicken overnight.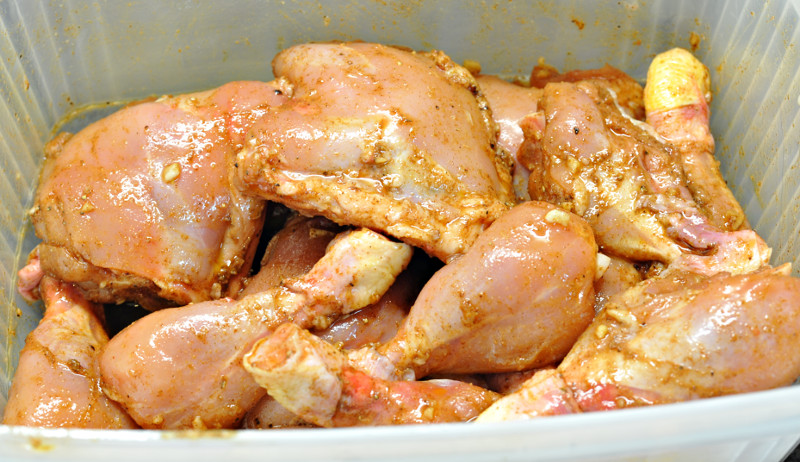 The next day place the chicken and marinade in large pot.  Add the onion, saffron water, herbs and 500ml of chicken stock or water.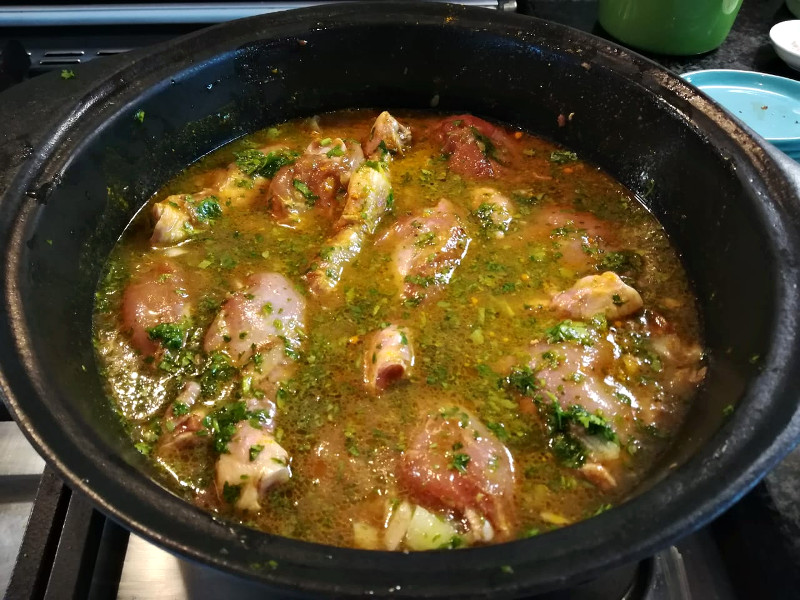 Bring to a boil, cover and simmer for an hour.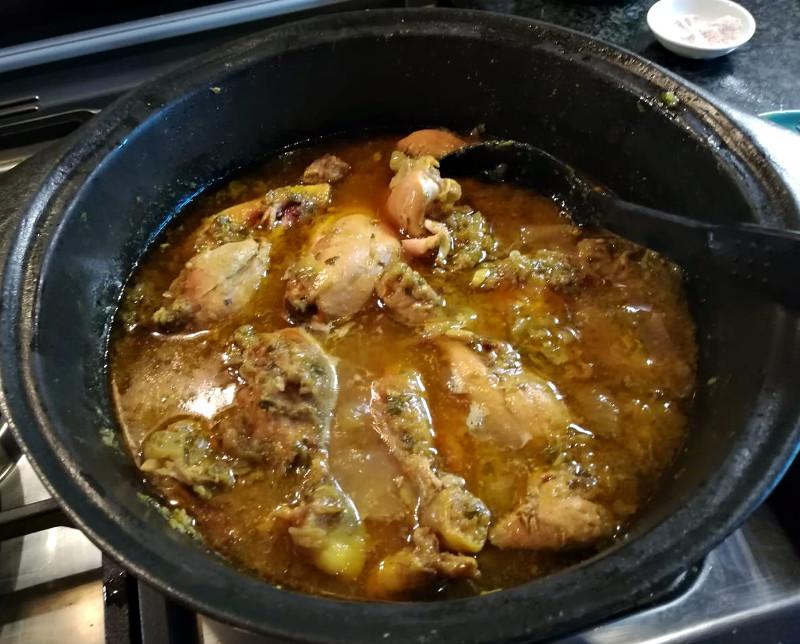 Keep turning the chicken pieces in the sauce.  Add more stock or  water if necessary.
After an hour add the preserved lemons and olives.  Cook for another 10-15 minutes uncovered.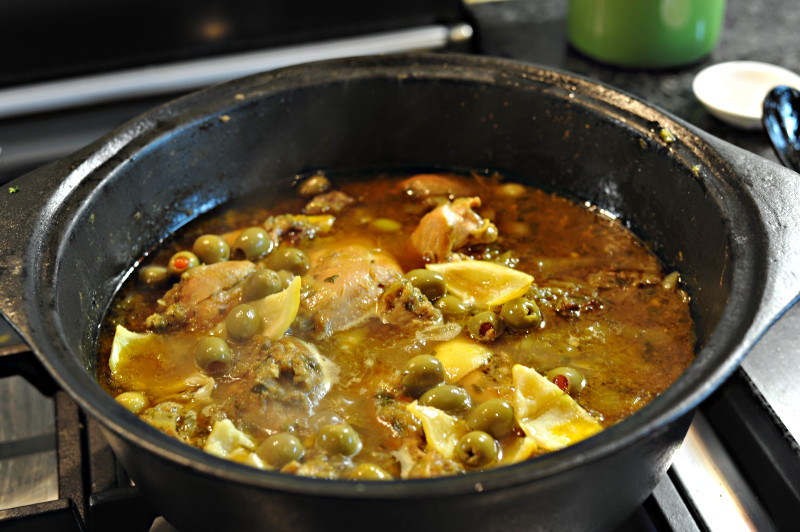 Transfer the chicken, olives and lemons to a serving dish. Cover and keep warm.  Boil the sauce uncovered rapidly until it is reduced to 1.5 cups.  Add the juice of 2 fresh lemons. Season and add more lemon juice if desired.
Don't be tempted to skip this step (especially if like me you get lazy after a couple of glasses of wine).  The flavours that comes out in the sauce after reducing it is essential to this dish.
Pour the sauce over the chicken and serve with couscous and/or flat bread.  Garnish with coriander.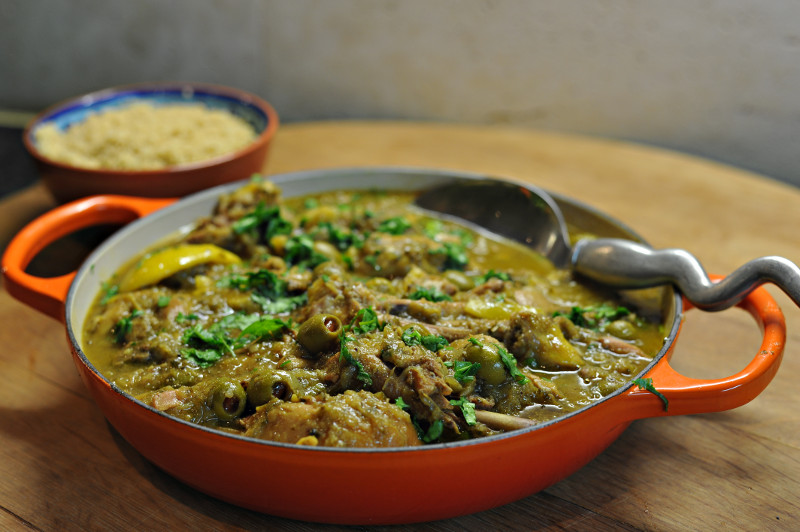 Verdict
I would rate this as one of my favourite date night dishes of the year.  It's easy enough to make as a week night meal and the flavours are incredible.
Maybe I should get that tagine pot after all . . .