I recently got my hands on some well-priced pork tenderloin and decided to go with some Caribbean cuisine. One thing about Caribbean cooking I love, is the abundant flavours and spiciness associated with the dishes. Apparently this dish was created by runaway slaves as a means of preserving meats without proper refrigeration.
The original recipe can be found here. I adapted it slightly.
The meat
2 pork tenderloins which is about 900g in total.
The marinade
The following ingredients are needed for the marinade:
100g spring / green onions, roughly chopped
1 medium onion, roughly chopped
2 Tbsp white vinegar
1 Tbsp vegetable oil
1Tbsp soy sauce
2 tsp kosher salt
2 tsp brown sugar
2 tsp fresh thyme
2 tsp fresh ginger, peeled and chopped
1 tsp allspice, freshly ground
1/4 tsp nutmeg, freshly ground
1/2 tsp black pepper, freshly ground
1/4 tsp cinnamon, freshly ground
3 garlic cloves, roughly chopped
2 habanero peppers, seeded and chopped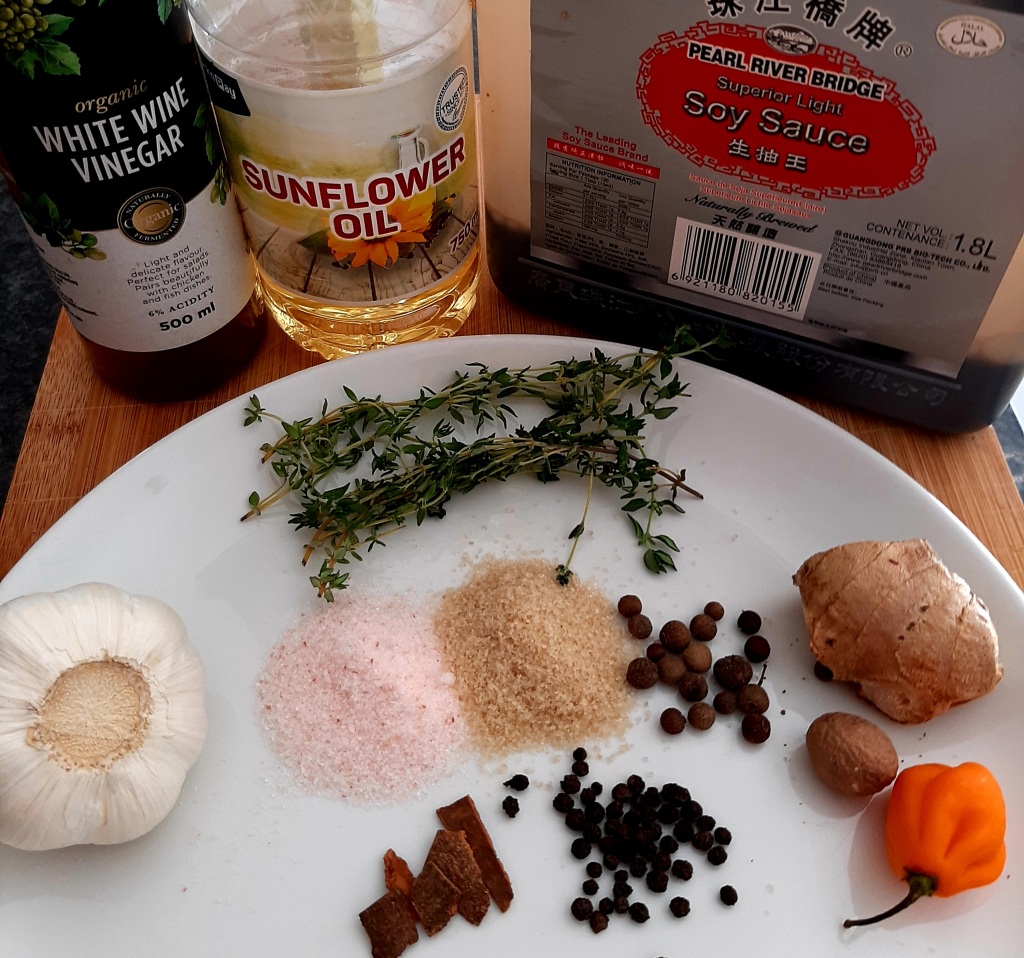 The method
Place all the ingredients for the marinade in a blender and process it until a consistent paste is acquired.
Trim the pork of any excessive fat and sinew. Slice the pork lengthwise, cutting deep, but not through the meat. Open the halves. Cut across the meat, once again deep, but not through the meat. Make the cuts about 2cm apart. This is done to make sure that there is a lot of meat surface in contact with the marinade.
Combine the pork and marinade in a dish and spread the marinade evenly over the meat on both sides. Cover and refrigerate over night.
The butterflied tenderloin on the left and covered with the marinade on the right
Remove the pork from the dish and discard the marinade.
Grill the pork over medium to high coals for 8 – 10 minutes on a side until the pork is still slightly pink on the inside.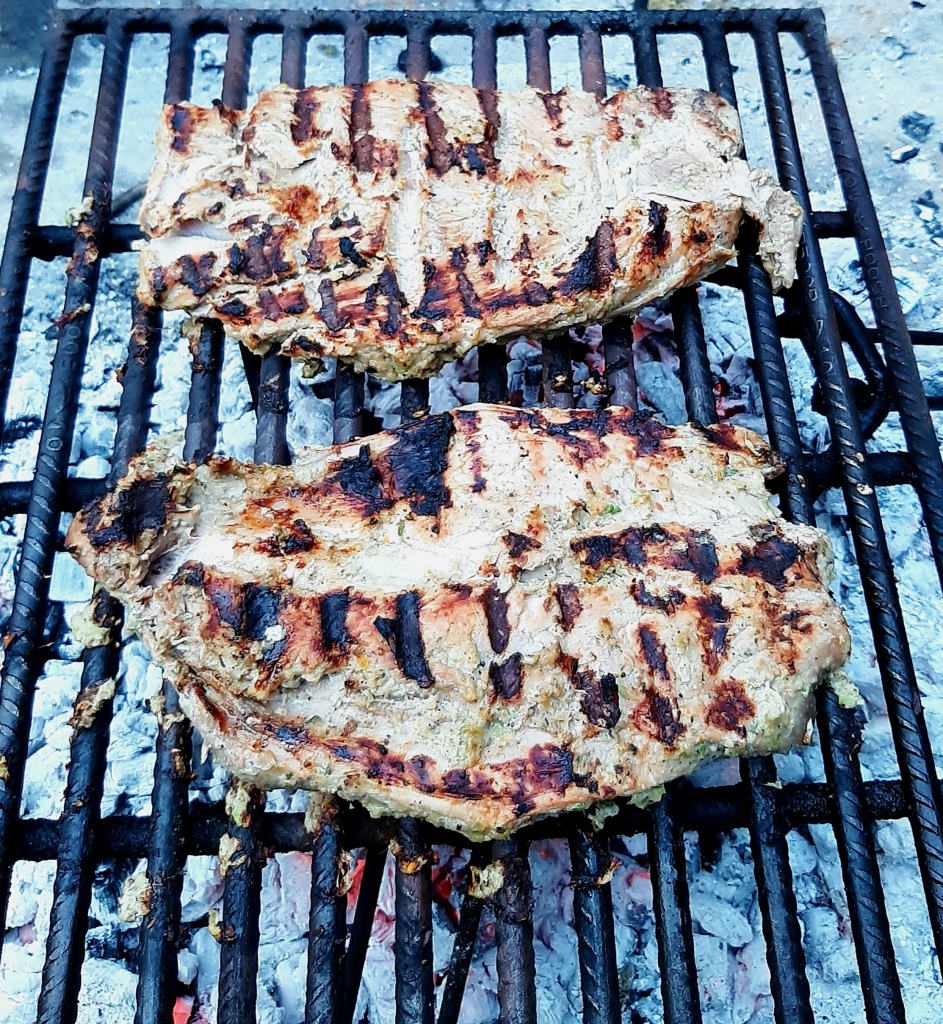 We served this with sweet potato chips, grilled corn on the cob and a pineapple salsa with a bottle of The Mulberry Bush 2022 Merlot from Bon Courage.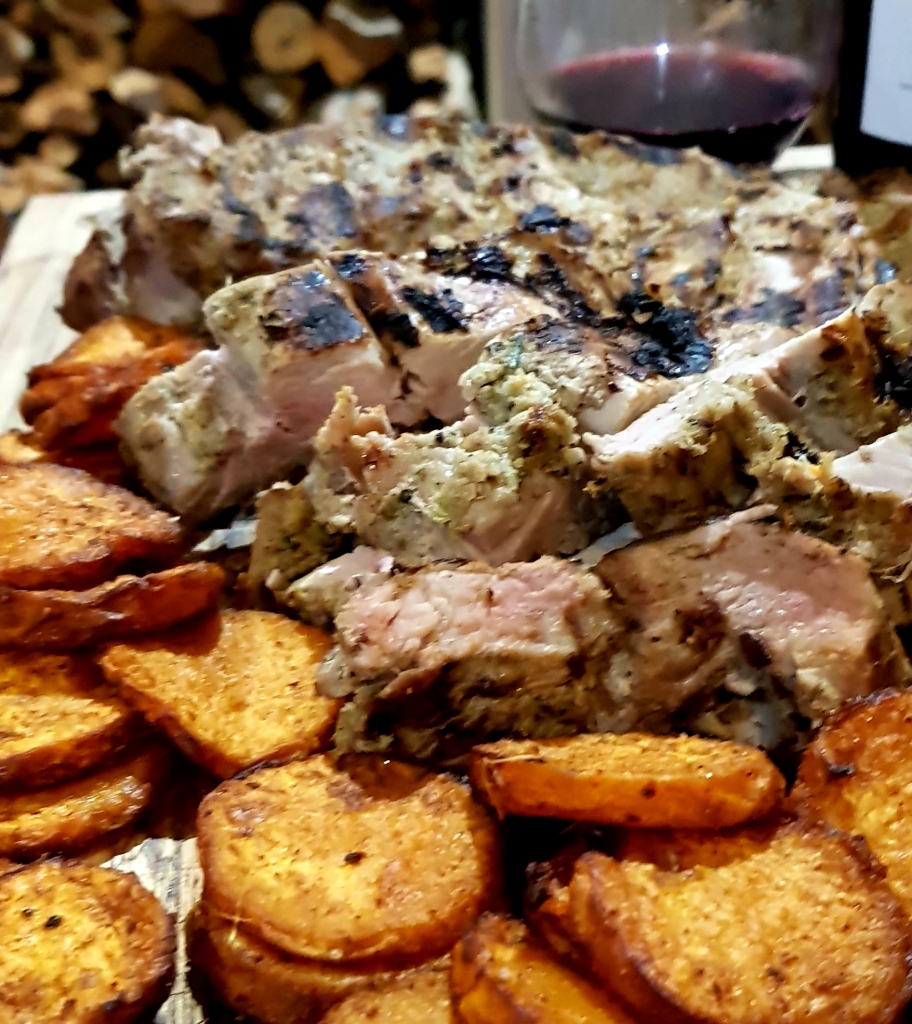 Below are the tasting notes.